Mission completed. 🙂
Within the the next year, I will be cycling across America!
My route: Charleston, SC, to Los Angeles, CA
Length: ~3000 miles
Time frame: Ideally, it will take 2-3 months
It's not prudent to share the exact coordinators of my route, so here is a general overview of the states I will be passing through:
South Carolina — Georgia — Alabama — Mississippi — Arkansas — Texas — New Mexico — Arizona — California

February 2020: I have mapped a preliminary route, and have purchased a second-hand tent and backpack since the ones from my walk are in disrepair. 
Instead of using panniers, I'm hoping to strap my backpack to my rear bike rack instead. If that doesn't work, I'll try attaching a milk crate to the rack for my backpack to rest in.

I intended to start this journey next month. Then, COVID-19 hit.
July 2020: Approximately 60% of my gear has been acquired. I'm still missing:
• bike
• helmet
• bike lock
• bike gloves
• bike headlight/tail light
• bike rack
• bike pump
• water bottle holder
• tire repair kit
• tires
• saddle
• balaclava
• mirror
• shoes
In other words, I am still without all my cycling related gear, ahaha 😂
This post will be updated periodically!
I never intend to write blog posts about my journey, but, if I survive it, I'll surely throw up an art gallery showcasing the trip. 🤪
October 2020: I got my bike!! A 2007/2008 Trek 520 I found on Craigslist.
This is a major relief, as I have been stalking Craigslist and Facebook on a near-daily basis for months, overanalyzing and second-guessing my options. 
He wouldn't tell me his name so, until he learns to speak, I have decided to call him Sal, short for Salvation. I test rode him in a police parking lot, and, let me tell you, the fear that I was going to crash and hit a cop car since I haven't ridden a bike in years, and never on such skinny tires, was real. I wobbled a few feet through the parking lot before pulling the trigger on it. "Yes, this is the bike for me!"
I've decided to bite the bullet and buy a set of panniers (aka saddlebags) too, so I don't have to lug my backpack around. I might also reroute to stay away from Atlanta and Dallas. There's too much danger in those concrete jungles, where road raging drivers fester on the tarmac with all the roadkill unlucky enough to have met their wrath already. 
All of my gear has been purchased except for 1-3 miscellaneous items.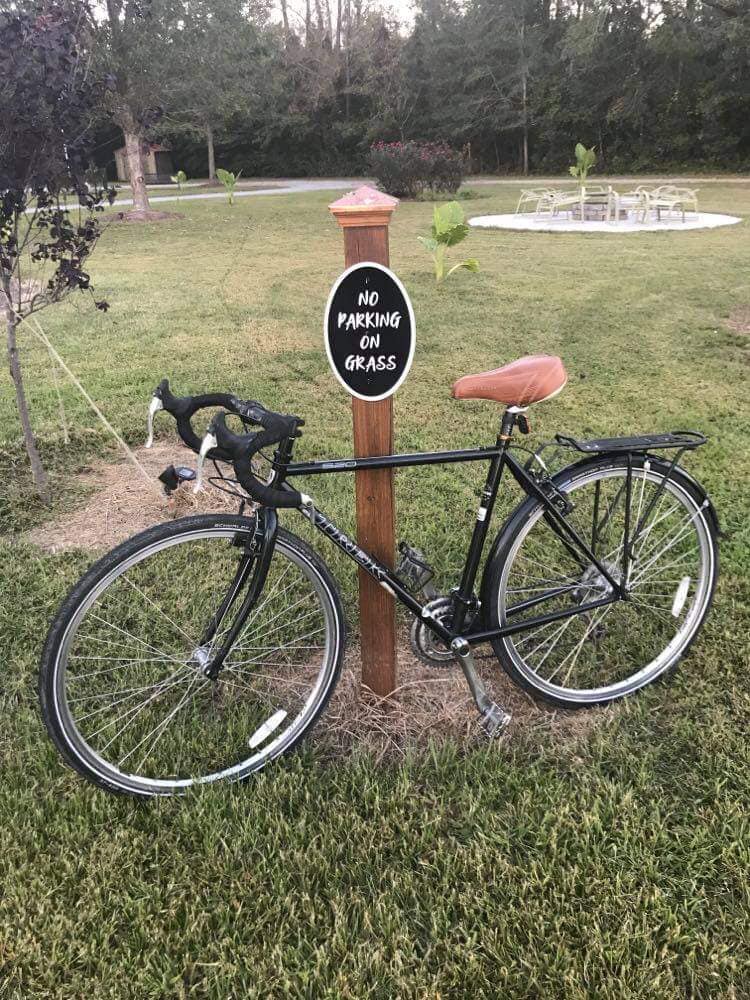 ✨ My start date is right around the corner . . . ✨
November 2020: This month, my mom put her foot down. She said, "Gin, if you're going to ride your bike across America, you actually have to spend time riding it first!" as, up to this point, I have spent my entire winter sitting on the couch, eating tortilla pizzas and staring at my computer screen. She then mercilessly dumped me on a backwater road a few miles from town to fend for myself. During this test run, in the process of chivalrously swerving around a mother with her child in tow, a pole decided to hit me! ("Who put this telephone pole here?!") This head-on collision completely severed my front brake.
After a few hours of stewing in self-pity, I managed to repair the broken brake myself! A fact that I am proud of, as I have never been very mechanically inclined, yet I can see the merit in familiarizing myself with the inner workings of my steel steed. What was once an annoying setback is now something I see as a fortunate learning opportunity.
On a later test run, I realized my panniers were positioned too far back on my bike rack and corrected them. I also mistakenly secured my flagpole too loosely, causing it to jut into my back wheel when picking up speed and bending the back tire's valve tip unnaturally. Pshhh.
I have decided to switch my start date to the spring out of concerns about COVID-19 and, equally, due to my pervading cowardice.
I am anxious to leave, and anxious about leaving. 
Lately, I've been thinking about a dream I had in early spring, where I look outside the back door of my family's apartment and see three grizzly bears outside. Except they're all white, not brown.

The largest one strolls right up to the window and stares at me, unblinking.

I am instantly scared for my life, until that feeling gives way to a sense of relief, wonder. They can't get me through the glass.

Just then, I hear a noise upstairs.

At first, I think, well, maybe it's just an innocent creak. Typical for any building.

But then it starts up again, louder this time, and I know for certain that someone else is in the house. Someone who shouldn't be.

I frantically retreat from the back door to the living room, where I can see when – and if – someone comes down the staircase. Then I dial my mom, but she is already on a phone call with my sister and I can't get a word into the conversation. They keep cutting out. I hang up the phone in a flash of frustration and burst open the front door because the noises upstairs-the footsteps upstairs– are getting louder and I know I need to LEAVE.

But the moment I step outside, an elk runs past me, out of nowhere, which throws me for a loop because this is North Carolina and there are no elk here. Then I remember the grizzly bears, and I know that must be what the elk is running from. And, hell, there's no way I can outrun the bears, so I back step inside and slam the door.

There, I call my mom again and, this time, when she answers the phone, I can hear her voice clearly. I hear her say something she once told me about my adventures, "sometimes, Gin, I think you just do all this to escape."

Then she runs down the stairs with a knife in hand to kill me.
Okay, okay, wait! Hold up! It must be noted that this dream is not an accurate representation of my mother's character in the slightest. (Sorry, mom!) She is kind and fair and has been more accepting of my antics than most parents would be. Instead, I think it just reflects my unhappiness at home, coupled with my perpetual fear of death on the road, and how the two things can feel like being caught between a rock and a hard place.
I have regressed since my walk. Weeks have stretched into months and I've wasted all that time, gained weight, and let my mental health slip. I feel detached from the person I was before, yet my love for life on the road remains a tight rope around my heart, threatening to pull taut every time I look at the map of the United States on my bedroom wall. I figure my desire to roam is like a raging fire that I can either wrestle into submission, knowing embers will always be simmering under the surface, or I can let it burn free until its energy is spent and a new life is ready to grow from it ashes.
And while it pains me to think that I may die before I can grow old, I cannot make an idol out of my fear and call it God, either. Especially not when fear only tries to belay me while I'm still at home, swaddled in relative safety; when out adventuring, it lingers in the back of my mind but never calls the shots, as it shouldn't. There's an irony in that that makes me laugh. 
Suffice to say, the open road calls to me; I am ready to return to it, and to return to myself.
________________________________________________________________________
March 9th to July 9th, 2021
4 months.
16 states.
Charleston, SC, to Los Angeles, CA.
Seattle, WA, to Port Huron, MI.
Faith over fear.
I began a journal for this trip the first day out, then stopped. It's hard to keep up with writing when your mind & heart are racing away elsewhere, off the page. I also struggle with knowing that my memory is so fleeting, and rather than fervently writing in spite of that, each pen stroke an apology, I wanted, for once, to give myself permission to forget, to live wholly in the moment, and to be content with what recollections ebb and flow on in my mind.