"He who jumps into the void owes no explanation to those who stand and watch." ― Jean-Luc Godard
This post is a long time coming, isn't it? You can thank my grandmother that it's finally here. She has been relentlessly bullying me into updating my website. "Just post something, Gin!!"
That's, really, been my biggest struggle, to contain the last few months of my life in a single page or two of text. I want to pour over every day-by-day detail but then I convince myself I don't have the time. Alternately, I'm tempted to discreetly dole out bits and pieces of information, only to feel culpable for not being honest enough.
Either way, it's like I purposefully set the bar too high for myself to relieve myself of the responsibility of jumping over it. To validate my desire to do nothing, the lazy sack of potatoes that I am, ha.
But my grandmother is right!
I need to write something, even if it's ugly, and hairy, and half baked. And it will be.
After departing the San Juan Islands in December, I move in with my grandparents, as they are centrally located in Pennsylvania, less than a hundred miles from my intended starting point in New Jersey.
This is where my uphill battle begins.
I need to find a suitable mount to cross the country with, as well as a place to board my horse temporarily to ensure we're compatible.
I don't want to have an arranged marriage only to find out my partner is a serial bucker with a nasty cribbing habit after the fact.
A perilous journey that involves entrusting my life to another does not seem like the best first date material.
Yet, here's the kicker: I'm a perpetually broke college kid, on a shoestring budget, without a valid drivers license, who has to limit their search radius to within 200 miles (realistically, even less) because that's as far as I can bike. Unless prince charming comes along, worth going the extra distance for. My grandfather is also anxious to move me along. "It's nothing personal," he says. He just doesn't want another permanent resident in the house. I'm allowed a few weeks to stay. Fair.
I spam Craigslist and Facebook with In Search Of posts, which is nerve-wracking to do. I fear putting myself out there publicly will unleash the keyboard warriors  and armchair critics, trolls waiting in the wings to blast a long ride as inherently wrong, moronic. I brace myself for the taunts and threats, almost psyching myself out of posting altogether.
No insults land. Well, one "it sounds like you should see a therapist," from a balding middle aged man in an equestrian friendly Facebook group solely to sell real estate, but otherwise, the response is largely positive. A few words of concern, light criticism, but that's it. I listed my ad on 20+ channels and mostly get an outpouring of support!
Available horses slide into my inbox as well, enough to give me a rush of optimism. One of these could be it! But the more I shift through inquiries, the more I begin to deflate. My snuffer bottle holds only fools gold.
The horse market, like most markets these days, is inflated. Most good horses are too expensive for me. Many are too far away. A lot are pricey and poor quality, dolled up project horses for 5k. Every person claims theirs is "puppy dog like, in your pocket." Buzzwords. It's impossible to tell what any of them are really like personality-wise from a few complimentary adjectives. Then again, I suppose the same is true for people. Calling someone "nice … smart … funny" says nothing about their true character. I'm struggling with my limited understanding of horse conformation. At least half don't pass my three strike system. While I was intentionally vague on my parameters for a road horse, the reality is that a 15 year old, 14.2 hand mare is an automatic no. None of those traits by themselves will rule out a horse, but together? I'm uninterested. And maybe I shouldn't be, maybe I'm too picky. Despite my best intentions, my inherent biases towards breeds, builds, ages, etc., stains my vision. I'm finding a reason to shake my head at nearly every one.
A few people offer to lend me a horse, which surprises me. It never crossed my mind that anyone would do that. (When push comes to shove, I'm sure they are all bluffing, and will inevitably ghost me). With a straight sale, it's evident that the seller is ready to wipe their hands clean, but with a loan, well, that's entrusting someone with a lot. I could never accept such an offer; it's too heavy of a responsibility to shoulder, and it goes against the very principle of my journey. I am searching for a true life partner in my horse. My very survival will lie in their hands, after all. How could that pivotal bond be with a horse I can't even call my own, that I must look at each day and know, instinctively, belongs to another? It would be like borrowing someone's husband for a spin, or babysitting another person's child when what I want more than anything is my own.
Similarly, I am leery of meeting with sellers who have a staunch attachment to the horses their selling. I have no desire to prove I'm worth purchasing someone's horse because the reality is, in the cross hairs of a skeptic, I will be shot down immediately. I am a novice rider. I have poor posture that requires constant internal correction. I can't post a trot, nor canter without getting thrown off balance eventually. I like to plod along at a walk, and I hate arena work. Halfway through one lap I'm like, "wait, what is this? Why am I here? What's with the endless circles? What's the point of riding to nowhere??" I've mostly ridden bareback, never in an English saddle, and I don't have any experience with groundwork. I'm just a casual trail rider who couldn't fit a horse in her family's apartments growing up to have this sort of thing as a hobby. Eating mislabeled beef in a greasy spoon restaurant is the closest I could have hoped to get to a horse in my childhood.
I only, really, tripped into this thing in adulthood because Sea, my long riding mentor, took a chance on me, but I can tell even Sea looks at me like I'm a fledgling worth watching, prodding, but time will tell if I have enough flight feathers to fly, in a world where flying looks a lot like falling . . . and vice versa.
Still, I'm optimistic about what will come my way and continue to field inquires, browse listings, send emails, make phone calls.
Craigslist, dreamhorse, and equinenow are graveyards; Facebook is the only place with reliable, constant listings for horses.
Shortly into this search, I speak to a hobbyist horsewoman from central PA who has a potential mount, and an unexpected offer to host me at her small farm until I find what I'm looking for, if her horse isn't suitable.
I accept her offer, and to this day, I'm thankful I did, even if I must say that with a bit of a shit eating grin, ahaha.
This move winds up feeling like setting off into a train tunnel where the light in the distance is further away than it seems on first glance, and the passage through gets colder, and darker, as I go, each step I take more deafening than the last, and before I know it I've gone too far for anyone else to want to follow me to the other side.
Yet, on the other side of fear is ….
#7184 are the assigned identification numbers of a mustang I am looking at, after a month of little headway.
Late December was marked by holiday happenings and road-tripping fun, with the turn of the clock carrying with it ice storms and a positive diagnosis of COVID-19, killing my ability to head hunt for 2 weeks.
Once my contagion window closed in mid January, I still struggled to locate The One. When two promising leads rolled in, they rolled out of grasp just as fast.
It's here that I begin to get uneasy.
I did tell myself, in pursuing this endeavor, that it would be like dating. (Cue my family's eyes rolling into the backs of their heads.) Hey, most budding relationships expire faster than the yogurt in your fridge. If you can get past the infinite scrolling and swiping phase, and then survive the gauntlet of dating, what do they say, 50% of marriages end in divorce? A horse being unable to talk back certainly helps ensure compatibility easier than with people but, conversely, how many people have to put their very survival in the hands of their boyfriend/girlfriend within a few dates? Netflix might include you in a reality TV show if you get hitched within 30 days, but embarking on a cross-country journey of bodily peril together so shortly after saying hello? Even they won't promote that.
So maybe I shouldn't be so hard on myself for being partner-less after a month.
Except, I lied, I am disheartened anyway.
February is the best month for departure from the east coast–of this, I have no doubt–and it is about to punch me in the face.
In the last week of January, I accompany Joey, a friend of my host's, on a road trip to Tennessee. Joey gentles mustangs for fun, and intends to pick up a new one for a TIP Challenge (this is where competitors train a wild mustang within a certain time frame to show in-hand and under saddle).
🐎 m u s t a n g s 🐎

are free-roaming, feral horses of the western U.S., concentrated mostly in Nevada, with "herd management areas (HMAs)" being found in Oregon, Idaho, Wyoming, Colorado, Utah, New Mexico, Arizona, and California. They are overseen by the Bureau of Land Management (BLM), after being recognized in 1971 by congress as "living symbols of the historic and pioneer spirit of the West." Originally descended from the throwaways and runaways alike of the colonial period, many have since had stock from modern breeds mixed in to their lines. They are known for being short and hardy, but massively overpopulated, leading herds to be gathered and sold to private homes yearly.  The majority of corrals (holding facilities where mustangs can be purchased) are located on the west coast. In the east, your options to adopt a mustang are more limited (and feel more like second pickings). There is a corral in Illinois; however, this corral maintains no online presence to know what horses are available in advance of showing up. While a few adoption events are held yearly here and there, the two main places to acquire one fresh off the range (as of 2022, to my knowledge) on the east coast are the "storefronts" in Bell, Florida and Falls Creek, Tennessee.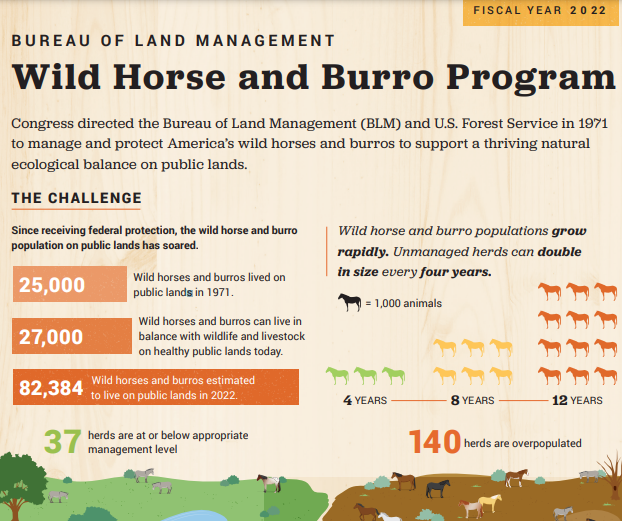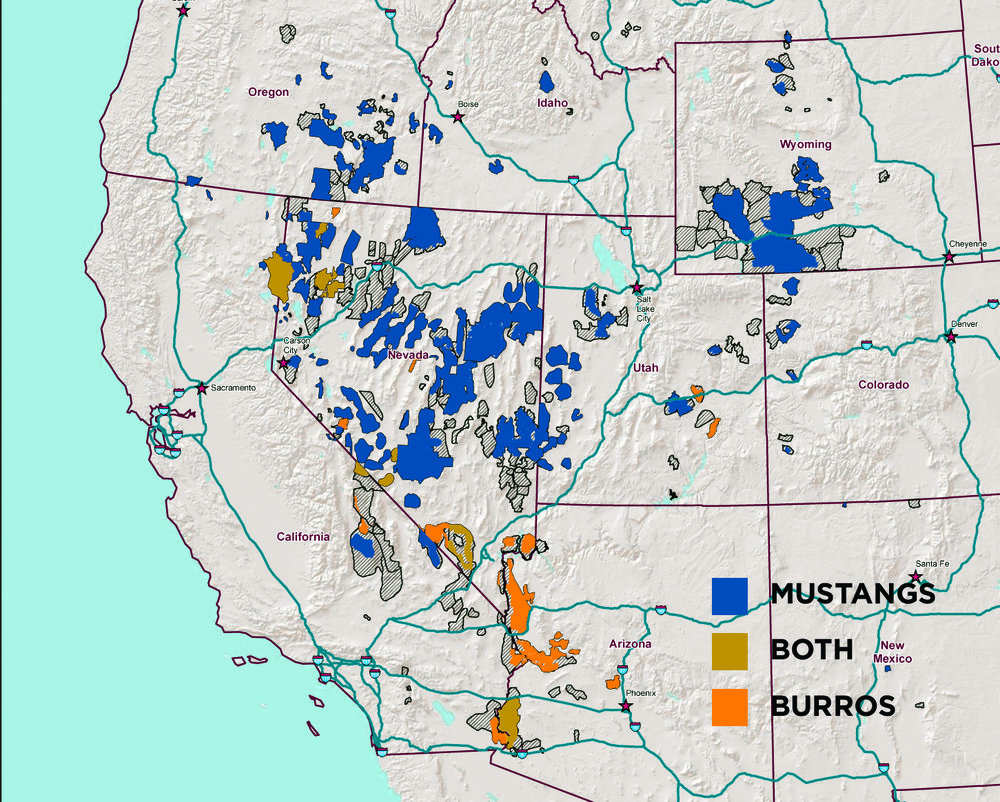 I am not seriously considering adopting a wild mustang.
My intention is to see the storefront, for the novelty of it, and then have my mom bring me back to the Carolinas, where I can acquire my driver's license before roaming up and down the eastern seaboard horse-shopping (especially down south, where horses seem to sell more reasonably). I also crashed my bike recently when my brakes gave way, crippling my confidence in cycling, and I have residual soreness in my left elbow that should be examined by a doctor. My health insurance isn't accepted in PA. I fear I have a hairline fracture.
Besides, 80 out of 100 of the horses for the January 29th – 30th adoption event have been posted, and they're lackluster. Mostly yearlings and ponies. Two geldings over the age of four, a grullo and a buckskin, but they will go fast for their color.
I forget there are even more to consider until we're driving through Kentucky and Joey says, "have you seen the new ones they put up?"
The remaining 20 horses are all big, older geldings, predominantly sorrels and bays, out of the Stinking Water and Palomino Butte HMAs. Oregon boys.
"That one looks good," Joey gestures to a sorrel Palomino Butte gelding. #7184. "Stout."
To adopt a mustang at the TN storefront, you have to put your name on a sign up sheet that goes live at a certain time. In this case, 7 p.m. on a Thursday. You're then allowed to reserve 1 horse based on your order in line. However, it's noncommittal. You don't have to get the horse your name is beside, it just ensures no one else can claim them until you're sure of your decision to adopt or not.
Meaning there's no harm in signing up for a horse, in case.
There is a winter storm brewing over Pisgah National Forest in the Appalachian mountains, where my mom would need to cross on I-40 to get me. If the weather projection doesn't change for Saturday, she won't come, not unless I can find a motel to bunker down in for a day or two until the roads clear. Even then, she's weary about coming.
I fill out the adoption form in the parking lot of a Kentucky gas station, immensely grateful for my fast fingers. Finally, they can be put to some good use! Except, GAAHHH. The wifi here is agonizingly slow. My screen won't load after pressing ENTER. I can't get confirmation of my submission until the clock jumps to 7:01.
What are a few seconds worth? A lot.
Come to find out, I am #18th in line to choose a horse. Shoot. The best horses will be taken before it's my turn.
What's more, I learn at the eleventh hour that you don't, necessarily, get to see the horses in person before you choose. This revelation has me reeling more than any other. I weirdly assumed that everyone got to the storefront on Saturday, checked out the corrals, then told the staff which horse caught their eye. Forget gauging how aggressive each horse is in advance, there is so much to be gleaned on conformation alone, necessitating a physical inspection.
Yet, unless you can come in advance of the pick up days, you must decide based on a single, in action photo.
Like hell I'm doing that. That's insane!!
So there we go. It's been settled.
On Friday morning, when the storefront owner calls to get my pick, I'm off tromping in some nameless patch of woods owned by Joey's grandfather in northern Alabama, following a little creek bed wherever it will take me. I don't have my phone on me. I wander aimlessly by a rocky overhang and through a drainage tunnel, careful to only step in waters shallow enough to not swamp my muck boots. I'm convinced rapture is in a place like this, where there are no clocks ticking. I wouldn't answer my phone even if I could hear it ring.
It's not until later that evening, after I've returned inside with wet socks, that something shifts in me. Out of curiosity, I log onto Facebook to see what mustangs are left over, now that everyone who has wanted to choose a horse in advance has gotten their chance to.
#7184 is still unclaimed.

No one has taken him?
This startles me. I expected to see someone's name beside his image. A part of me, regrettably, wanted that to be true, so I could finish burying the idea of adopting a wild mustang. I had already whacked it over the head with a shovel, I just needed to chuck the final scoop of dirt onto its grave. Wipe my hands clean. Rest assured it wasn't meant to be. As fate would have it. 
Instead I look soberly down at my screen, unsure of whether I'm staring at an open door or an upright casket.
Taking on a wild mustang, with an unforeseen personality, that could have any demeanor under the sun, really, is a gamble.
I've heard of horses, often yearlings, who come off the range practically gentled on sight, easily being groomed and led around within hours of arriving at their new homes. On the contrary, I've heard of horses who are unable to be touched for months, even under an experienced trainer, because they are so explosively reactive and unpredictable. And then there are the rare few who can never be broken of their wildness, who are deemed unsalvageable and sent to long term holding facilities. Most are not this way. The majority of horses come around willingly, reliably enough that there are youth competitions across the country where teens are charged with taking one on.
It doesn't matter. I need to go back to college. My stomach twists into knots, because that's the truth. Isn't it? That's the reason I've been gung-ho about leaving for the journey in February. To ensure I can cross the Rockies before winter, yes, but also … to make it home in time for my fall semester.
I keep pushing school to the wayside, promising to take it up next year. Always, next year. An answer that seems non-exhaustive, until I have to watch my classmates from high school graduate with their bachelors this spring, and I'm faced with the feeling of being left behind, the words, "that could be you, too," gnawing at me.
Two weeks before I was set to attend my junior year of college, I jumped ship, flew to Lopez Island instead. I wouldn't tell my family why, not really, not for weeks. When I finally had the conviction to, their response was "are you ever going back to school?" followed by, "this life of yours can't last forever." They're afraid I'm treading water, prioritizing a short-lived happiness over long term success. "And what will you have left when it's over?" 
I do want to go to college, to settle into the normalcy of it. There's security in following others queues, in going down a fixed path to an established career. Of course, my parents would push for that. Most parent's are inherently risk-averse, eager to see their children go the conventional way. When college is hailed nationally as the golden ticket to success, how can I blame them? It's hard to shake that narrative.

Photo credit to Tara Thissell, BLM
My thoughts clash.
I'm put off by the whole college process. I will have to spend another two years completing mindless prerequisites and shelling out thousands before I can begin vet school. It's like a 24-month "SIN COS TAN" lesson, where the entire time you're shaking your head going, "wait, what's the point of learning this, when will I ever apply it to real life?" knowing, glumly, that you won't. My bachelors will be just another hoop to jump through, a mandatory requirement, and the senselessness of that gets to me.
I feel like I'm running out of time, slipping behind my peers. I'm eager to check things off my bucket list, accomplish as much as possible, as soon as possible, which should mean prioritizing college in the fall. (Right?) It makes sense to complete this horseback riding journey in a timely fashion to kick start my education again. I don't want to waste time. I feel like I'm running out of time.
Yet, how can I say that? How can I expect to enjoy any singular moment in life if I'm always rushing to the next one?
Most importantly, why should I gamble my present happiness away for the potential that I might find equal fulfillment in something else? College isn't a guarantee.
This thought strikes a nerve in me more than any other. Aside from the love I feel for those close to me, nothing brings me greater joy than adventuring. I have found my niche in it, so why should I give it away to search for something more when there is no more? Just because I can't be on the road indefinitely, it's not a stable outlet like a career, doesn't mean it's worthless for me to pursue short term, especially while I'm still young and in good health, without commitments to tie me down.

As if there's any guarantee with adopting a wild mustang!
This thought stings the most, threatening to ground me in reality, because it's undeniable; if I am to have any hope of summiting the Rocky Mountains before winter, I will need to leave in 100 days, an impossibly narrow window for success. Even if my choice of horse could be tamed within that time, how could I ensure they have the grit-the kind of character that only comes innately- to go the distance?
I can't.
Not when all I have to go off of is a single still image of a horse.
But, I think, I will have more fun trying, and failing, at this.
And it's that statement that holds the greatest weight.
Besides, I'm becoming increasingly disillusioned by the thought of taking on another person's horse. Someone's cast off, with a sprawling, unknown history and a patchwork of training. Even if they're a dependable rock star, the question then becomes in my mind, what have I done to deserve them, to reap the benefits of someone else's years of hard work?
A mustang is a fresh slate. #7184 has no history with people. No name, aside from the identification numbers on the cattle tag fastened around his throat, and the freeze brand on his upper neck. He is untouched, with no sense of anything aside from how to be feral and free, surviving in the high deserts of the West.
He would be all my own.
So what if I didn't go back to college this fall?
I let myself consider this, sincerely, for the first time.
I let go of the mental block that I had been holding on to for too long.
And it feels like unclenching my fists and glancing up to see myself, as if reflected in a mirror, standing on the other side of an open door, with a palm extended out towards me. Reaching for me. Waiting to pull me through the doorway.
I see possibility.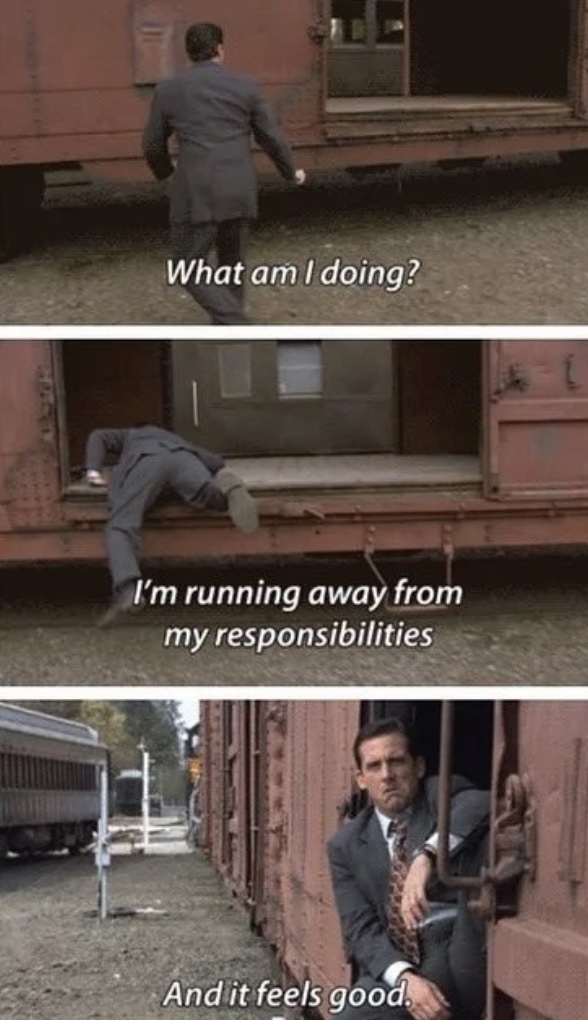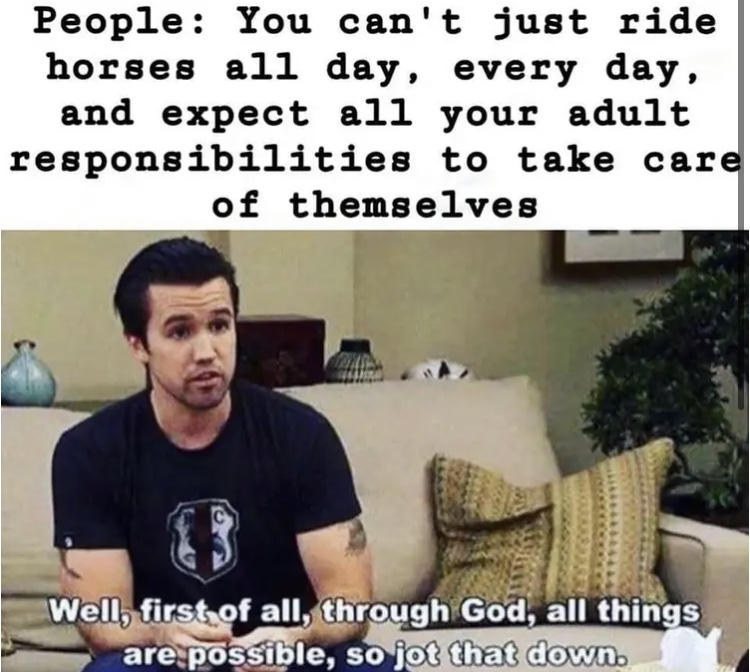 (Picture #1 is a pretty accurate representation of how my family sees me )

I don't return the storefront owner's call until 8 p.m., the day before pickup.
"Is #7184 still available?"
"Let me check." After a beat, the woman on the other end says, "Yes."
"Okay," I say, "I'll take him, then."
Well, this is a new trajectory.
I had sworn off the idea of adopting a mustang this morning. Now my name is beside the still image of one. It's mystifying, how quickly things change. I tickle myself.
Around 11 p.m., as I'm lying in bed for the night, I decide to google the identification numbers of my chosen mustang. Why not?
For any four numbers, there are 10,000 possible combinations.
10,000 combinations must unlock millions of results.
When I type in my mustang's numbers, the first result to pop up is a town a few miles from where I intend to start my journey.
As 07184 is the zip code for Newark, New Jersey.
In the corrals, #7184 is low man on the totem pole.
The Palomino Butte horses are outnumbered, and outmuscled, wedged in a corner, praying that the "do you even lift, bro?" Stinking Water brutes don't pick on them.
#7184 and another sorrel gelding from his herd management area (HMA) are joined at the hip; they remain huddled together by the water trough. Ears back, tense.
His paperwork says he is 15 hands. 5 years old. Captured in August 2021. Gelded in late November. $125 to adopt, all mustangs are.
Now that is within my budget.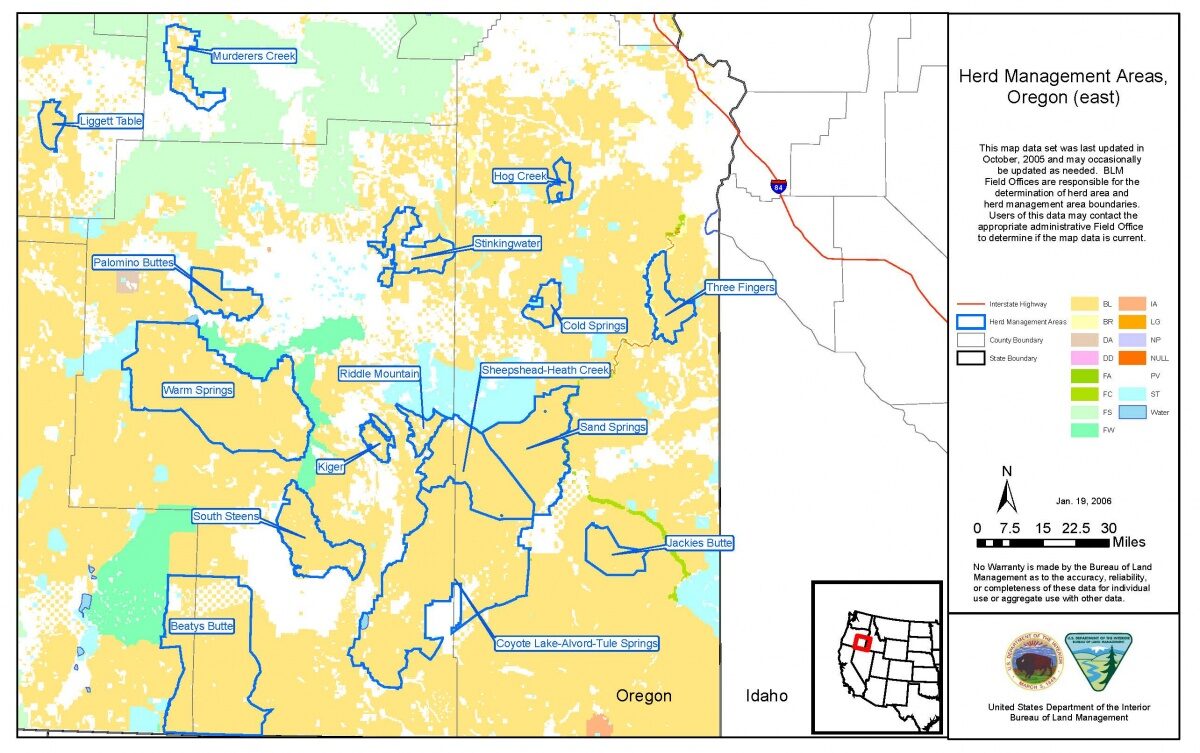 On our return trip, we are, once again, at a gas station in Kentucky when we notice in our rear view mirror that the cargo door of our trailer has been knocked off its hinges. (Originally, this was believed to be from one of the mustangs kicking it down. Later the conclusion was drawn that multiple bodies likely crashed into the door when we turned too sharply into the gas station parking lot.)
Cue one horrified moment where we all gape at the yawning black hole where the door used to be and wonder if the four wild mustangs we're transporting just escaped and are running madly down the interstate at 2 a.m.
A quick check confirms that they are ALL still contained! The question then becomes how to keep them that way without a functioning door.
There is a divider, normally separating the tack room from the main body of the trailer, that can be used to contain the horses. Joey breaks a screen window in an attempt to access the latch to undue the divider from the outside, but it doesn't work, so he's left with no other choice than to enter the trailer body itself. This means stepping dangerously close to the horses, who have worked themselves into a tizzy, crammed in the back like sardines. Joey acts quick, undoing the latch and swinging the divider door shut right as #7184 double barrel kicks towards him, his hooves missing Joey's chest and connecting with the divider instead, slamming it shut faster.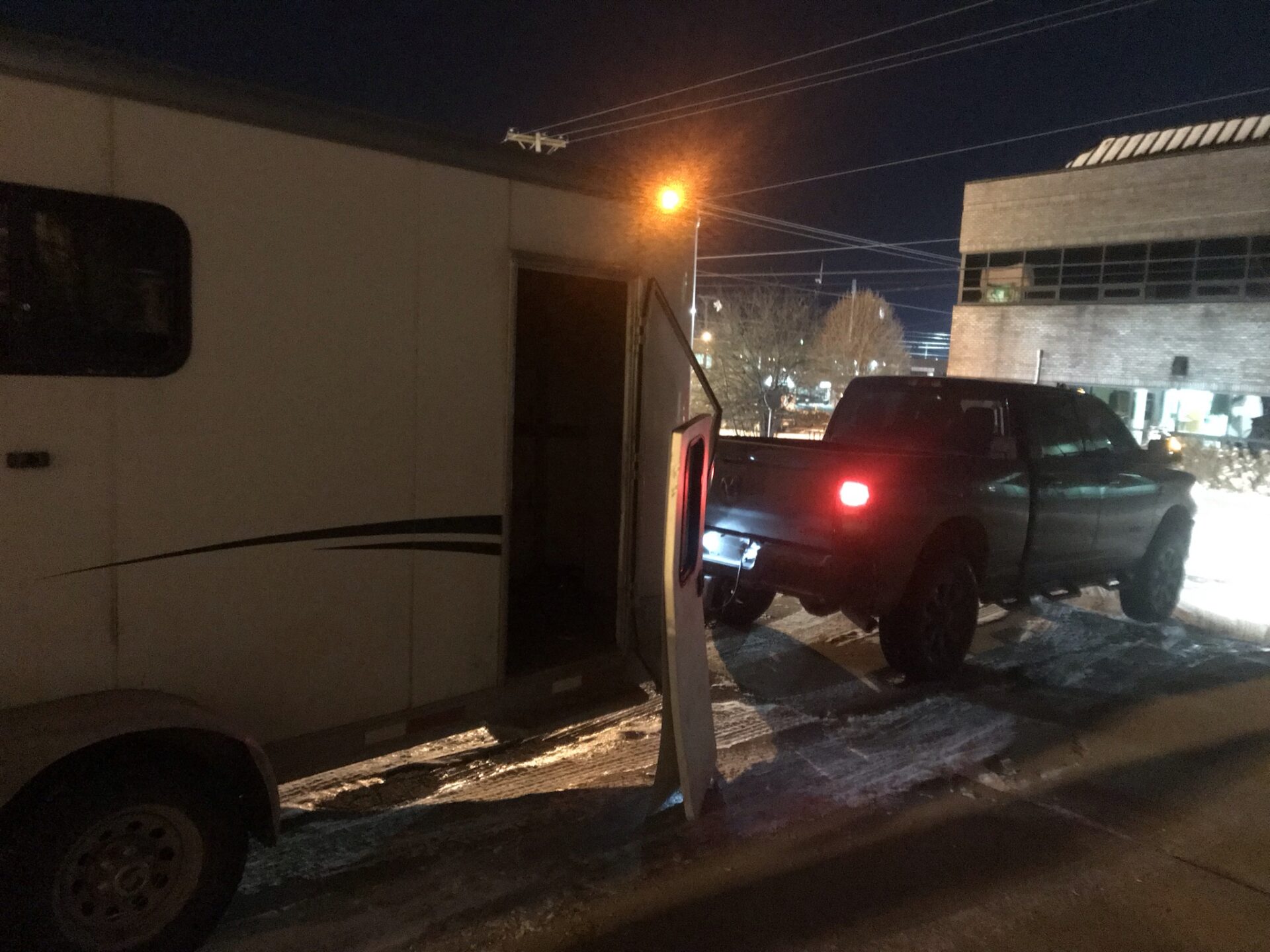 I've discovered photos of #7184 out in the wild!! 😀
I spent an hour scrolling through the "Palomino Butte HMA Horses" Facebook page and, WHAM, there he was! His crooked blaze and white socks gave him away.
Oddly, he is pictured as an adult with a mare, her foal, and . . . another stallion (the liver chestnut in photos 2,3,4)! I don't know what to make of this. It's my understanding that, normally, herds are manned by a single stallion, who chases his male offspring off once they reach a certain age. These "bachelor" stallions will then, either, trail behind their natal herd at the behest of their father, wander as a lone wolf, or form a "bachelor band" with other stallions. Always with the intent of having their own harem of mares one day. Two stallions sharing a herd together is rare, but not unheard of.
For #7184 to be willing to share his mare with another stallion, surely he couldn't have been an overly aggressive, dominant herd boss? Especially if he didn't father the young foal he's pictured next to. The dun mare entrusting #7184 to stand beside, and protect, her young foal regardless of parentage speaks volume. He must have been a pretty chill dude.
At least, that's my hope.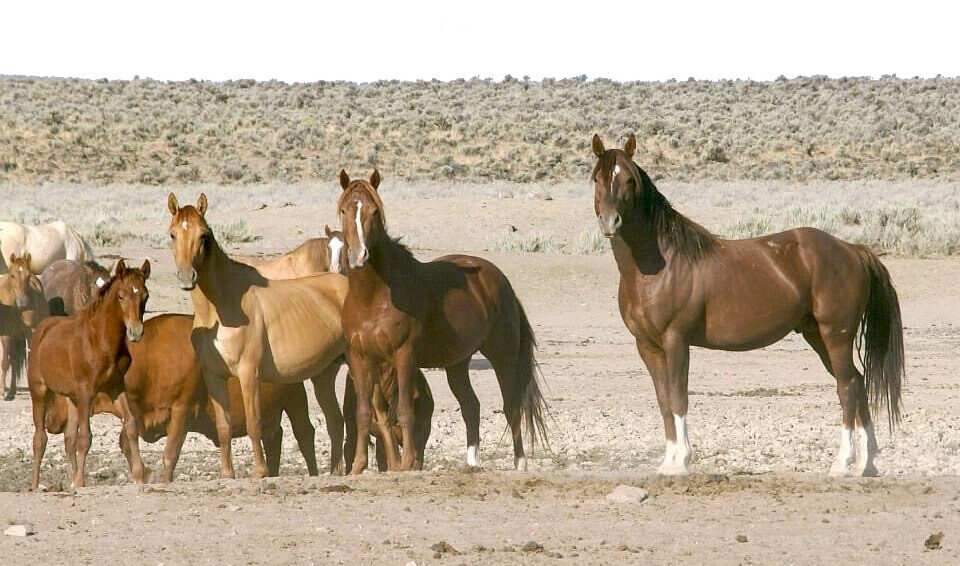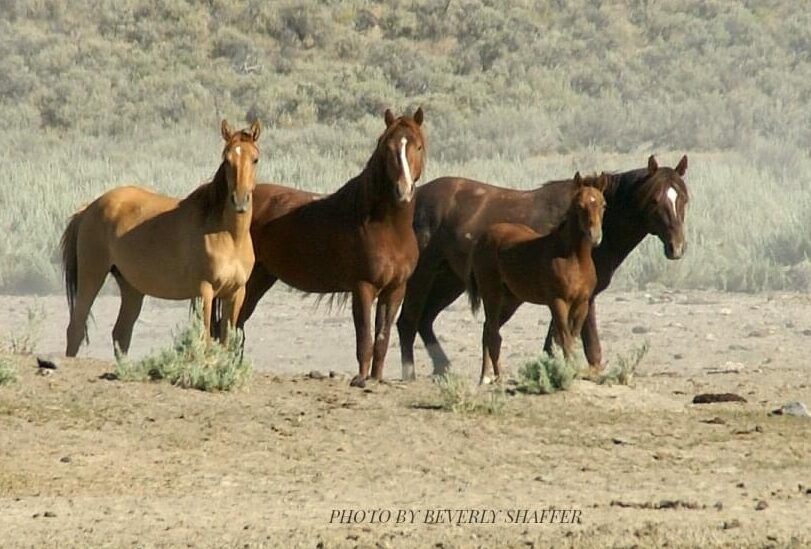 Photo credit to Beverley Shaffer (fun fact: Beverley mistook #7184 as the mother of the foal)
It hits home that I own a horse.
A horse!!
Holy smokes.
Growing up, my best friends were mostly cats and chickens, mice and rats. Strays or $10 pet store purchases. Creatures so small I always had to walk delicately in their presence, for fear of crushing them underfoot, or else I had to breath quietly, so my expanding rib cage wouldn't awake them while they slept on my chest.
It's both intimidating and exhilarating and completely bewildering to have a pet that's bigger than me. #7184 is nearly 7 times my size! Now I'm the one who has to worry about being crushed if I'm stepped on. This amuses me to no end.(I'm not kidding! I am writing this paragraph retroactively, nearly a year later, and when I'm on the phone with my mom, I still sometimes laugh in amazement while saying "can you believe he's bigger than me?!" which is usually followed by "can you believe I have a horse?!" because that still feels funny, too.)
To be continued