"Let me fall if I must fall. The one I will become will catch me." — Baal Shem Tov
Day 1 — After fifteen hours of trailering over the weekend, #7184 deserves some time to decompress, so I do nothing but sit in the round pen with him, slowly increasing my proximity. He lies down to roll in the snow twice with me nearby! After dark, I get the closest to him yet –under 10 ft away!– as I'm inching towards his hay pile. He keeps one eye trained on me. He has two significant notches, the fur stripped clean off either side of his muzzle. If I made any sudden movements he would explode in the opposite direction. His lead rope fell off during transit, and I cannot lasso him, so I have no hold on him until I can reattach the rope to his halter.
Day 2 — Turns out its harder to shovel manure when it's frozen solid to the ground, ha. I think it's miraculous how the body gradually adapts to the cold; I now find 20 degree days warm, while 30 degree days, if the sun is shining brightly, can call for shorts! Normally, I am wearing four layers, including my balaclava. #7184 has busted his flimsy plastic water trough in the night. He goes down for another roll in the snow shortly after I come by in the morning. I move his hay to the edge of the round pen so he has to come towards me to eat. He is far more comfortable with me on the other side of the bars. I put grain, mixed with hay, in a trough for him. He is reluctant to eat it. I am a bit hesitant about the fact that he was a stallion just two months ago. I wonder if some of that testosterone, which can make a stallion so ferocious, could still be in his system.
Video Of #7184 Under A Winter Sun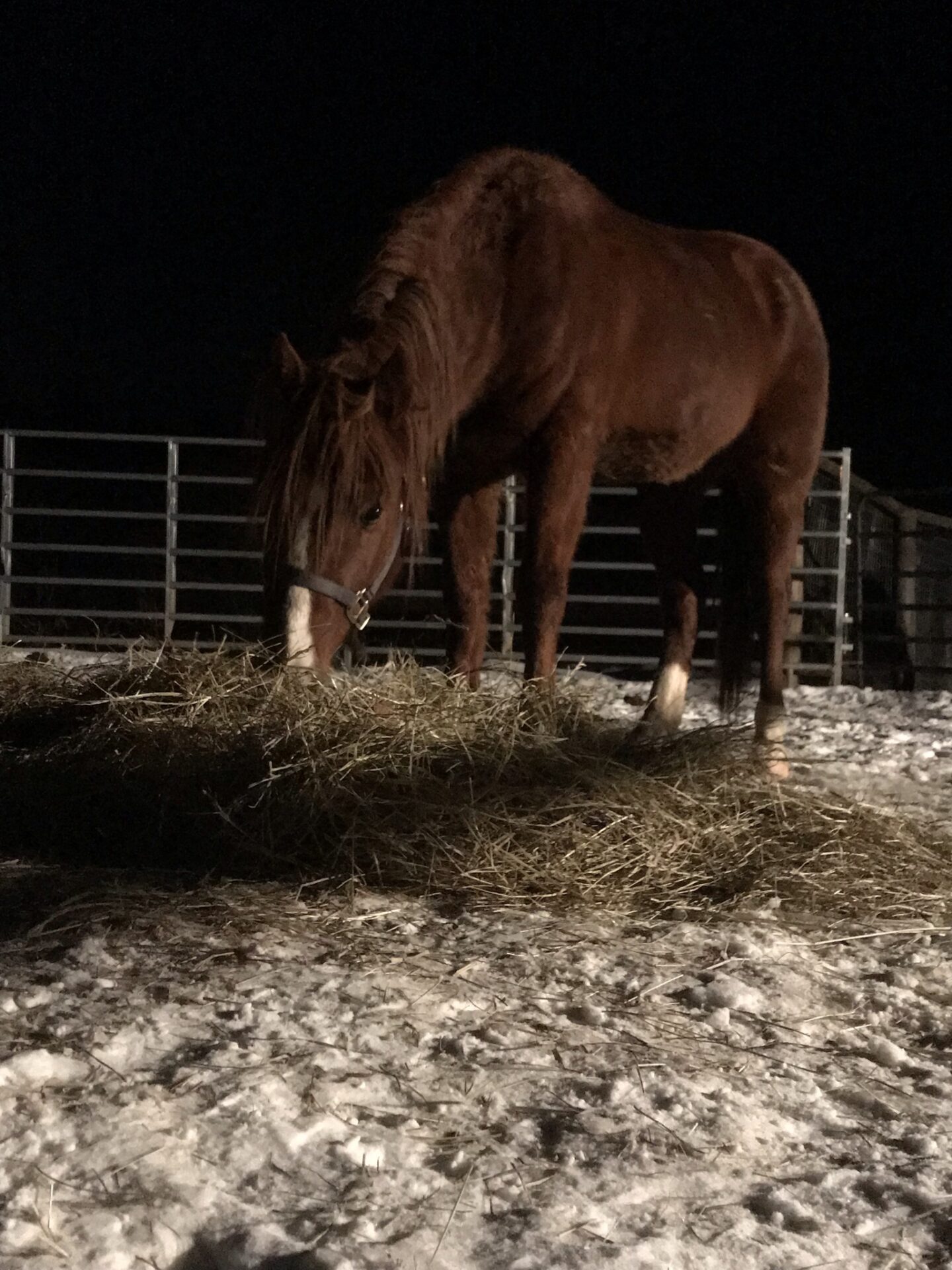 Day 3 — #7184 eats out of my hand for the first time!! He does so hesitantly, with his head snaked as far forward as it can possibly go, and my arm equally extended through the bars of the round pen, all while I simultaneously feed another horse beside me. This other horse's presence seems to aid in putting #7184 at ease. I get a good look at his split mane today; I like it. I plan to keep it that way. It covers his brand, so I can only see traces of it when he's in movement, or the wind stirs his hair just right. He comes up to readily investigate a tarp I place on the bars of the round pen by his hay. He has accepted grain. I was worried about him being skittish of the sled I use to collect his manure, since it makes an absolute racket as it scrapes along the ground, but he is surprisingly good with it! He doesn't want it charging towards him, or coming within 10 ft, but he isn't skittering to get away from it or snorting madly just because it's present in the round pen. I decide to try bringing his daily grain bowl in with the sled to see if I can spark his curiosity and it seems to work. He cautiously, but pointedly, follows the sled to investigate it.
Video Of #7184 Eating Out Of My Hand For The First Time
Day 4 — It rains relentlessly, not letting up from 9 a.m. til 2 p.m. I am out in it, getting soaked to the bone, for no less than 5-6 hours. I am determined to bridge the gap between me and #7184. We work on a lot of approach and retreat. My timing is poor. Sometimes I put too much pressure on him. Other times, not nearly enough. I give in too fast, too slow. I'm afraid to push. I fall into the common pitfall of second guessing how to proceed, how to read and respond to his body language, and missing my moment(s). People will scoff at this, and I don't care. This is what it means to be a beginner. There's no other way to cut it. "Good decisions come from experience, and experience comes from bad decisions," as they say. I am armed with a bucket of alfalfa and a "carrot stick." 5 to 10 ft seems to be his threshold. It's the closest I can get to #7184 before he takes off. Though he is full of panicky snorts, I am surprised that when he does whirl away from me, it's mostly done in a hurried walk or a slow yet purposeful trot rather than a burst of speed. Then again, I am deliberately taking things slow, trying to challenge him without making him feel compelled to explode. It's only day four. I don't care about our progress this early in. (So I say.) There is no substitute for time. I have to stay in my lane, too. I don't understand all the intricacies in round-penning a mustang. I feel comfortable enough to do this quiet, not overly confrontational, approach and retreat, even if it's baby stepping. Essentially, this means approaching him, step by step, and if he responds well in any way, however slight – looking at me, licking and chewing, continuing to face me without running, etc. — I back off, turning and walking away from him to release the pressure. This is usually accompanied by me throwing him a handful of alfalfa, too. I try to reward every small try. I am also attempting to incorporate some clicker training into this by flicking my tongue when he does something I like. At least that's how it's supposed to go. Our progress is hard fought … and hardly there.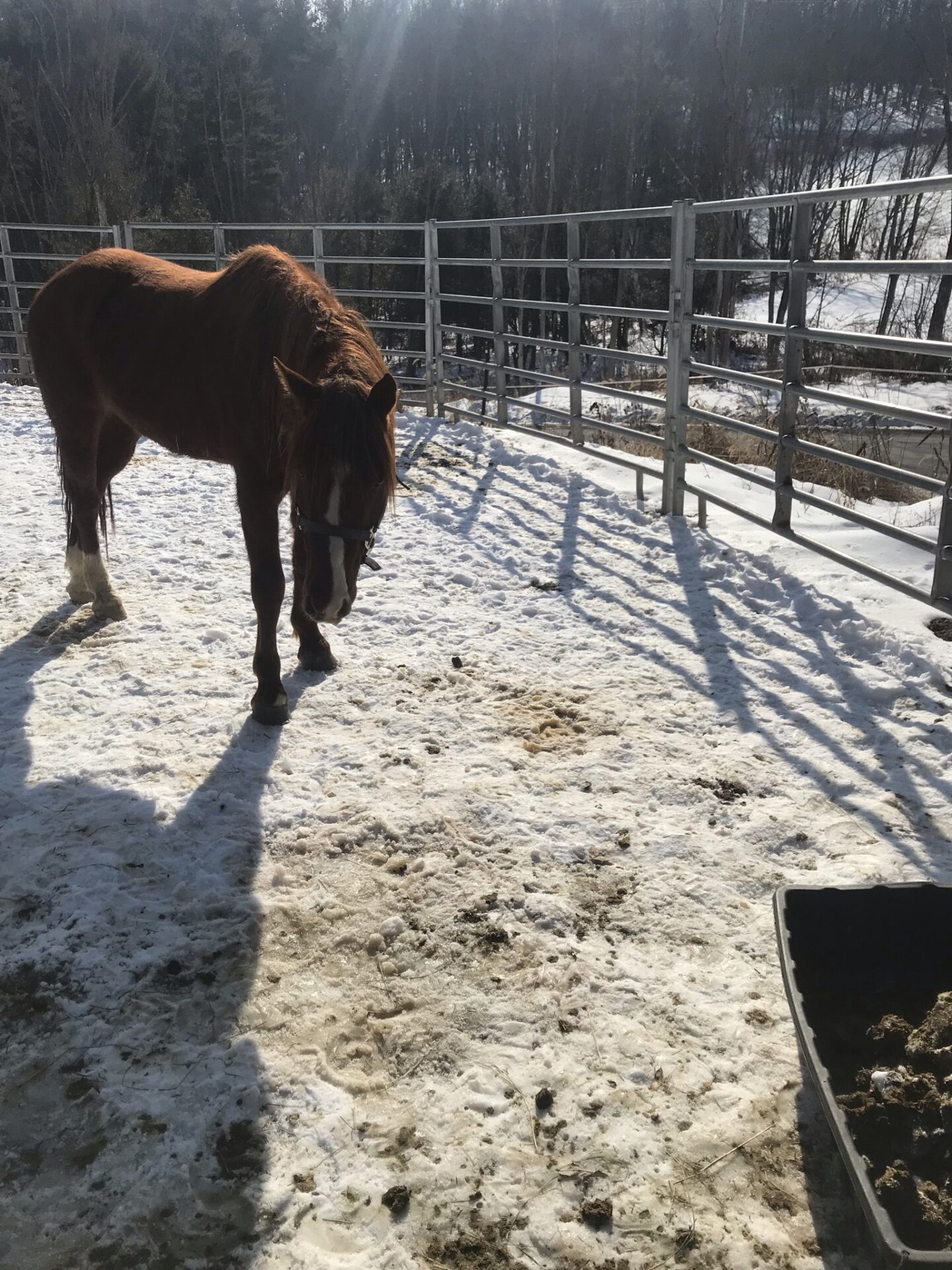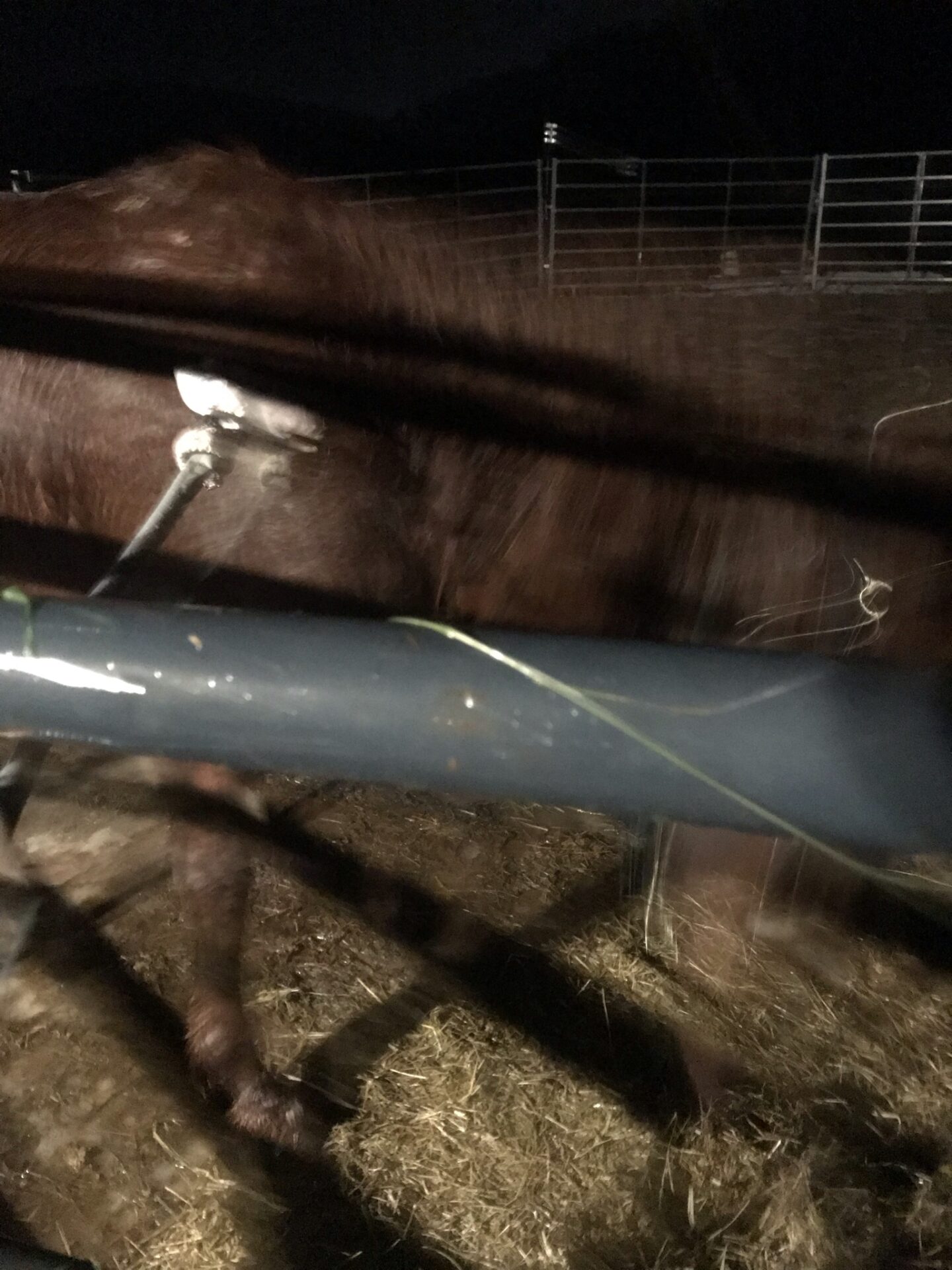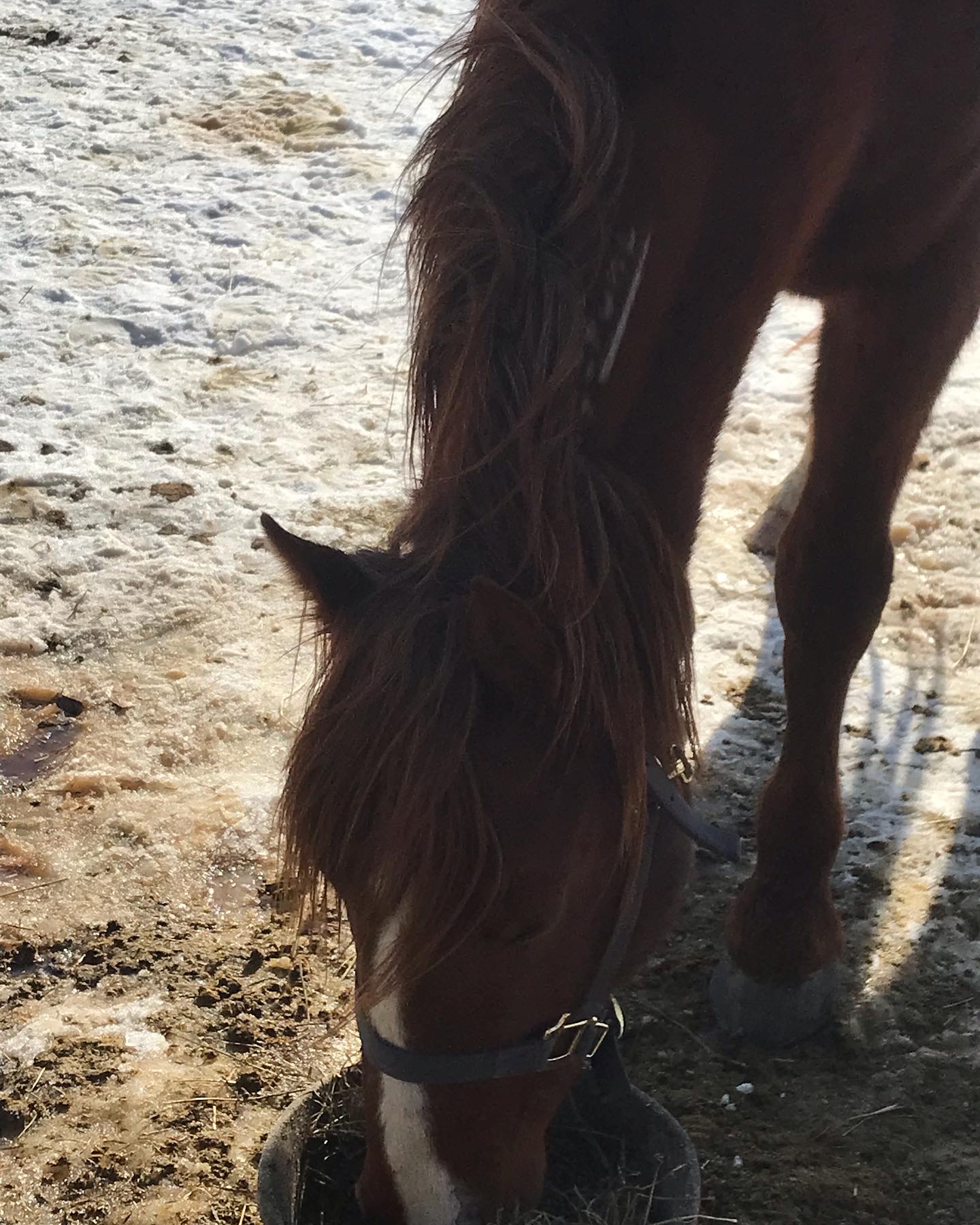 Day 5 — Due to the rain yesterday, the entire property is a sheet of ice, including the round pen. I have to carve a path to the round pen with sawdust, then knock the frozen gate latch loose. I wear cleats on my shoes. I cannot risk having #7184 slip and injure himself severely, so he can't be provoked into a burst of speed. He can't fast trot or canter. This severely limits what we can do safely, since everything makes him want to run. I work on getting him conditioned to the movement of the carrot stick. He makes steadier progress with this than direct touch. He has a habit of instinctively shying away from the line when it first moves, then correcting himself and remaining in place, angled towards me, or even taking a step or two forward. I can begin to see the wheels spinning in his head. He's thinking more rather than always reacting. I'm able to lightly swirl the carrot stick over our heads like a helicopter once or twice without him veering off! I've been told to try and stand at a 45-degree angle when working with him, rather than face on because that's a lot of pressure, so I do. He is unpredictable and inconsistent, but I imagine he would say the same about me if he could speak. I attempt more approach and retreat, slowly working towards decreasing the intensity of his rewards/releases for doing the right thing. At first, if he did something I liked, I would completely turn and walk a sheer distance away. I would toss alfalfa towards him. Now I might just take a step or two back.  Now I might drop the alfalfa directly in front of me, or insist he tease it out of my hand (though he's rarely ever willing to attempt the latter). Though if he does something I love, I will still immediately end our session there and leave altogether, because there's no greater release of pressure for him than for me to go. We're crawling towards something that feels like progress.
Video Of #7184 Getting Desensitized to the Carrot Stick

Day 6-7 — One thing that bothers me about #7184, which I am a bit embarrassed to admit, is his eyes. It doesn't help that others around me are reinforcing this; I can tell they, too, are cautious of the look he gives off. Many horseman are superstitious about eyes  As stupid as that may be, it's rubbing off on me. #7184's eyes are not wide and round and kind.  There's a slant to his brow that makes them more narrow, almond-shaped. Cold and steely. He reminds me of a bird of prey, with the look of eagles in his eyes. Hawks wheel overhead during one of our sessions today. My coat pockets are stuffed with hay, giving me the appearance of a beer belly. The chilly air demands I wear my balaclava while working with him, so I do, and I quietly hope it will help mask my wayward emotions, too, since no part of my face is visible to him except my eyes. My ski mask has been a source of comfort for me since my walk across America, when it gave me the confidence to walk in the dark in the deserts of Nevada. I rig a piece of rope, little more than a string, to the end of my carrot stick to increase its length. When I go to swing it over his head, I have it fall on his back instead. He takes off running, stopping after 2-4 laps. His body is symmetrical to the bars of the round pen but his face tips towards me. I release the rope from his back immediately. I wish I could do this more, it's a useful way to make contact, but the rope I have tied to the carrot stick is heavy, making it too awkward to reliably throw over his back. I got lucky landing it there the first time. When I make too many false attempts, it psyches him out. I wish I had a bamboo pole instead, or a smaller round pen.
I wonder if an eye can ever change. I wonder if I can grow to see his eyes differently. On our seventh day, I go to bed feeling uncharacteristically depressed, having made little to no progress. It's been a week and I still can't touch my horse. I confess in my journal, "I want to give up."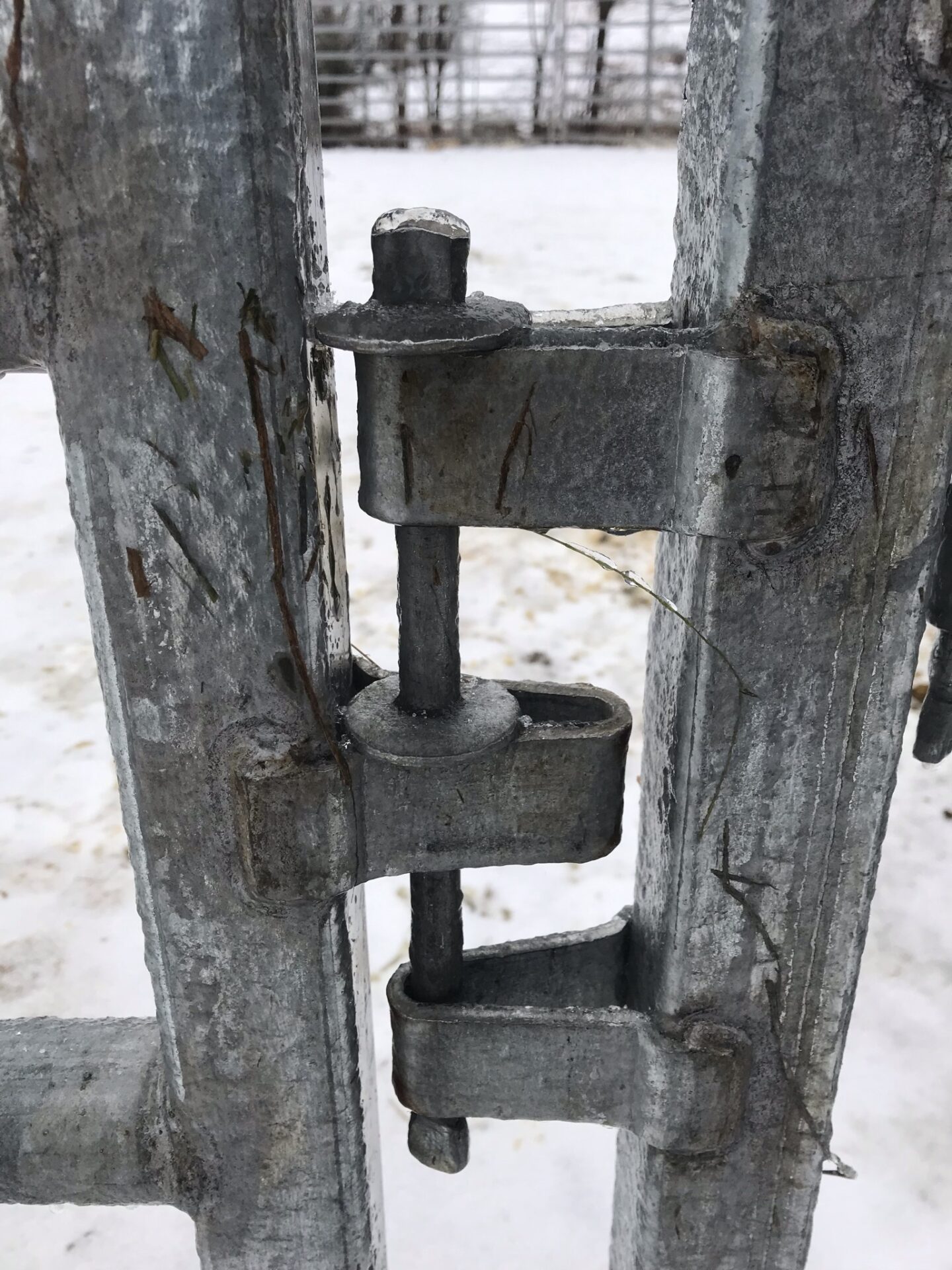 Day 8 —  Every day, it's like I have to start from square one, in some way, with #7184. When I enter the round pen, we have to reestablish that, hey, it's me, and you've seen me before, and no, you don't have to take off because I'm 5 ft away. I struggle to have the patience to do long sessions together and tend to split our time into multiple rapid fire ones. On our second session, I swing the carrot stick over his head and he remains in front of me, remarkably calm and engaged with me. No flinching! On the third, I make contact with his wither for the first time with the tip of the carrot stick! He is terrified, a ball of nerves on the edge of bursting, but he doesn't burst. After just two or three seconds, I pull the carrot stick away and leave the round pen, giddy.
I learn that he is scared of the expectation of touch more than the touch itself. It's when the carrot stick is hovering a few inches away from his fur, narrowing in, that he is the most wide-eyed and wired, threatening to make the greatest break for it. Once the stick connects, there is a noticeable change in the atmosphere. He always acts like he's on the edge of a cliff, resisting the urge to flee the longer I'm in his bubble, but I can also begin to see the cogs in his brain turning. He's registering that when the stick touches him, it's not biting him. After a few tries, I manage to touch him with the carrot stick without him flinching away in anticipation first. Then, I start working my hand along the carrot stick, shimmying it slowly up the shaft. I must lead with the carrot stick. If I extended my arm forward by itself, I would lose him. I do this until my hand, poised above the tip of the carrot stick, can rest over his withers. After I repeat this a few times, I try reaching my hand out, unaccompanied by the carrot stick, and I'm able to. I pet him with my bare knuckles. I could cry in joy. I've spent over 20 hours trying to touch him, and I have finally done it! He lets me stroke him with my fingers, if only for a second, without leaving me. He lets me be the first person to touch him voluntary. In the past, other people have handled him, but those interactions have always been against his will. A vet  with the Bureau of Land Management in Oregon would have administered his vaccines, and sliced off his manhood, while he lie, sedated, on the floor of their facility. Then, when flagged into a chute at the adoption center, a halter was placed on his head by unfeeling hands while he raged against it. (This video is posted above, but the ending is cut short. In the original, the worker taunts #7184 for not liking his ears touched, fondling them as #7184 smacks his head into the wall and another person there laughs, "keep doing it.") In the round pen, #7184 may be contained, but he's not backed into a corner. We're in the center of the circle and he can walk away from me, as he has, many, many times before in the past week, but he doesn't. When I reach for him, my heart in my hand, he lets me. He tries so hard to be brave.
Hours later, I return with the determination to get his lead rope back on, but I am cautious because, here's the thing: every time I leave the round pen, whether it's for 30 minutes or 12 hours, I don't know how #7184 will act when I return. I don't know how much he will have retained, how much he's regressed. Getting close to him isn't so much one fluid walk up as it is an ever-changing, back-and-forth dance, with us having to retrace our steps from previous sessions. Sometimes, it feels like starting from Day 1 again, which is demoralizing.
He has not forgotten our time together today. I get up to him remarkably fast, and I touch him again, petting his fur with steady, firm strokes. I don't want to brush my fingers too lightly against his withers, for fear of startling him, in the way a bug tickles when it crawls across your skin. I take turns alternating between reaching out with my hand and the carrot stick, working my way up his neck. As the sun prepares to set, things feel so remarkably right, his guard has started to drop, and, just like that, I am able to reach under his chin and reattach his lead rope with a solid click. I'm so ecstatic, I consider taking his cattle tag (the green thread around his neck that displays his numbers) off too, but I don't. I won't.
As optimistic as I try to be, the reality is that I am not sure he is the right horse for me. It's impossible to know this early on. And as colorful as my dreams may be, I don't want to shoehorn him into a role that he can't fill. I can't. Removing his tag is very symbolic for me; I want it to coincide with the recognition that he IS my partner. If he will be. This is why he is nameless, too. This is why I staunchly refer to him as #7184. I know what I will name my road horse, but I don't want to give him my name until I'm sure. If things don't work out between us, I would want his true partner, whoever that may be, to have the honor of giving him his first name.
So, for now, he is #7184, and a green cattle tag remains around his neck, stating the same.
Video Of #7184 Being Touched For The First Time (w/ the carrot stick!)
Video Of #7184 Being Touched For The First Time (w/ my hand!!)*
*confession time: this statement is a lie! Technically, this is my third or fourth time touching him. Sorry for the click bait title, but I made the critical, numbskull mistake of pressing "stop" on my iPhone camera when I thought I was pressing "play," capturing absolutely none of the true "first" touch! 
Day 9-11 — Now that a rope is attached to his halter, anchoring me to him, I can begin teaching him how to lead! I am excited about this, because it feels so possible. To make it as seamless, and rewarding, for him as possible, I set up three buckets in a triangle in the round pen, each filled with a different treat: a handful of alfalfa, a half scoop of grain, a few apple snacks. I then take a hold of his rope and begin to walk backwards towards one of the buckets until the slack in the rope ends and the slightest pressure is put on his halter. When he takes a step forward, I immediately relieve the tension. He is reluctant to move forward for the first minute or two. When he reaches the first bucket, I can tell he is surprised by it, and follows me more self-assured without being pushy, to the rest of them. After a few minutes, I completely phase out the buckets when leading him from place to place. I can also walk with my back towards him, even if my head must remained cocked to keep an eye on him. I am surprised by how soft and responsive he is. By the end of this session, I can lift his lead rope, cluck, and start walking and he'll pick up after me.
The following day, I bring a tarp into the round pen, place some grain on it, and leave. He comes to investigate it. When the grain is gone, he nudges the tarp with his muzzle to make sure no morsels of grain are hiding and the entire thing shifts, abruptly … without him jumping out of his skin in response! I then return and pick up his lead rope, encouraging him to walk over the tarp. On our first attempt, he acts like he might step on the tarp before skirting around it at the last possible second. On our second or third attempt, I keep his rope shorter to prevent this trickery and, with some insistence, he crosses the tarp! He doesn't attempt to jump over it, or burst through it when the tinfoil-like material crinkles under his hooves. He hesitates for a few seconds, half-convinced the floor is lava, until he works up the resolve to go for it and fast walks across the tarps length. I am really happy with his reaction.
I lead him over a few poles, and he readily goes over them. When I attempt the same with a stationary flag, he shows the greatest reluctance, snorting and scooting around it in a wide circle. He knows what a flag is capable of. At the holding facility, they are used to sort the wild mustangs. I fully comb out his mane with my new florescent green curry comb. After struggling to untangle his massive dreads, I take my pocket knife to them. I am amazed to see that there are white and blonde hairs interlacing his mane! I come to learn that this is common in sorrels. They are invisible from a distance. Even up close, they are small and scattered and hard to distinguish until the sun lights them up, but wow! They are gorgeous!! And here I thought he was a "plain" ol' red. I bring a separate lead rope into the round pen and practice approaching him with it, mimicking the action of taking it on and off. He is scared of my hand being under his chin, where it's unseen, and he struggles with the clicking sound the metal snap at the end of the lead rope makes. One morning when I go to approach him, he backs against the walls of the round pen, cocking both back legs in fear. Reset. It feels like I'm chipping away at a block of ice, getting through it, yes, but achingly slow, each stroke painstaking and repetitive, with no sign of what I really want to happen, for the ice to melt, to soften, to warm.
#7184 goes to eat from a hay net for the first time, but he doesn't anticipate that the entire hay net will shift towards him when he tries to tease a piece out, and scares himself. I continue to reinforce touch to his withers and face. All mustangs have a bad side, one that they are more reluctant to accept touch to. It's apparent that #7184's bad side is his left. Once, he attempts to turn his hindquarters towards me threateningly when I am on his left hand side. I should have seen it coming. He has ever so subtly angled his back end in my direction in the past. Despite this precursor, I am caught off guard, and don't react quickly enough to correct him. I resolve myself to do better next time, and I do. Next time, when he goes to turn his hind end towards me, I'm anticipating it to drive him off. This makes a noticeable difference, for the better.
I make slow progress at touching his legs. I can't get below his thighs. I flick the string of the carrot stick over his back, resting the string on one side while I continue to stroke his withers from the other, but the required jerking motion makes him want to break away altogether, so I only attempt this a few times. I make a halfhearted attempt at yielding his hindquarters a few times. I encourage him to willingly place his muzzle in a rope halter for the promise of a treat, which he does, but I struggle to get him past this initial step. Normally, when I pet #7184's face, he maintains a stony demeanor, like he can't bare to admit it feels good, even if it does. His poker face has been impenetrable …. until now. His armor drops long enough for me to see a flash of enjoyment in his expression when I stroke his check, right beneath the hollow of his eye, where his halter rests. It suddenly clicks as to why this is: his halter is itchy. He nudges me to pet his face more. Later, he will act like this never happened, but I remember.
Video Of #7184's Mane Being Groomed
Video Of #7184 Investigating The Tarp
Video Of #7184 Having His Hind End Touched For The First Time (w/ the carrot stick)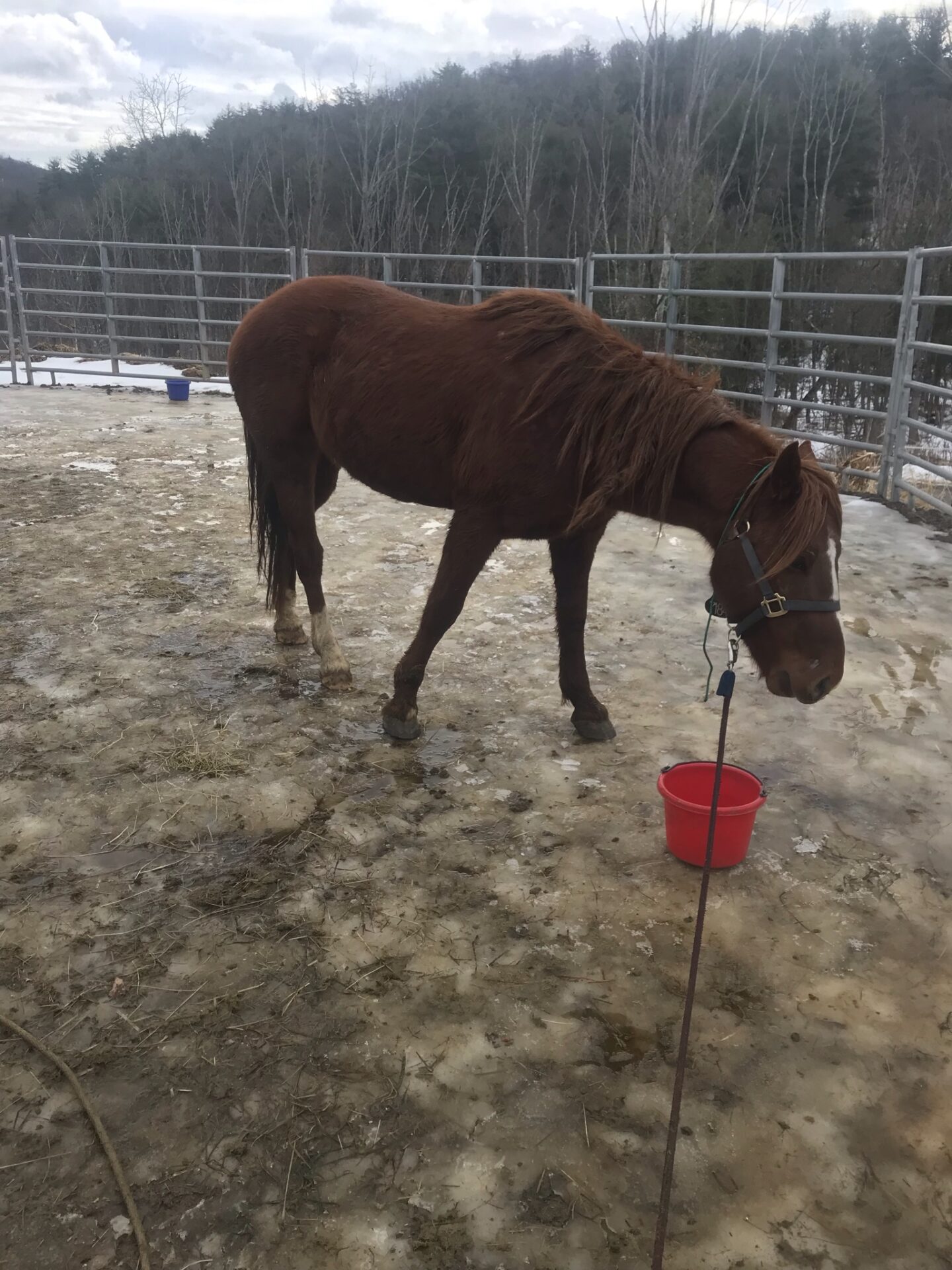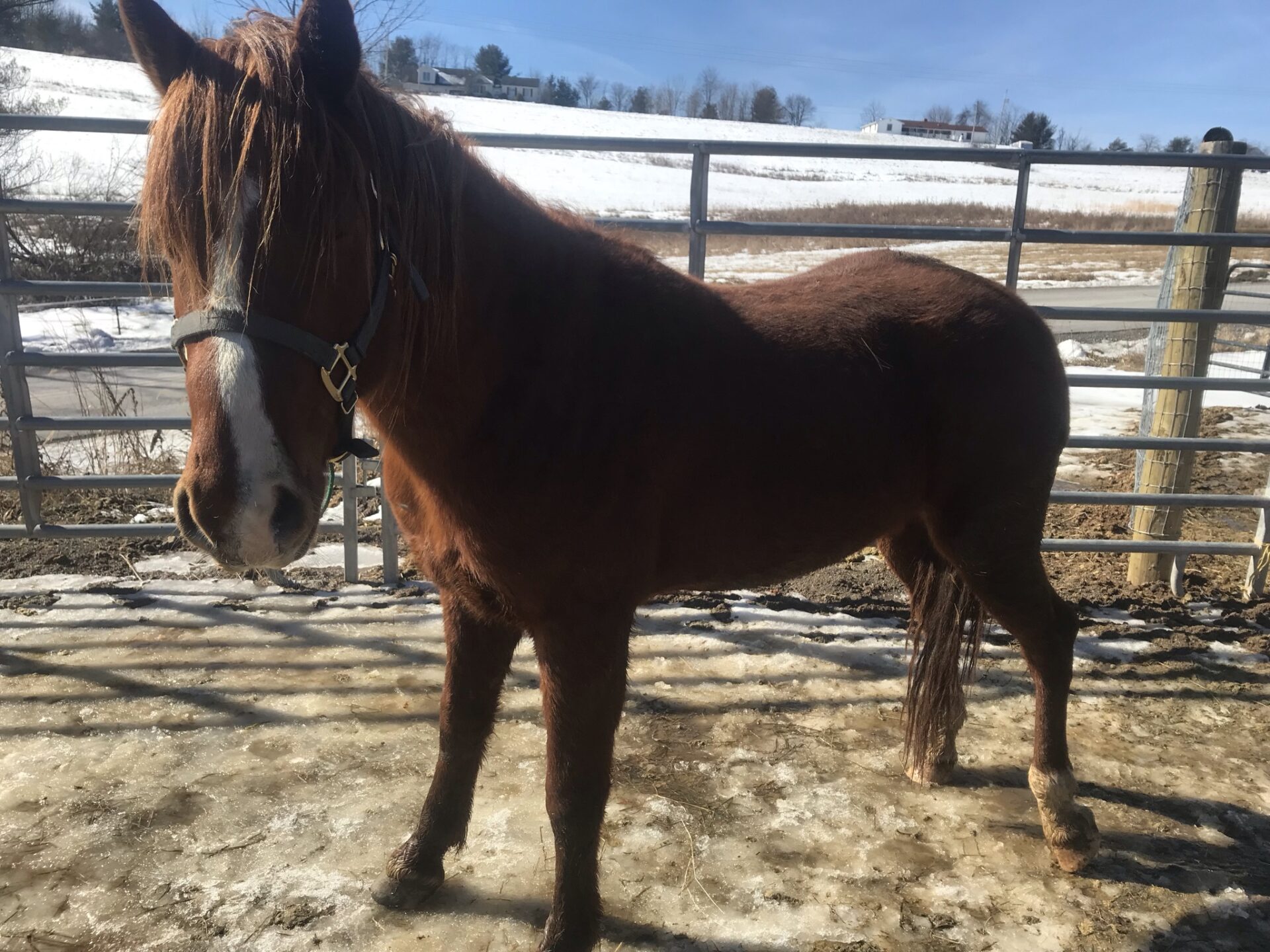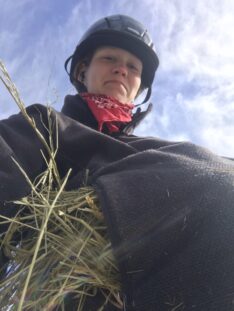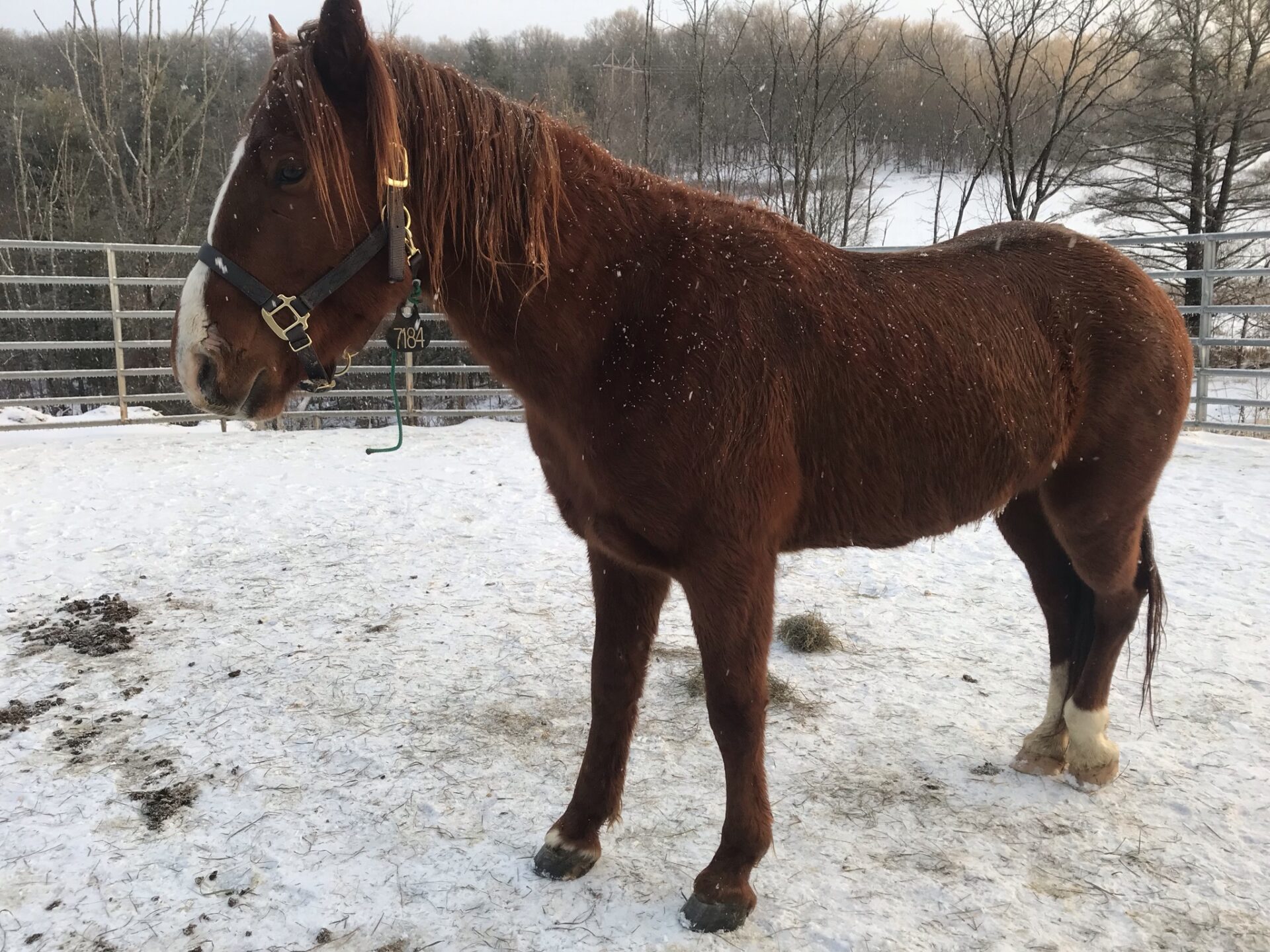 Day 12 — I go into the round pen with #7184 and attempt to lunge him for the first time. I pick up his lead rope, tie an extension piece to it, then point my carrot stick in the direction I want him to go. I drive him forward too sloppily, I recognize this as I'm doing it. He's confused, but he goes off, and does a few laps around the round pen while I stand in the middle, tracking him with my eyes as I pivot in place. I then back up, curious to see how he will respond, if he will turn towards the rail, prompting his hind end to face me (the "wrong" response). He stops, his body parallel to the bars of the round pen, his head tilting in my direction. Good. I like that. I don't expect him to face me outright, not to start. I pause there for a few seconds before going to send him in the other direction. He takes off into a trot again. Then, he looses his mind. There is no other way to describe it. He goes insane, launching into a full blown, frenzied gallop, a gait he's never shown before, while snorting at the top of his lungs. It's the highest pitched snort I have ever heard, like a velociraptor, and it doesn't stop. Things shoot from 0 to 100 in a millisecond and I am paralyzed with uncertainty on what to do. I don't know what to do. I don't want to leave the round pen and reinforce the behavior by making him think it worked in getting rid of me, but the longer I stand in place, the worse he gets. He runs and runs and runs in circles, as I stand there, trying to hold my ground, and he snorts-like a shrill scream-again and again. He goes to cut into me, on the verge of a bluff charge, but he doesn't commit to it and gallops on. He kicks out, still along the rim of the round pen, too fast for me to register and respond. The second time he kicks, he's closer, and I know I must do something about it, so I take a step in his direction with a panicked "HEY!" and lift my arms up to ward him off. He doesn't stop running around me. This isn't just a frantic canter, it's a full blown meltdown. He won't stop screeching, and my head keeps spinning, and he keeps escalating, and I'm realizing it's not a matter of if he will attack me but when, and when he does, I'm going to fold, and it will be so much worse for that to happen than for me to quietly leave.
So I leave the round pen, and I sit on a stool situated immediately outside of it, considering him through the safety of the bars.
I sit and wait for the next attack that will come, not from the wild mustang I'm staring at, but from the figure no doubt watching me from a nearby window, one who will emerge at any moment to begin their own rampage, filled with expletive laced barbs and disparaging taunts.
I would almost be better off staying in the round pen with #7184.
Day 13 — I thought I would sleep off my angst, but I don't. I have a dream overnight, replaying what happened, except in this version #7184 charges me head on, rearing up as I fall backwards in my attempt to flee. When I wake up in the morning, my stomach immediately aches. I am badly shaken, in a state of shock, almost. It feels like a line was crossed that never should have been, in more ways than one, and I don't know if we can come back from it. I don't know if I can come back. My confidence has been crushed. Trust, lost. I return to #7184's side for only a few minutes today, to see where we stand. He lets me approach and pet his right hand side, but he seems more withdrawn than engaged. I reach out to an instructor, located a half hour away, who agrees to have #7184 in their training program, but they are unsure when they will have availability. "Could be tomorrow, could be three weeks from now."
Day 14-16 — No progress, no regression. I am more tentative with him than before, in a way that does neither of us good, but spending any time together is helping encourage me. I'm slowly becoming more comfortable in his presence again. When he takes treats out of my hand, he is awkward about it, like he can't figure out how it's done, which is a silly thing, but it makes me laugh a little in amusement. I turn to Facebook to seek out other people's stories, too, and this brings me solace. I read comments like:
"I've had my main horse almost 2 years and he just recently started trusting me fully a few months ago. He was so skittish and would blow up over every little thing. Everyone told me to sell him, told me I was insane for holding out hope, but he is now the best behaved and most willing horse. Some horses, like people, will trust whoever they meet, and some will make you earn that trust. Rome wasn't built in a day!"
"It took ten months to get to trail riding. And that was with 1-4 hours every single day for 9 months. Don't give up!" 
"My girl literally threw herself into a wooden fence and double barreled me in the back without provocation. Some of these horses have been through so much they don't know how to be gentle. It took me a better part of a year to get to a point where I actually trust her and she trusts me. You aren't alone with struggling. Despite how much social media will try to tell you otherwise, sometimes these mustangs aren't always sunshine and rainbows and instant love right away."
"I had one who took less than day for touching, I had one that took three months before I could get the tag and even then she wasn't entirely comfortable. Another one took 30 days to touch, but by day 60 I was riding him. They're all individuals!"
Video Of #7184 Engaging With Me Through The Bars
Day 17 —I decide I'm going to sleep beside #7184. I have been telling myself I would for a few days now, but the weather has been too poor for me to have the courage to commit to the idea. Tonight, I have no excuse. It's in the mid 40's, dream weather. It's easy for me to get disillusioned by the trappings of comfort, of having a bed, a roof, and four walls surrounding me. It's difficult to push myself to leave that setting, but when I do, when I get out, and I step into the fresh air, it helps settle my head. It helps remind me that comfort is so often a false stability. Comfort does not inspire action, adventure. Growth.
God, I missed sleeping under the stars.
I lie in my sleeping bag beside the round pen, #7184 beside me, softly munching on his hay. Someone may come up to the barn, hollering at me for lacking the sense to be camping outside, but I don't care. I feel a quiet contentment. I feel like I have come back to myself, however briefly. I know the moment won't last, that it's fragile. I'm not sure if #7184 will ever allow me to get close to him. Maybe I will always be kept an arms length away, but I'm suddenly stricken by the thought of giving up on him,  of abandoning him, something I've considered in my darkest moments. How cowardly of me.
The moon, almost full, slips in and out of shadowy clouds. I regret having never spent a night sleeping beside my horse before. This feels right, more than anything else has, all month.
I wake up at 2 a.m. to glance over at #7184 and see he is lying right next to me in his bed of hay, close enough to touch through the bars, if I reached out.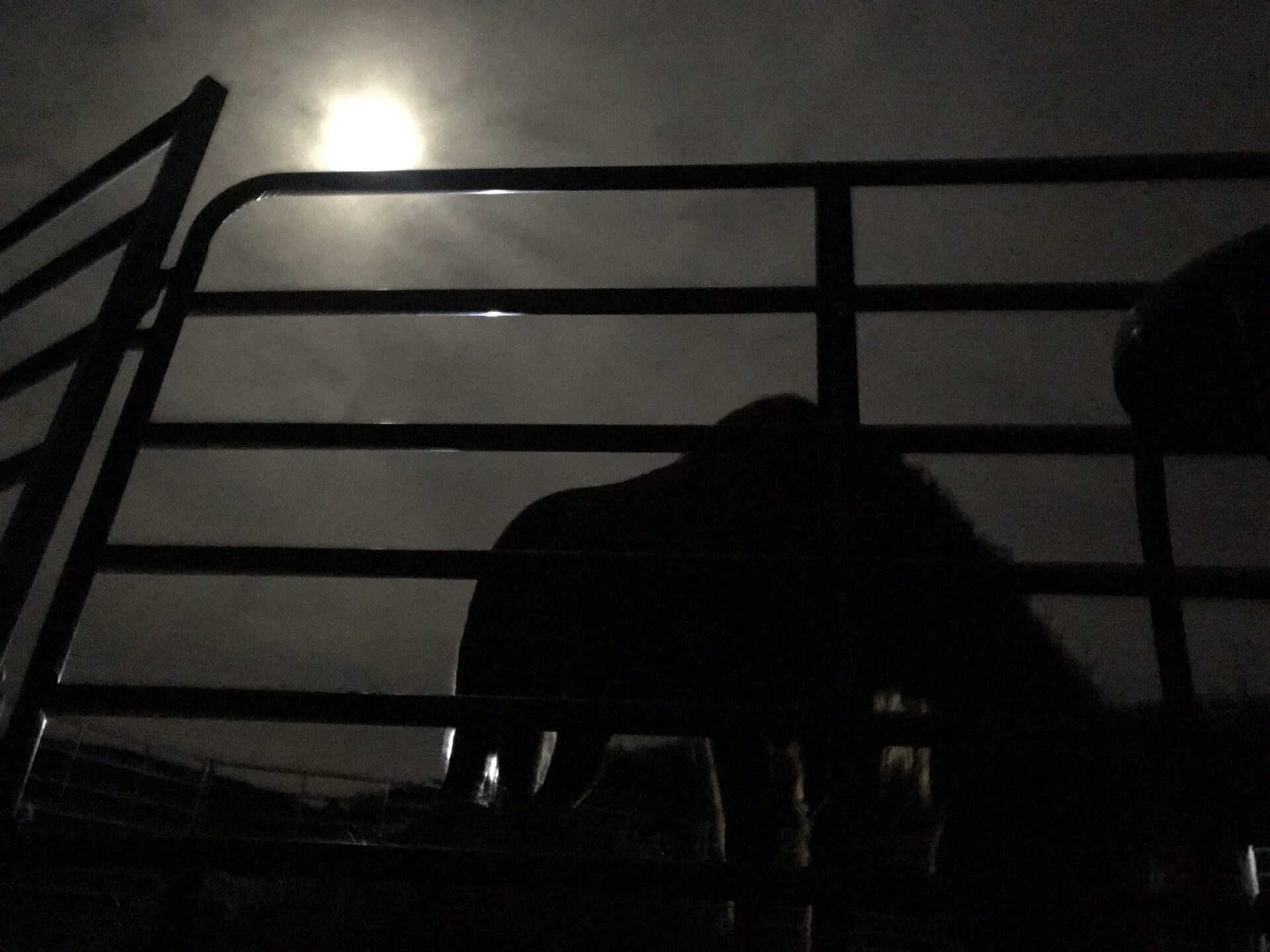 Day 18 — It's miserably rainy. I enter the round pen only to muck it.
Day 19 — I start a part time job mucking stalls at the training stable where #7184 may be boarded shortly. I didn't think it would be feasible to work there until the owner put me in touch with another employee who I could carpool with. I spend 8 hours cleaning 22 stalls. It's grunt work, exhausting and straining and I'm painfully slow at it, but I knew I would be, at first. It's why I'm glad I'm being paid $50/day rather than by the hour. I am a slow learner, and I don't deserve to be compensated more for that. I appreciate that there is not a serious time constraint with the job, that I'm not penalized for my ineptitude or, worse, forced to rush. Still, I try to get through the stalls as readily as possible, and it takes me 8 hours. From what I can figure, it's meant to take 3-5 hours. I'm a little disappointed in this, but not discouraged. I will get better over time and, if I don't, then it's not the right position for me to be in. Simple as that. At the end of my shift, my boss teases "are you ready to quit yet? Better to know sooner than later with people."
"Not yet," I reply with a terse laugh.
She then tells me, point blank, that if my horse is going to be brought here, I need to be actively involved in his training, that that's a condition of taking him on. I blink, started by her admission, because she's saying this as if she thinks she has to convince me of it. When the reality is, that has always been my condition, too. I wouldn't agree to have him at the training facility if I were forced to be hands off, to sit back and watch without ever being allowed to play a part in his development. I don't want that. I don't want that at all. I want to be with #7184 every step of the way, learning and growing with him.
I'm not sure she's convinced.
Day 20-26 — #7184 is incredibly engaged with me, eager to approach, when I enter the round pen one day. It might have something to do with the apples snacks he suspects I have in my pocket. He's taken well to them. On a poorer note, a hook on his breakaway halter has snapped overnight. It's designed to be that way, to give if he gets the strap caught in something. Better to break your halter than break your horse is the philosophy of it. The strap now hangs limply on his face. The entire thing is liable to fall off at any moment. Luckily, Joey happens to be visiting and generously offers to do a session with #7184. By the end of it, he is able to switch out #7184's old nylon halter for a rope one.
My mood peaks and plummets throughout the week. I will have a rush of elation when I am in #7184's presence, the inexplicable feeling that, yes, he is my horse, but then it drops off the next second. When I am away from him, I am at my lowest. Yet, ironically, it's this low that discourages me from seeking him out more. I think part of my problem is that I have taken his outburst the other day too personally. I am still shaken up by it. Sometimes I can't help but look at him like, well, he tried to kill me, which, to be fair, he did threaten to try. Yet, it does me no good to dwell on this, to over-amplify what happened in my mind and relentlessly berate myself for my mistakes in causing it to occur. I need to learn to forgive him, and myself, if we are going to have a chance together.
It will be a long time until I can.
Video Of #7184 Letting Loose In The Snow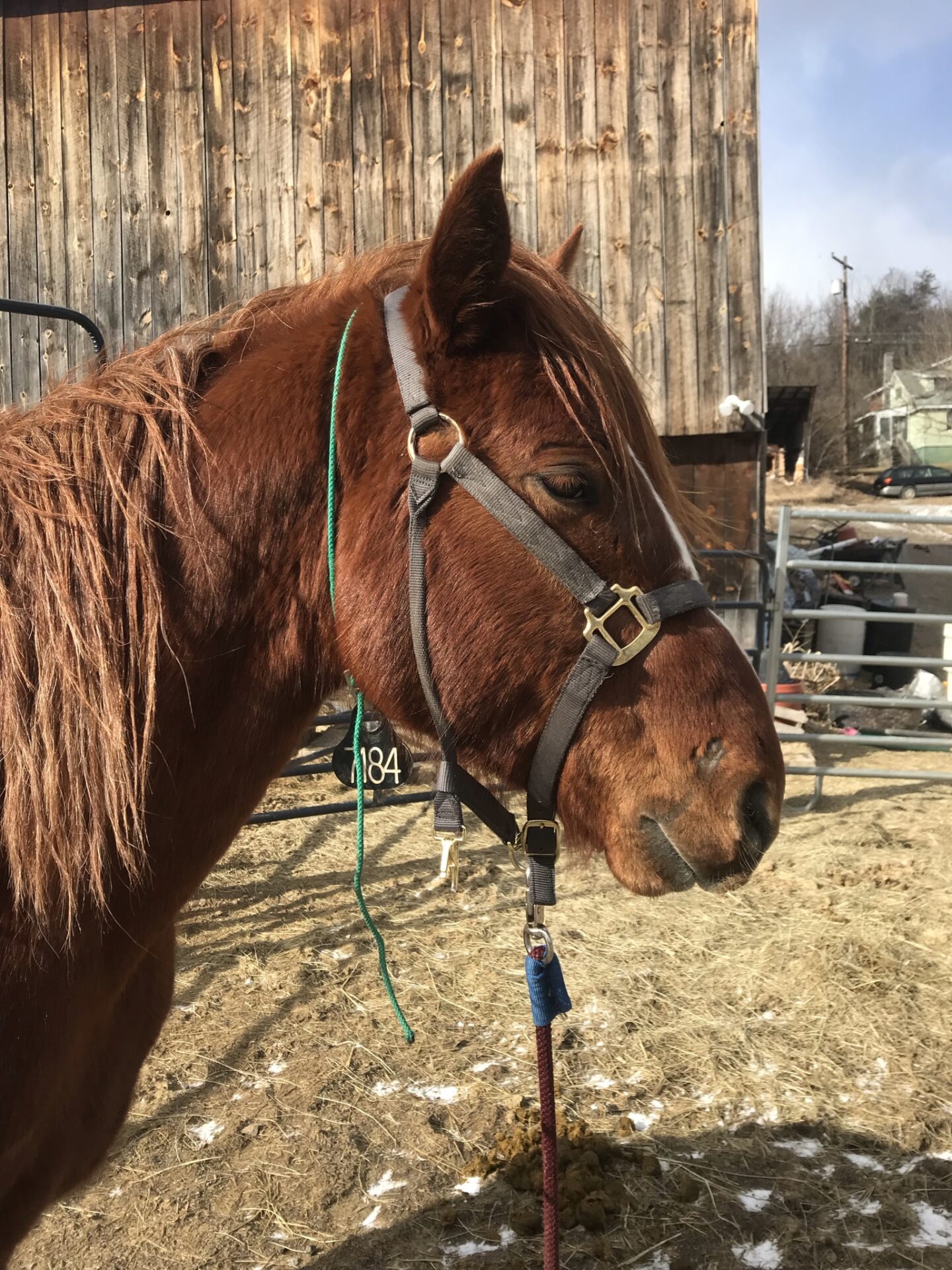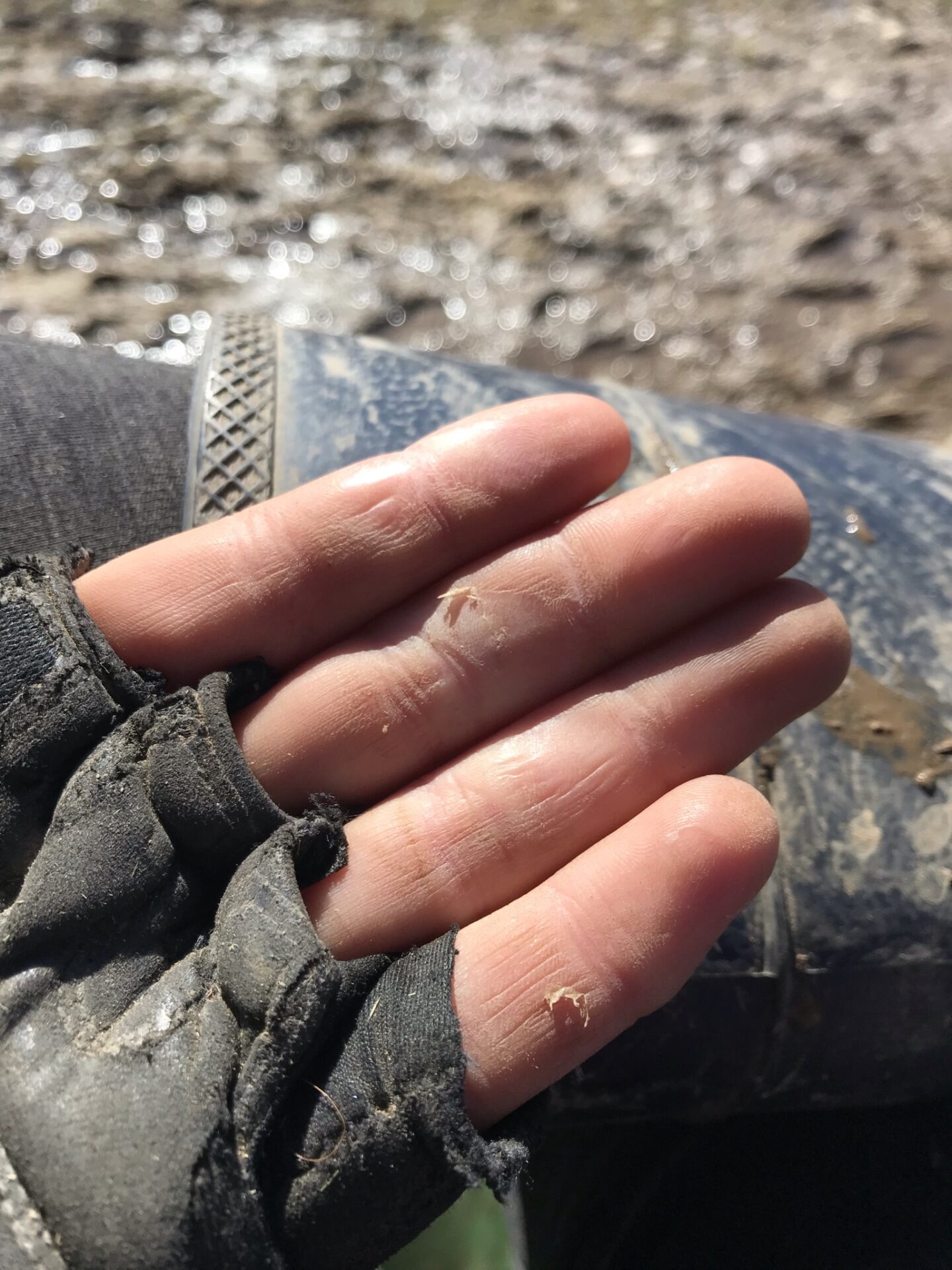 Day 27 — I introduce a ribbon stick to #7184, twirling it above his head, then stroking his forehead with it in praise, the tendrils falling on his face like the legs of an octopus. He does remarkably well with it! And when the opposite is true, and he jerks away while I'm holding fast to his lead rope, I receive a nasty rope burn for my troubles. His forehead is quickly becoming a sweet, safe point of contact for him. I stroke it with my hand any chance I get. Today, I have been given permission to lead him out of the round pen for the very first time. A row of objects — a tractor, a tarp, part of a trailer, and multiple barrels — are erected between the gate of the round pen and the barn, so if he breaks away from me, he is unlikely to escape altogether. An extension piece is added to his lead rope, too. When I open the gate and step out, he is hesitant to follow me. I have been told this first step is often the hardest. He tries to back up hastily enough that I'm forced to return into the round pen with him before trying again. We take it one step at a time. Literally. I apply pressure to his halter, and he gives, one foot reluctantly lifting forward. He stops. He starts again. At one point, he blanches at the sight of his reflection in the aluminum trailer beside us. He has a peculiar look on his face, I can't quite place it. This process repeats for five minutes until he enters the barn and I am able to soft tie him for the first time. He is fed his daily grain here before being placed in an indoor pen for the night. Tomorrow morning, it will take 20 minutes to convince him to leave this stall, because he is terrified of the concrete flooring of the barn, but tonight, I think of how he looked at me when I was leading him into the barn, and I realize he was looking at me for guidance the entire time, searching in my eyes for what could save him.
Video Of #7184 Being Too Scared To Leave His Stall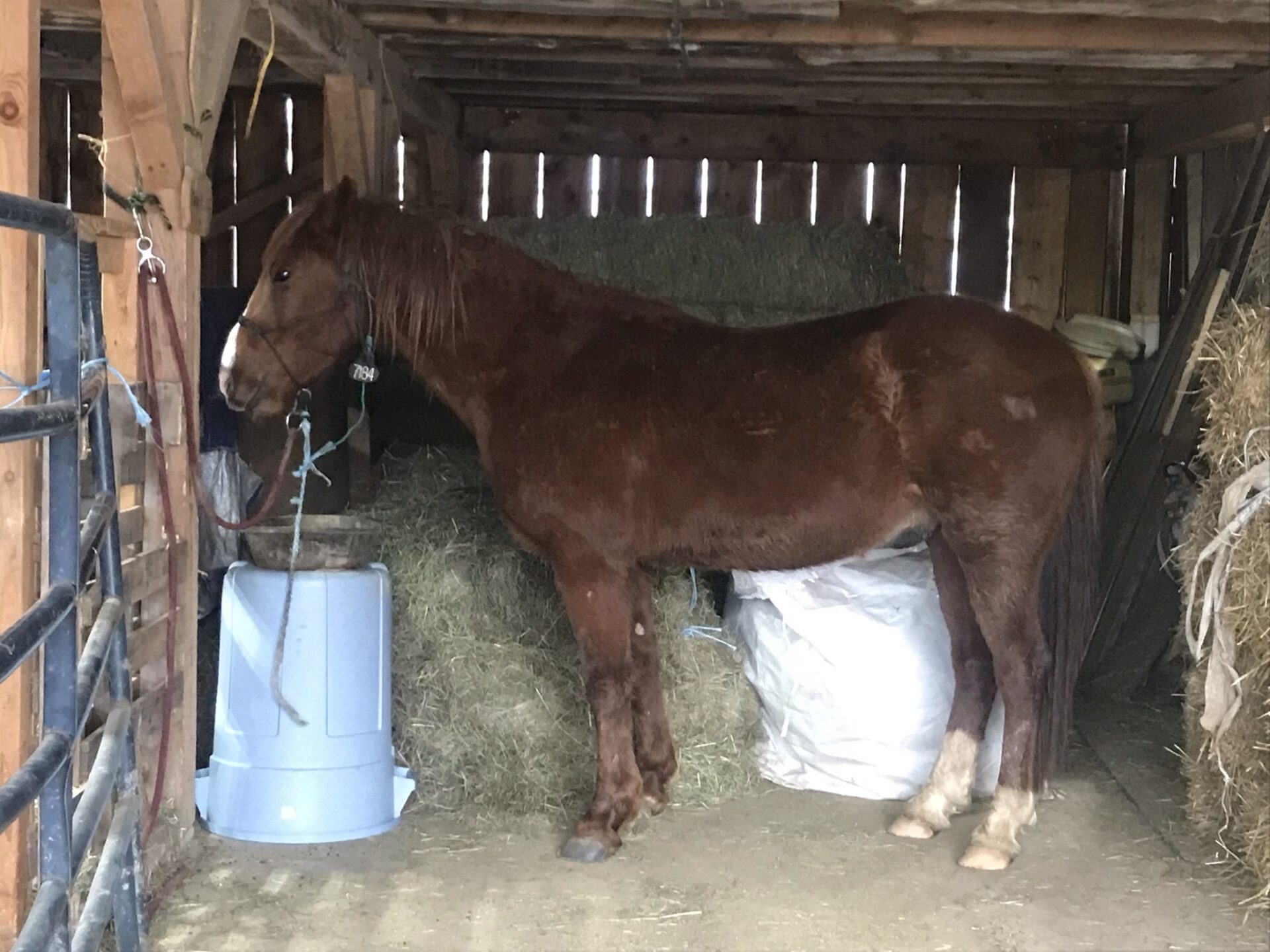 The Day, It Doesn't Matter — Because, at last, my host and I have our falling out.
Video Of #7184 And Me Saying Goodbye (briefly) 
March 9th, 2022,
I sit in a motel room in central Pennsylvania, listening to everyone tell me to go home.
It's my first time being homeless.
Well, sort of.
I gorge myself on microwaveable food. I stare at walls. I flip through TV channels.
Defeated. Up against monstrous circumstances.
I've been here before, haven't I?
The walls were just different.
I must weigh my options.
The brakes on my bike, my only mode of transportation, are broken. When I was riding down a bunny hill a few weeks ago, they suddenly gave way, and I went over my handlebars. After covering 5,000+ miles on my bike last year, this singular crash has decimated my confidence in riding. Until I can visit a mechanic, I've been using my feet as makeshift brakes, but I can't abruptly plant them at high speeds, which means my feet have to continuously drag on the ground like an anchor to avoid gaining traction downhill. My first order of business will have to be get this fixed.
It's too expensive to stay in a motel. I cannot afford to for more than a few days. There is one homeless shelter in town. It's full. The other burned down last year. I've aged out of the youth shelter; I may be able to pass for 16 but my ID will say otherwise. City streets aren't safe for sleeping.
No one believes in me.
But I do. 
I smile at myself, humorlessly. I do, and I like a good story.
Maybe that's true.
"Go home" the world says, where a bed is promised.
A bed, and what else? I've missed the cutoff to enroll in school for the spring semester, so what does that leave me with? Another job at a fast food joint or a grocery chain? Working at those places is like drowning in place to me. It's not that I think I'm above that work, it's that I'm not cut out for it. I'm too soft.
Yet if I stay here, I will have to stand alone.
I'm always alone. That thought steals into my head uninvited, bringing with it a current of pain. I wallow in it, then I try to shake it off, to convince myself: I am alone, but I don't have to feel alone. (Do I?) I can carry a presence beyond myself. I did during my walk across America. (Didn't I?) I crossed the country solo then, and never once did I feel lonely, lacking resolve. In fact, I would often have to remind myself that there was no one beside me — despite how much I personified my stroller, Faith — and, each time, it would shock me. It would make me laugh, incredulously.
So I have that going for me, I guess. What would you call that? The ability to pretend?
#7184 feels so faraway, even when we are separated by a few feet and not miles. I can't see him. We're approaching the 40 day mark, and I can hardly touch him. He is still flighty, frantic. Unpredictable. Dangerous. He is scared of me. I am scared of him, and I'm quietly suffocating in the guilt of that. I have no idea who he really is underneath the fear, what his true personality will reveal. He is indiscernible. He could be anyone.
He could be anyone, but can he be mine?
I don't know. Maybe I should run away from it all. That's what everyone expects me to do. It's not too late to find another horse.
If I throw more money at #7184 by working with an instructor, and he ends up being a waste of time, that's it. I can't afford to buy another horse. I would be digging a hole for myself I can't get out of. 
Sigh.
To be continued