I have kept a record of my route across America on horseback, to a greater extent than I have for any journey prior. 😀
Not only is my route shown below, but it is also color coded by difficulty and, if you click on the name of each road, a description of it will pop up!
• GREEN = great    • YELLOW = good 
• ORANGE = OK     • RED = bad 
These categorizations are not definite. There are many roads where I was conflicted on whether to list them as one color or another.
Here is a close up of what the map looks like:
Here is an illustration of where to click to make road conditions appear: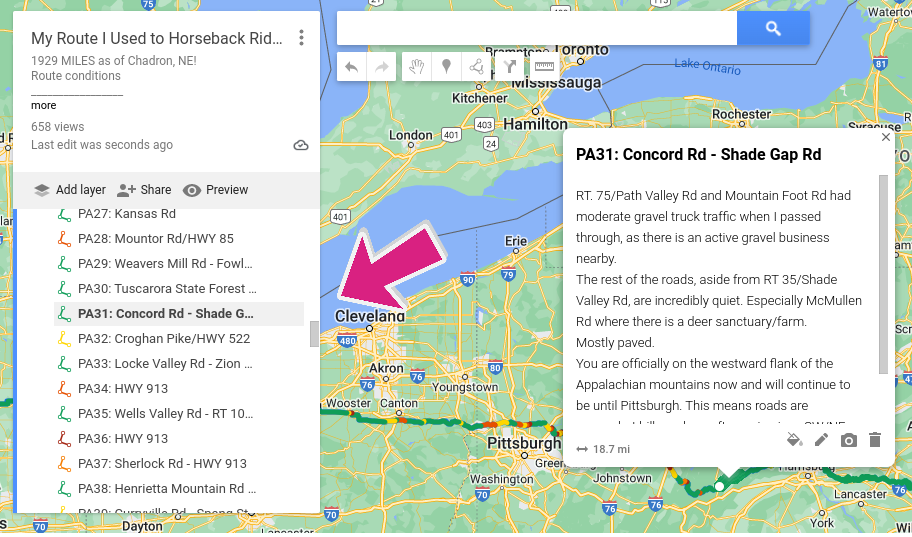 Here is the official Google "My Maps" link:
It is recommended that you open the map in a new tab for ease of viewing.
I have not yet color coded Nebraska through Oregon but plan to complete this shortly!
Now that the journey is over, I can share my "SPOT" emergency location beacon data, verifying my coordinates intermediately!
My tracker "Spotty" pinged 21,750 times between May, 2022 and September, 2023. 
Finley's tracker "BoyHaveYouLostYourMindCauseI'llHelpYouFindIt" (not shown) pinged 6,249 times between May, 2023 and September, 2023.