This comprehensive guide details where Finley and I spent each night on our ~3600 mile ride across America.
It also reflects what Finley ate daily as well as other miscellaneous details such as our approximate mileage.  
Here is a link to the FULL Google Doc (for nerds 🤓)!
➡ [Click Here] ⬅
Here is an example of what each day looks like: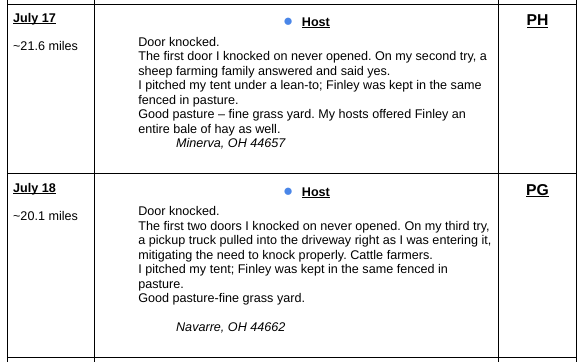 Confidential information — such as names, addresses, and coordinates — that are present in my personal file have been removed from this public document.
While I maintain a Google Maps file with all my nightly stays pinpointed, I cannot share the link to this directly since it would compromise the privacy of my hosts' along the way. 
Instead, overview shots are shown below! 
  • BLUE = host    • RED = stealth camping
• GREEN = public lands
• YELLOW = miscellaneous (often, fairgrounds)  
N E W   J E R S E Y
P E N N S Y L V A N I A
O H I O 
I N D I A N A 
I L L I N O I S
I O W A 
N E B R A S K A 
Since my lodging log is a maddeningly exhaustive 40-page document as of Nebraska, 50% of way across the country, here are all of the statistics plainly written for easy reading (for normal people 🤠)!
0-25%  ➤  Read More
25-50% ➤ Read More
0-50% ➤ Read More
M O R E   C O M I N G   S O O N