I cross into Maryland on my fourth day out, woooohoooooo!!!
(the beauty of starting a cross-country walk in Delaware is that you get to your next state so soon and it feels like the biggest accomplishment, even though you've only walked 40-50 miles 😂 )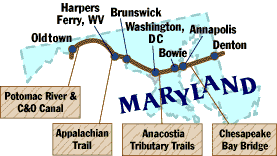 There was no "Welcome to Maryland" sign along the border, so I snapped a picture of the first state flag I passed instead. 😛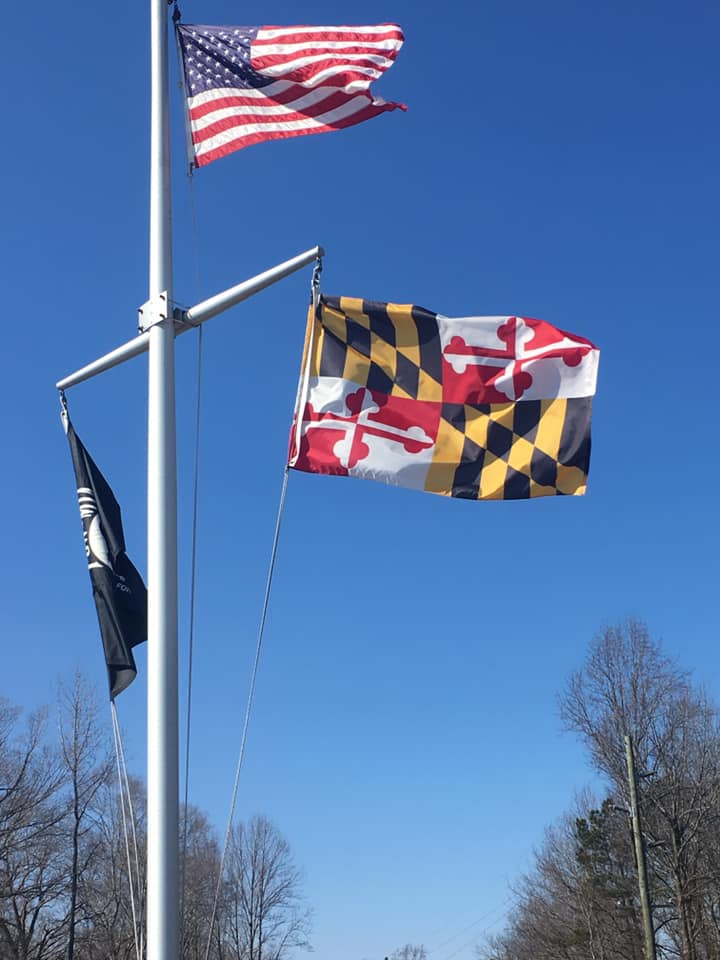 The occasion is marked by my family heading back home to South Carolina — it's hard to shake the feeling that I'm stranded now, without them– and my stroller, officially named Faith, joining me for the first time.
Right out of the gate, I piss off a driver, who blares his horn at me for walking in the middle of the street. Whoops! 🤣 (In my defense, it was a rural road that had been empty of traffic since I got on it 20 minutes prior, and he snuck up on me so quietly!) Lesson learned.
In other news, my feet are now 80% duct tape, as I've learned that it's the best (and by best, I really mean easiest) thing to patch my blisters with so I can keep chugging along pain-free.
On my way to Tuckahoe State Park, I pass through Denton, Maryland, where I meet the sweetest horse. (Seriously, the best. An honor to have met him.) He runs right up to be pet, then trots alongside me as I walk by his pasture. I wish I could break him loose, hop on his backside, and take off!…because I'm not gonna make it to my campsite before sunset by myself.
And I hate being out after dark.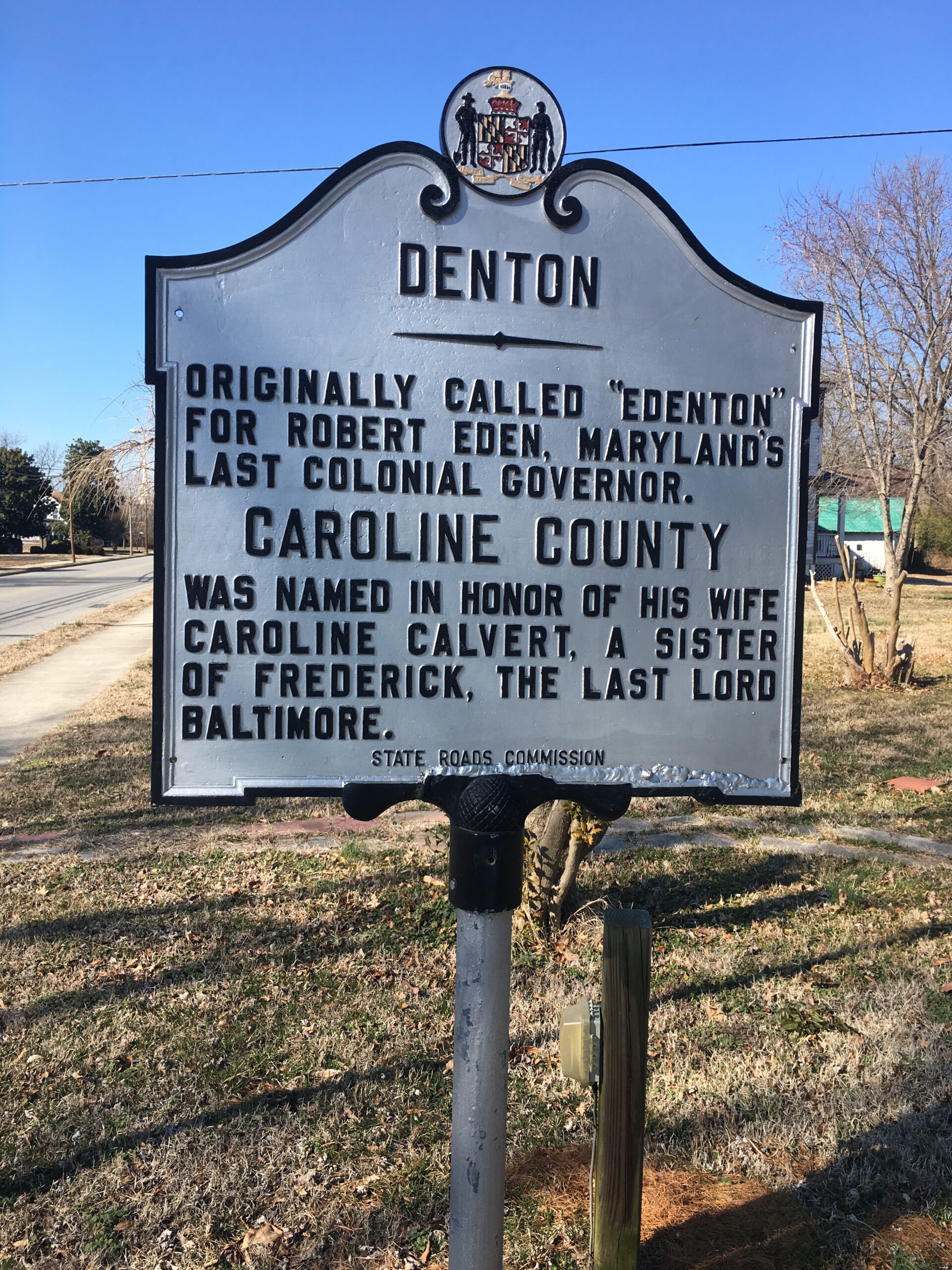 Night walking sucks.
I have to constantly be looking over my shoulder. Whenever a car goes by, I think "Oh gggoddd, they could be a serial killer. I hope they don't stop" and feel like I really dodged a bullet when they pass without incident. Twice, I'm startled by a shuffling noise and swing around to make sure there's no one behind me, only to realize it's my drawstring bag brushing against my back. "Weird…that noise sounded farther away." I chalk it up to nerves messing with my hearing, making it too fine-tuned.

I'm deliriously tired by the time I get to Tuckahoe. I hope for some respite at their FREEEEE American Discovery Trail (ADT) shelter, only to find myself tossing and turning and shivering, miserably, all night long, even with my coat on and my sleeping bag zipped up. I wake up multiple times, disoriented, to the sound of rain and the realization that I've rolled my tent over in my sleep. The temperature is 20° aaaaand…I'm getting a cough. Life sucks.
But, etched on the walls of the ADT shelter, are the names of other cross country walkers who've passed through here.
Which is wonderfully surreal.
I feel like a part of something, seeing that.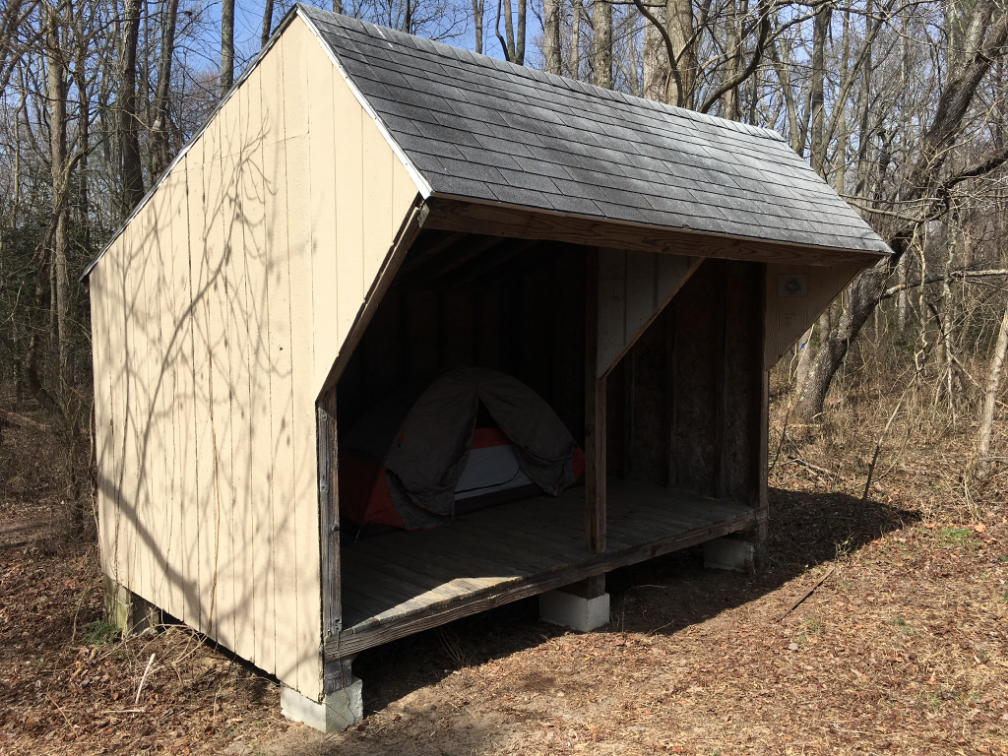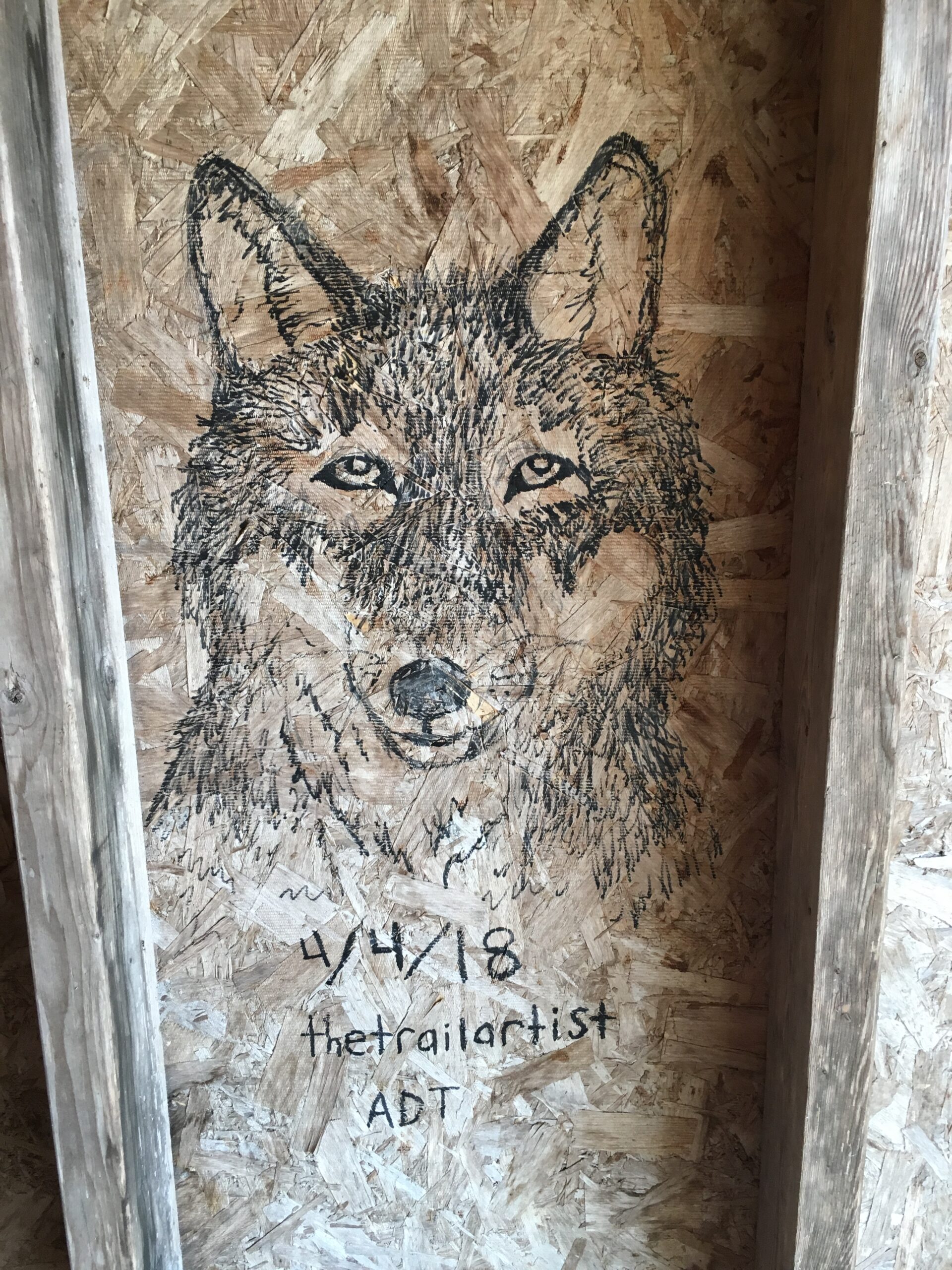 (I see Luke "The Trail Artist" and Collen Davis's signatures, two of my favorite cross-country walkers!)
The next couple of days really beat me up.
I get sick out of both ends. I have no appetite. No energy. My cough is worsening. I take two days off, which are worse than my walking days. My 6th night out, when I'm camping in the woods along the side of the road, I wake up at 1 a.m. to a sharp pain in my ear that I fear is the start of an infection, and break down sobbing for the first time since starting my trip. (I'm proud to have lasted 6 days without a good cry, because God knows it was going to happen eventually. And will again. And again . . .)
By day 8, my hair is a rat's nest, my blisters are refusing to leave without a written eviction notice – making it painful to walk no matter how much duct tape I slap on them, and I've already lost the nice wool gloves my mother gave me.
And I still haven't reached the Chesapeake Bay Bridge.
Suffice to say, morale is at an all-time low. I do the only reasonable thing I can…I sit and feel sorry for myself along the side of the road, often. 😛
When I get to Queenstown, Maryland, I lie on a bench and wonder if the people across the street from me think I'm homeless. They probably do.
Then I stop by a convenience store and rediscover the magic of fried chicken and french fries. (I packed nothing but granola bars and ramen noodles for my trip, thinking that's all I'd need to carry in-between towns. But after a particularly painful incident at Tuckahoe where I ate cold, soggy ramen noodles that didn't sit well with my stomach and had me blowing chunks everywhere – they almost tasted better coming up than they did going down! – I swore off ramen noodles for the remainder of my trip. This, in turn, left me with nothing but a few granola bars, which I've been picking at half-halfheartedly for the past four days, to sustain me. It's been misery.)
The fried chicken and french fries teach me that maybe this life isn't so bad when I'm not malnourished. Ha!

That same day, my grandparents agree to come visit from Pennsylvania. This means I get to take a nice, hot shower for the first time in days and, oh my goodness, it is pure bliss. The built-up grease & grime coating my skin was beginning to drive me mad. I can literally scrape it off my legs now. And having a safe place to sleep for the night (in a real bed!) is just the thing to lift my spirits.
Thank you so much for swooping in to save me from my misery, Marmee & Grandpop! And for sightseeing around Annapolis with me!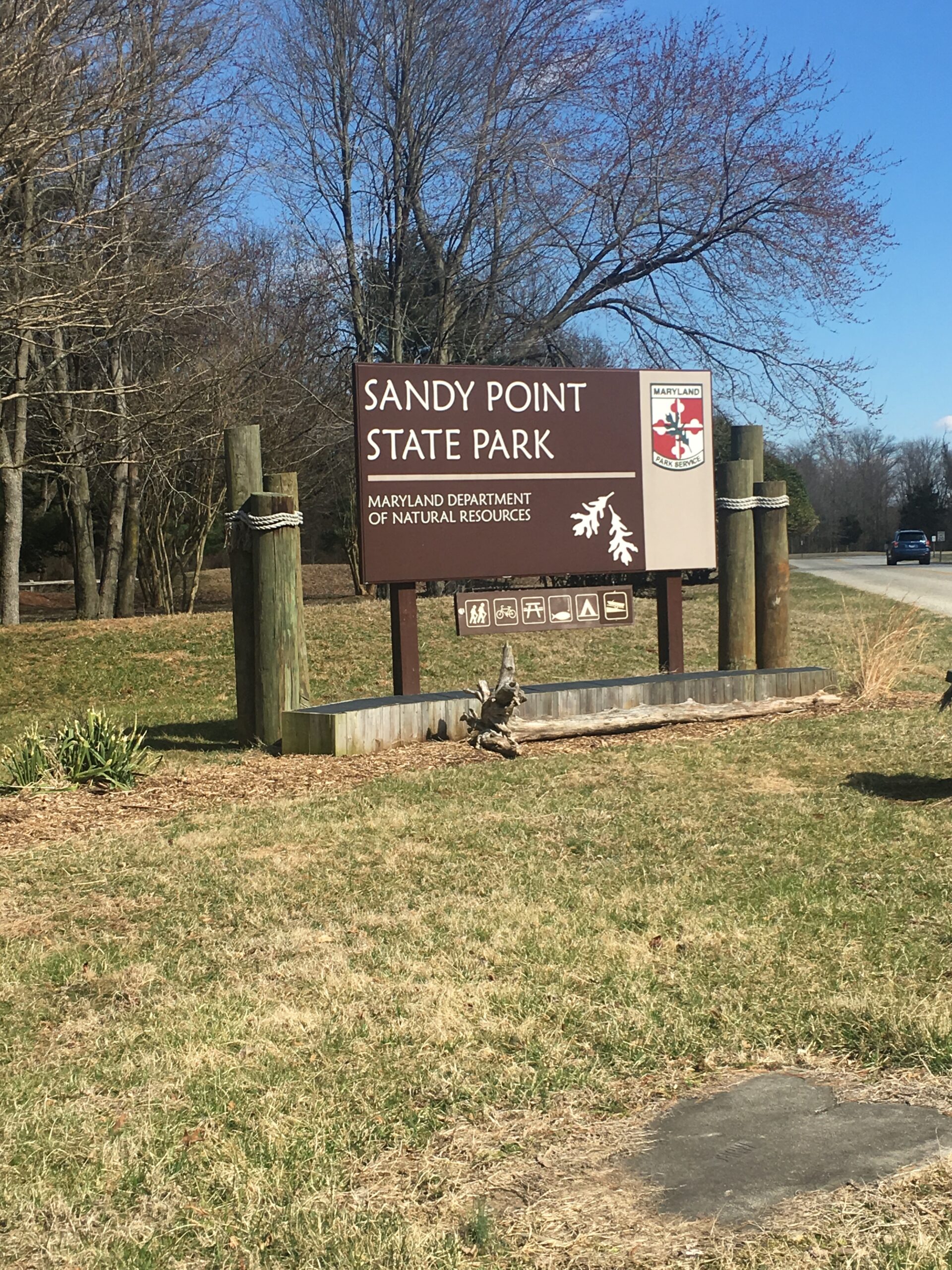 I leave the next day feeling like a million bucks again, and head from Sandy Point State Park, situated right across the Chesapeake Bay Bridge, to the city of Annapolis, where I can't find a place to sleep for the night, and, out of desperation, book a $90 motel room.
That takes a massive chunk out of my savings. Seriously – ouch.
On the way there, I pass by a sticker that says "No Whining."
Delaware and Maryland seem to be ripe with motivational signs because, just the next day, I see a billboard that says "healthy minds need adventure" on my way out of Annapolis.
Then, I pass by a "Y Worry Farms" on route to Governor's Bridge (a century-old, back-country bridge I find conveniently closed off to cars, making for a restful night's sleep in the adjacent woods, undisturbed by traffic). And the following day? I spot a "Good Luck Rd" on my way to Greenbelt Park!
Coming into Washington D.C., my first major city, I find a chocolate bar on a bus bench and face the ultimate dilemma: to eat it, or not to eat it?
While I've been raiding convenience stores left-and-right since leaving Queenstown for cheap, fast food, I still only have ramen noodles and granola bars in my pack. And here's a free chocolate bar, in gold wrapping, just begging to be picked up.
I need a second opinion on the matter, so I call my mom. She proceeds to screech at me, "Are you CRAZY? Absolutely do not eat it. Promise me you won't."
I promise not to, but the temptation to eat it is just too strong. So I sneak one bite before bowing to the universal laws of social decorum and throw the rest away.
Sigh.

(the aforementioned chocolate bar, a cool wood sculpture on the NE Branch Trail, and the HighRoad Hostel (photo from its website))
From Greenbelt Park, which lies on the outskirts of DC, I hop on the Northeast Branch Trail to the heart of the city. I'm wearier here than I am out in the countryside. Cars beep at me, incessantly. (I swear, anytime I'm crossing a street I hear a honk. Sorry, my dudes, but that won't make the red light change any sooner!)
At one point, a man passes me, only to double back and walk by, strangely slow. He then notices my apprehension and reassures me that "I just lost my glasses!" before finding them and promptly taking off again.
That night, I scramble to find a safe place to stay in Washington D.C. (I don't know why I didn't reach out to someone on Couchsurfing or Warmshowers in advance. Stupid mistake, argh.)
After an hour or two of frantically searching, my mom manages to nail down a place for me to stay – the HighRoad Hostel. It's $50 for the night, an amount that makes my broke-arse cringe, but I can't jeopardize my safety by sleeping outside in the city. Lest I wake up with Faith gone and a homeless man with horse-breath leering over me. And that'd be, like, the best case scenario.
By the time I get to the HighRoad Hostel, my energy is spent. So when I walk in and am immediately met with a burst of people laughing, chatting, an atmosphere reminiscent of a house-party, with a receptionist who refuses to accept my reservation because my ID is expired, my thinly-spooled nerves unravel and send me running right out the door to sob to my mom, "It's like a party in there!" Eventually, I collect my senses and go back inside, sort out the deal with my expired ID, and scurry as quickly as possible to my room while avoiding eye contact with everyone, like the socially-awkward teen I am.

(photos from Governor Bridge Rd)
The next morning, things have quieted down at the HighRoad hostel, and I feel much more comfortable. I chalk my anxiety from the night before up to me being overly tired. The people here aren't that scary, after all. They may look at me a bit funny with my weird, orange buggy, but I think I can survive that, God willing. 😛
Out the door, I accidentally break Faith's front wheel going down the steep steps of the hostel, forcing me to wheelie her, uphill, in the pouring rain, all day long.
I don't get to see any historical sights of Washington, DC, except for the briefest glimpse of the Washington monument in the distance, which puts a damper on my mood. I was really looking forward to seeing the city, but I took an Uber to the HighRoad hostel the night before to avoid walking after dark, so I have to compensate for that now by returning on foot to where I left off at Fort Stevens. Can't miss those miles!
Once I make it back to Fort Stevens, I hightail it to Rock Creek Park to meet Peter & Marilyn, the Maryland State Coordinators for the American Discovery Trail, who've agreed to host me for the night. They're my first official trail angels*!
*trail angels = someone who helps a hiker, whether it be by providing food, water, lodging, or other accommodations
It's wonderful to be in the company of people who are familiar with the ADT, and who don't think walking across America is outlandish. Though I can tell Peter & Marilyn aren't quite sure what to make of me (being an overweight 18-year-old with no backpacking experience, I'm a bit bewildering), I don't hold it against them. 😛 They are incredibly kind & generous hosts, who show genuine interest in my trip, and help me make a sign that says "Walking Across America" so that, in the future, people I pass on the road know what I'm doing, and don't just think I'm some loon pushing a baby stroller.
Oh, and Peter manages to fix Faith's front wheel – it's good as new again! 😁

(A picture on the wall of my guest room at Peter & Marilyn's house that struck a chord with me. It reads: "Most people don't know that there are angels whose only job is to make sure you don't get too comfortable & fall asleep & miss your life")
The next day, I depart Washington, DC., and hop on the C&O Canal Trail, with the plan being for me to bunk at Peter & Marilyn's again. Since I won't make it far past their house today, they've graciously offered to host me for a second night. 
Around 2 p.m., I get a call from Peter to let me know a storm is coming my way. This surprises me, as it's beautiful out. "Ready to be picked up yet?"
I tell him no, I'll walk a bit more. 
Immediately thereafter, the bright sky transforms into a dark hellscape, with massive winds and hail, and I wonder how the hell that happened so fast, while quickly taking shelter in the only place available – the nearest port-a-potty.
And I call Peter back. 
"You know, I think I am ready to be picked up now."

Progress ⭐
March 12th-22nd, 11 days, roughly 102 miles, 9.27 mpd average