When I began my walk two weeks ago – hell, before I left, even, when I was still at home in the late stages of planning for my trip, stuck in that discomfiting phase where I've taken all the necessary steps to turn my dreams into reality but it still feels like a faraway fantasy –  I would tell myself, "You just have to make it to the C&O Canal."
Even if my first two weeks on the road felt like I got strapped to the back of a truck and dragged all the way to Washington, DC., my ass sparking on the pavement, I resolved myself not to quit until I reached it.
And it's that far-off point in the distance that I've been shooting for ever since. (Not the California coast-god, that's too far away.)
Whenever times have been rough … whenever cars have driven by me so fast you'd think they saw me more as a speed-bump than a YIELD sign … whenever a strange noise sounded outside the flimsy walls of my tent that made me think "oh shit, what was that" followed by "I mean, probably nothing, but" … 
I've reassured myself that the C&O Canal was right around the corner.
And as of March 23rd, I'm there! My first major milestone, conquered.
WOOOOOOOOOOOOOO!

Peter & Marilyn drop me where I left off on the trail. After sharing a heartfelt goodbye, I duck away to use the same port-a-potty I took refuge in during the thunderstorm the day prior.
And I accidentally open the door on someone inside.
"HEY!" they shout
"Whoops, sorry!" I yelp, and quickly slam it shut.

The Chesapeake and Ohio Canal, or "Grand Old Ditch," operated from the late 19th to early 20th century, as a means to transport cargo up and down the Potomac River, with its towpath designed to allow mules to tow boats through the waterway. Today, the C&O Canal towpath has been transformed into a 185-mile recreational trail for hikers, bikers, and horseback riders alike, that stretches from Washington, DC to Cumberland, Maryland. With its close proximity to the capital, it welcomes millions of visitors each year, and has 33 FREEEEEE campsites, each 5-20 miles apart, equipped with water pumps, outhouses, and picnic tables.
More info on campsites along the C&O Canal can be found HERE
Pretty great, huh?
The C&O Canal means the burden of being at the mercy of traffic, and having to scurry to find a safe, legal place to sleep every night, is lifted off my shoulders — at least for a few weeks.
[ Miles 1-50 ]
From Washington, DC to Great Falls, the C&O Canal is swarming with people out enjoying the 50-degree weather. It's kind of strange to pass by so many other pedestrians, knowing they're all out for a leisurely stroll while they're oblivious to the fact that I'm … not. Peter & Marilyn helped me make a "Walking Across America" sign to attach to Faith, but it remains tucked away. I've been too anxious to put it up yet and, if I'm honest, I made it more to encourage drivers not to call the police on me for road-walking than I did to attract attention.
I can tell people don't know what to make of Faith.  One Asian woman approaches me and excitedly leans down towards Faith, cooing "Baby?"
I shake my head at her. "No baby."
She looks visibly disappointed and walks away.
Another time, I overhear a snippet of conversation between two women. "Probably a dog [in there]."

(a. The Potomac River has claimed 58 lives in the last decade despite looking so calm, b. An ADT badge Peter & Marilyn gave me, c. Faith in front of Great Falls!)
The first campground I stay at is Swains Lock, at Mile Marker 16.6. It's nestled right along the Potomac River. While I long to face my tent towards the water, I find I'm most comfortable situating it in the direction danger is most likely to come from. That way, if someone approaches in the night I stand the best chance of spotting them through my tent's mesh door. It's a mental security blanket sort of thing, but I can't imagine sleeping any other way- who turns their back to wolves?
So tonight, that means facing my tent towards the trail.

Days on the C&O Canal are quiet, peaceful. Once I pass Great Falls, the hub of activity on the trail, traffic trickles away. My only company is the occasional cyclist who'll shout "on your left" before zipping by, and all the woodland creatures who call the riverside home. A fox. A raccoon. A black squirrel. Lots of turkeys, heron, and wood ducks – fowl that immediately scream bloody murder and fly away when they see you. Every. damn. time.
All separate occasions. (Though wouldn't it have been nice if I had spotted them all together, enjoying a cup of tea, Peter Rabbit style?)
Somewhere in the middle of nowhere, mosquitoes bum-rush Faith & I. (I don't know if any noise sparks a quicker reaction than a buzz by your ear.) In seconds, we're surrounded by a cloud of the pygmy demons. I frantically retreat from Faith to escape their attack and, miraculously- it works! They ignore me and continue to swarm Faith. When I approach again, they remain fixated on Faith, with only a few flying into my face, but none attempting to bite me. Huh.
Being a bright, neon orange, I wonder if they mistake Faith for a giant flower. Male mosquitoes don't actually drink blood, only nectar. And female mosquitoes only drink blood to feed their young, not to nourish themselves. And since it's the beginning of the season, it's plausible that none of them have spawned little demon babies to have gained a taste for blood yet. Maybe.
In any case . . . weird.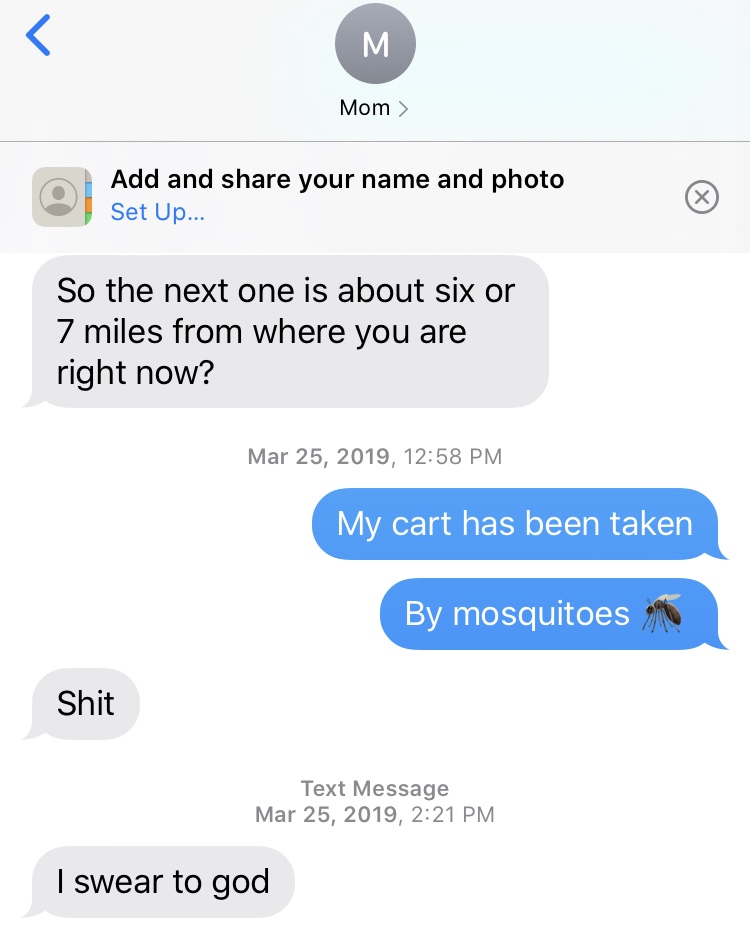 (I text my mom "my cart has been taken …" leaving out the "by mosquitoes" part for a good few minutes) 
[ Miles 50-100 ]
Around Mile Marker 52.5, I see a sign denoting that the trail is closed ahead. I push on out of curiosity and a reluctance to bother with a lengthy detour if the trail is cross-able.  I mean, how bad could the damage to it be?
Turns out, pretty bad. It's completely caved in.

(washout photo from HERE)
A few people mingle in front of the cave-in. From a distance, I fear they're officials ready to yell at me for ignoring the clear "TRAIL CLOSED" signs, and quickly consider making a U-turn to hightail it out of there before they spot me. But then I realize that they're just a family of cyclists, stopped for a lunch break.
I stare down at the gaping pit where the trail used to be. "Huh. Guess I have to go back."
One of the cyclists-a young girl- pipes up from behind me, "Well, we just crossed it." Her father then motions to the railroad tracks next to the sunken trail that can be used to maneuver around the cave-in.
I thank them for the info, and set off to conquer the massive gravel hill leading up to the railroad tracks. Faith's wheels struggle to gain traction on the loose, steep surface. I push on her handlebars with all my might (which arguably isn't much-my forearms are like chicken thighs), but she hardly budges. Then I switch tactics and try to pull her up the hill by her front wheel attachment, only for my feet to slip halfway up, sending Faith & I careening back down the hill.
Faith has a few tears in her fabric from the fall, while my knee is scrapped. I only, really, slid a few feet on my arse-no killing blow to anything but perhaps my ego, as the family of cyclists nearby were watching everything.
The father quickly rushes over to offer his assistance, and together we carry Faith to the other side of the trail. My fingers ache by the time we set her down, much like they do when you're carrying one too many grocery bags at once. (Did I mention how pitiful my upper body strength in? Pssh.)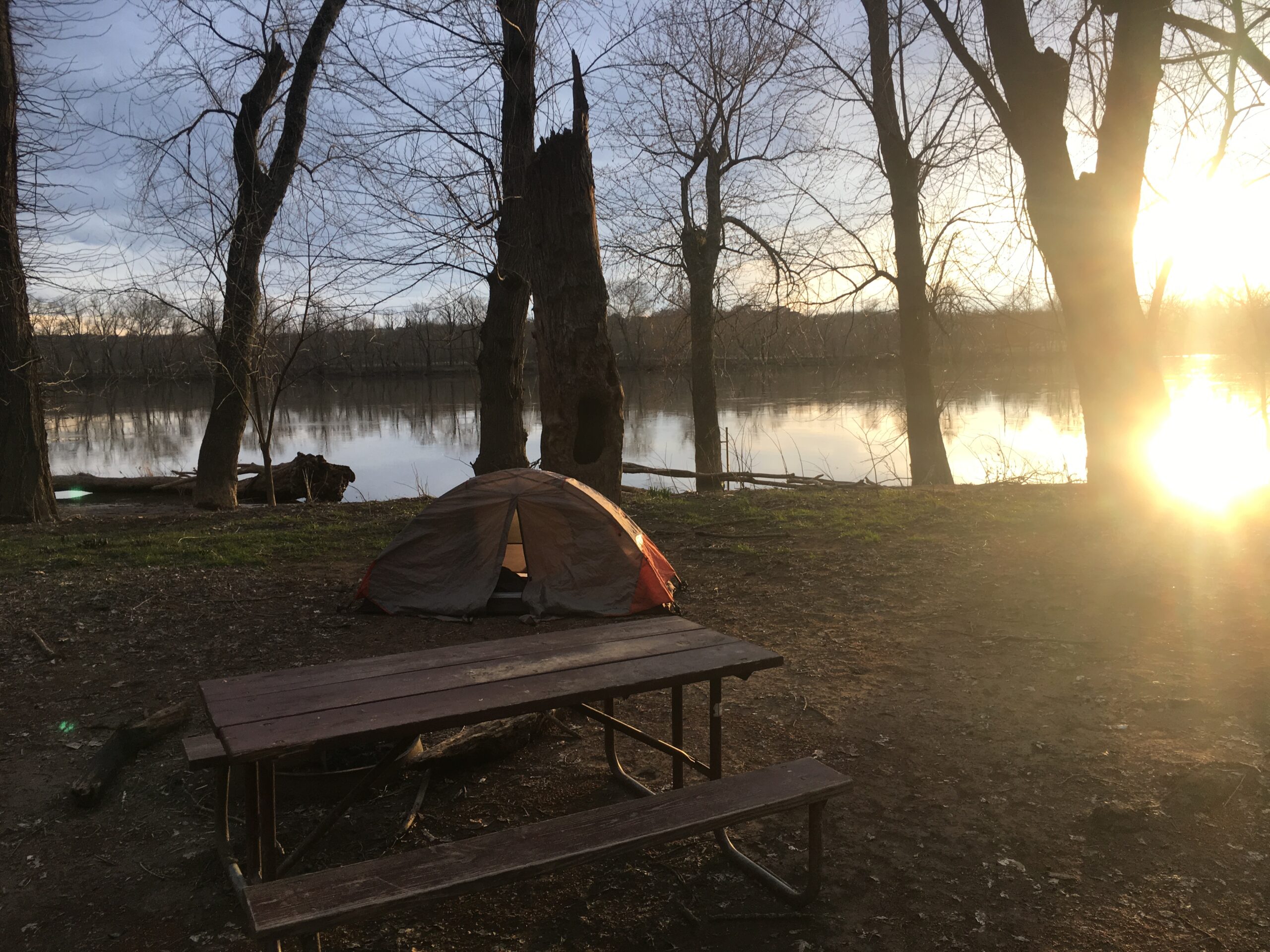 I bounce from campground to campground, enjoying how flat and uniform the trail is. The Potomac River always remains on my left-hand side, while the Canal alternates between being a babbling brook to a muddy bog. Old lockhouses and dams crop up every few miles, while mile markers serve as my constant companion. Except for an incessant creaking noise coming from her left wheel, Faith is taking well to the dirt path too.
Once, a biker says "How're you guys doing?" as he passes by. I'm confused for a second. You …. guys? Until he waves at Faith and I realize he thinks I have a baby! Ha ha.
I bypass Harpers Ferry. Though it looks like a quaint old town, and it's my first sign of civilization since Washington, DC, the encroaching darkness of the day leaves no time to explore it. I head straight on to Huckleberry Hill campground, 3-4 miles north of Harpers Ferry. There's a single male cyclist bunking there too, but he seems harmless. (I say after surviving the night. Do you think I'm stupid enough to call anyone "harmless" publicly, before it's confirmed they will not, in fact, murder me? No. 😛 I could not stand the sheer irony of that. You won't ever hear me say "I feel so safe sleeping here" about any particular place until the next morning, either. I won't even write such thoughts in my diary until later, pfff.)
Morning hits hard. It's weird-I went to sleep at Huckleberry Hill feeling great, spirits high, and wake up feeling like I've been kicked in the head by a mull. I can't bother to get up. I fall back asleep so I can disassociate from reality for a few more hours.
When my internal alarm clock finally forces me up, my head's spinning. Whenever I turn it a certain way, I'm overcome with nausea. I try to lie still, eyes closed, anything to not rattle my brain, but it doesn't help and I'm left to face the hard truth:
I'm starving.

(I went up to this "Dry Goods Store" in downtown Harper Ferry, excited to get supplies, only to find out ….. it's a museum. Not a real store. Pshh.)
That must be why I'm nauseous. Since leaving Washington D.C., I've eaten little. A few granola bars, fruit strips. And I've been walking on sunshine, unbothered by my empty stomach, hardly even aware of it. Until now. The floors finally fallen out from under my feet. Yet I still struggle to eat another granola bar. The nausea, while signaling that I need to eat, also has the unintended consequence of making me less hungry.
I begrudgingly backtrack the 3-4 miles to Harper Ferry's to grab some grub. Downtown, everything's too expensive – one pizza joint is selling slices for $5 each! Utter madness! So I trudge another 1.2 miles up the hill Harpers Ferry's perched on, to the local 7-11. At which point I get overwhelmed by all the options – should I buy cheese? can that last long? what about beef jerky? no, that's too expensive. chips? apples??  nuts??? My mind sputters like a failing engine and I tearfully run outside to call my mom to talk me through what to buy. (I'm a big baby with bouts of social anxiety who is newly independent for the first time, what can I say? 😛 )

I had a strange dream the other night. I was back home, with family. Going about my business in a happy-go-lucky sort of way when suddenly it strikes me that … something isn't right. I'm flooded with confusion, and feelings of wrongness. Because … I'm not supposed to be here, am I? No. I'm supposed to be somewhere else. I'm supposed to be … walking across America! It hits me like a slap in the face. Then I'm even more confused, and distressed. Because why am I home? What happened? Why did I stop walking?? I don't know the answers to any of those questions but I frantically rush to return to the road.
I take the dream as a good sign that my subconscious is committed to this thing.
From Harpers Ferry, I trudge on towards Williamsport. Trail traffic swells here. The sweetest woman walks alongside me for nearly a half-hour, proudly proclaiming to every other passerby that I'm "walking across America!" to my mild embarrassment. Shortly after, a father and son duo on trikes stop to ask where I'm going-and whether I have a baby in my stroller.
It's a popular question. 
When I get to Williamsport, MD, I step off the trail to charge my dead battery pack and fill up my water jugs at the local library. (Every campsite along the C&O Canal has water pumps, but they're switched off until mid-April.)
While there, the librarian learns of my adventure and startles me by saying "it's an honor to meet you."
Wow!

(the most beautiful stretch of the trail, between Killiansburg Cave and Cumberland Valley campground)
[ Miles 100-167 ]
April 1st, I hit the 100th mile marker! I celebrate by telling my mom I'm quitting. I can't take it anymore. Take me home.
And she buys it – April Fool's win for me! 😛 (I considered posting the same thing on my Facebook page, but was too depressed by the thought that all my friends & family would buy it and send me pitying messages too.)
From Leopards Mill campground to Devils Alleyway, I notice something shiny flickering in the mud along the side of the trail, and quickly realize it's beached sunfish, flopping about! I wrestle as many as I can into a sandwich bag and make repeat trips over to the river to dump them in. A few get left behind, but I hope the coming rain tonight will save them. This altercation-coupled with my general laziness, and my inability to wake up at a reasonable time- makes me late to Devils Alleyway for the night.
I almost forgot how much I dislike walking in the dark, even on a secluded, relatively safe trail in the woods.
But I've learned of one silver lining to night-walking: it makes me quicken my pace, without a single complaint from my feet. Ha!

Today's the day I'm going to reach the Paw Paw Tunnel, the highlight of the C&O Canal! And I'll be spending the night in a $30 Airbnb-thank God, because rain got in my tent last night, drenching my sleeping bag and shoes. And I haven't slept in a bed, nor taken a shower, in 2 weeks. Since I left Peter & Marilyn's house.
I've become noise-blind to my stench but it must be gnarly.
Lucky for humanity, there's not another soul on this stretch of trail to get a whiff of me. I've reached a very secluded, wilderness section where the Potomac River keeps looping in on itself like a snake, and I have no service to call anyone. The skies threaten to downpour constantly, but never let out more than a drizzle.
I pass a tree with giant, symmetrical holes in its side, and marvel on what could possibly have caused that. A power tool? An airborne beaver?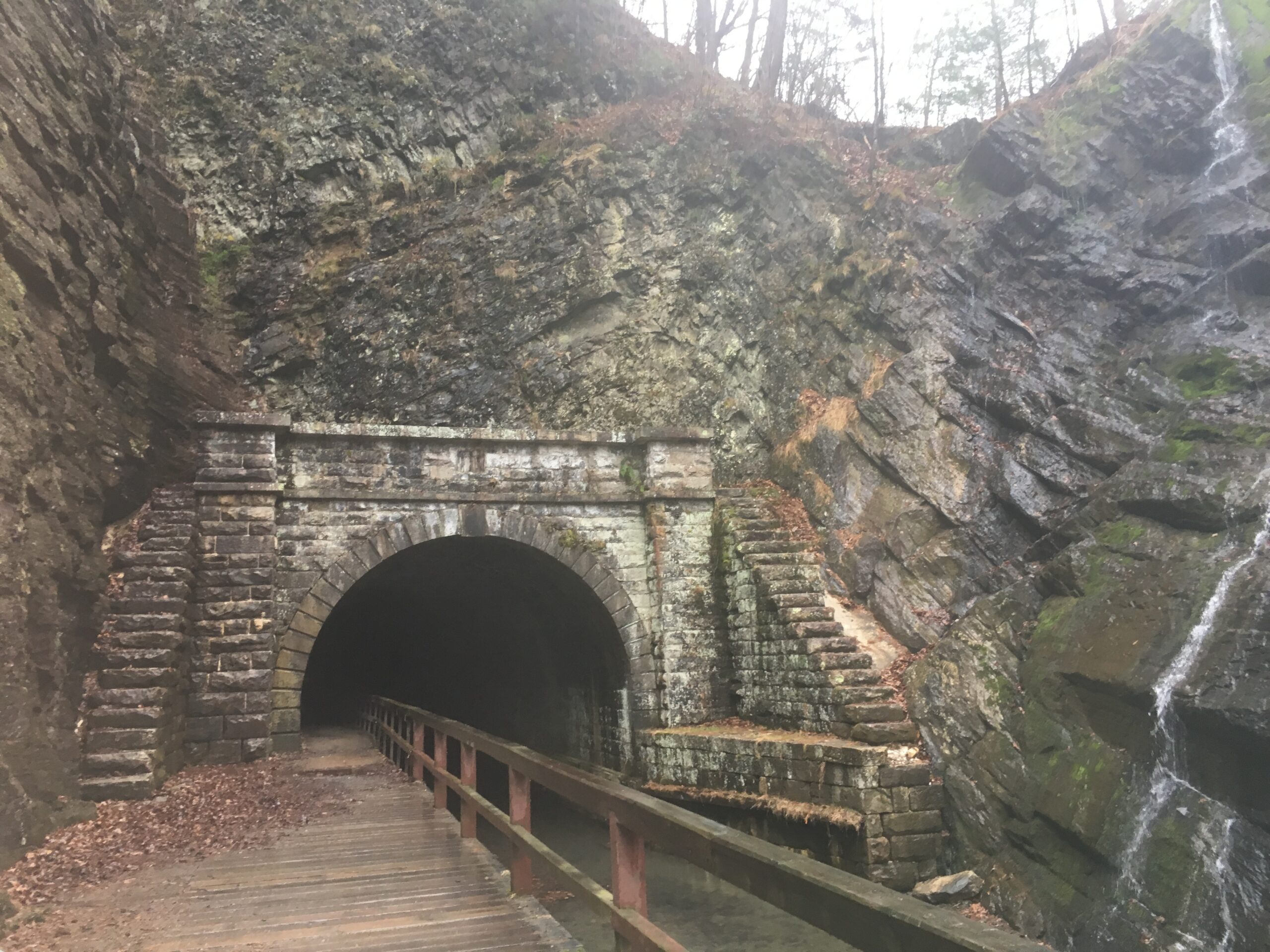 After awhile, another walker passes by. He notes my bright yellow rain suit (this gem) and calls out "I've seen a black bear and a brown bear … but never a yellow bear!" Ha ha. I don't think much of the encounter, until nearly a half-hour later when I hear a "Hey!" behind me and whip around to see the same man running towards me. He tells me about how he once dropped his wallet with nearly $300 in cash along the C&O Canal, when a pair of cross-country walkers found it, and returned it to him.
He decided thereafter if he were ever to meet another cross-country walker, he'd return the favor. So he hands me $50!
Following that wonderful encounter, I meet Dan! My AirBnB host for the night. He's an avid cyclist, a C&O Canal enthusiast, and the G R E A T E S T person. He gives me a spare key to his house, graciously takes my damp tent to hang up on his patio, offers to shop for me while he's out of town since there's no grocery stores in Paw Paw, WV,  and makes me (as well as all his guests) breakfast in the morning-complete with homemade bread. You'd think, after hosting hundreds of travelers over the years, his enthusiasm for meeting new folks would waver, but he's as spirited as could be. Thanks for your endless hospitality, Dan!! And for solving the mystery of what caused those massive holes in the tree-a pileated woodpecker! 
Check out Dan's Bikepath B&B if you're ever planning a trip to the C&O Canal: Click here for his FB page! or Click here for his website!
I weigh myself at Dan's and find I've dropped from 195 to 172 pounds – holy cow! It's due to malnourishment, but I'm still amazed by the change.
I'm finally getting into the rhythm with food, too. Before, I carried nothing but ramen noodles and granola bars. Now, I've added pepperoni, cheese, bagels, peanut butter, jelly, beef jerky, peanuts, and SPAM to my stash. Awaiting for me at Dan's is also THREE surprise packages from my mom-a new pepper spray (lost my last), my supply of beef jerky/peanuts, and new shoes!
Incredible Merrell trail runners! I had told my mom that my current $15 Target-brand soft-soled shoes were worn to a pulp, with massive holes in their bottoms, and mentioned how I'd need to find a thrift store soon to replace them, but I never expected her to send new ones!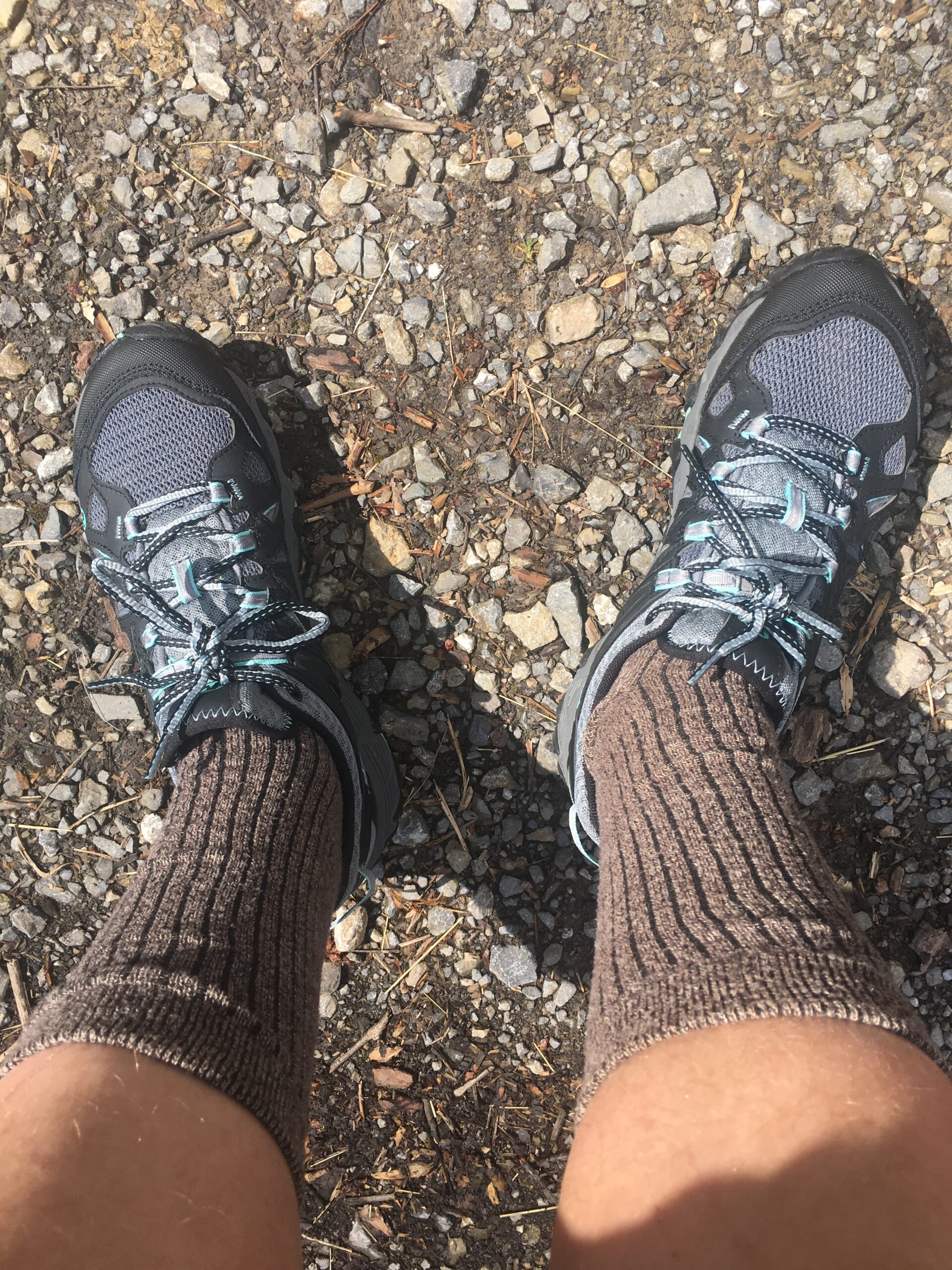 Onward from Paw Paw, I get stopped by a cyclist named Simon who's traveling cross-country too. Baltimore to Alaska. And get this- he's my age! It's amazing to meet another teen on a crack-pot adventure, who probably has everyone in his life thinking he's crazy, too. Despite being over two hundred miles out, he just started 3 days ago. I wish we could have spoken longer, but he speeds off in no time, and I continue walking along the C&O Canal at my snail's pace until I reach my last campground. I get to pitch my tent on the porch of an old lockhouse! 
Well, the C&O Canal is over. I'll miss its flat, steady path, its beautiful campgrounds, its mile markers (can't lie to yourself about how many miles you've walked with 'em around!), and its all-around simplicity.
But you couldn't pay me to take a step back. 
Progress ⭐
March 23rd-April 6th, 15 days, roughly 167 miles, 11.1 mpd average