The Buckeye Trail makes up most of the ADT's 524 miles through Ohio, but most of it is too rugged for me to entertain with Faith.
I walk only a short distance on the Buckeye Trail out of Murray City, where I have another run-in with a not-so-friendly Fido.
Two large black dogs -one lab, one mutt- appear out of the woods and run towards me. The lab is calm, friendly, while the mutt is all snarls and snapping teeth. No owner, let alone houses, are in sight. I try to ignore her, but she keeps darting at my legs as if to bite before dancing away. This spooks me enough to pepper spray her. She retreats a few feet to her lab buddy, before turning towards me again and raising her commissures in a very angry, low growl. This surprises me-I thought she'd be subdued by the pepper spray. I quickly shout "HEY!" and lift my pepper spray again in warning. She sees it and flees.
Minutes later, she materializes out of the woods again, headed straight towards me. But this time she approaches quietly, her tail tucked and ears pinned back in a show of submission. I'm still weary about her coming right up to me, though, so I shout at her to "back off!" and she gets the message.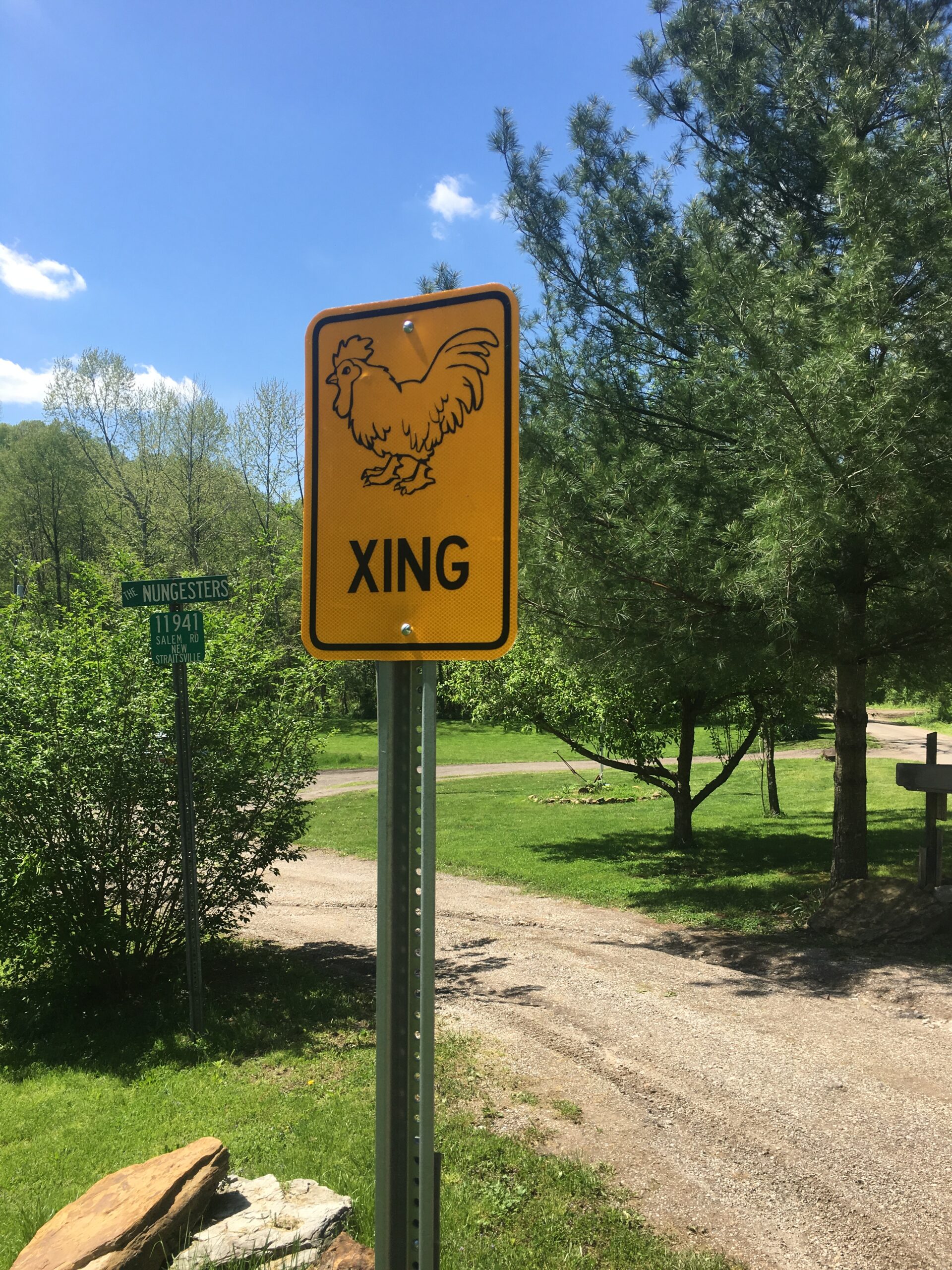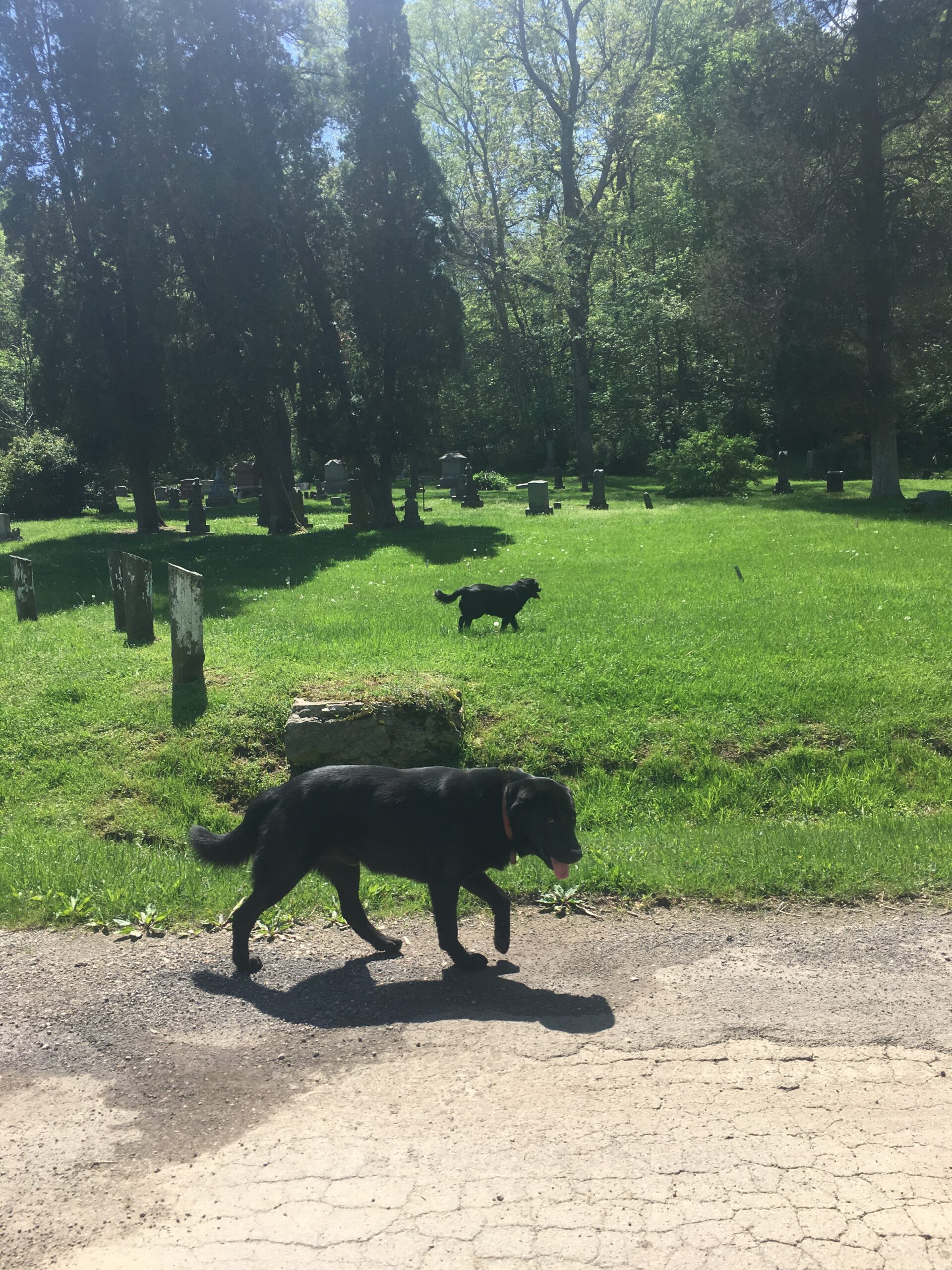 Three hours later, I meet the sweetest dog. With golden fur and short, stubby legs, I peg her for a retriever x corgi mix. At first I'm a little concerned she's lost, but a local quickly informs me that her owner's live nearby, they just let her wander.
She joins me on my grand adventure for nearly half a mile. I try to shoo her away once we reach a busier road, but she ignores me.
And starts walking in the middle of the road.
Uh oh.
I try to corral her to the side, but she doesn't have a collar to grab onto and races ahead every time I approach her like we're playing a game of chase. Finally, a truck barreling towards us stops her in her tracks. I frantically try to call her out of the way of the approaching truck, but she just stands there, carefree, as the truck (thankfully) stops and blares their horn at us. The driver then throws their arms up in exasperation at me, as if to say "what the hell? GET YOUR DOG." 
"Sorry, it's not my dog!!" I shout back apologetically.
Luckily, the car horn does the trick, and she moves out of the truck's way. A few minutes later, I see people having a picnic nearby and ask them if they could grab her so I can make my escape. (Sorry, dog, we've had a great run, but I think it's time to go our separate ways.)
They say something along the lines of "ugh, looks like she's leaving" and I whip around to see her cute bum disappearing around the corner we had just come from.
I guess she, too, decided she'd had enough of an adventure for one day.
Time to go home.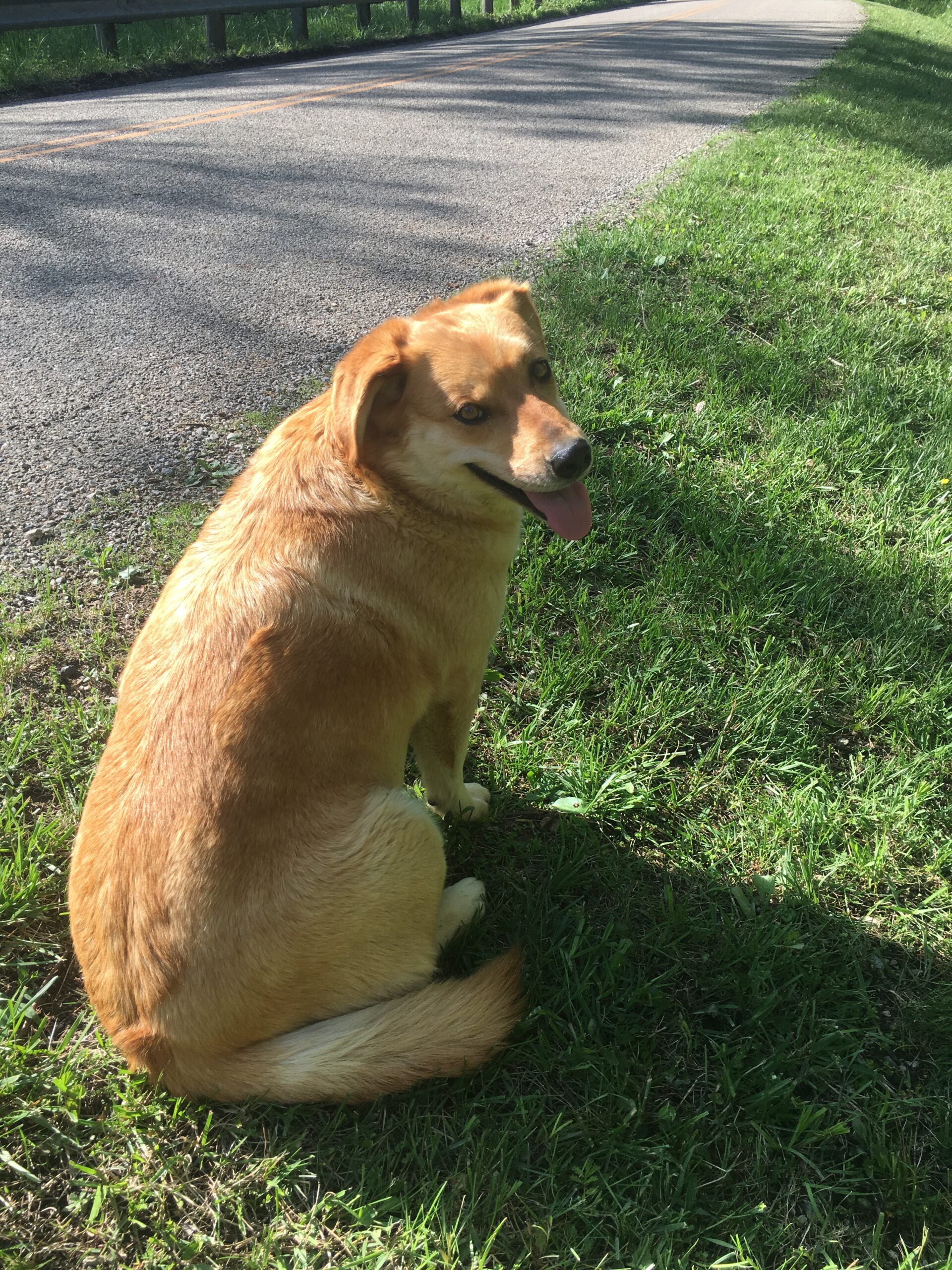 Weather's a'changing. Gone are the days where I need my heavy winter coat and hat. Flowers are beginning to bloom, butterflies are hatching from their chrysalises. Spring's in full-swing and it's bloody wonderful.
After entering a secluded patch of wilderness that parallels the Buckeye Trail, I spot a car parked haphazardly by the woods that reminds me of the creepy old man's car from yesterday. It spurs my imagination into overdrive and, for the next half-hour, I clutch my pepper spray in hand and swivel my head like an owl at every noise. Falling twigs and all.
Soon thereafter, I get lost. Not like, 'I don't know where the hell I am, the world's turned on its axis' kind of lost. More like, there's a Left Path and a Right Path and the directions I have screenshotted have not adequately prepare me for this moment. 😛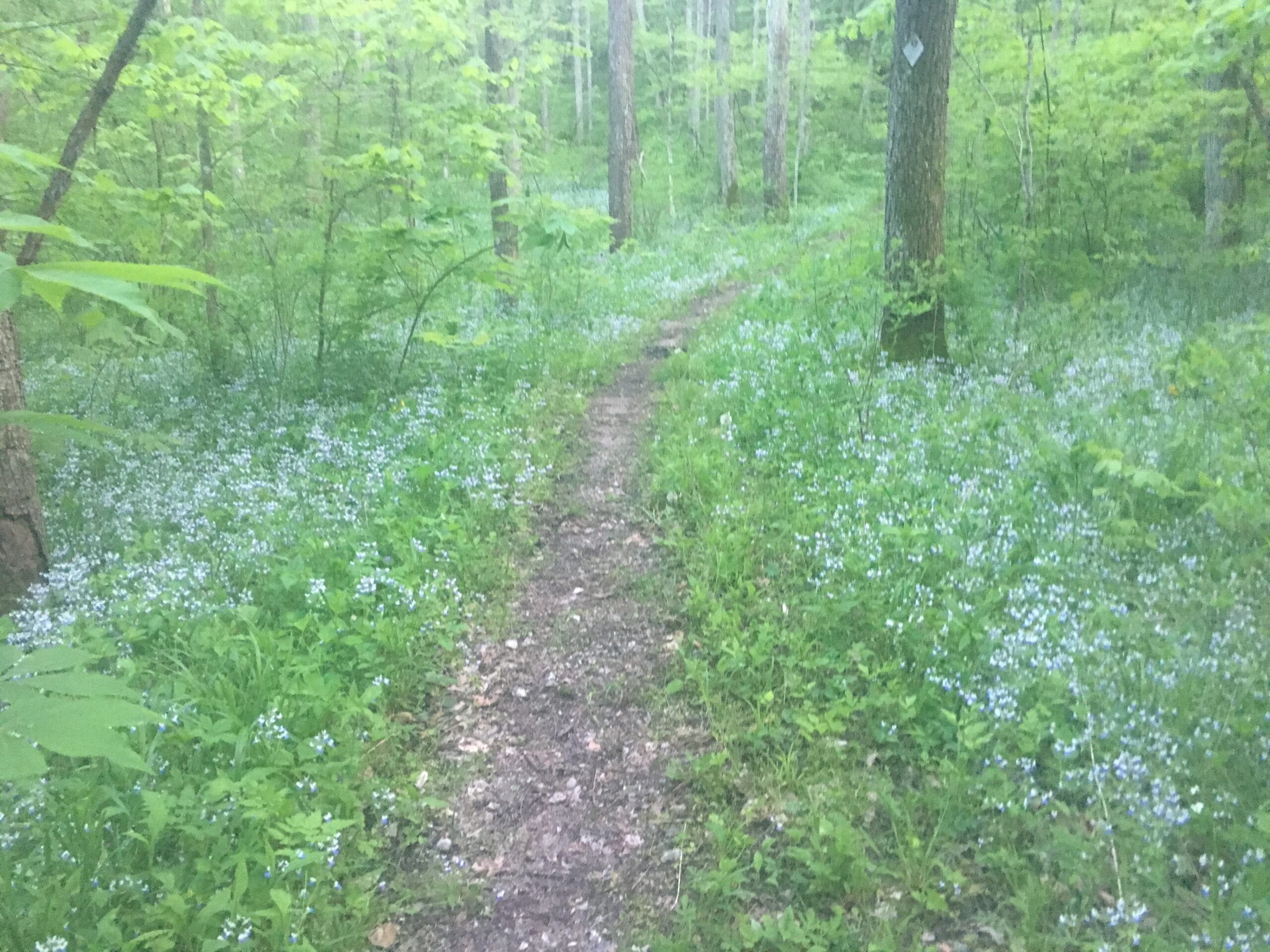 I go the wrong way. Then, I go the right way-both figuratively and literally.
There's a man on the path ahead of me. I approach him apprehensively, hand in pocket. When I'm within earshot, he tells me he's out mushroom hunting. I tell him I'm walking across America.
"Wow." He then asks me if I need anything. Food? Water? How about a book?
I agree to the book and watch as he pulls one out of the backseat of his car, parked a few feet away. Then he goes to his trunk and lifts a HATCHET into the air.
I'm suddenly glad I had the foresight to stand a few meters away. And that he isn't planning to stick the hatchet in my head.
Wasn't sure for a second there.
"Want this too?"
"No, I'm good." He shrugs, and throws the hatchet back in the trunk.
Next he pulls out a full size armchair. "How about this?"
This amuses me. The armchair couldn't even fit in Faith. I tell him I'm good there too.
Hatchet Man ends up being A-OK. We actually walk together for the next 10 mins.
While I'm comfortable keeping pace with him, I'm also conscious of the fact that if he wanted to kill me, the odds of getting away unscathed are stacked against me. He's a man in his mid-20's, his prime. He's stronger than me. Faster than me. He has a pit bull with him named Luna (hey, like Lucas's dog) that's apparently trained to attack on command. I have no service out here. And the closest house is a quarter mile away.
It's a strange thing to be aware of. Regardless, we really do have a nice chat. One of the last things Hatchet Man tells me about himself is that he's been shot once, stabbed twice, and run over before. (Maybe not in that order.)
The book he gave me ends up being a murder mystery. 😛
I'm sleeping under a bridge in Logan, OH, and I really don't like it. Logan's a city, albeit a small one, and city's are no place for camping on the streets.
I spoke to an officer earlier who offered to let me sleep in the police station's lobby if I couldn't find a better spot-I regret not taking him up on that offer now.
3 a.m., I startle awake to the sound of something by Faith. (I purposefully left my rain tarp off my tent to give me peak visibility outside.)
I shine my flashlight in the direction of the noise and see it's a raccoon! And he's trying to steal my food, my leftover KFC. Shoot! I scramble out of my tent to scare him away.
The moment I step back into my tent, he's back. I run him off again, but by the third time he returns, I'm not fast enough. He jumps on top of Faith, opens her Velcro-lid, and snatches my KFC. I fumble out of my tent again and chase after him barefoot.
Well, he got my chicken thigh, but my biscuit is still intact in the box. I grab that, shaking my head, and place it in my tent.
10 mins later, the cheeky bastard comes pawing at my tent for the biscuit! I never knew raccoons could be so bold.
After he steals a different loaf of bread from Faith, I bring the rest of my food into my tent too, and pepper spray around Faith in the hopes that the smell will discourage him from returning.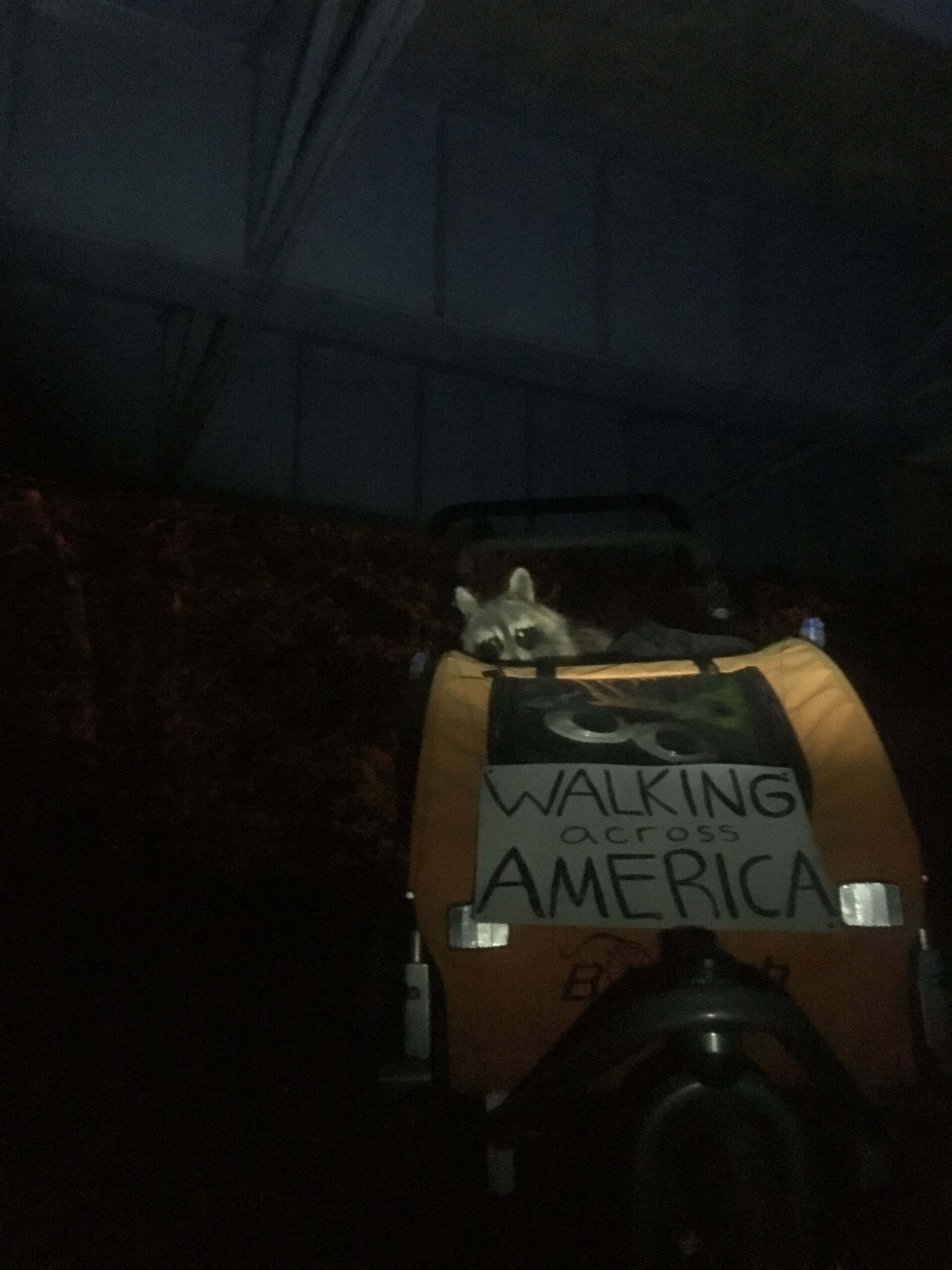 I'm up by 5 a.m. the next morning. The ungodly hour. Gotta be-the sun's rising, and Hocking Hills State Park is waiting for me!
The walk there is rough. RT 62 is a busy highway with little shoulder, sharp turns. The usual obstacles. One tan van comes barreling at me only to turn away at the last minute. Then they have the audacity to blare their horn at me for minding my own business in the shoulder while erratically swerving on the road. Nut jobs.
You don't want to hear about that, though.
Well, maybe you do, but . . .
Let's move on to Hocking Hills! Because it's amazing. I can't believe how beautiful it is. I never expected a place like this to exist in Ohio, I'm shocked. The terrain . . . it's so different from the rest of the state. With multiple waterfalls and huge caves, you'd think you were in the Pacific Northwest or something. Truly a little slice of heaven.
I bite the bullet and fork over $32 for a campsite at Hocking Hills. (My broke heart weeps.) On the way there, eyes flash at me in the dark. Foreshadowing the raccoons that'd come snooping through my campsite a few minutes later.
Next morning, as I'm sorting through my stash of food, seeing if there's anything rotten inside that's attracting the raccoons, I remember I have a can of corn and ask a woman in a neighboring RV if she'd be willing to microwave it for me. She says yes! And gives me all sorts of other goodies. We end up having lunch together; she's been travelling the U.S. via RV all year with her Yorkie.
While we're deep in discussion, I forget I have all my food laid out on a nearby picnic table, and a crow swoops down and steals one of my tasty cakes. Just snatches it and flies off!
The Ohio wildlife is robbing me LEFT and RIGHT.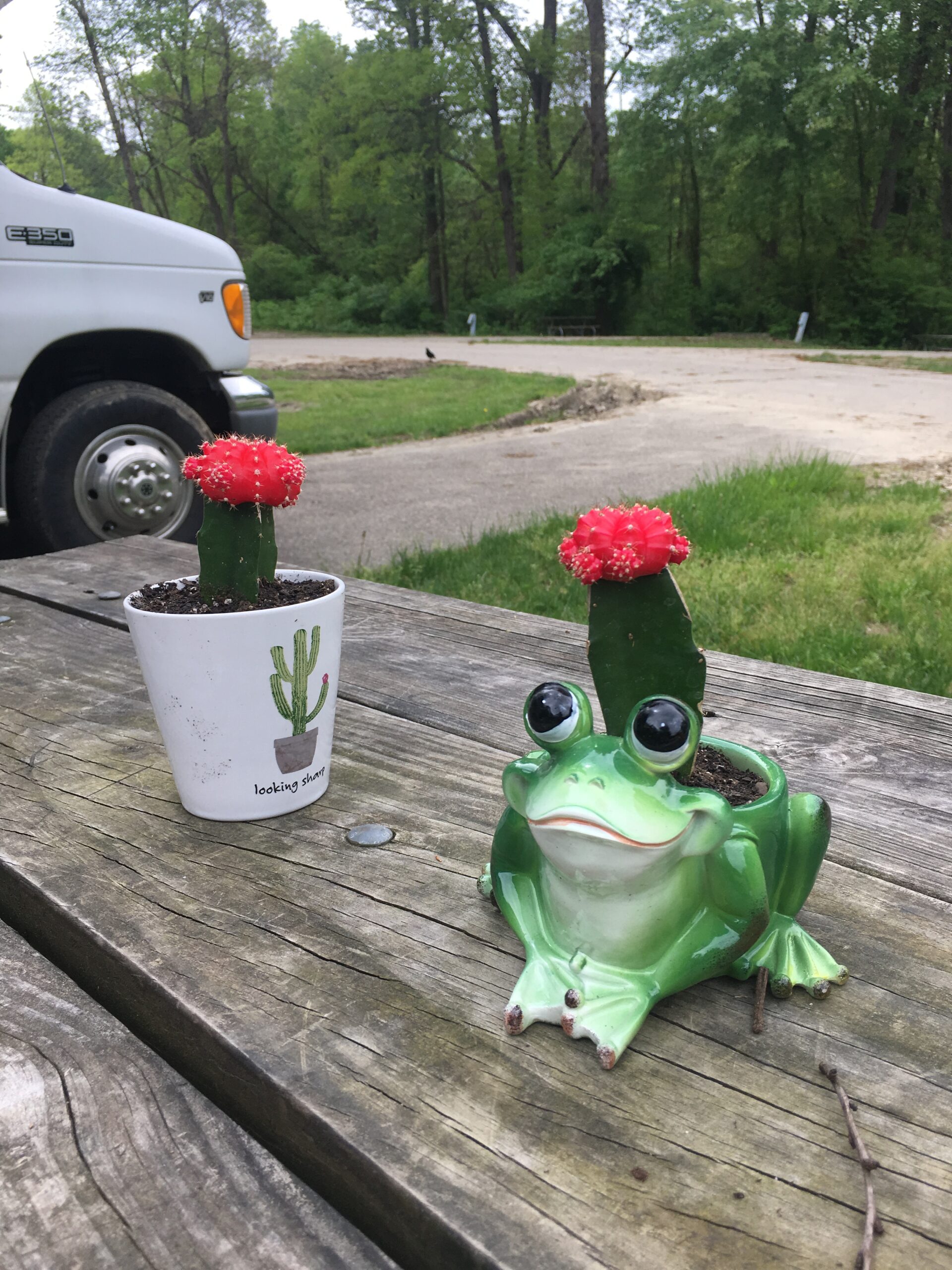 Progress ⭐
May 6th-May 9th, 4 days, roughly 34.9 miles, 8.72 mpd average