From Hocking Hills State Park, I alternate for miles between mundane woodland and drab countryside. Which might be a bore scenery-wise, but the lack of traffic and an adorable, bright yellow grove snail I find make it a joy to walk.
Before long, I enter Amish country and see a sign advertising a community get-together, with free hayrides and chicken dinner, scheduled for tomorrow. I'll miss it by a day-damn!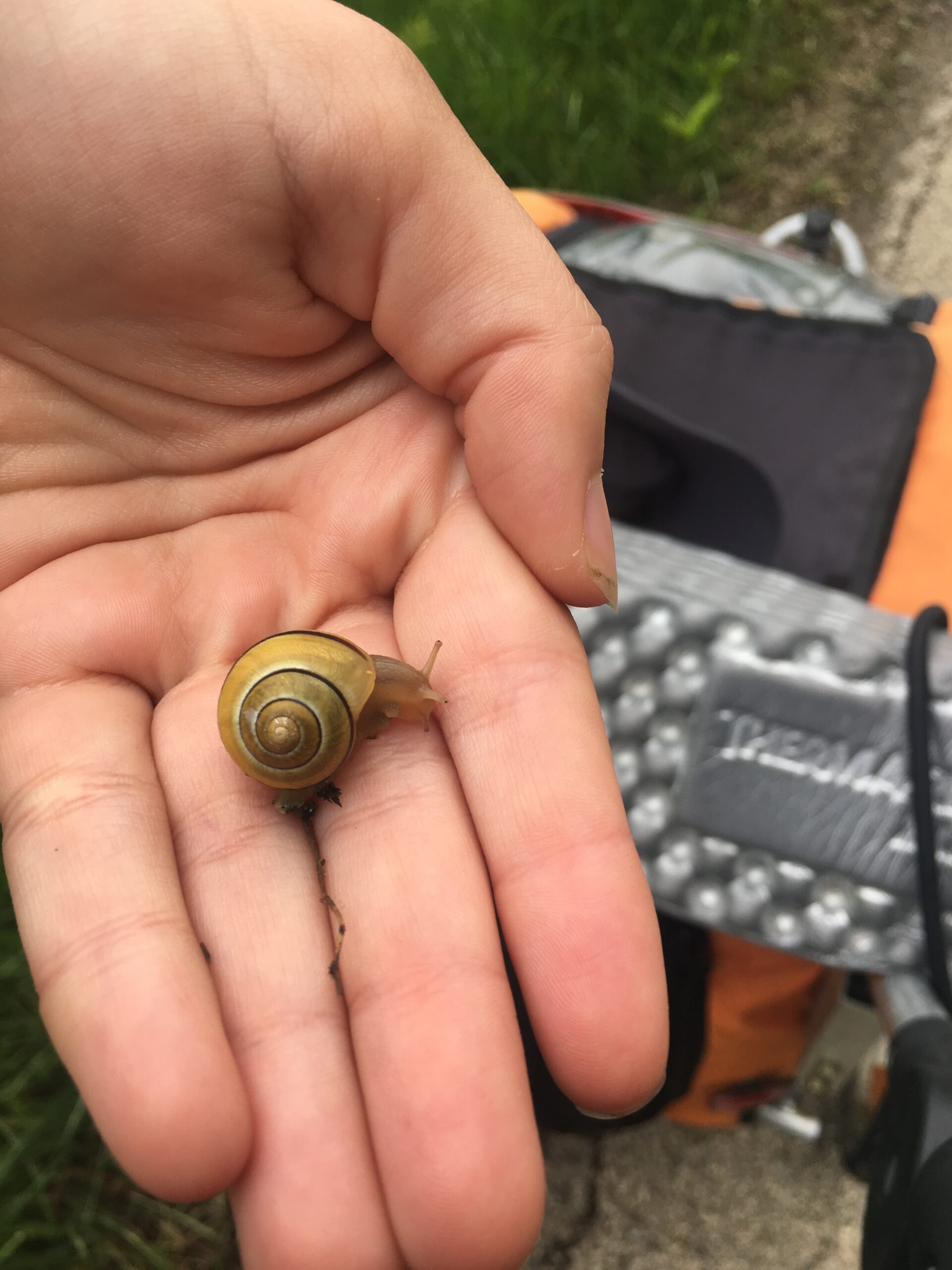 I then pass by a property with a young man working outside and wave at him. It's not until I reach his driveway that I spy the most adorable shepherd mix running my way.
The man seemed to sense that his dog would bother me, because he rounds the corner a minute later to find me sitting at the end of his driveway relishing in puppy kisses. 😛  We chat for a good half-hour. He's in his mid to late 20's. Originally from Delaware (near Point Reyes, actually!), but moved to Ohio to get married. I immediately suspect that he's Amish, but am not certain with him being so plainly dressed, until he confirms it.
I loovveeee Chase. I cannot overstate that. He is easily one of the most beautiful dogs I have ever seen, and so well behaved. He just sits there calmly, off leash, as I love up on him. The only behavioral quirk he shows is a tendency to jump up and hug your leg, which is adorable in itself.
When I can finally bear to pull myself away from Chase's warm, fuzzy, puppy embrace, the Amish man says, "Do you want him?"
This catches me off guard. I assume he's joking and laugh back, "I wish!"
30 seconds later, when I'm already a block away, it dawns on me that maybe he wasn't joking.
The uncertainty will haunt me for eternity.
I've been dreaming of having a medium-sized shepherd-mix as my partner-in-crime for the last decade. (Really, at any given time you can bet my best friend is of the four-legged variety and not a living, breathing person.) I used to look at available dogs on PetFinder every day, for months leading up to my walk across America. Faith, my trusty stroller, is named after a Border Collie mix I almost adopted. Heck, as we speak Faith is safekeeping a leash I found along the side of the road a few weeks ago. A leash that my hopeless romantic of a heart kept in case, by the grace of god, this exact scenario presented itself.
And Chase was, like, my dream dog. (Coming from someone who is obnoxiously picky about looks, size, and temperament)
GGAAAAHHHHH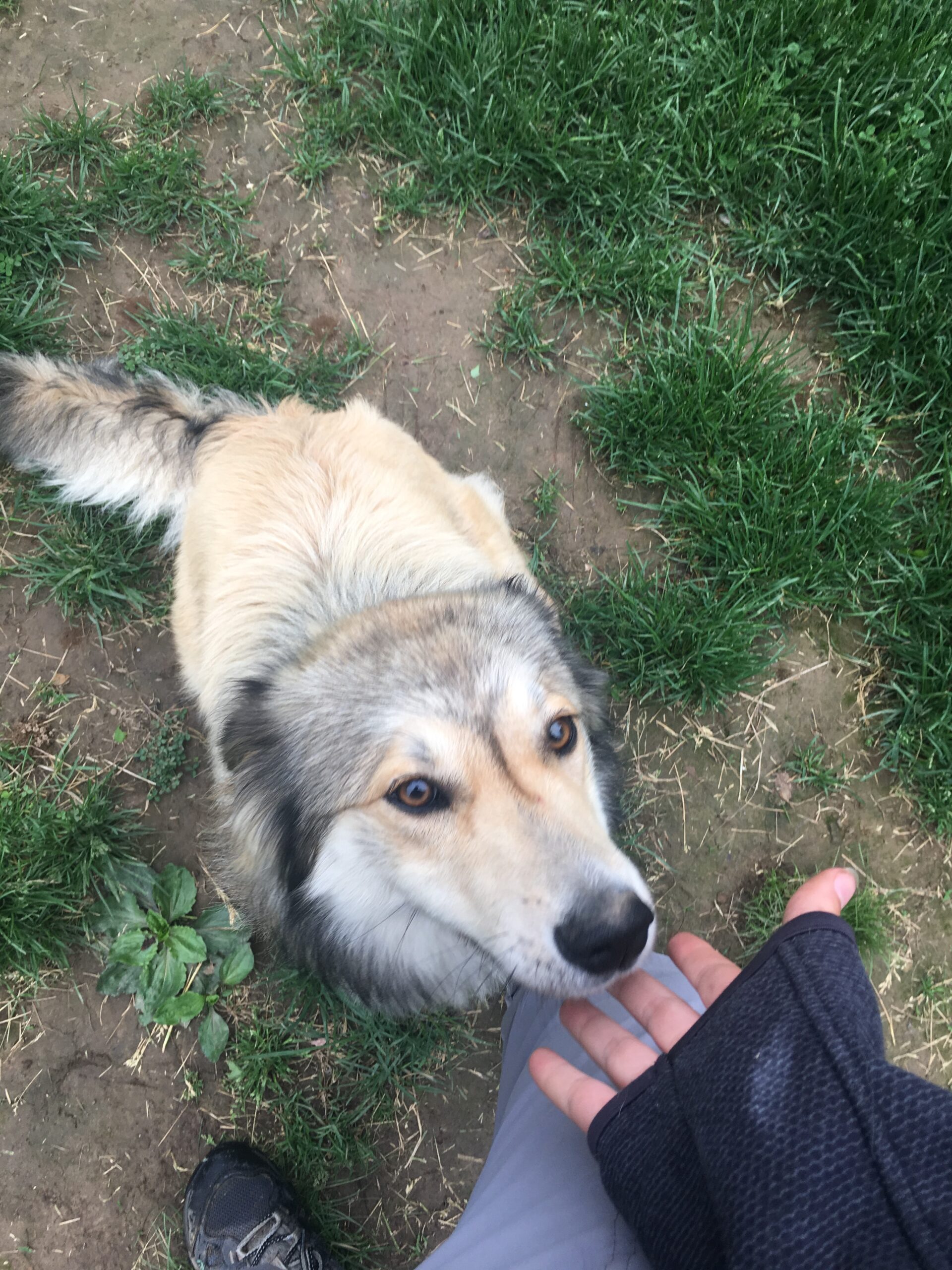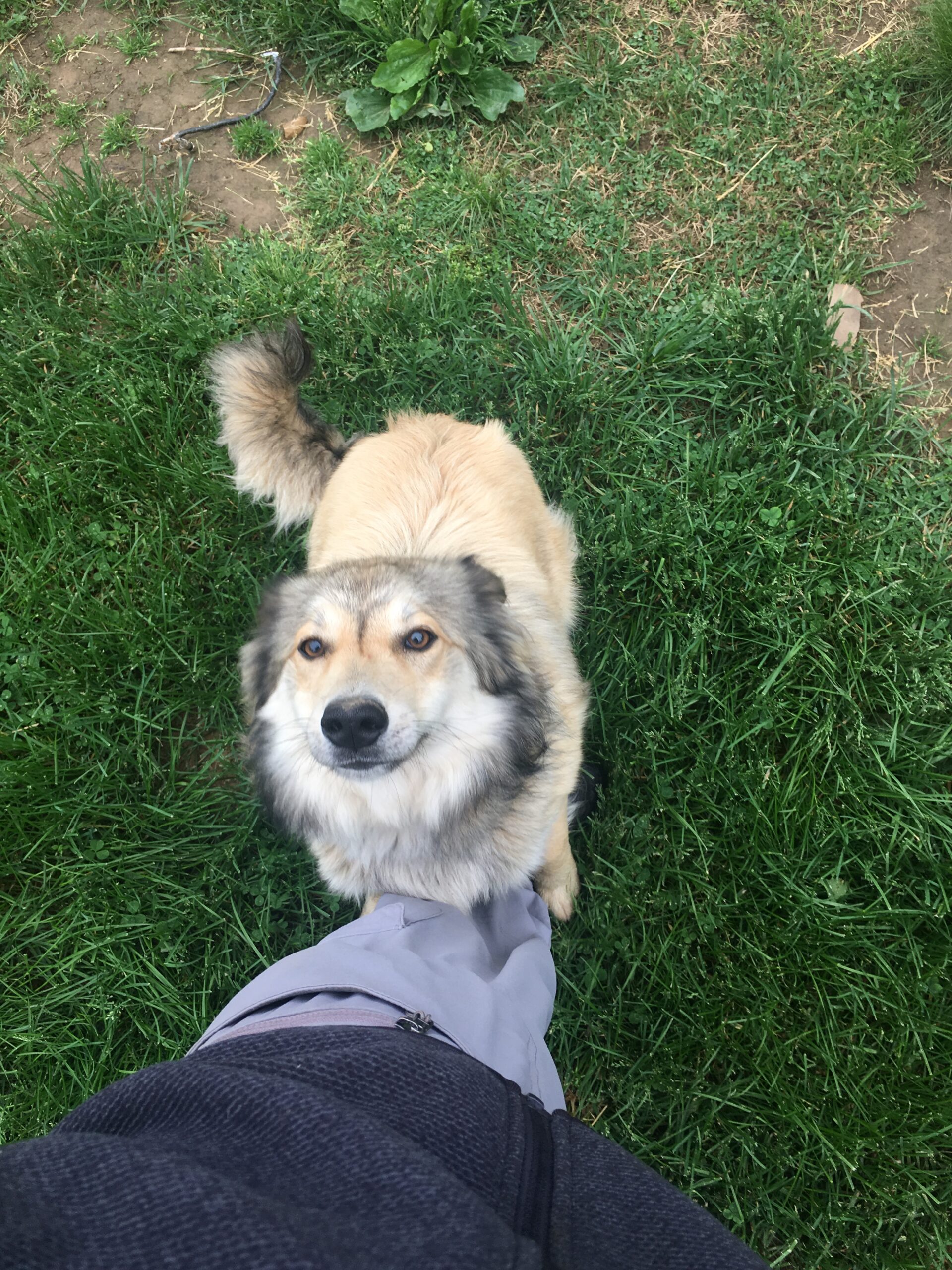 (Gin & Faith & Chase has such a nice ring to it. I suppose it just wasn't meant to be.)
Whenever I take a break from walking and sit in the grass along the side of the road, people take notice. Though I get the impression the concern is less for me and more for the imaginary baby everyone assumes is in my stroller.  (Fair enough. 😛 ) Today, it's a couple of teens in a pickup who stop to see if I'm alright. They seem amazed when I tell them about my trip and ask . . . well, see, I thought they were asking if I "had a cig" but they might have actually been asking if I wanted to "go for a cig." Message unclear. It's a no from me either way.
I planned to camp in Tar Hollow State Forest for the night, but on the way there a man offers to let me pitch my tent in his family's yard! He's an older gentleman with a passion for fixing cars (there's over a dozen scattered around his property) and a wife on oxygen. While sitting on his porch enjoying a can of Coke, he tells me some startling news: a bunch of women got serial-murdered in Chillicothe, the city I'm passing through next. And they never caught the guy.
Cue me low-key internally panicking on where I'll sleep in Chillicothe for the rest of the night because it sure as hell can't be outside.
The Chillicothe murders are an unbelievable tragedy, but not as extreme of a concern for me as I initially thought. All the victims were allegedly involved in drugs and/or prostitution. Most knew each other and, evidently, ALL had ties to a person of interest in the case, who's now serving time in jail for an unrelated drug offense. None of which, in any way, negates from the sheer tragedy of their murders, but the connections suggest they may not have been so randomly targeted.
(I've been reminded multiple times now in my travels that drugs are a big problem in small-town America. Just yesterday I passed by needles discarded on the side of the road.)
My mom graciously offers to buy me a motel room for the night in Chillicothe, but makes the mistake of not checking the place's age restrictions. Turns out, they only allow people 21 and older. Argh. So she's out $75 and I still don't have a safe place to sleep for the night. 🙁

Immediately after leaving my Trail Angel's backyard the next morning, a group of cyclists on their way to the Amish community get-together stop to chat with me! (They actually registered my Walking Across America sign a second too late, and have to make an abrupt U-Turn.)  They're curious to hear about my adventure and, in turn, I learn that two of them have cycled across the country! Always a pleasure to meet fellow long-distance travelers.
And, get this – one of them is a Warmshowers host, and they have a place in Chillicothe for me to stay at!
It's an outdoor lot, smack dab in the middle of the city, but I sleep more comfortably there than I thought I would.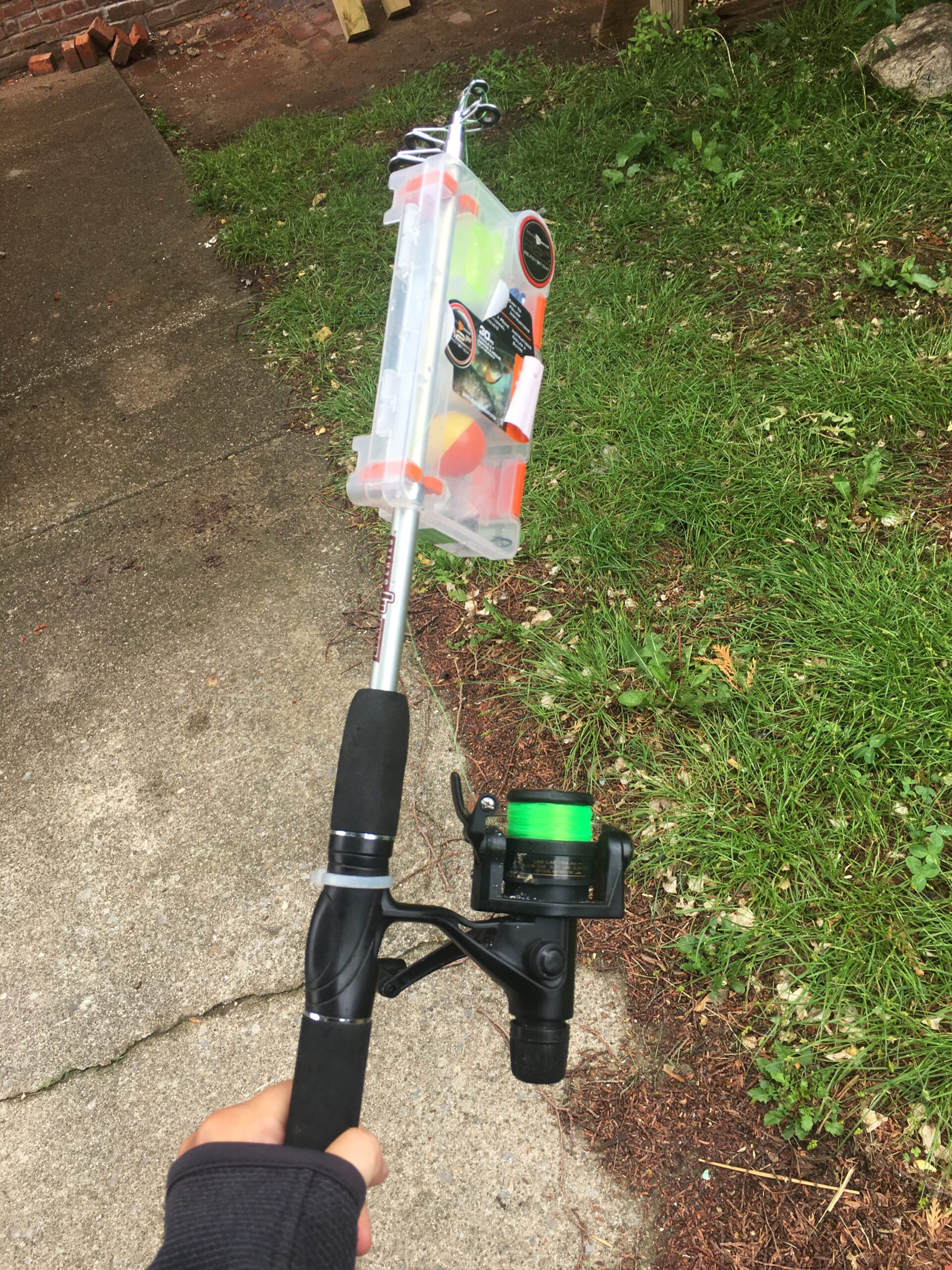 (a. my humble abode in Chillicothe for the night and b. a retractable fishing rod gifted to me by the same man who threw $5 out of his car window at me earlier)
Though I haven't stepped on a scale since Paw Paw, WV, I've lost enough weight for my pants to threaten to fall down constantly. A strand of paracord I have on hand now acts as a makeshift belt. And good thing, too. Do you know how embarrassing it would be to get hit by a car because I was so distracted pulling up my pants to move out of the way? Psshh. 😛
Out of Chillicothe, HWY 50 & I reunite. And like a crazy ex, it tries to murder me again. This time, it's almost worse than it was in West Virginia. I have to wait nearly 10 minutes at a particularly challenging crossing to avoid traffic.
Near the end of the road, a woman calls out to me from her porch. "You okay?" She laments on how the speed limits are too high, the driver's too careless. She tells me that her 4-year-old grandson was hit and killed here on RT 50 last year. "They don't stop for nobody."
I pause at the sight of a single baby shoe lying on its side by the curb a few minutes later. A sobering sight.
Lord have mercy on me.

I should mention that I'm temporarily off the ADT.
Since the ADT follows the Buckeye Trail to Cincinnati, it's unnecessarily long, and too rugged for Faith's wheels to handle. So instead, I'm taking the most direct path to Cincinnati from Chillicothe.
Which leaves me with two choices- RT 50 or RT 21. They're both a straight shot west, but I'm fed up with RT 50 trying to murder me, so I opt for RT 21. It has just as narrow of a shoulder and more hills, but the traffic is mellower, allowing most cars to cross into the opposing lane to pass me.
UPDATE: Turns out, there was something called the Tri-County Triangle Trail (green) I could have used to bypass the worst of RT 50 (blue) in Chillicothe all along. -facepalm-

Bottom photo illustrates the ADT/Buckeye Trail (brown), my route (blue), and an alternate route (red) that's composed of the Tri-County Triangle Trail + Little Miami Scenic Trail (dark red) and one road-walking section (light red) that I wasn't aware of until I wrote this . . .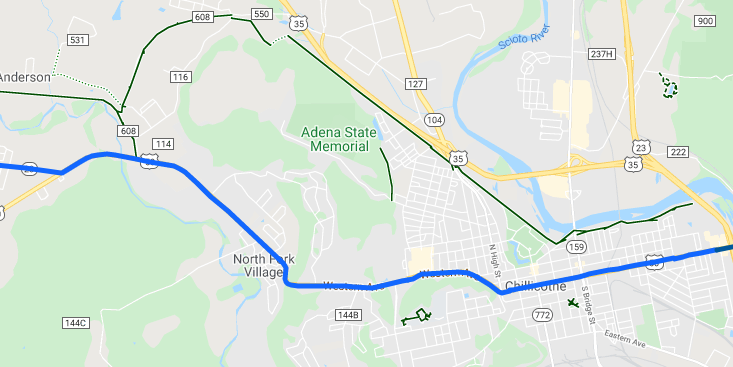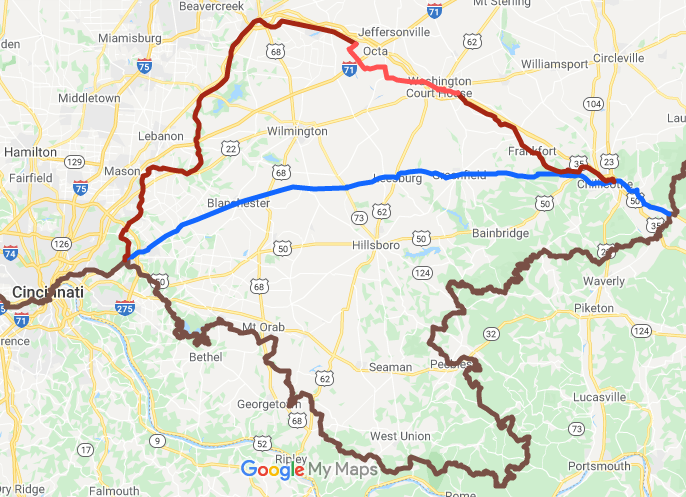 Nearly the entire width of RT 21 is surrounded by farmer's fields, which leaves me in a pickle when it comes to legal camping options. I muster enough courage to knock on a farmer's door to give them my best "I'm Walking Across America-might I be able to pitch my tent in any stretch of your 100+ acres of land?" speech.
An elderly couple answers the door, and they say yes! That, in fact, I'm welcome to stay in their barn as opposed to one of their fields if I'd like.
20 minutes after sunset, a police officer shows up and I learn that I'm not so welcome after all.
It's a bit of a surprise-I hadn't sensed that the farmer's were uncomfortable with me. They'd even offered to let me sleep in one of their barns, right beside their house, instead of in one of their fields a half-mile down the road as I was originally inquiring about.
In any case, I assume the police officer's here now because the farmer's have changed their minds about having me, but are too chicken to tell me themselves. So I'm even more surprised to learn that they called the police not to kick me out, but to simply run a background check on me to ensure I don't have a criminal record. 😛 (Which…almost makes less sense?)
The officer runs my ID, tells me "you don't seem crazy," and leaves me to my peace. (Perhaps, at that point, I should have opted to go on my own accord, but I was positive the elderly farmer's weren't a threat to my safety. That, at most, I'd get another rude awakening in the night, this time telling me to go. And I decided I could live-and sleep- with that possibility. Better than the alternative.)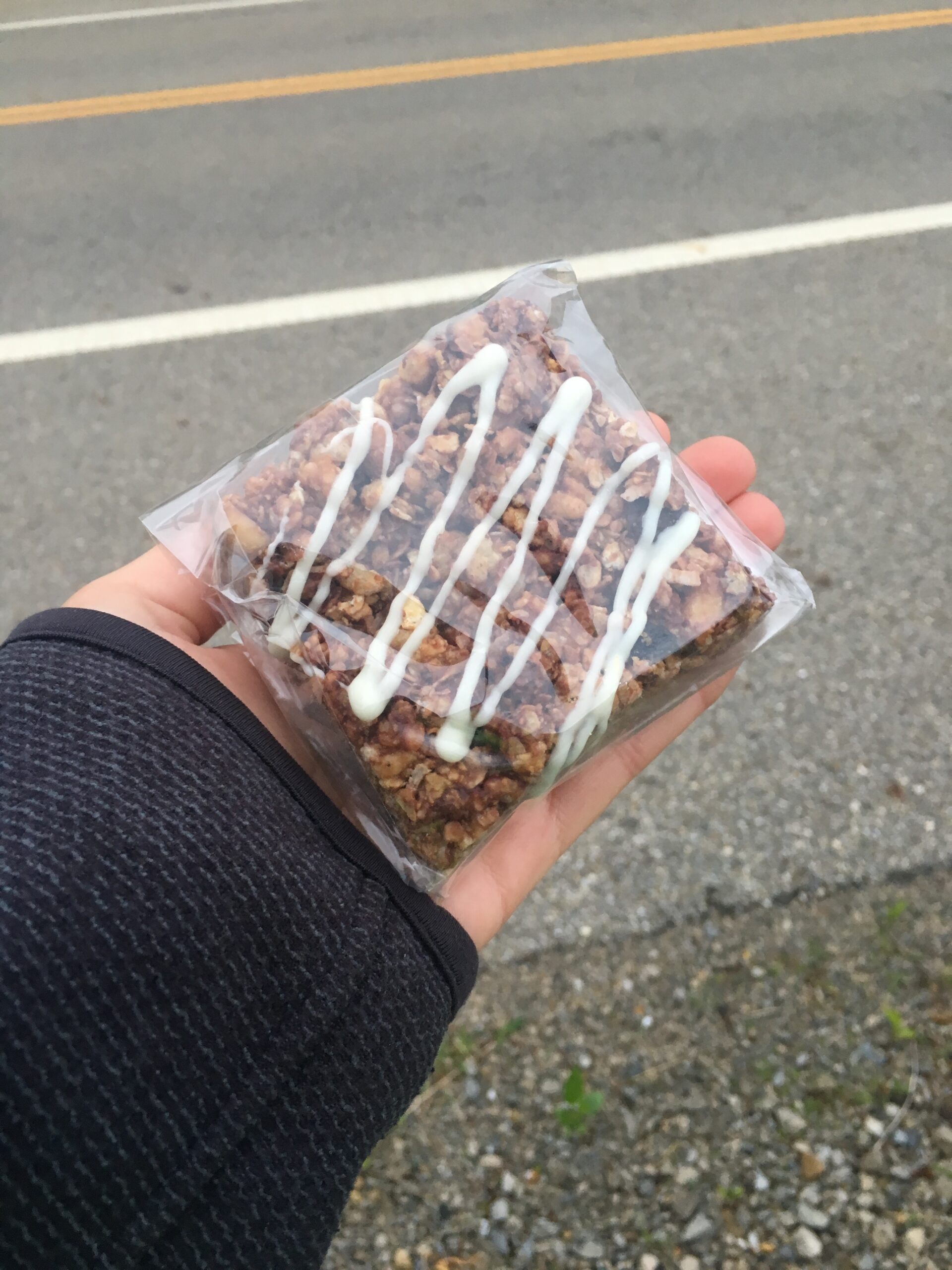 The Farmer says something along the lines of "Sorry for last night, just wanted to take precautions" to me the next morning. Turns out he & his wife just happened to get robbed at gunpoint two months prior, which is what put them on edge with me. I tell him it's alright, no worries. 😅 He then offers me a coffee & a granola bar made by local Mennonites before I head on my way.
No more attempts at yard camping for me. At least for a while.

I conquer 8 miles before 10:30 a.m.! Super proud of that. Usually I don't roll out of bed until 10:30.
While in a Burger King at Greenfield, OH, I see two macho, trucker-type men and another leaner man with dreadlocks taking a seat in a stall next to mine.
They spot my "Walking Across America" sign in no time and begin talking about it, until Dreadlocks asks me "Are you really walking across America?" Yup. I then answer a few of their questions before they return to conversing among themselves. I pick up snippets of their conversation- a "Must be dangerous," from Dreadlocks and a "Wouldn't be surprised if we heard about her on the news in a few days because she went missing" from one of the Macho men.
The next day, I'm walking along a lackluster stretch of RT. 21 when a car abruptly pulls over in front of me. Two people jump out and start jogging over. I quickly realize one of them is Dreadlocks! And the other turns out to be his mother, Linda. They actually passed me by initially, but when Dreadlocks-whose real name is Eugene- pointed me out to Linda, she was like, well, why don't we go back and invite her over for the night? 😀
Staying at Linda & Eugene's place is the absolute best. They're so kind, considerate. Down to earth. Early on, Linda tells me "I don't know strangers," which resonates with me.
Really, any Trail Angel that offers to host me, unprompted, has a special place in my heart. It's no secret that finding a place to sleep is the Eternal Struggle of walking across America, so to have someone open their home to me, to be welcomed fully, without reservations, is a blessed thing.  💖 Love ya, Linda & co.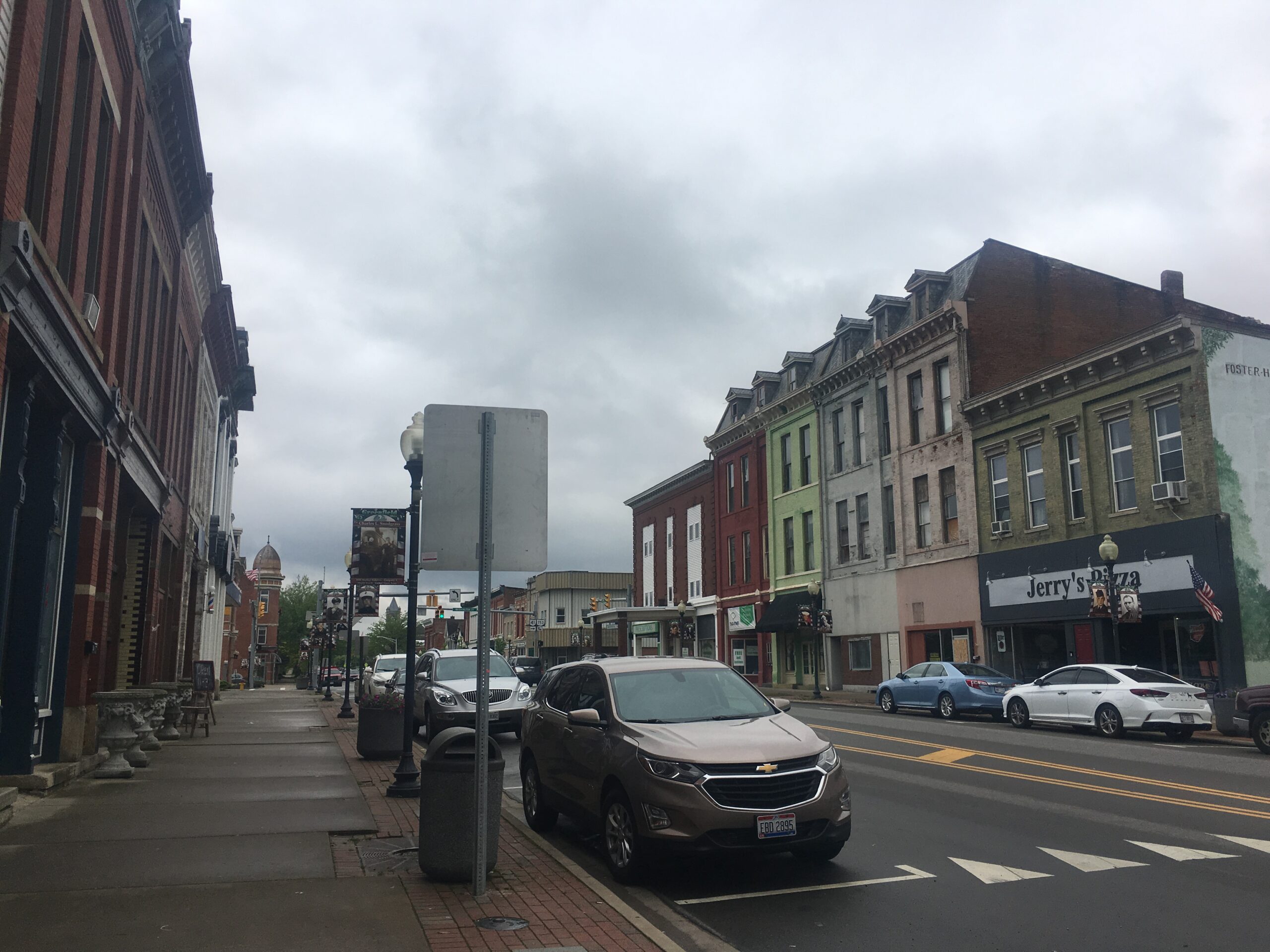 (a. downtown Greenfield, OH, and b. Faith loaded in the back of Linda's trunk, showing the eternal struggle of making a stroller fit places.)

Progress ⭐
May 9th-May 14th, 6 days, roughly 78.9 miles, 13.15 mpd average