There are so many fields of yellow flowers along RT 21-it's incredible. Though, surely, farmer's aren't planting them because of their beauty? This train of thought has me Googling their purpose (are they really just eye candy or a crop?) and I learn they're actually mustard seeds – huh!
I'm feeling rejuvenated after my night at Linda's. Her family was so unbelievably kind. Just a burst of sunshine across my gray sky.

A police officer pulls me over for the first time. (Well, if you don't count the incident in the barn.) I assume a passerby must of called 911 on me out of genuine concern for my imaginary baby. (The day's are getting hotter, after all, and a 'mother' walking down the highway with her baby cookin' in its stroller worries people. 😛 )
But that's not the case at all. Someone called 911 on me for "going through people's mailboxes" !!!
Thankfully, the officer is very kind and courteous. After hearing that I'm really walking across America, he apologizes for taking up my time, and even wishes me good luck on my trip ahead!
I'm a bit thrown off that someone would not only accuse me of a felony, but commit a crime themselves by calling in a false report. I suppose it's the only way they knew to ensure the police would come to check on me, since walking's not a crime.
I go out on a limb and ask an officer on duty at the Blanchester, OH, police station if there's any public land in town I can camp at for the night. She tells me that she can't, exactly, give me permission to camp at Memorial Ballpark, but since it doesn't technically close after dark, I can go there.
Wooo!
She then tells me I'm brave and graciously offers me a soda before I head out to the ballpark!

There's a kid's baseball game going on when I arrive. Shoot! With the 911 call on me earlier, I try not to look like a "suspicious person" around all the eagle-eyed helicopter parent's and retreat to the back of the park to wait until the game disperses, and nightfall sets in, before pitching my tent. (Even if I have 'permission' to camp here, the officer at the station warned me I might get called on. Something I want to avoid.)
Less than 20 minutes after setting up for the night in one of the baseball field's dugouts, I hear footsteps approaching. I quickly duck my head out to see who it is.
I'm immediately relieved to see it's two women.
One of them is a jogger I noted in the park earlier, when I was sitting at the picnic tables waiting for nightfall. Turns out, she had thought I was homeless, so she rallied her friend to come see if I needed any help, haha! We have a good laugh over the misunderstanding and take a picture together. They're both incredibly sweet; I'm touched that they thought to check in on me.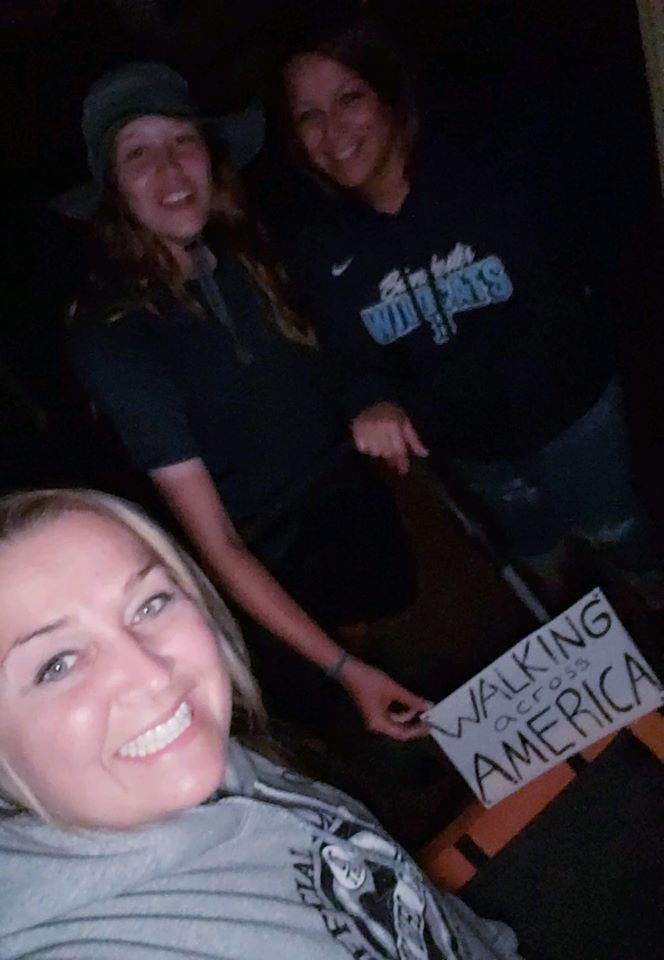 Around 1 a.m., things go bump in the night again.
My eyes snap open, as if on a hairline trigger, to the sound of more footsteps approaching. Hell, I'm not sure how I heard them. I'm notorious for being a deep sleeper, I could sleep on a rock soundly, but I'm thankful to know my brain-especially the part concerned for my safety-isn't completely AWOL while I'm resting. That's good.
Survival mode activating in 3 … 2 … 1 …
I go from snoring to on my feet, ready for anything, in seconds. Because I have to. To remain sitting, let alone lying down, while someone approaches my tent is an automatic death sentence for me if they mean harm.
Though it can be hard – to get up. There's always that pervasive, rabbit-like instinct to just freeze in place, but I can't listen to it.
Waking up to someone already standing outside my tent has got to be one of my most pervasive fears out here.
It's a young man and woman approaching. Early 20's, soft core grunge aesthetic.
"Hey, what're you guys up to?" I call out.
They say, nonchalantly, "Just out for a walk."
Yeah, a walk that involved making a beeline for my tent.
I explain what I'm doing, and they say "That's awesome!" before telling me they thought I was "just some homeless person." 
Then they ask if they can take a picture of me, and I reluctantly agree to the request. In all honesty, I feel a bit like a zoo animal, posing for them. I mean, it's disorienting to go from sleeping, to readying to fight-or-flee, to posing for a photo for strangers, in under 5 minutes at 1 a.m.
The flash of their camera blinds me. I'm almost sure I blinked.
Before I drift off again, I wonder if they'd been planning to rob me – or at the very least, snoop around my stuff – before I confronted them.
Meh, maybe. More likely they were just bored, curious kids.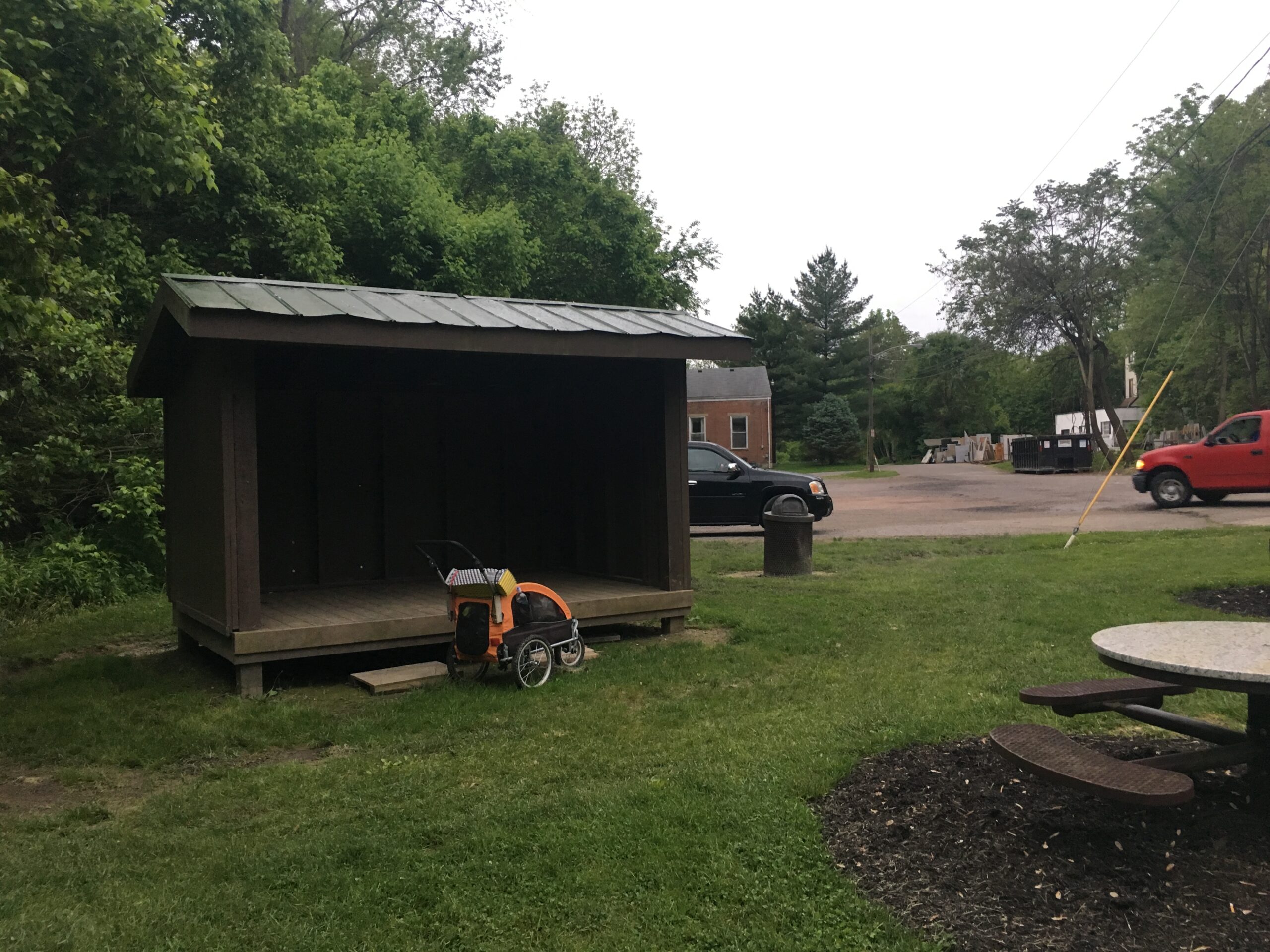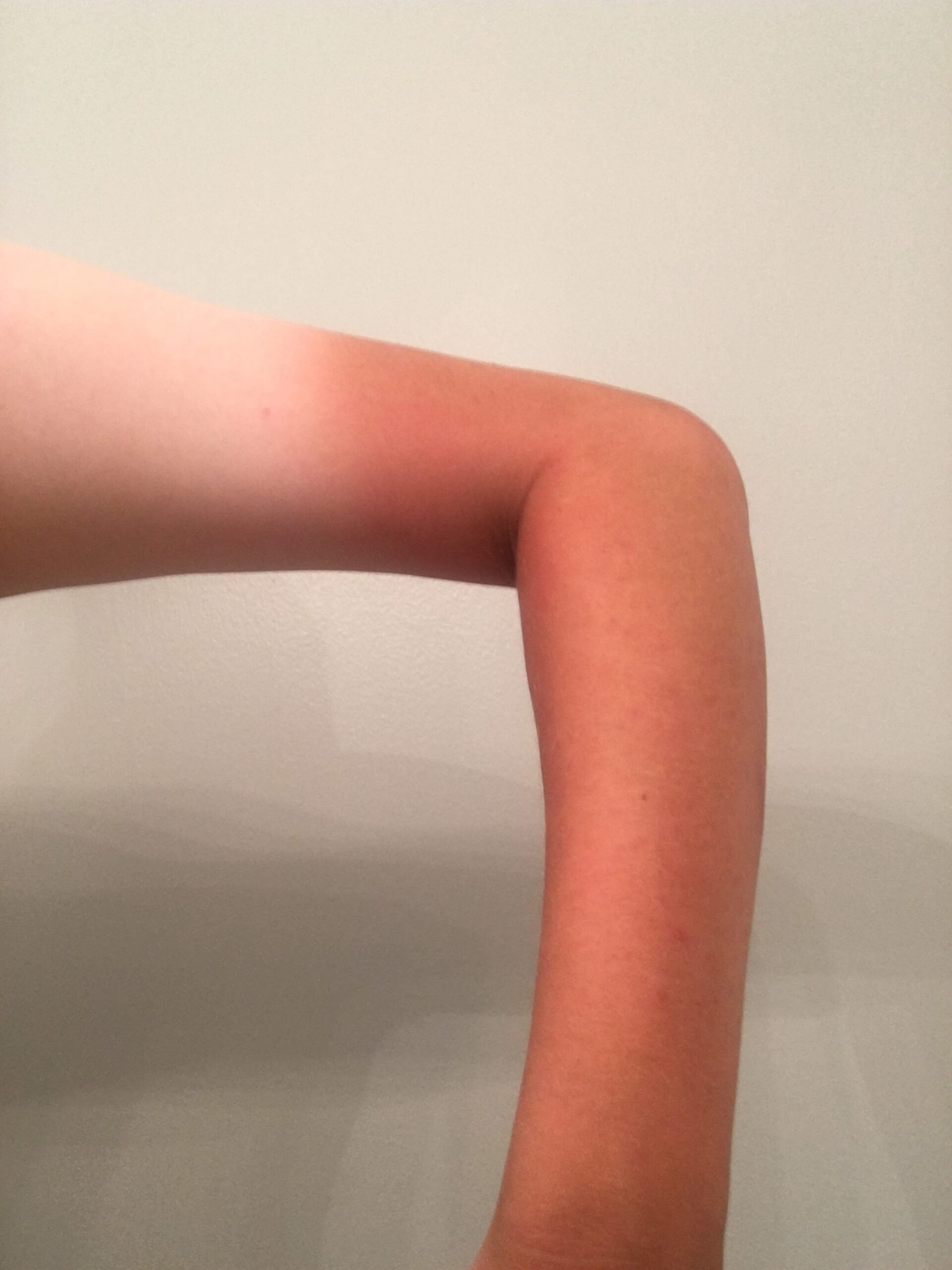 (Okay, I know the poor lighting makes it look like my arm has a wicked sunburn, but that's actually my farmer's tan!)
RT 21 turns into a chaotic, 4-lane highway on route to Milford, OH. Still legal to walk on, but filled to the brim with traffic coming out of Cincinnati. Looks like an interstate.
Sure enough, someone calls the police on me again. This time, I can understand why. 😛 The officer is equally as understanding as the last.
I stop into a Dollar General to buy a new tote bag, and the cashier on duty gives it to me for free! Then I hunker down for the night at a $5 campground in Milford. They typically only allow people aged 21 and up to purchase a permit, but luckily the local police department are willing to make an exception for me!

I reach "The Junction," where SEVEN different trails cross paths, including the ADT. What an amazing sight!
My walk through Cincinnati is a breeze. I'm surprised to find Lazarus lizards in the city, everywhere! In the process of trying to catch one, Faith accidentally rolls down the sidewalk and bashes into a parked car. Yiiiikes. She doesn't leave a scratch, but I'm still relieved the owner wasn't around to see it happen and hurry along.
I stop by two Cincinnati staples-Graeter's Ice Cream and Skyline Chili-before ducking into a McDonald's for a drink. Inside, a woman hears I'm walking across America and stares at me, eyes wide, jaw dropped. After a minute passes by, I start to worry her face will be frozen like that forever. It's a weird reaction to receive, and a good reminder that what I'm doing is not perceived as normal. Something I forget, as I almost had to normalize the idea of walking across America in my mind to undertake the journey.
When the woman finally recovers from her shock, she rushes to hand me $3 for a sandwich. This act of kindness is particularly touching to me, as she seems like someone with little means, yet she insists on helping me regardless. On giving me what she can spare.
It means a lot.
From Eden Park, an iconic lookout over the Ohio River, I head to the free Cincinnati Art Museum. There, volunteers working on a Burning Man inspired exhibit outside agree to watch Faith for me so I can go inside!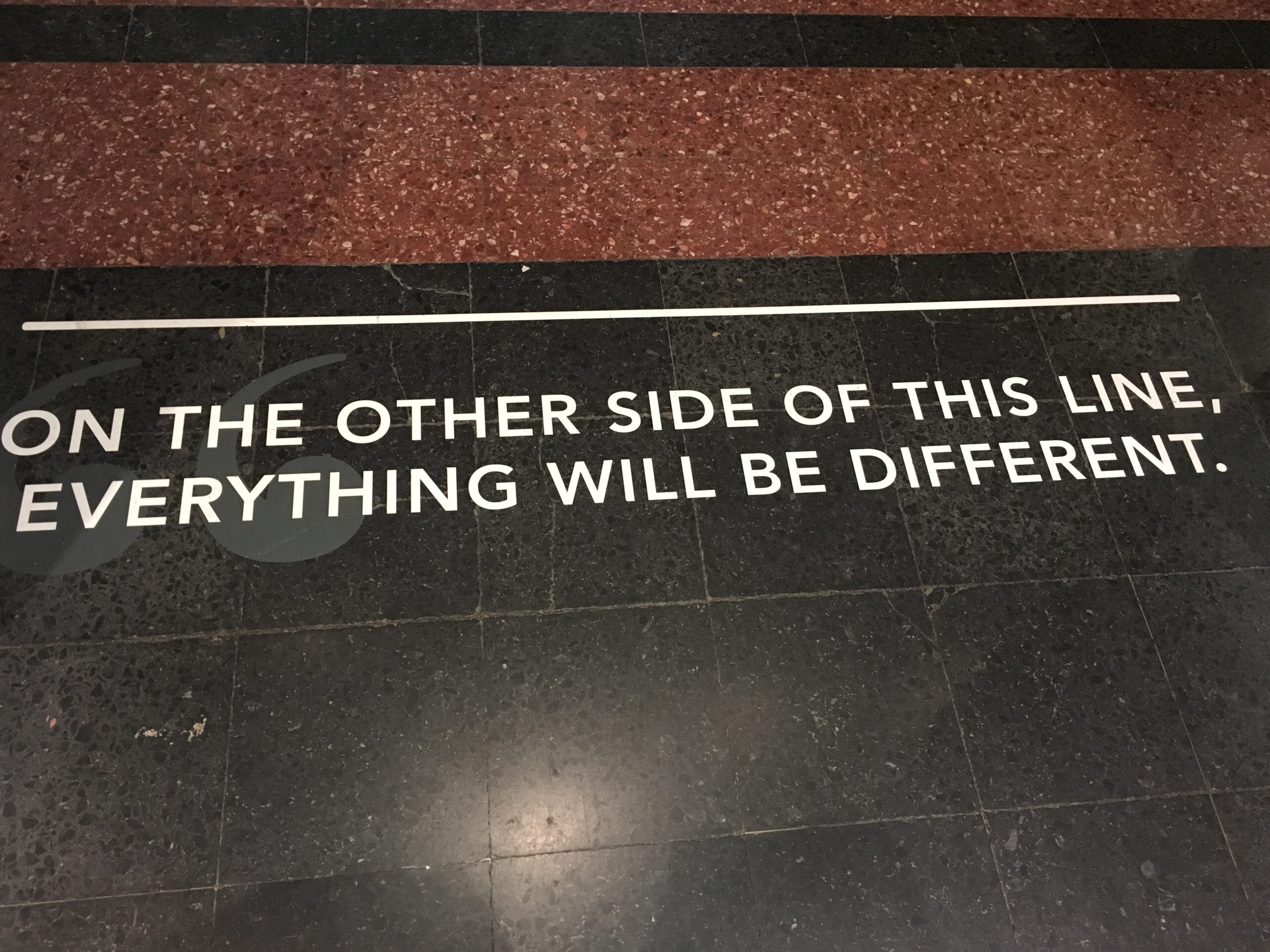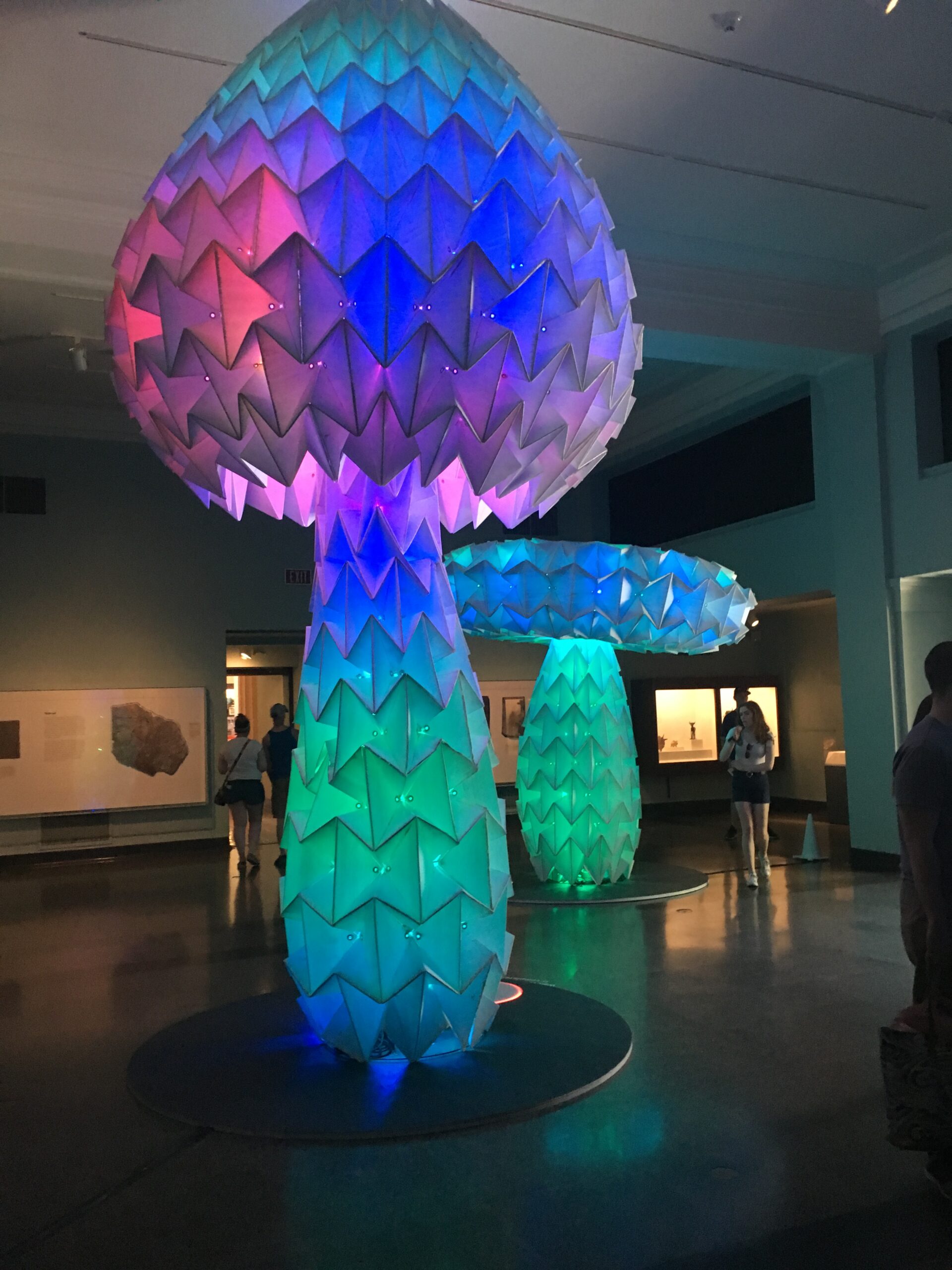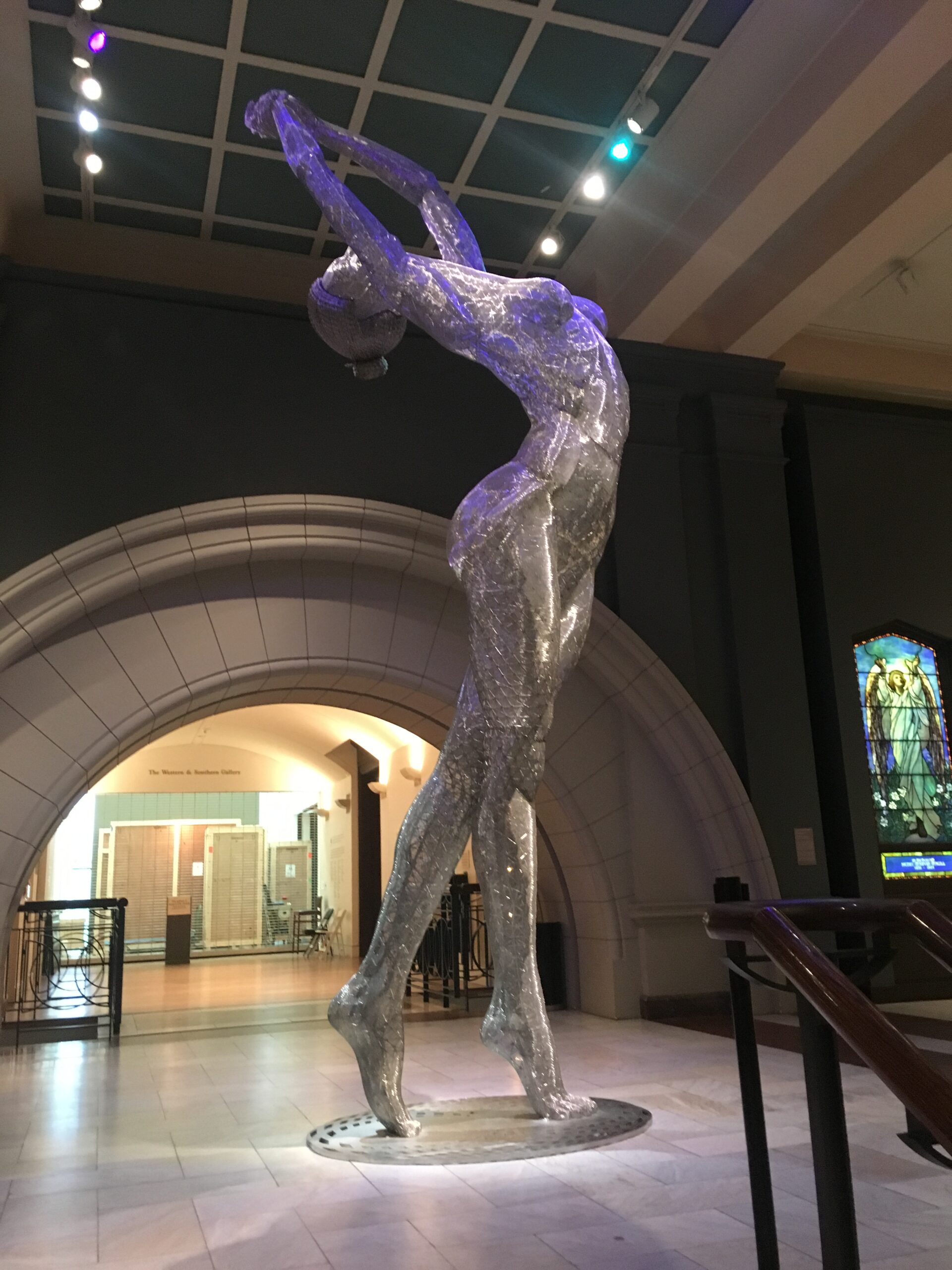 A Trail Angel named Peggy miraculously offers to pay for my motel room for the night! (The nice thing about staying in a motel with free continental breakfast when you're broke is that you can stuff some in zip lock bags for later. I make away with a days worth of food. 😛 )
From Cincinnati, I step onto the Purple People Bridge to Kentucky.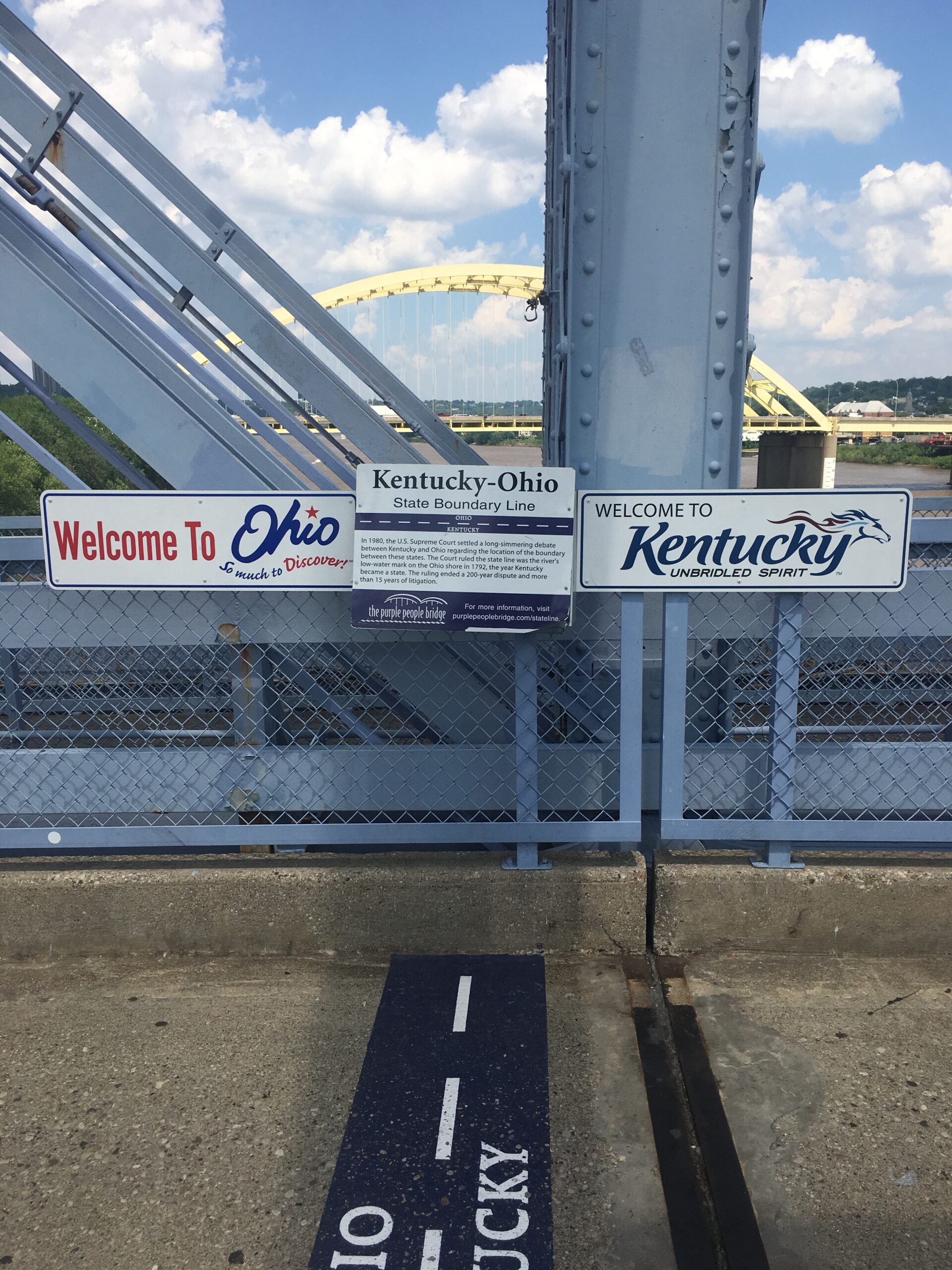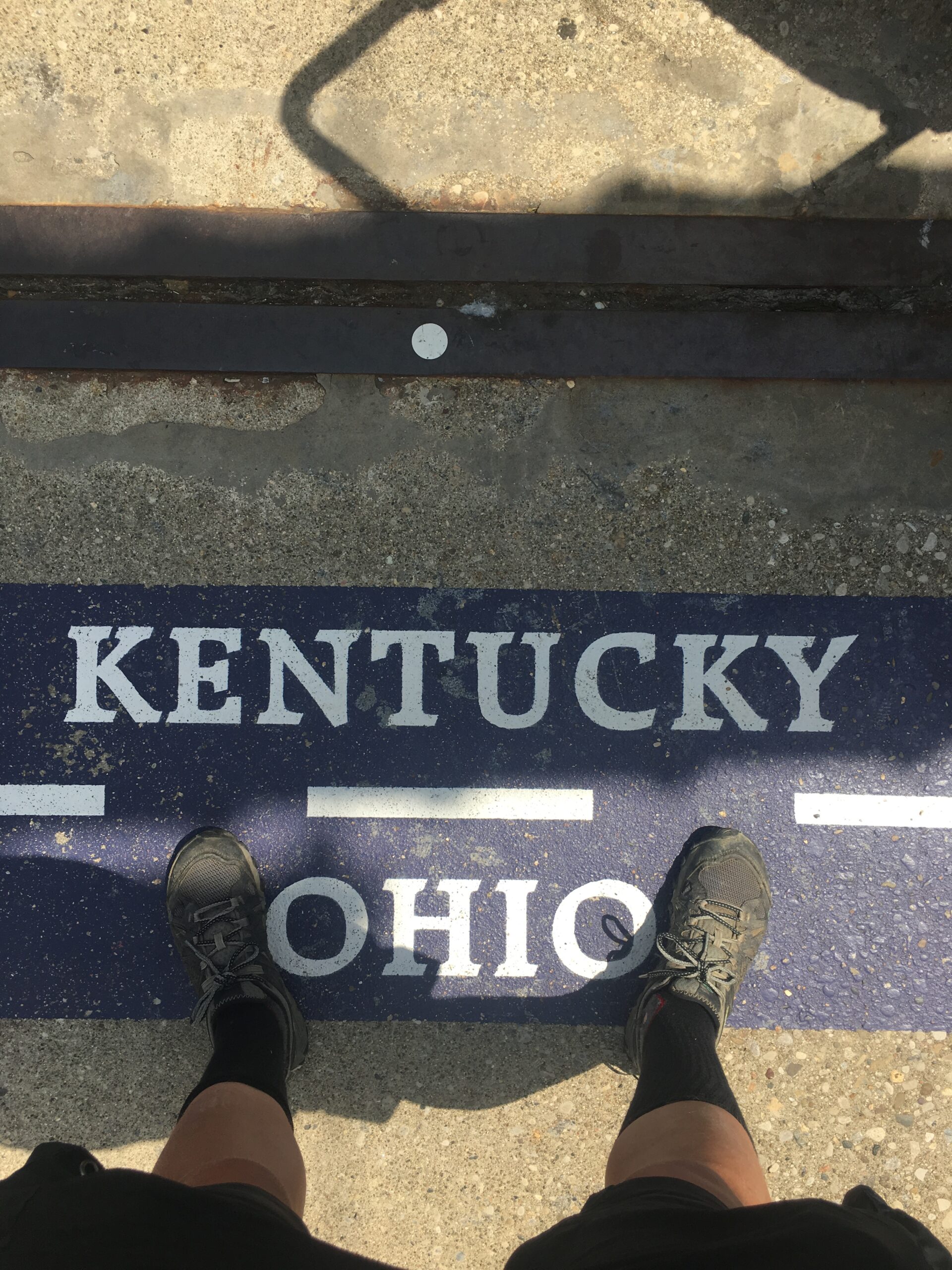 I'm not, really, walking across Kentucky. Just sampling it for 10-12 miles.
While there, I watch a flock of geese hold up traffic and admire how they give no fucks. I aspire to be more like them while walking. I also pass so many ADT signs and take to high-fiving them.
During my one-night stand with Kentucky, I'm woken up multiple times by passing trains. Even though the rail line is 50 yards away, they make the most jarring noise. Not your typical "CHOO CHOO" trains. No, it sounds like the trains are derailing and killing a few thousand people. Like nails down a chalkboard at 10x the frequency. It's a metal-on-metal scream of pure agony and it's LOUD. I have to plug my ears every time they pass and, even still, their screaming gets to me.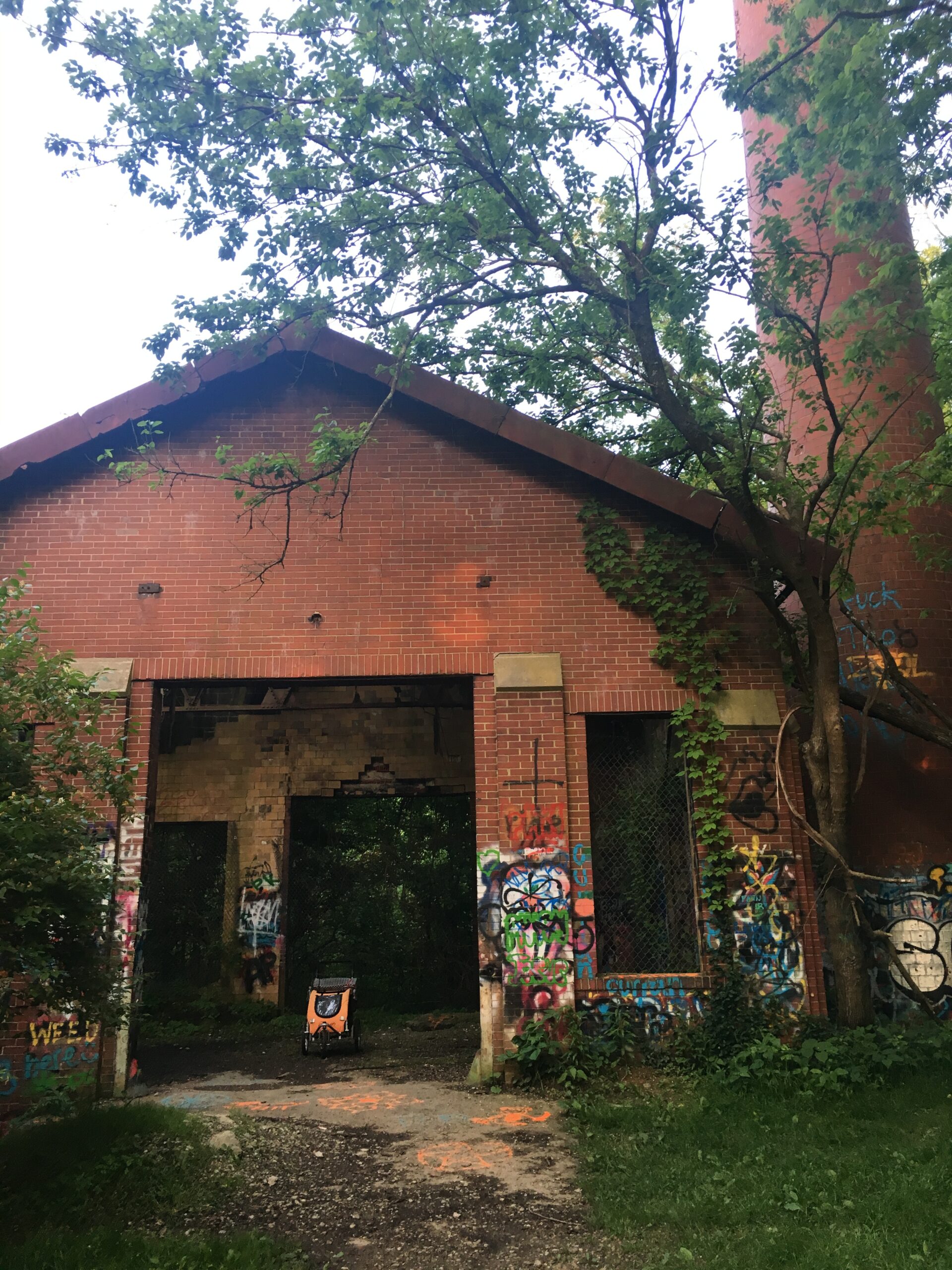 My dalliance with Kentucky is short-lived, I step back onto Ohio's turf in no time.
My last day in the Buckeye State is characterized by me finally catching a Lazarus lizard, passing by William Henry Harrison's grave site, saving a turtle in the middle of the road, conquering a massive hill with an impressive Jesus statue overlooking the city below, and me pitching my tent in a dry creek bed.
Like an idiot.
I couldn't check the forecast before hunkering down so, when it rains, I don't even realize my tent has become a water bed until it's too late. I'm forced to abandon ship. Drag it a few feet away, to a patch of grass beside the creek bed. The disaster leaves me wet and cold, but I'm thankful I didn't have to struggle for long. Moving a foot to my left wasn't so hard.

I'm thankful for all the blessings Ohio has granted me. It's funny, I was so worried to enter the state. Legitimately, low-key terrified to after I heard two other cross-country walkers twine about it. But Ohio has been a-m-a-z-i-n-g. Hands down, my favorite state so far. (I swear, they just keep getting better and better!)
But that doesn't mean I'm not itching to leave it.
Indiana's been calling my name for the last week and so I must go.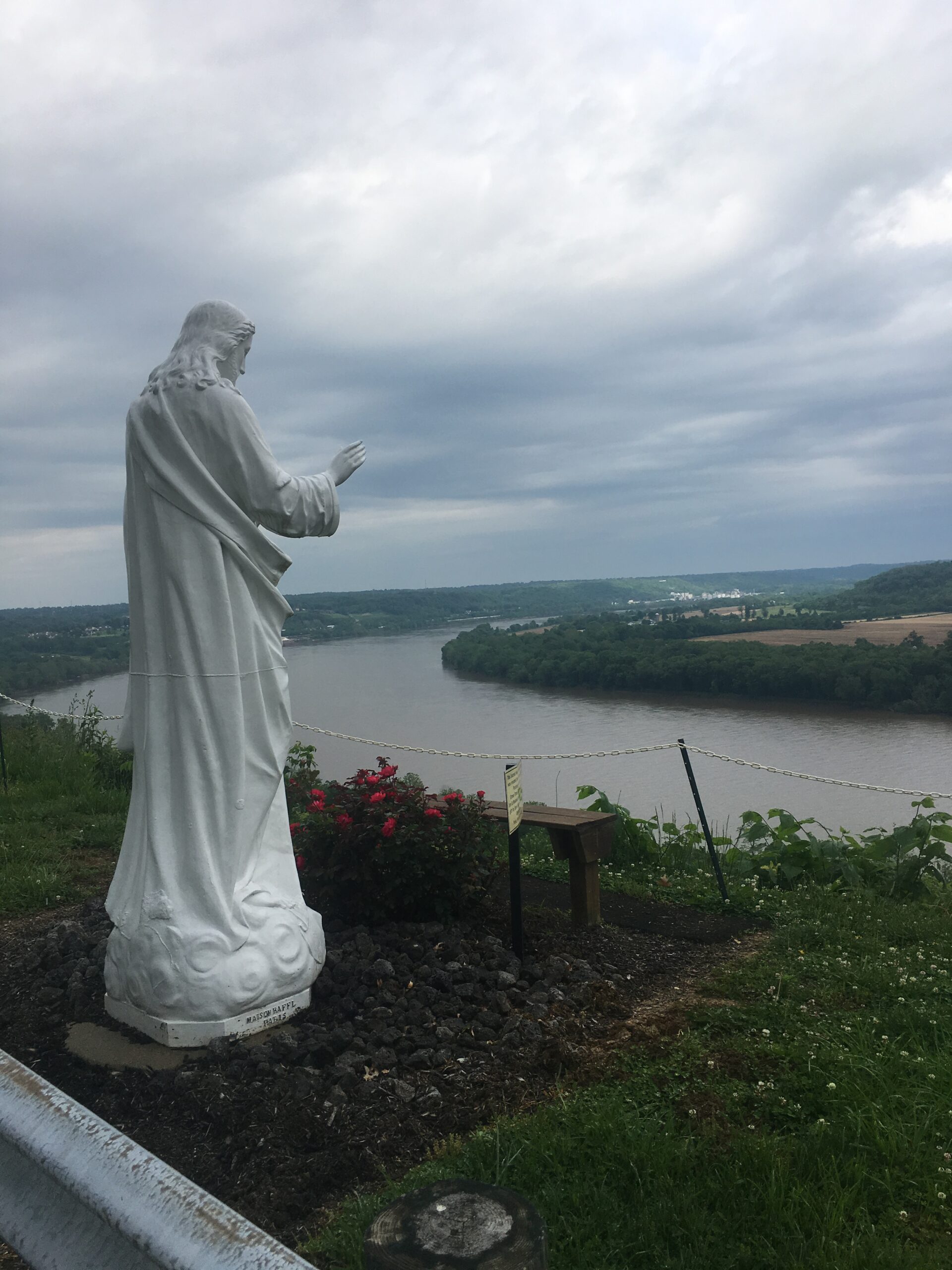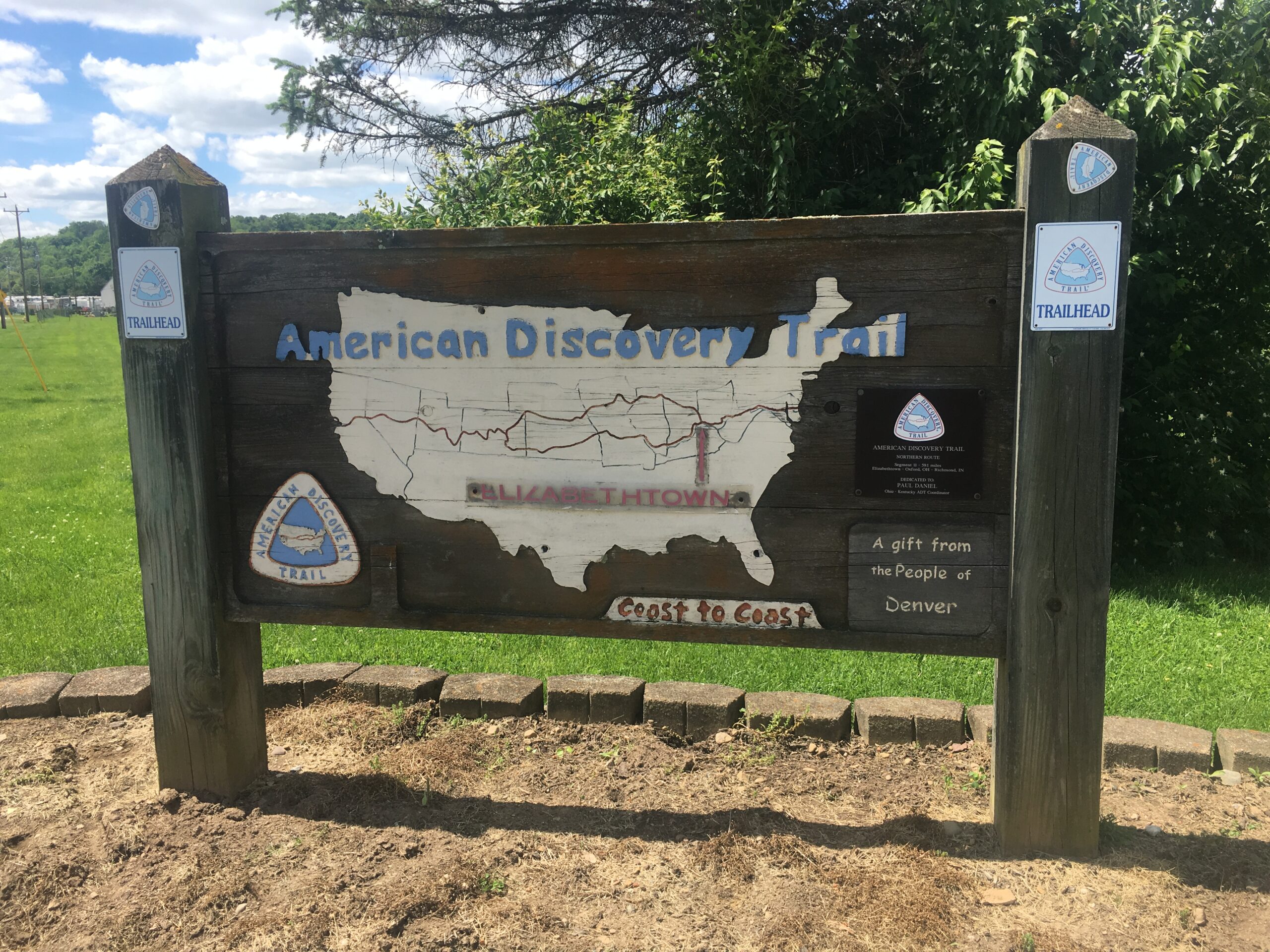 Progress ⭐
May 15th-May 20th, 6 days, roughly 77.3 miles, 12.9 mpd average