West Virginia, the state I've been eyeing from across the Potomac river for the last week. I got a tease of it in Paw Paw, but now I'm entering it for good in Green Springs, WV. I'm scared about the mountains ahead. Going up a single, dinky hills has me winded. Back home, I couldn't climb uphill on hikes for more than a few minutes without my knees aching so badly, I feared something was legitimately wrong with them. Doctor confirmed-nope, I'm just fat. 😛
I'm also worried about the prospect of having no service for weeks. No service means no phone calls, no texts. No information on weather or routing. No access to social media or music to decompress. Total isolation- in times of loneliness and in the face of disaster.
Having no service sucks balls.
And leaving the C&O Canal brings about another challenge – finding a place to sleep every night. My least favorite hurdle to jump through, and one that typically results in a lot of last-minute scrambling.
I imagine it's the reason why most people who dream of walking across America never make it out their front door; they don't want to be stranded in the middle of nowhere – or worse, a metropolis or suburban area – without a safe place to sleep. And without the funds to have a support vehicle following your every step, a few rough nights in easily-compromised spots are a given.
(Which is why I'm aware that my trip is particularly interesting to follow. The whole "will she, won't she be murdered" makes for quality entertainment. 😛 )
My stomach is in knots just thinking about it. But I take things day-by-day. Try not to look too far ahead – why hyper-focus on the devils in the distance when there's some right in front of me? That's a fancy way to say: one step at a time. One problem at a time. No need to let problems pile up in my head until the pile gets so high it collapses in on me. That's how you give up on your dreams before you've even started them.
Right now I've set my gaze on a new milestone: reaching Dolly Sods!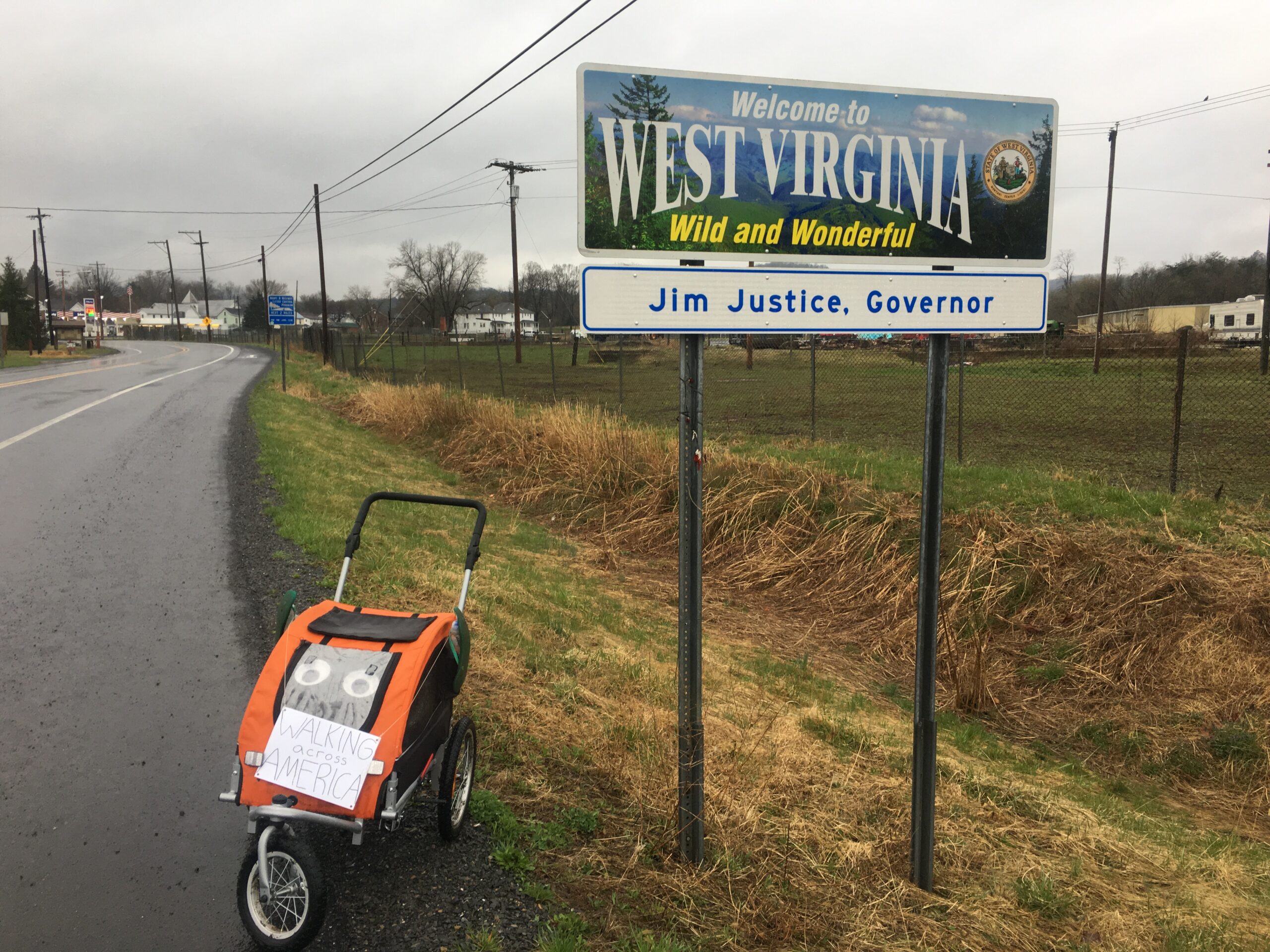 I'm met with a slew of hospitality the moment I step into West Virginia. Immediately over the border, two women cheerily hand me $15 before the car behind them forces them along with the blare of a horn. Then another family is so excited to meet me, they offer to host me for the night!
In Green Springs, WV, I find a pocket of service to call my mom. While on the phone, I notice a man standing by the nearby railroad tracks, taking pictures. I don't think much of it, even when the camera looks as if it's pointed at me. It's not until he reappears nearly 10 mins later, this time headed straight towards me, that I abruptly halt my conversation with my mom and veer to pass him. I call out, "hey, what's up?" mock-amicably, and he mutters back "just taking pictures" before returning to the railroad tracks again.
Dudes the epitome of creepy-from his looks to his mannerisms to his creeper van parked a few feet away. If I disappear today, that guy did it. And you'll probably find me in his basement with pictures of myself tapped to the walls. 😛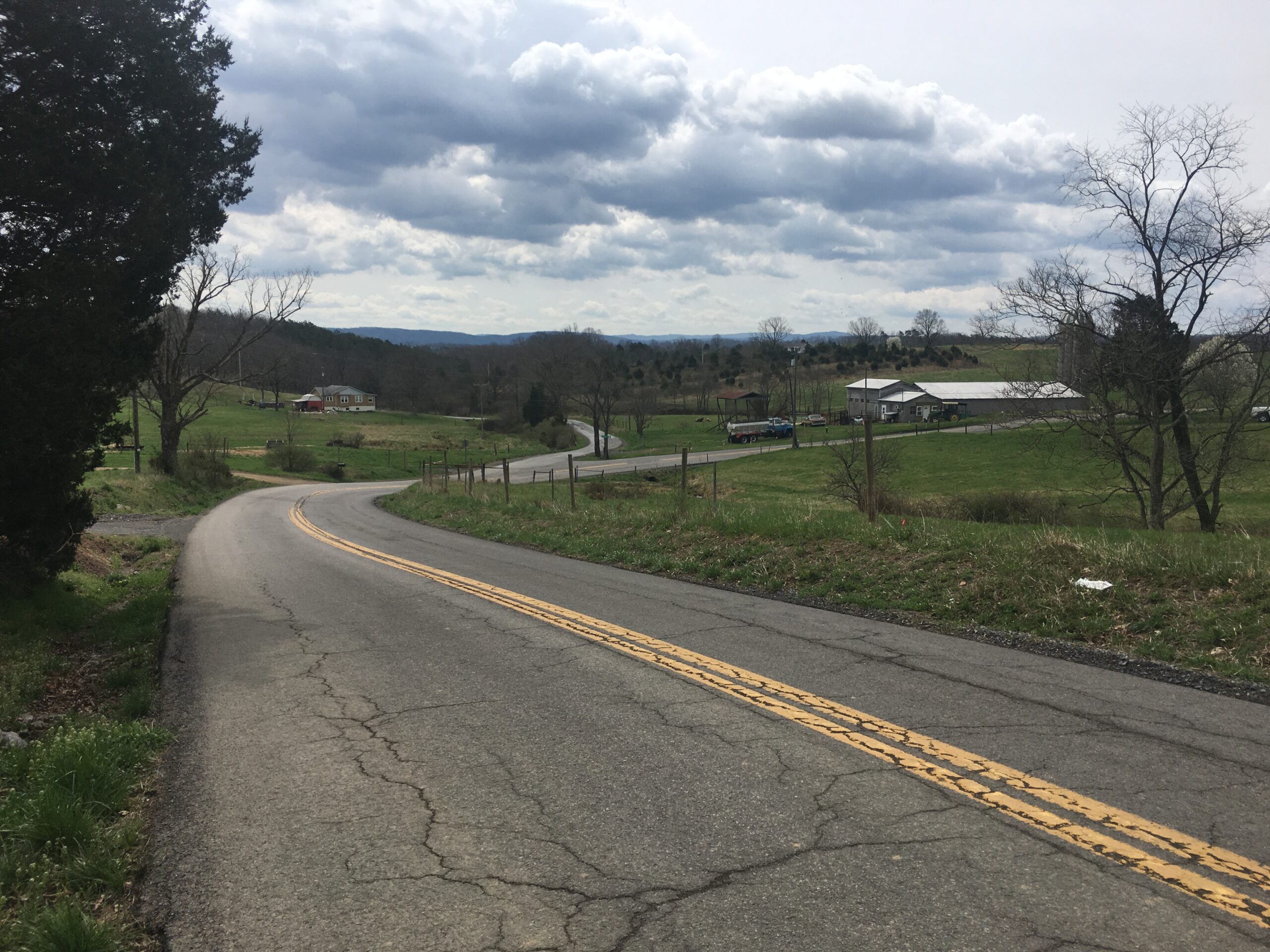 Minutes later, I bump into a cyclist named Kevin. First thing he says is "You on the Trail?" This catches my interest-no one knows of the American Discovery Trail (ADT). He, too, offers to host me for the night! I'm floored at this point. I was so certain I'd struggle to find a safe place to sleep tonight, and now I have three different offers for lodging. (The third from Charlie, a well-known ADT Trail Angel who I connected with through Facebook.)
I go ahead and accept Kevin's offer. Before taking off to continue his bike ride, he warns me that the hill up to his family's house is a bitch. And it is-Donaldson School Rd. is one hell of an incline, and my first real climb. I go from 647 ft. to 1178 ft. on it.
Kevin and his wife-who was a bit caught off guard by my arrival, but is begrudgingly polite-treat me to a spaghetti dinner and a pullout couch. I learn that Kevin is a licensed pilot with his own plane and runway, who grew up on this land and owns over a 100 acres. He gives me the contact info of another Trail Angel 25 miles off, named Red, who he's done construction work for in the past.
Only downside to staying at Kevin's is that I gotta be out the door at 5:30 a.m. tomorrow. *shudders*

After walking a mile in the wrong direction and witnessing a truck so distracted by Faith & I that it almost swerves off the road (no fault of ours), I meet up with Charlie for lunch. It's impossible to miss his house-it's right along the trail, and he has a sign in his yard to welcome hikers. Coupled with a chair and a cooler full of  goodies- snacks, drinks, toiletries, deodorant. (The latter really shows an insight on what hikers might need.) I sign his ADT guestbook and enjoy the most wonderful lunch of grilled chicken, corn, and strawberries with him & his 90-year old mother. (Thank you for the support, Charlie!! ❤️ )
Turns out this area of small town West Virginia, with its rolling hills and cows galore, is filled to the brim with Trail Angels who frequently host ADT hikers. 😀
Retired farmers by the name of Lawrence & Judy treat me to dinner and allow me to stay in their guesthouse! I tour it with my mouth gaped open like a fish – this whole place for me??
Lawrence also offers to show me around their organic farm. I'm surprised by how automotive their chicken houses are. The fans and feeders inside regulate themselves, and each one can fit 18,000 chickens.
At some point, Lawrence & Judy ask my age, and their reaction is much the same as Peter & Marilyn's was. A kind of quiet disbelief.
Next up: staying with Red & Jane, the Trail Angel's Kevin vouched for! They pick me up at Knobley Rd. since their house is miles away, up a mountain that's only accessible by a steep, switch-backing dirt road. In their mid-60's, Jane's very sweet and easygoing, while Red is a bit gruff and opinionated, occasionally launching into random, impassioned rants, but very nice and welcoming all the same.
They have a big, shaggy mutt named Scrappy, whose excess hair is stuffed in a feeder outback for the birds to use as nesting, and a cat, whose been slacking on her mousing duties so much that it's compelled Red to declare war on the rodent population in their basement. Since their property rests on a high ridge, they often refer to it as "The Mountain." And no wonder, from their screened-in porch they have a grand view of the surrounding lane. Red swears you can see all the way to Pennsylvania and Maryland!
After gifting me with one of his favorite books, and graciously serving me a breakfast sandwich- with sausage that Red says came from a pig slaughtered by a neighbor last week, and butter from a local man whose been making it all his life- Red whisks me back down The Mountain to Knobley Rd, with a parting "good luck, kid."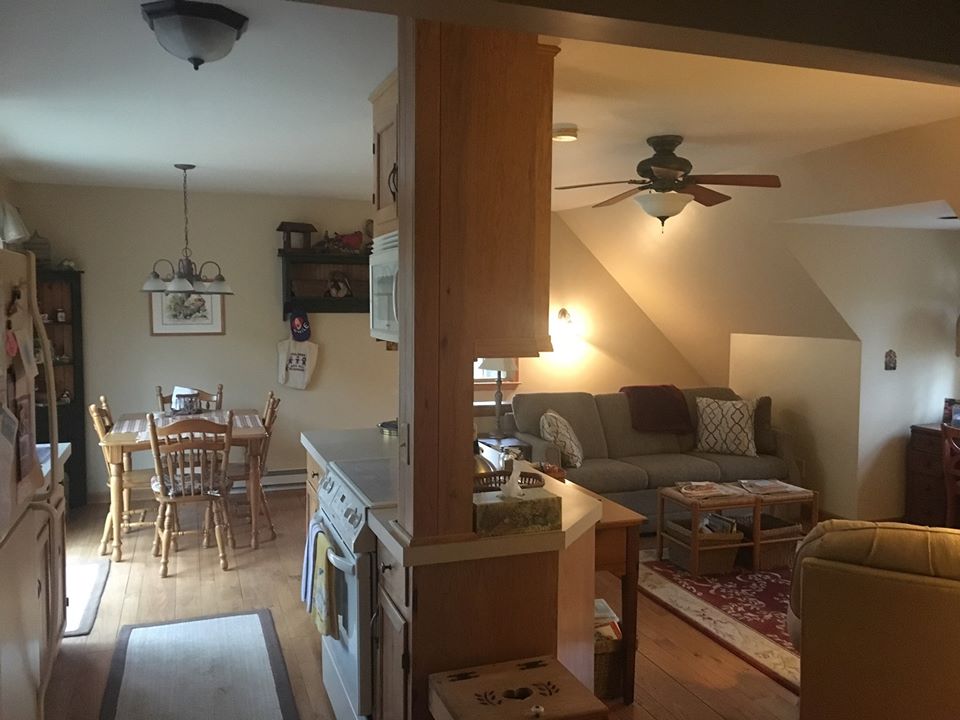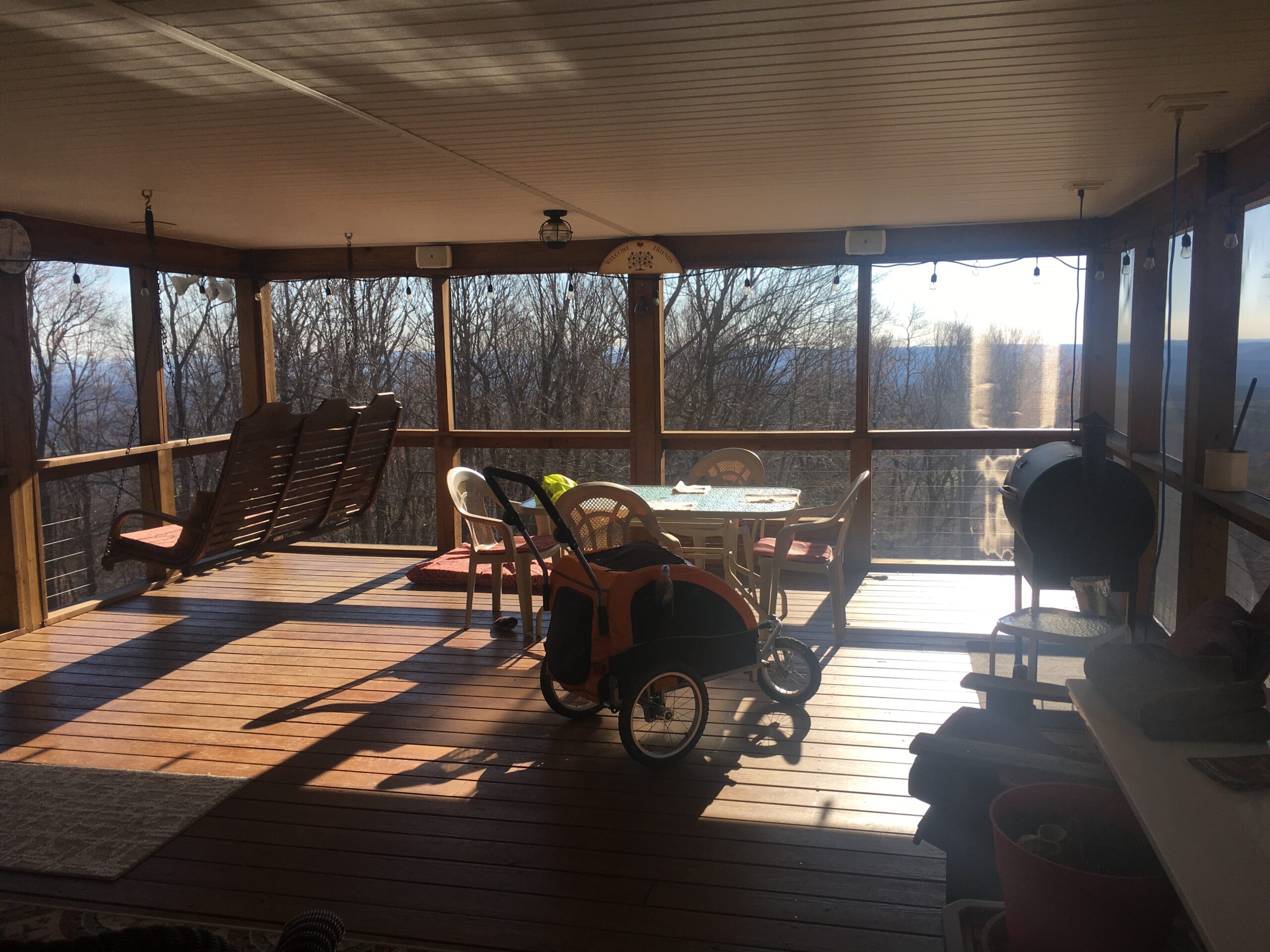 (a. Lawrence & Judy's guesthouse and b. Red & Jane's screened-in porch overlooking the countryside that Kevin helped build) 
I follow Knobley Rd. for ages. It's characterized by a backdrop of grassy fields, Amish farms, moderate traffic, the occasional ADT sign nailed to a street post, a territorial dog that barks at me heels 'til I pass its property, a few friendly strangers, including one who warns me of "pumas!" in West Virginia, and RELENTLESS HILLS.
OH MY GOOOOOOOOOOSH
I go up one hill, sweating buckets, with Faith's fat-arse resisting every step, and all the while I tell myself "This must be the last hill. Yeah, after this the road will level out for awhile" in a fool-hardy attempt to ease my mind.
But it's never the last hill. Which you can't know until you reach the summit of the hill you're on-cruel mistress that Knobley Rd. is.
Inside Willow Dale Church, there is a natural spring that locals swear is clean enough to drink from. I fill my Smartwater bottles, and a minute later a local woman pulls up to fill her own gallon jugs.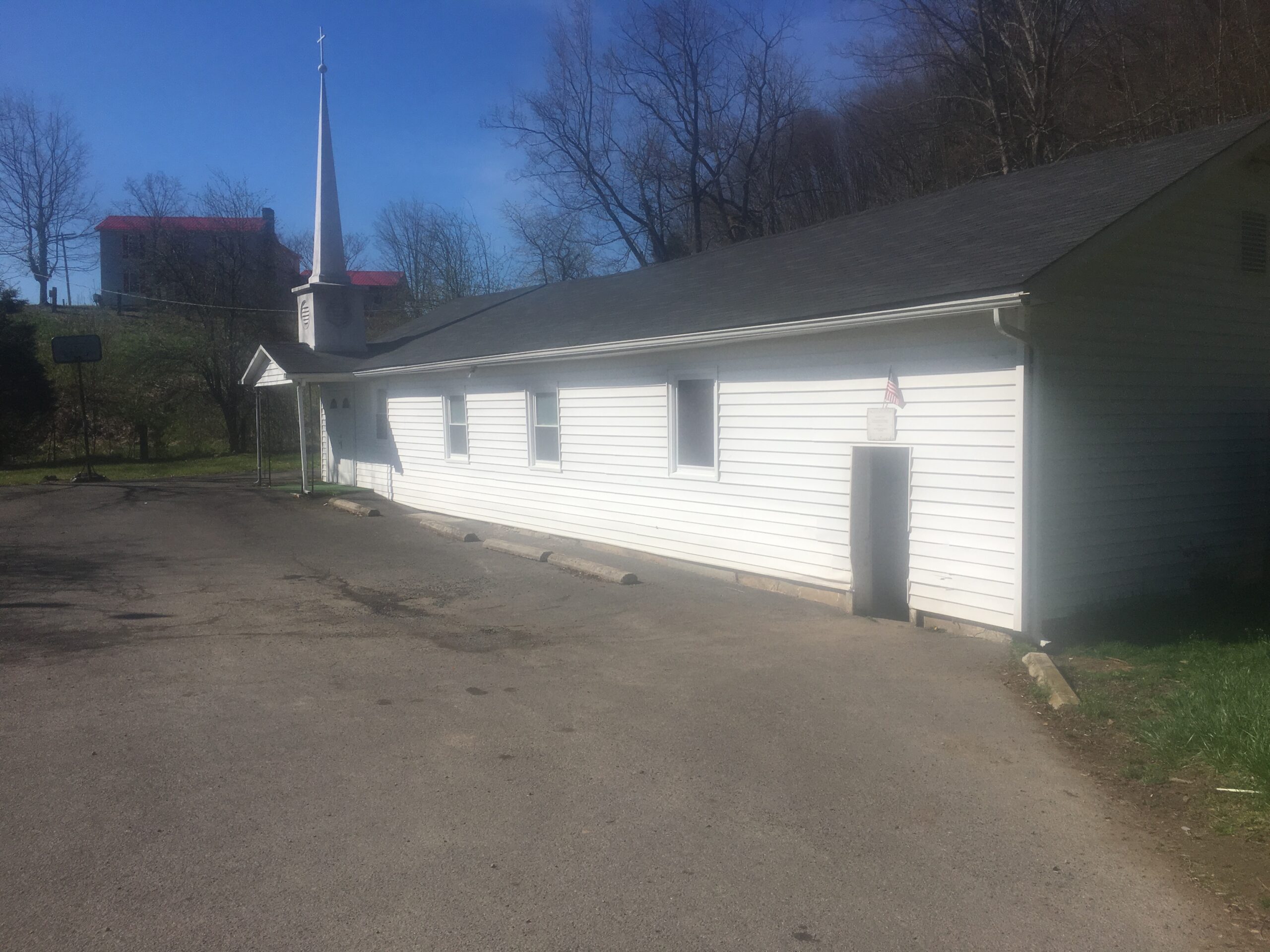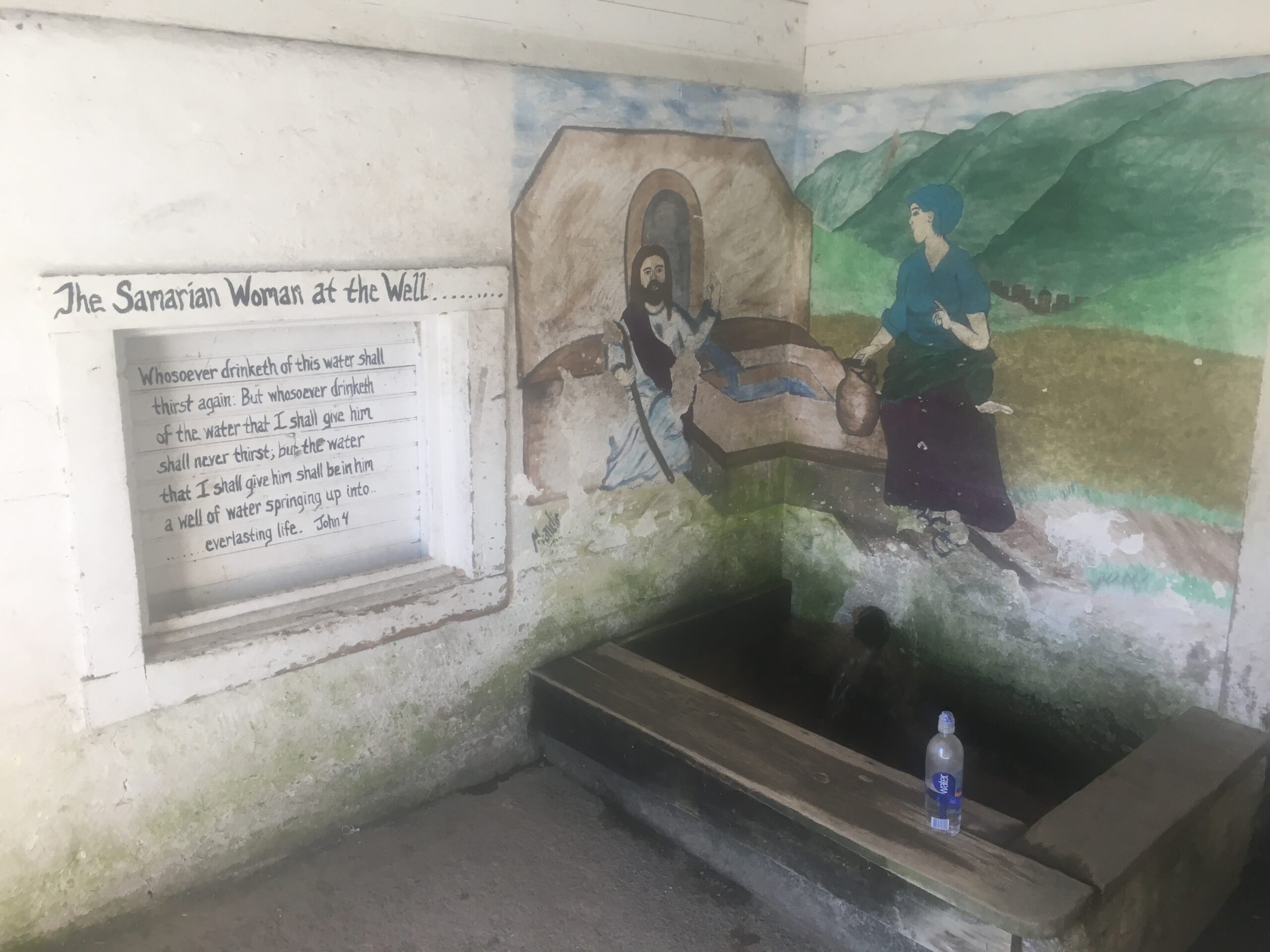 April 10th: I spot another church off to my right and deem it the perfect place for a snack break, away from the rumble of traffic. After a few minutes of munching on a beef jerky stick, I get the bright idea of stealth camping there. The only alternative is to continue down Knobley Rd and pray I find a better spot before nightfall, but Google Maps isn't showing any public land in the near vicinity.
Since it's only 4:30 p.m., I can't pitch my tent yet. Even with the church being in the rural countryside, away from prying eyes, it's safest to wait for the cover of darkness.
So. I sit around. Fiddle with a Word Search. Countdown the minutes till sunset.
That's when my worst nightmare pulls up in the form of a minivan.
Followed by another, and then half a dozen more.
Shit.
The church is having a Bible study tonight. Their first in months! I'm suddenly relieved I didn't break the golden rule of stealth camping and pitch my tent before sunset, because that would be hard to explain right about now. I jump up to greet the first couple that exits their car, explaining how I'm walking across America. How I stopped outside the church for a snack break.
Which isn't untrue. I did stop for a snack break. Then I decided I might as well camp out there but no need to add that last bit.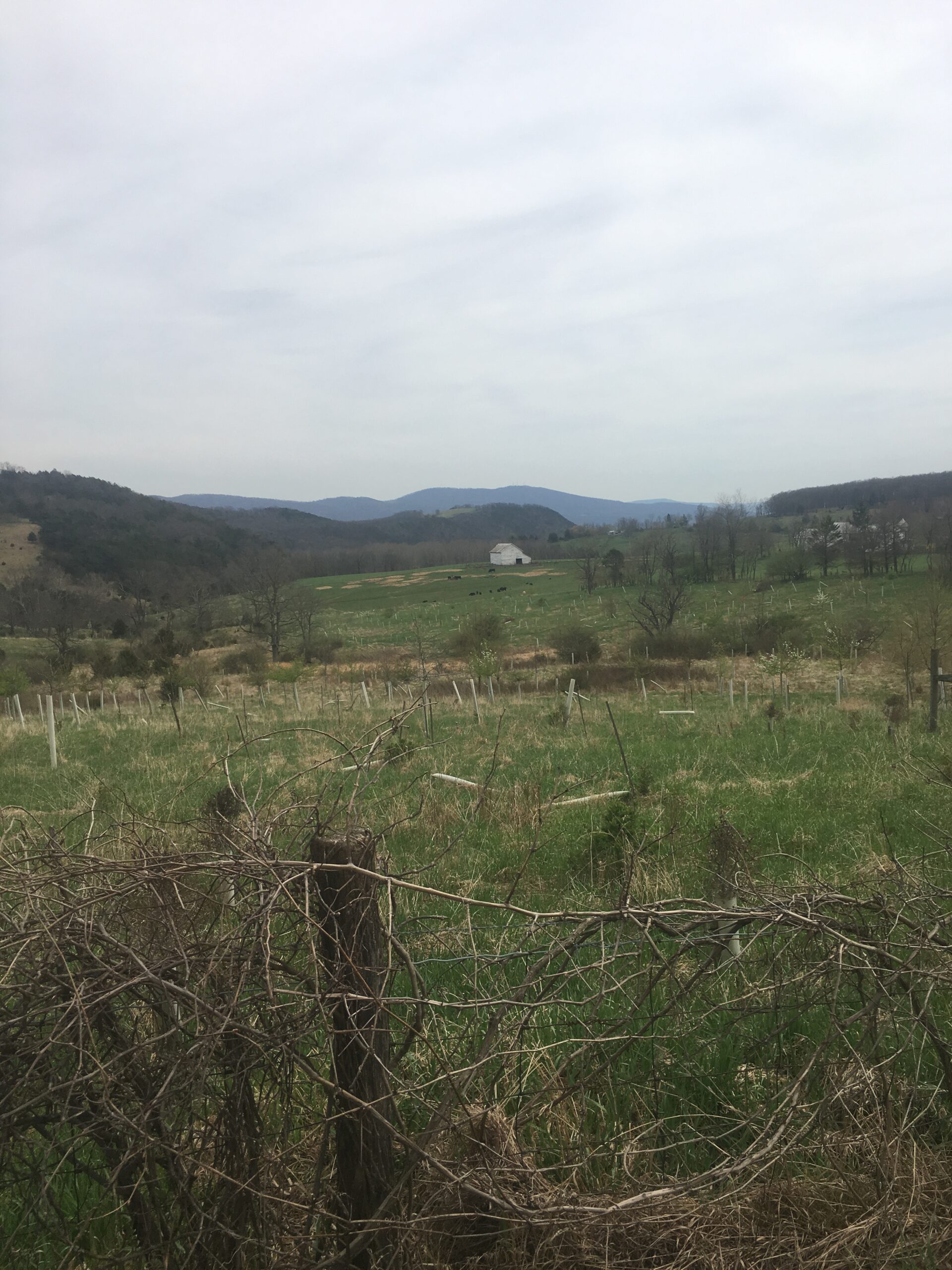 I do something that scares me then-I ask them pointblank if they know any place I can spend the night. They don't, but they say, "See that woman over there? Go ask her." I look in the direction they're pointing- at an older woman, in her 80's, with curly brownish-gray hair and glasses. Her name's Glendora. After I sheepishly repeat my introduction to her, she sizes me up for a good minute, the wheels in her head turning. Hmmm.
I give her my best smile.
Success-I'm going home with Glendora! It's a bit of a pity invite, like how someone would take in a lost puppy, but I'll take it! I'm swept into their Bible study, where the pastor includes me in their group prayer, and invites me to put a ribbon on their prayer tree. He also tells me that if Glendora hadn't offered to host me, he would have gladly let me stay in the church.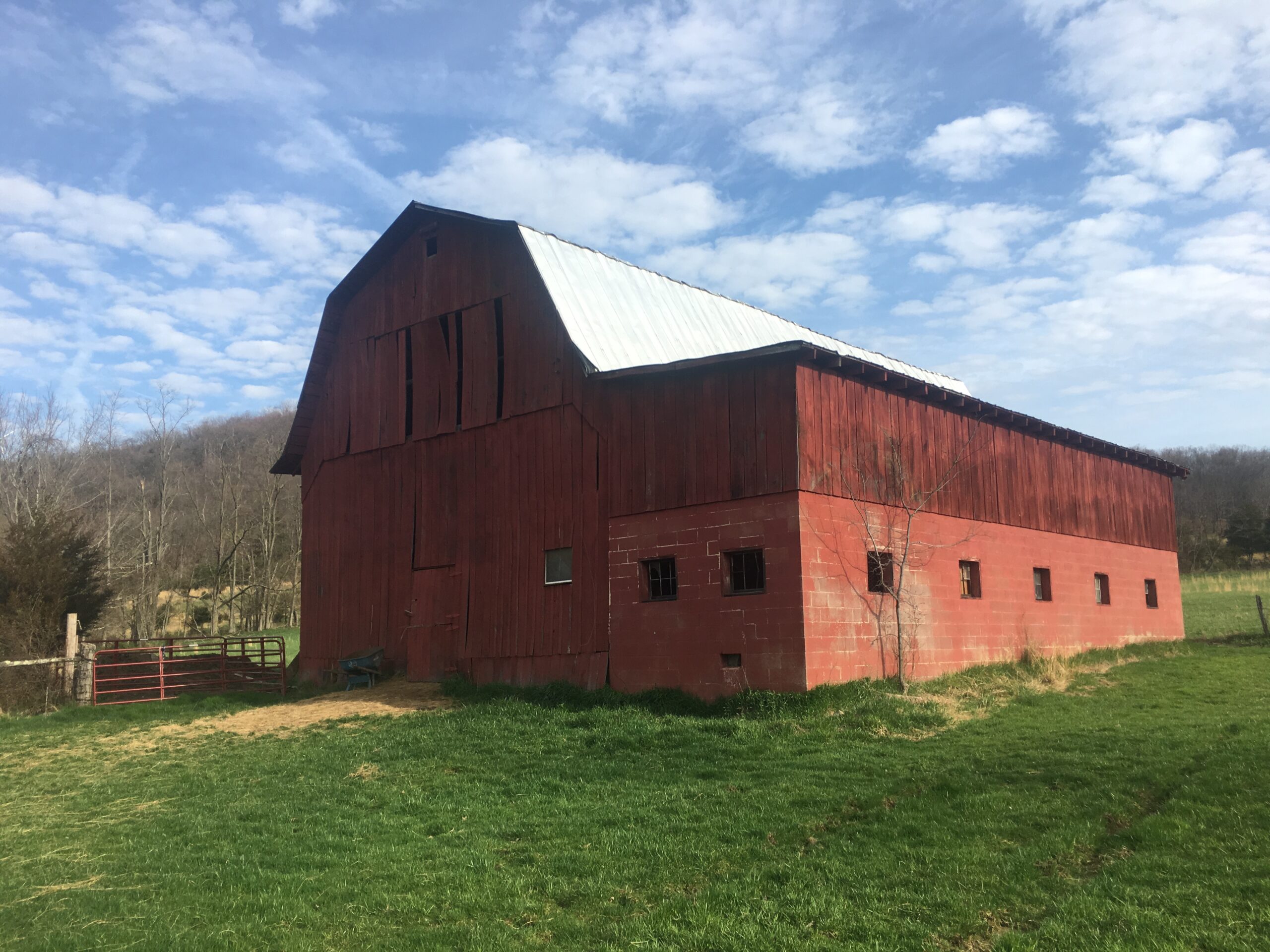 (Glendora's beautiful bright red barn) 
That night I have a dream of Faith falling off a cliff.
I quickly scramble to grab her, but it's too late. She goes over the edge. I look for where she's landed, and see she didn't actually roll all the way down, but is stuck in a rocky outcropping- just a few feet below! I extend my arm to grab her but can't reach her.

After Knobley. Rd, I hit Lunice Creek Highway. It has little shoulder and unrelenting traffic that forces me to stop and wait for cars to pass, often.
Right as I step onto a narrow bridge, a tractor trailer comes bearing down on me. Pressed up against the guardrails to my left-hand side-I'm trapped. They haven't swerved into my shoulder, assuring I'd be roadkill upon collision, but they are driving very close to the white line. Too close.
They don't see me.
I stare at them like a deer in the headlights before frantically letting go of Faith and looking over the guardrail to see how far the jump would be to the creek bed below. A good ten feet. I hesitate.
The driver must suddenly see me because the tractor trailer abruptly jerks to the right, giving me a wide berth at the last minute.
Almost getting flattened like a pancake has me shaken. I get the hell off Lunice Creek Highway a half mile later, veering onto a quiet backroad by the name of Jordan Run Rd. As I turn onto it, I spot a sign for Dolly Sods.
That lifts my spirits. I'm so close!
I won't make it to Dolly Sods tonight, and all of the surrounding woods are either plastered with private property signs or fenced off, leaving me in my usual pickle.
And to top it off? I have the sudden urge to pee. (You're probably wondering why this is relevant-TMI much, Gin? But I promise it is, okay, just listen.) The need is so strong I'm about to piss my pants, yet there's nowhere good to go.
Unfortunately, when you're walking cross-country there isn't a toilet conveniently placed every few miles, so you have to make due by squatting to pot whenever an opportunity presents itself. Like when you see a good tree. Or some tall grass. Or a particularly nice ditch.
There are none of those things here. But I need to go. So I wait 'til no cars are around and quickly pull down my pants along the side of the road, too exposed for comfort.
Of course, right then a car decides to round the corner. They're still a good 100 yards downhill, but they are moving FAST and, for the love of god, I'm only halfway done. And you just can't rush these things. Still, I quickly scramble to pull my pants up right as the car nears enough to clearly see me.
I expect them to zip on by, but instead they slow to a stop. It's a single, middle-aged woman in the driver's seat.
She eyes me funny and rolls down her window. "You okay?"
I mean, other than the fact that you might have just caught me with my pants down, "Yeah." I then explain to her what I'm doing, and ask my signature question "Do you know of any place in the area I could spend the night?" She hesitates before mentioning that there is an old schoolhouse up ahead. It's used once or twice a year for voting, but is otherwise abandoned.
"Door might be unlocked."
It is. I slip soundly inside, sure no one saw me enter, and close the door behind me. Grateful for that lady who might have caught me taking a piss.
Right when I got off Jordan Run Rd. and onto Forest Road 75, two large dogs barrel towards me, snarling and snapping. A German Shepherd and a wiry black mutt of roughly the same size. This is the second encounter with territorial dogs I've had in the last few days. I wearily keep walking with my pepper spray clutched in hand, when the wiry black mutt lunges at me! His teeth make contact with my side, but he doesn't bite down. I institutionally lurch back before letting out a burst of pepper spray out of sheer caution.
Oh boy! You should have seen the look of pure shock on their faces. They immediately turn tail and flee back to their property. Where a moment before they had been a cacophony of barks and growls, now I pass, unabated, without hearing a single peep from them.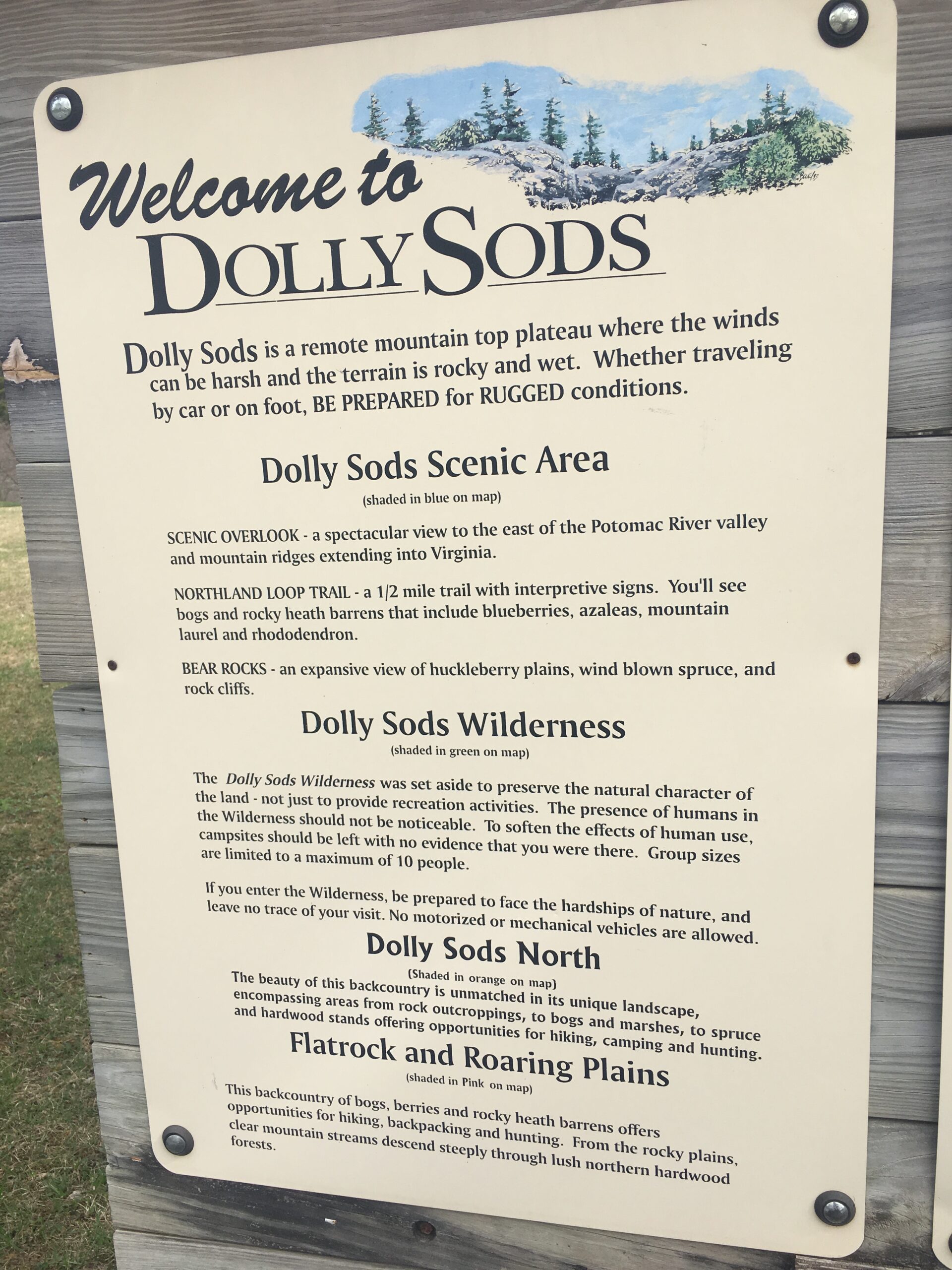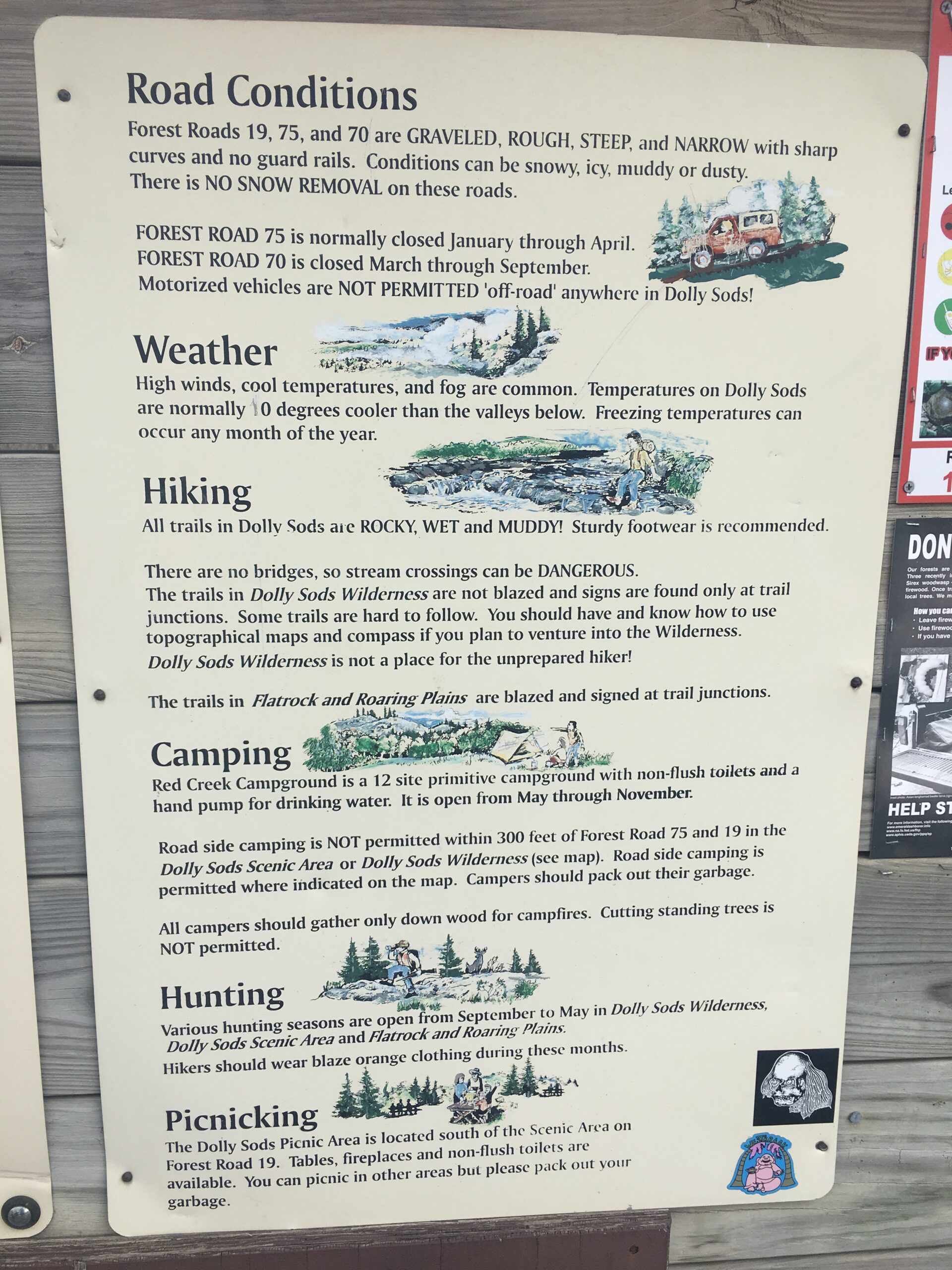 Going up Dolly Sods is a lot easier than anticipated!
Fueled by both my own preconceived notions about West Virginia, and past Trail Angels' uncertainties about whether Faith could go through the mountains, I was expecting a rugged, back-country trail. Steep, even to the point of being treacherous.
Instead, I'm met with a nice wide gravel road with a gradual incline.
At the top, I'm greeted by a reddish-brown weasel and Red Creek campsite. My lovely $11 abode for the night, and my first time sleeping outside since entering West Virginia.
You know, I'm a little worried about bears tonight. I probably should have brought a bear canister.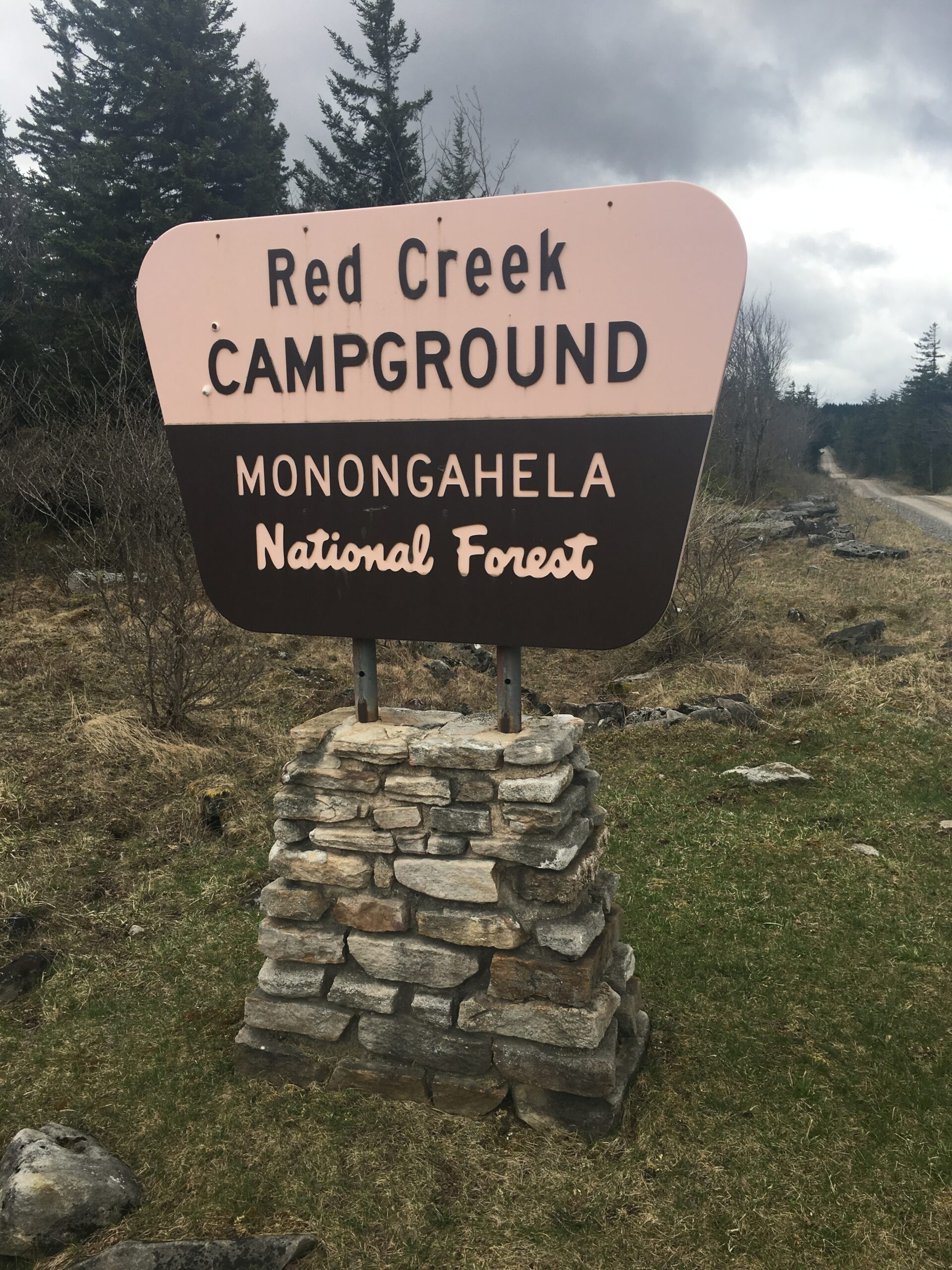 Progress ⭐
April 7th-April 12th, 6 days, roughly 66.9 miles, 11.2 mpd average