I lie on my back in a patch of woods outside Canaan Valley State Park. Staring at the ceiling of my tent and reflecting on how treacherous the road was from Dolly Sods to here. Steep and winding, with breakneck traffic. The sort that requires you to listen closely for approaching cars until you're sure the coast is clear enough to run for your life around one blind corner after the next.
The wind tonight is insane. It sounds like massive waves crashing against the woods. Forget psychotic men and bloodthirsty bears, I'm hyper-focused on the moaning of the trees outside my tent that make me fear one's about to fall on me.
'Til I fall asleep, anyway.
Then I don't have to worry about anything at all.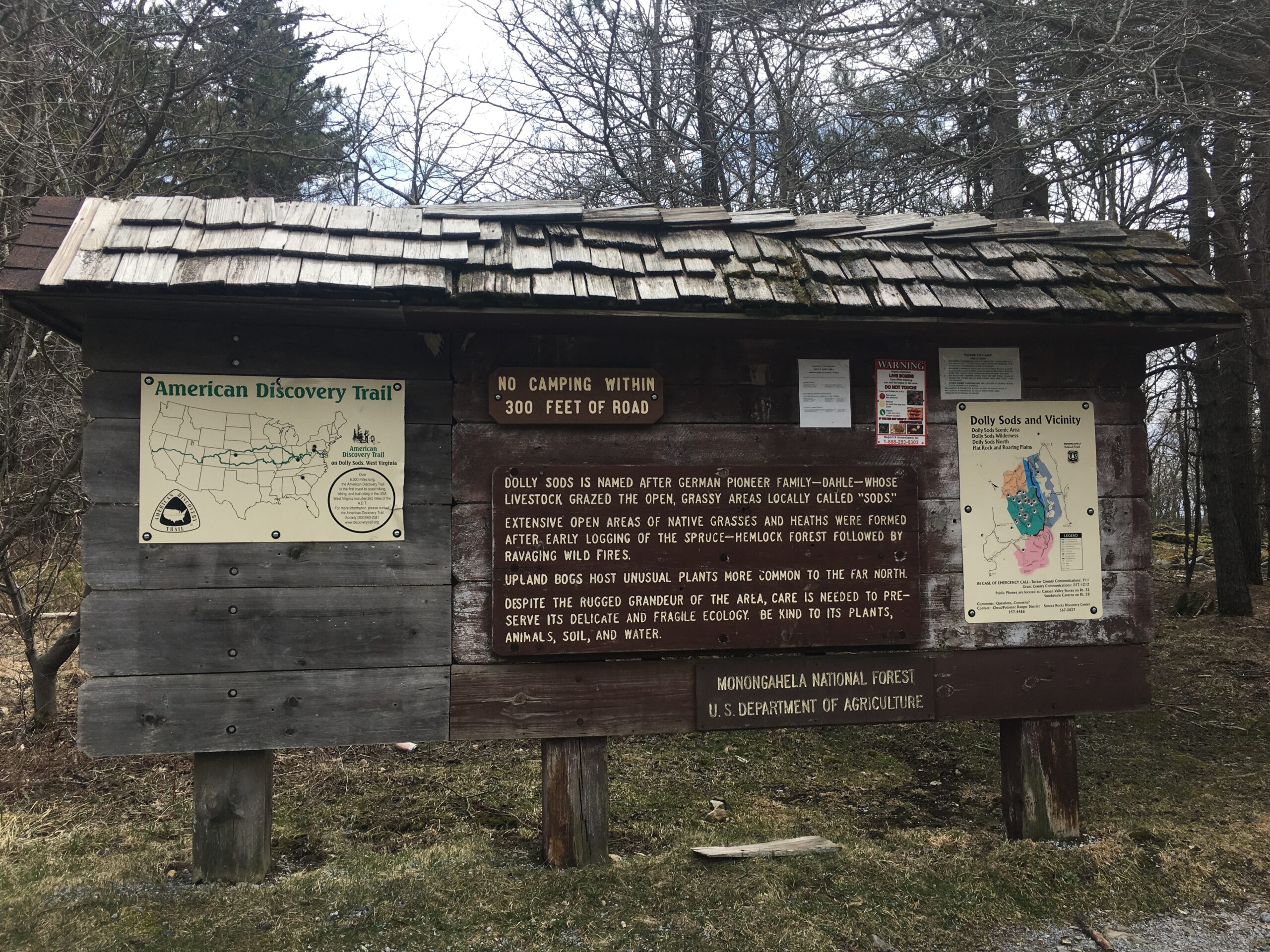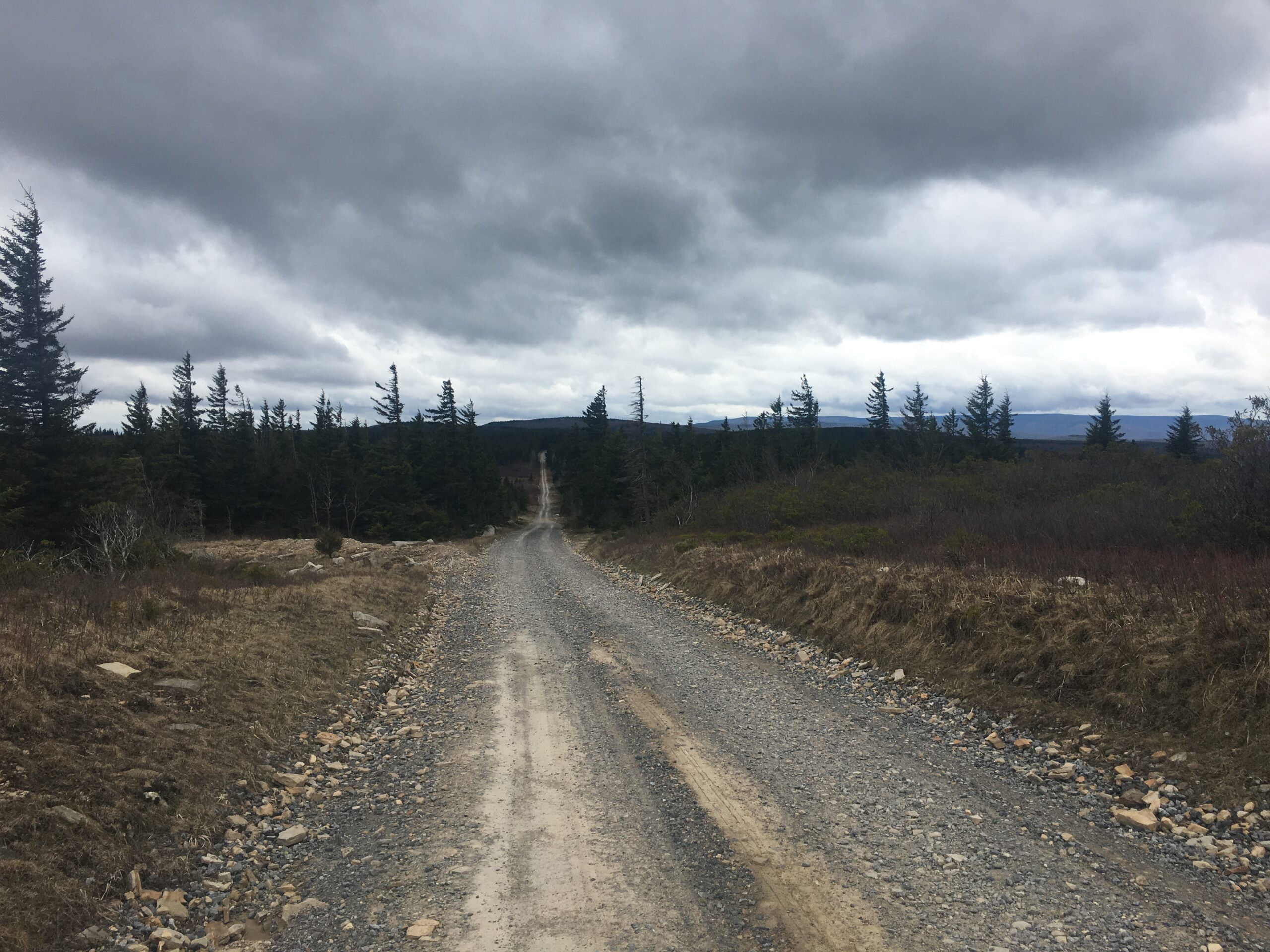 I jolt awake to the feeling of … dampness?
Oh shit.
I switch on my flashlight and see that my tent is flooded. It's like I'm on a waterbed. My Therm-a-Rest sleeping pad is doing its best to act as a narrow barrier against the growing puddle beneath me, but it's not enough. My sleeping bag is already drenched.
I rush into action, scrambling to salvage my electronics and syringe out the water. I drain one puddle after another, only to circle back to the first spot to see, to my horror, the puddle's back already!
I hastily strap on my rain gear and brave the storm, thinking my rain tarp must need to be readjusted.
The sight outside is . . . not good.
I pitched my tent on a sloped clearing so when the rain started, it turned into a swamp. The possibility of that happening never even crossed my mind before. I'm speechless.
The puddles of rainwater I'm standing ankle deep in are so cold, it feels like icy pins are being driven into my feet. I dive back into my tent and hatch a desperate plan to continue syringing the water out of my tent. Indefinitely. Until the rain lets up or the sun rises, whichever comes first.
It's useless.
The water collects faster than I can syringe it out, the puddles festering beneath me like blood to a mortal wound. I give up and lay cold, wet, and miserable on my side for a few minutes. Maybe a half hour. I don't know. I try to sleep, to escape.

At 1:30 a.m., I decide I've had enough. I need to leave. I dump what must be a gallon of water out of my tent and madly throw it on top of Faith, before trudging through the swampy woods. After a few feet I lose my bearings- grow confused. All the trees look the same in the dark. I push on in what I think is the right direction, shoving poor Faith through thick underbrush that tears at her sides. When my tent keeps getting snagged on vines, I fling it off Faith in a rage and keep going.
I fear any second one of Faith's tires will pop. She's rolling over so many sharp rocks, branches. Even downed trees. And not gently. All the while I alternate between screaming "Come on, Faith!" to "Good girl!" at her.
Right when I see a light through the trees that must be a streetlamp, Faith's tires get stuck in a bog. It reminds me of that scene in The Never Ending Story where Atreyu's horse sinks to death in a swamp …. that is, if Atreyu had screamed "You little f**cker!" as his horse before finally wrestling her out.
Faith & I emerge from the woods in the same place we entered them two days prior. This unnerves me-I could have sworn we'd been heading in the opposite direction.
Well, no time to dwell on that.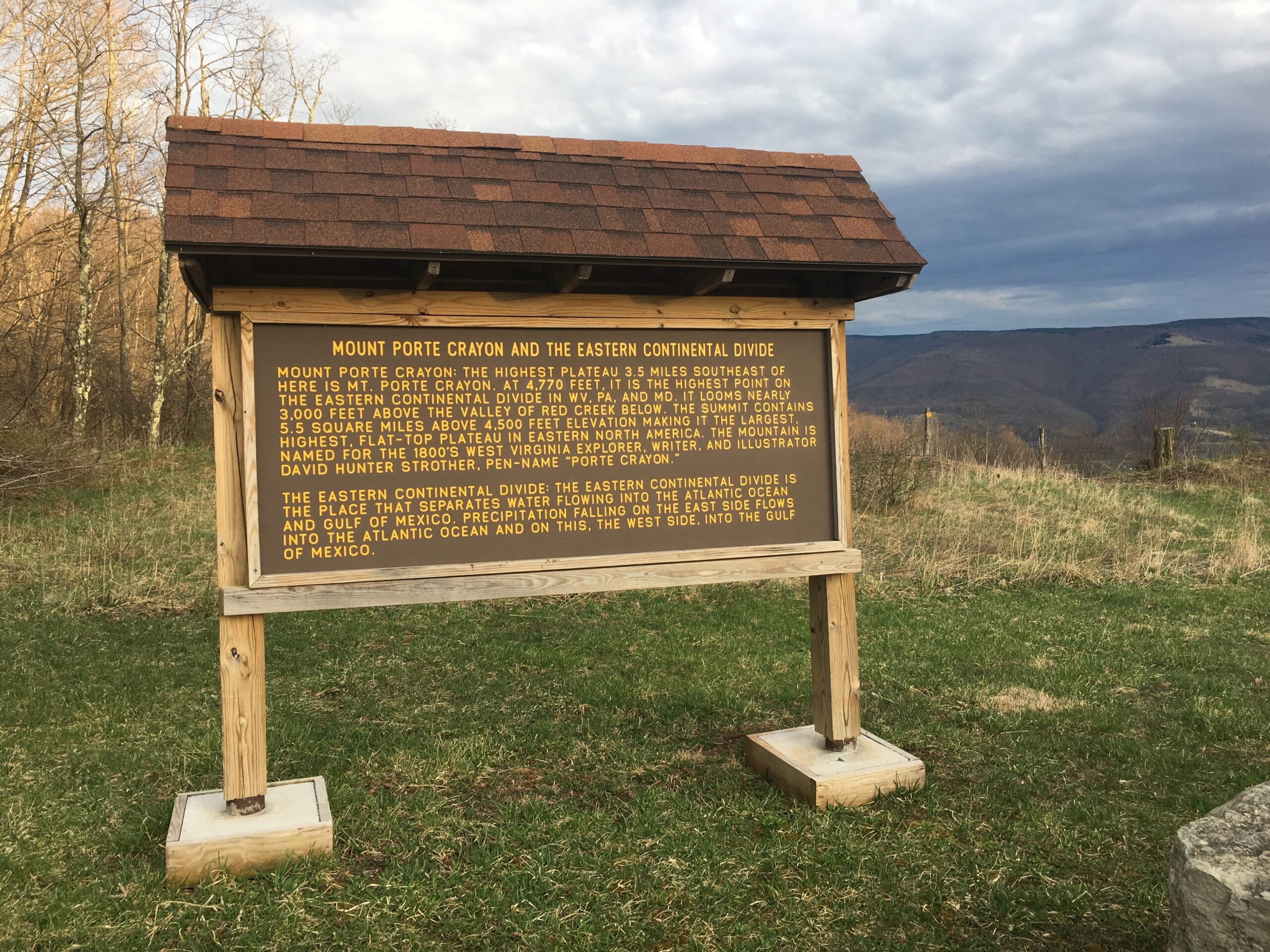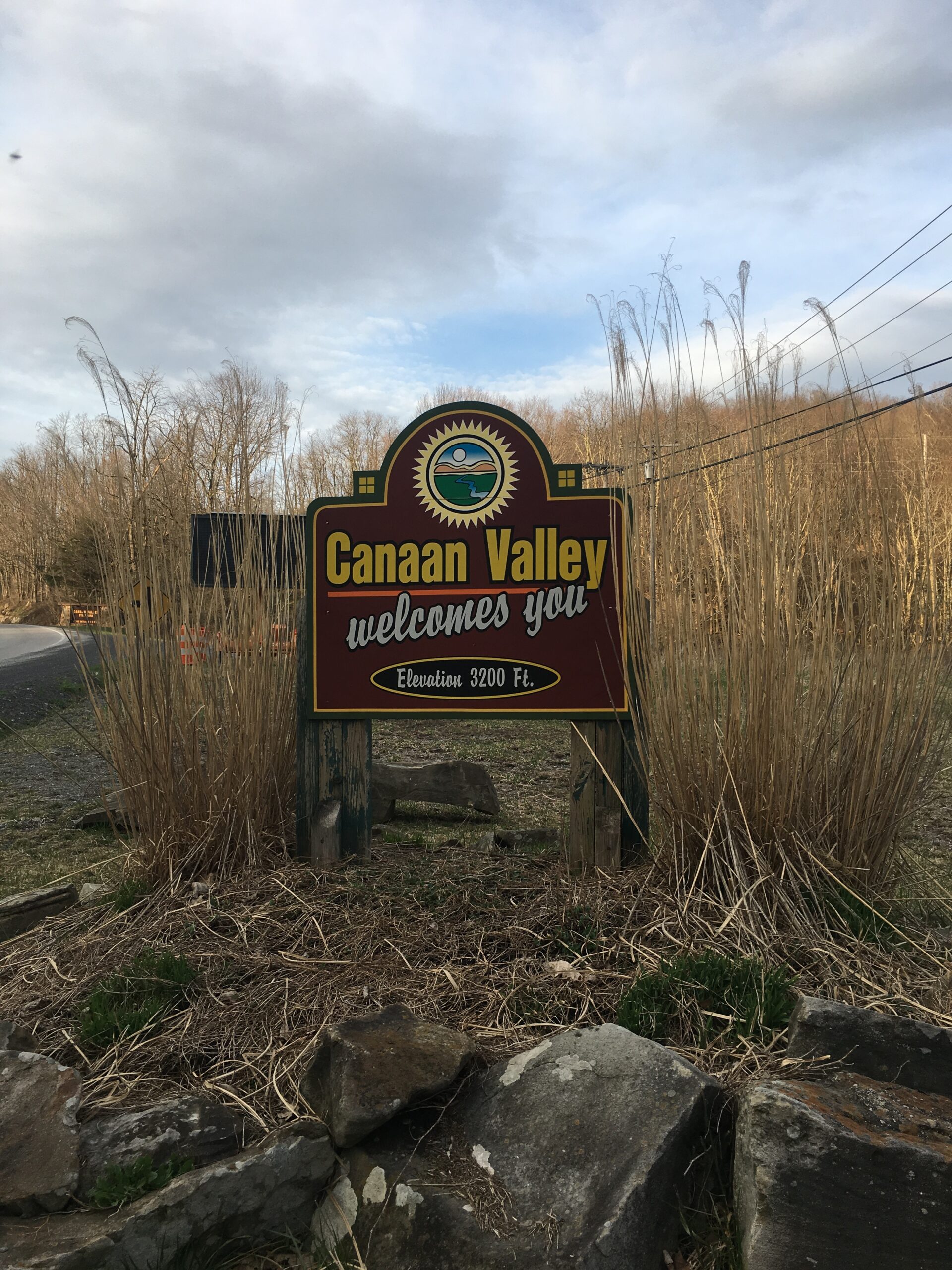 Canaan Valley State Park has a resort nearby. I have to reach it, fast. The only problem is …. I'm not sure which way to go. But I see bright lights in the distance and wager that must be it! What else could possibly be so close, up here on the mountain?
I walk down the dead center of a very deserted Appalachian Highway, too fearful of the dark, encroaching woods on either side of the road to stray near them. The thought of something-or someone- reaching out to grab me from them is enough to make me keep my distance.
When I finally reach the lights after nearly a mile of walking, my heart sinks. It's not the resort. Just a church. I collapse outside it and breakdown for the first time. My anguish is made worse by the fact that I have no service to call my mom. I'm isolated from the outside world, while lost within it.
But there are even more lights shining further down the road. So I pick up my sorry, sopping-wet butt and follow them, feeling like a fly drawn to an electric bug zapper more and more with every second that passes.
Again, it's not Canaan State Park Resort. It looks like a private vacation rental complex. Empty of people except for one house with cars in the driveway, and all the lights on.
Odd, for 3 a.m.
I go to knock on their door to ask for directions, but hesitate. This is rural West Virginia. People have guns. Lots of them. And they like to use 'em. Knocking on a stranger's door, in the mountains, at 3.m., is really pushing people's trigger-happy fingers.
I knock.
No one answers.
I retreat to a small, indoor enclosure I find attached to the resort's lobby, built for guest's to fetch their keys after-hours. The door is mostly mesh, and perpetually ajar, but it provides some respite from the wind & rain.

"Are you crazy?"
I get woken up at 6 a.m. by a woman who works for the vacation rental agency. She looks at me wearily. Almost afraid. I quickly rush to tell her of my plight, and my walk across America, which prompts the "Are you crazy?" question.
It's amusing to hear. Almost refreshing. No one's been honest enough to ask me that before, for fear of offending me.  Despite everyone I meet thinking it.
She gives me the directions to Canaan Valley State Park Resort – it was in the opposite direction of the lights! – and basically tells me to get lost.
When I step outside again, I almost do a double take. It's mid-April and it's snowing! I'm immediately pelted in the face by 30 mph winds and snow, dressed in nothing but my bright yellow, soaking wet Frogg Toggs.
I rifle through the woods for my tent, cursing myself all the while for abandoning it, before continuing on to the resort. A mile done, another to go. Uphill.
The wind is relentless-I have to keep a firm grip on Faith and a hand on my tent to keep it from flying away, while I wage my own battle to walk without being blown back. It's too much for me. I break down again. Full on ugly sobs. I'm past the point of caring who sees.
A truck passes by. Then stops, and backs up. The window rolls down and I see it's a Park Ranger. "You need a ride?"
Hell yes.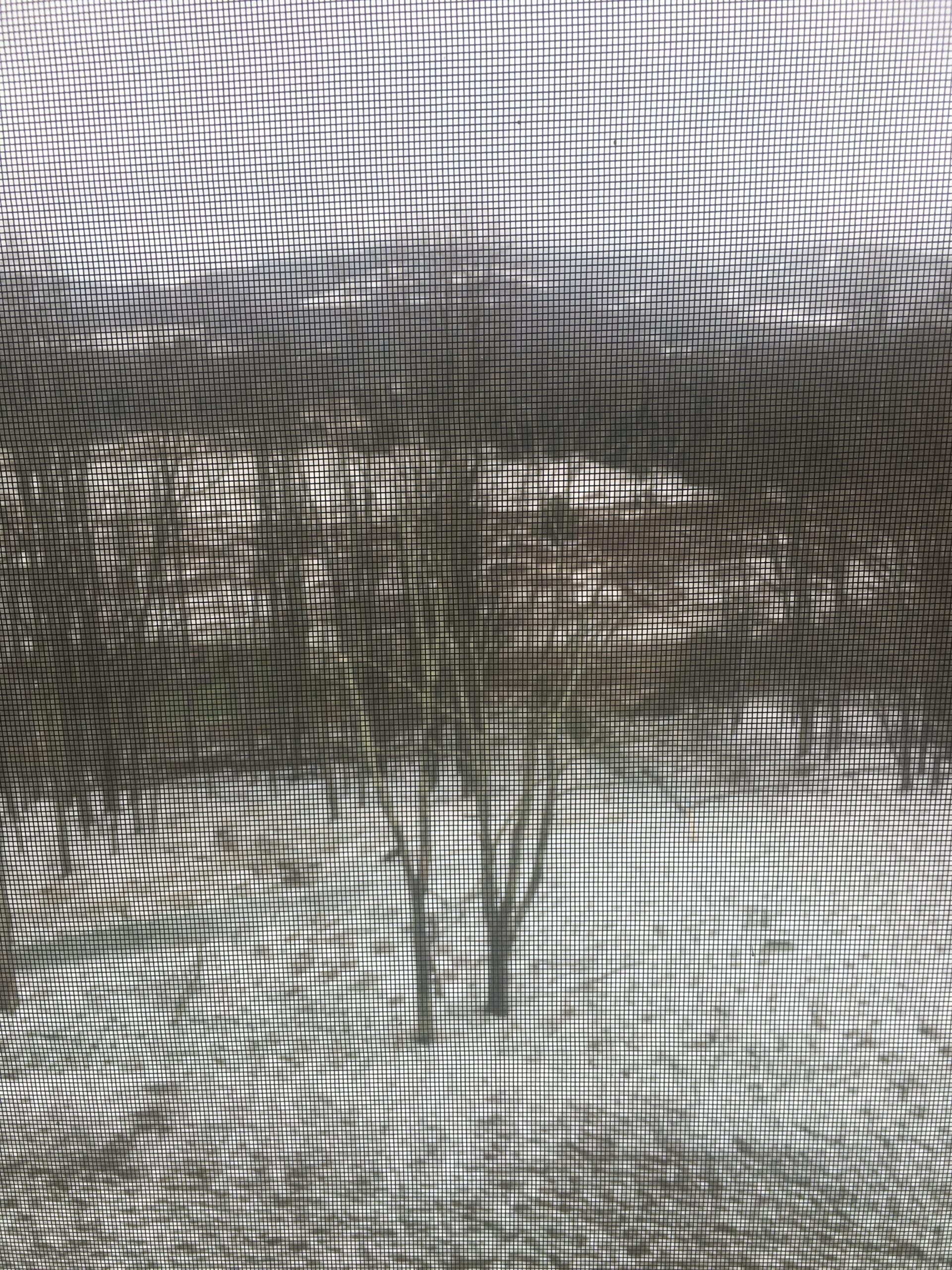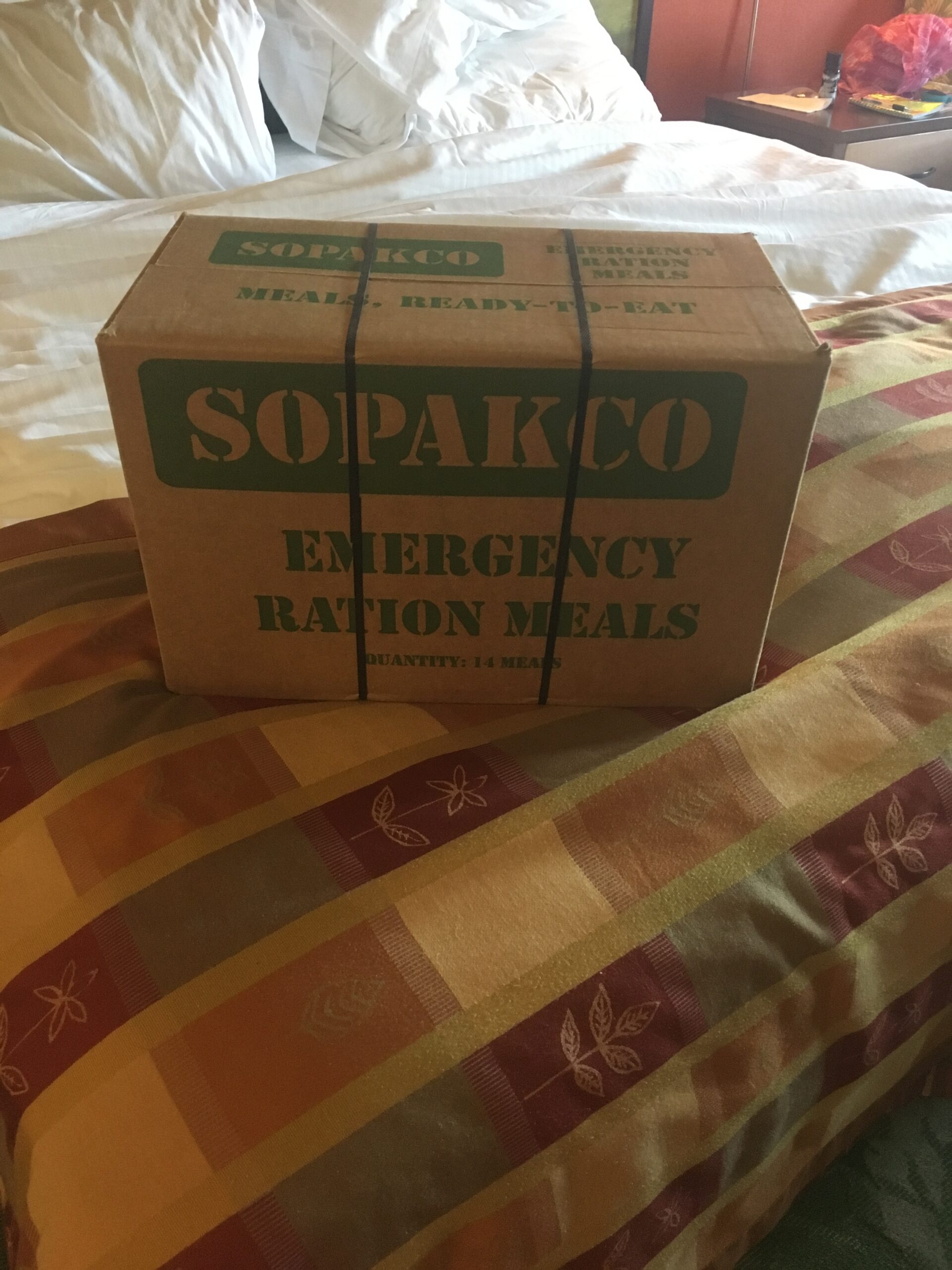 Don, the Park Ranger, really saves me in the nick of time. He also gives me an employee discount at the lodge, so the price of my room is shaved in half!
It's surreal, being upended from my misery and dropped into a nice, cozy hotel room where I can watch the snowstorm rage outside rather than be in it. And since it's only 7 a.m., I have the entire day to relax.
Next morning, Don gifts me an entire box of MREs he had leftover from Hurricane Sandy! I've never seen an MRE-let alone known what they were-before now.
Meal, Ready-to-Eat (MRE) = military field rations, each averaging 1,250 calories.
I drag my feet around the lodge for awhile in a reluctance to leave it's modern comforts, before heading out the door to Allegheny Trail.
It's a rugged, back-country trail to Blackwater Falls State Park that's littered with boulders, fallen trees, and multiple stream crossings. And at an almost constant, steep incline, it's a living nightmare with Faith.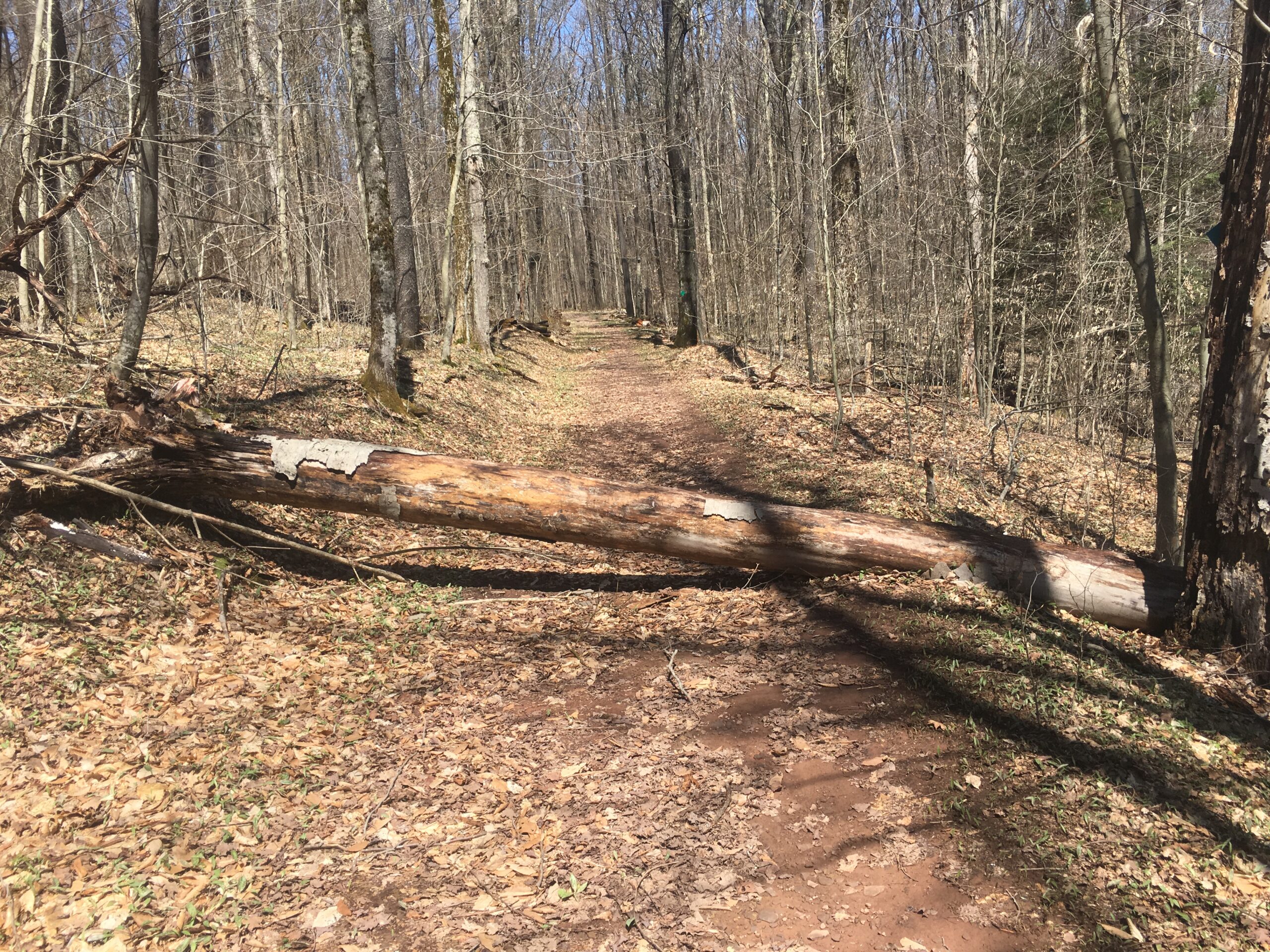 I continuously have to lift Faith up by her handlebars to maneuver her over blockages, struggling with every step not to lose my grip on her. We inch up the mountain at a pace of ½ a mile an hour. Our progress is so slow, I lose my marbles about 30 minutes in and swear at Faith because she's the worst. I can't stand it. Milk can curdle faster than we're moving. With a backpack, I could fly up the mountain!
I'm angry at Faith. I'm angry that this is the hiker and biker route for the American Discovery Trail. I thought all the cyclist-friendly portions of the ADT were supposed to cater to buggies too, yet how have others managed to drag them up here? And how could there possibly be so. many. downed trees along the trail? AAHHH-
Two miles up, a stress fracture forms on the plastic piece attaching Faith's main body to her handlebars. I eye it wearily, but know there's nothing to be done about it.
We make little headway over the next mile. It's just one boulder-laden patch of trail after the next. I try taking a hold of Faith's front wheel to drag her forward, but her weight makes it too strenuous of a position to maintain for long. So instead, I resume lifting Faith up by her handlebars until they violently snap off.
Despite the warning signs, I'm still shocked. I stare at her disembodied handlebars in stunned silence while mulling over what to do. I never considered that this might happen. I knew her tires might pop, a sharp branch might gut the fabric on her underside, dumping my gear everywhere. But not this.
She's dead without her handlebars.
I take off without Faith. To see how much further Allegheny Trail goes, whether it's more practical to continue on to Blackwater Falls or go back to Canaan Valley, and because I need time away from Faith. To calm down. I fly up the trail like I thought I would without her present, it's remarkable.
A half mile later, Allegheny Trail dumps me onto an old forest service road. Still another four miles, at least, to Blackwater Falls, and the route's likely to include another rugged trail.
I go back to Faith. It's too late to return to Canaan Valley tonight, so I pitch my tent on the first flat patch of grass I find along the trail and call it a night.
As I'm readying to turn in, a cyclist passes. The first person I've seen on the trail all day. We exchange pleasantries, your basic "Hi" "Hello" How are you?" before he carries on.
I don't think much of it.

I refuse to roll out of bed until 11 a.m. Why bother getting up earlier? I'm in no hurry to go back down the mountain. I'm estimating it'll take at least four hours to slowly, painstakingly drag Faith, mostly on my ass, to Canaan Valley. And then I have to throw her away, which upsets me.
I like to personify Faith to ward off loneliness, similar to how a lone sailor names, and grow attached to, their boat. To the point where it can be odd to focus on the fact that Faith is really just a lump of steel, with no awareness, no conscious, no energy of her own. That she's not even a SHE. She's an "it." But, hey, I don't think there's any harm in projecting my own energy onto her, so it'll bounce back at me. Call it weird, call it crazy, but at the end of the day, I suppose it's just another way to distract my mind from its inherent alone-ness, and for me to find Faith within myself.
Suffice to say, while Faith may be a lifeless lump of steel, she's my lifeless lump of steel, and she's come this far with me, so I'm reluctant to let her go. I was really hoping she'd make it to California. Kansas, at the least.
I can hardly afford to replace her, either. Another stroller will run me $200, and the time it'll take to ship it here means I have to squat at Canaan Valley SP for days. Not at their lodge again-too expensive. And not in the nearby woods-lesson learned there. Which means my only viable option is to shell out another $60-90 for a 2-3 night stay at their official campground. ($30 per night for a site)
I'm begrudgingly packing up my gear for the day when a man suddenly rounds the corner. It takes me a minute to realize it's the same cyclist who passed by yesterday! Except this time he's on foot, with a dog. I'm caught off guard for a second.
I mean, what the heck? "Out for a run?"
He stops in front of me and says, "No, I'm here to help you."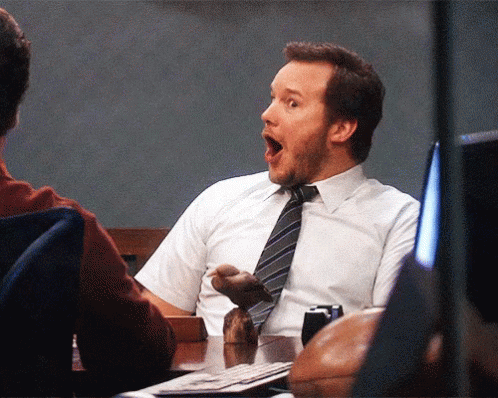 (sorry, ran out of relevant photos to use . . .  enjoy the Parks and Rec gif instead)
The man introduces himself as Lucas, and tells me that, because he lives so remotely, he never gets the chance to help anyone. So he wanted to help me for a change.
Lucas then drags Faith down the mountain in little over an hour. He makes it look easy. I hold onto a chain attached to Faith's back frame to marginally assist with lifting her over obstructions on the trail, and to keep Faith's front wheel attachment from ramming into Lucas's ankles.
During our descent, his dog, Luna, regularly races ahead. Once, she takes off only to let out a sharp, strangled cry shortly thereafter. Lucas stops in his tracks and calls out to Luna, to no avail. I ask him if this is typical of her, not to come when called. He shakes his head, looking concerned. Cue me fretting for her safety –oh lord did I just get this man's dog killed? – till Luna randomly bursts out of the surrounding underbrush ten minutes later, tail wagging, tongue lolling, looking happy as could be.
When we return to Canaan Valley, Lucas tries to jury-rig a new handlebar for Faith with supplies he has on hand. (Did I mention Lucas is a blacksmith? What are the chances that a blacksmith is the only person I met all day on Allegheny Trail yesterday??)
Just then, Don, the Park Ranger, pulls up. He jumps out of his truck and points at me, "I've been looking for you!" Turns out, before Lucas went up the mountain to find me, he stopped in the resort to inquire about whether I was already there, leading Don to go searching for me on the old forest service road that borders Allegheny Trail.
Don then offers to have Faith fixed at the Park's Departments mechanics shop! Instead of taking off, as Lucas had every opportunity to, he tags along. Taking charge when we arrive at the mechanics shop to fix Faith himself, this time with better equipment.
And after two hours of hard work, she's fixed! Better than before, in fact. Her flimsy plastic handlebar attachments have been replaced with aluminum, ones that'll never break!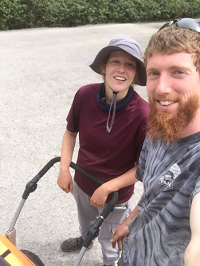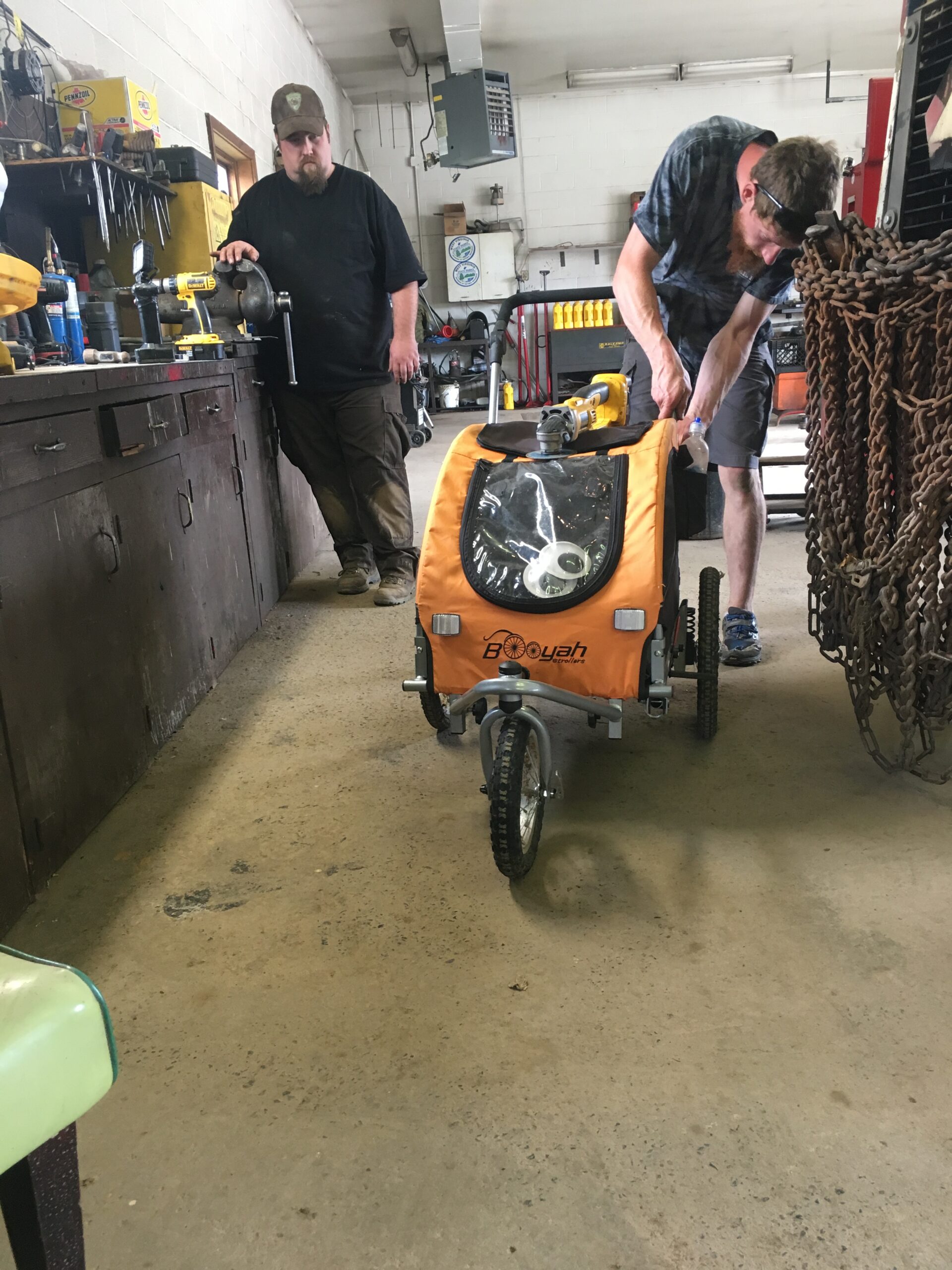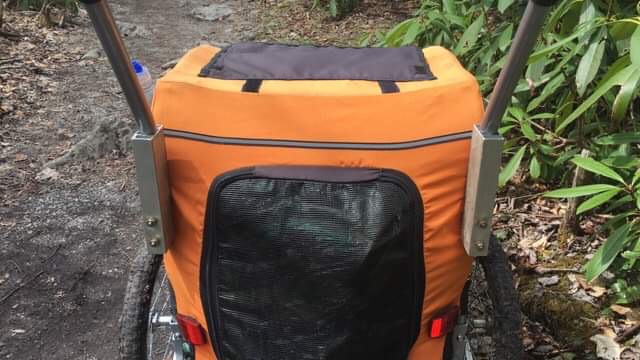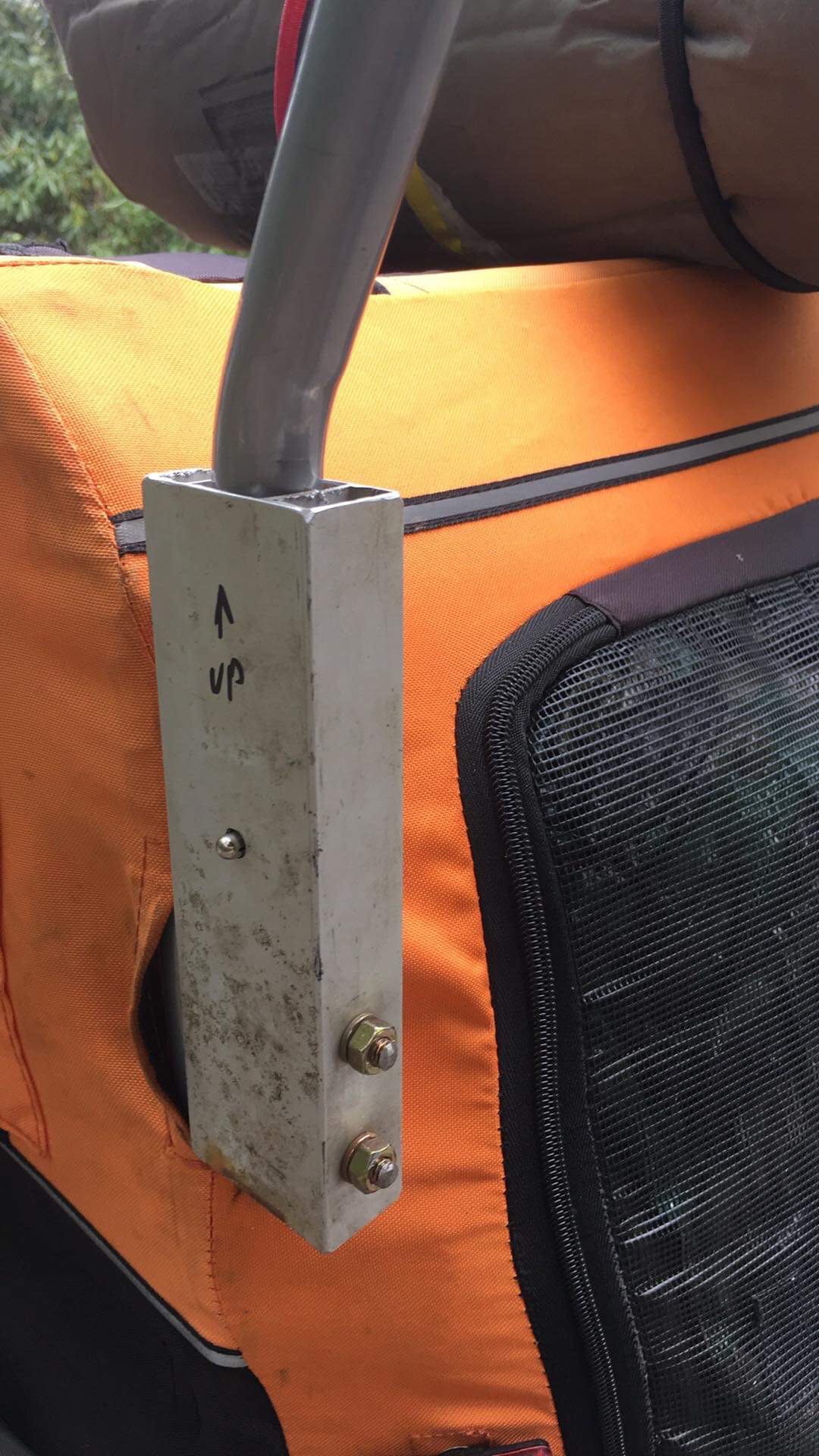 It blows my mind how things went down. I am still in shock by the amount of kindness & generosity I've received from Don & Lucas.
Thank you for saving Faith! ❤️
—
That being said, these last few days have not been without loss. Namely, one of my flip flops went missing yesterday.
May it Rest In Peace wherever it now lay.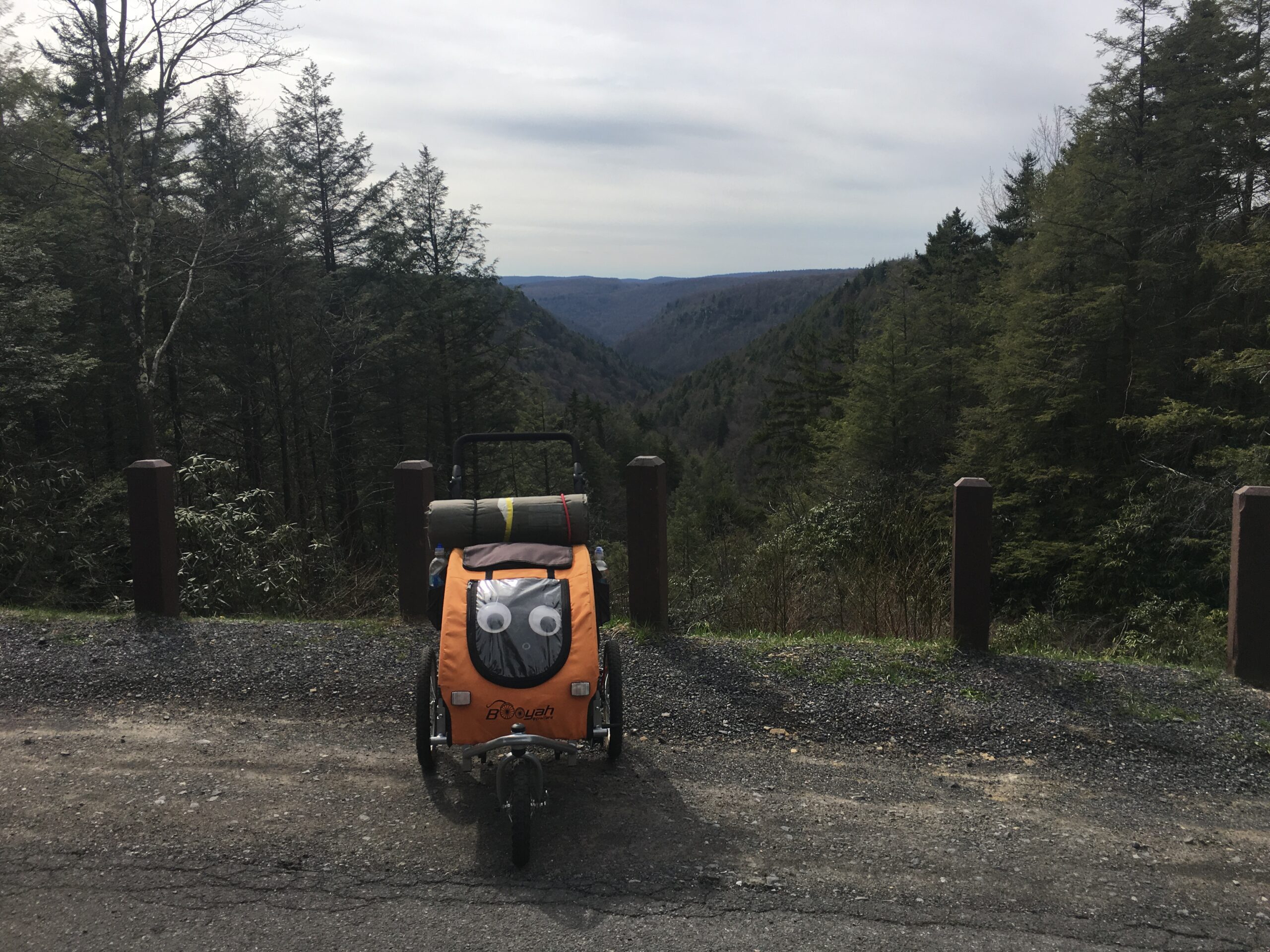 Progress ⭐
April 13th-April 17th, 5 days, roughly 34.3 miles, 6.86 mpd average