April 18th
I take Blackwater Canyon Trail to Parsons, WV. It's a beautiful, newly-built 10-mile gravel path that is remarkably flat as it keeps pace with the adjacent river – a far cry from the misery of Allegheny Trail. It's gotta be my favorite stretch through West Virginia so far.
Sampled my first MRE along the way. Cheese tortellini in tomato sauce, with a toffee crunch cookie, crackers, cheese spread, peanut butter, and carbohydrate electrolyte beverage powder. Never knew military food was so fancy!
At 3 a.m., I'm awoken by the sound of a car coming down the dead-end road that borders the Blackwater Canyon Trail. My tent rests on a little ridge, the remnants of an old burial ground, a few feet away. I hastily grab my pepper spray in one hand, knife in the other, 911 ready-to-go on my phone, and wait to hear footsteps.
Nothing.
A raccoon makes a weird chittering noise outside my tent – bad timing, raccoon! – but no one else approaches. I run through all the people I met today who might be inclined to return to murder me in my sleep. I only passed 5-10, and none in particular stand out as would-be assailants.
After a terse hour, I hear the car roll out and go back to sleep.
April 19th
I see my first tick of the season, and the remnants of an old bear carcass. It's little more than a patch of ragged black fur, but it's COOL.
Back in civilization, I meet an old man outside a McDonald's who tells me, after I mention the C&O Canal, that if you step outside your tent at 1 a.m. on a full moon at Swains Lock, you'll see a shadowy woman with a straw hat in the distance. "That's a ghost!"
At least he & his grandkids did, anyway.
Already, spring's showing its true colors in the form of dandelion buds poking out of the grass. Steep hills, winding roads, and rain are my constant companion today, but I'm feeling chipper enough for them not to bother me so much.
For my last night in the mountains, I hit the jackpot by finding an old, gated forest service road to pitch my tent.

April 20th
Leaving Monongahela National Forest today, for the first time in a week, puts worms in my stomach. Goodbye public lands, hello miles of private property pockmarked with ever-charming "We Don't Call 911" and "I Shoot First And Ask Questions Later" signs.
I detour off the ADT for 1-2 miles to take a "shortcut," only to quickly get lost at a crossroads.
Uh oh. This wasn't mentioned on Google Maps.
At the crossroads is a tree with the word "STREETS" nailed to it. Downed branches, all pointing towards the right path, border the tree. I'm not sure if that's coincidental but, hey, I figure I might as well give that route a shot.
Just as I'm readying to listen to the weird tree and take the right path, a blue butterfly lands on my left shoe.
Well damn.
The spirits of the forest are really giving me conflicting information now.
I hesitate, at a standstill, before opting for the right path. I mean, trees are wise, trustworthy omens right?
Wrong.
The tree is a liar. After a few minutes, I realize I've gone the wrong way and duck down the left path instead. Should have listened to the butterfly all along. (Obligatory disclaimer that I'm not crazy. Just weird, and bored, which makes for a dangerous combination.)
Shortly thereafter, I find an unopened snickers bar along the highway and eat it. No shame.

Tonight, I gain the courage to try yard camping.
Yard camping is where you knock on a stranger's door, particularly in the countryside where property owners have acreage, and ask if you can pitch your tent on their land. Popular with cross-country walkers. Some, at least.
I've never felt comfortable attempting to yard camp before. It's dreadfully awkward, even if the worst thing they'll say is "no." Well, second to "I'm calling the police!"
The first three doors I knock on never open. On the fourth try, a middle-aged man answers. He says he wishes he could say yes, but that "I don't know how my wife would feel about it." He then tells me that his neighbor might be a good person to proposition . . . if I can catch them sober. (Well, now I know whose door NOT to knock on. 😂 )
Though not a successful yard-camping attempt, the man does offer me a granola bar and words of encouragement in consolation, making for a nice encounter altogether.
At the eleventh hour, I stumble across an old, unmarked four wheeler trail and duck down it to sleep.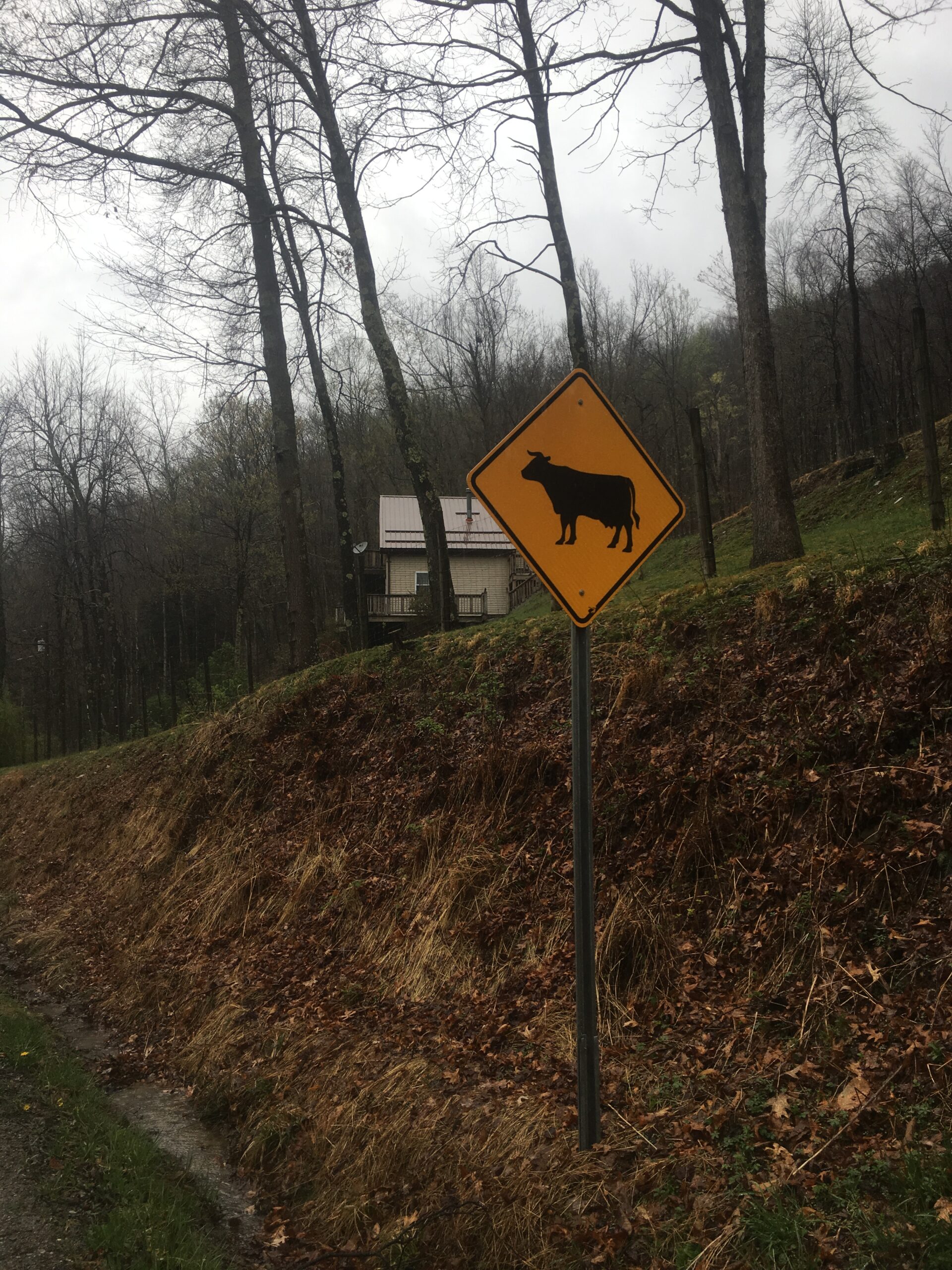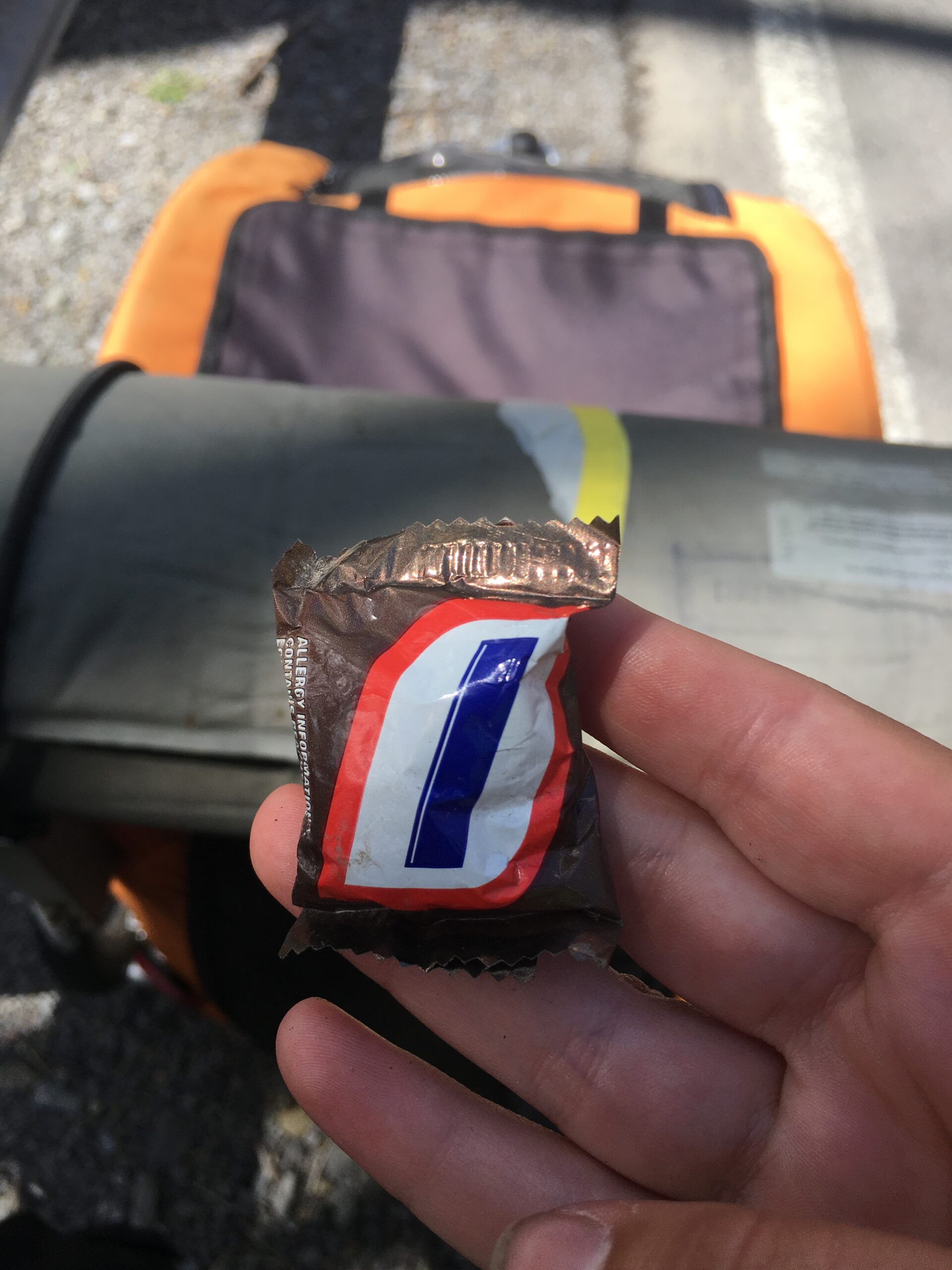 April 21st
I wake up to a tick above my head. For a disorienting half-second, I can't tell whether it's in my tent, or outside of it.
It's the latter, phew.
On my way to Grafton, WV, some old croon blares her horn at me for no reason, and a family graciously offers me Easter dinner after I knock on their door for water. Score!
Grafton, WV, is a sight to behold. It's built into the side of a giant hill, with houses all squashed together. A town with a lot of character. Heart. And nowhere to sleep, but I, ah, manage …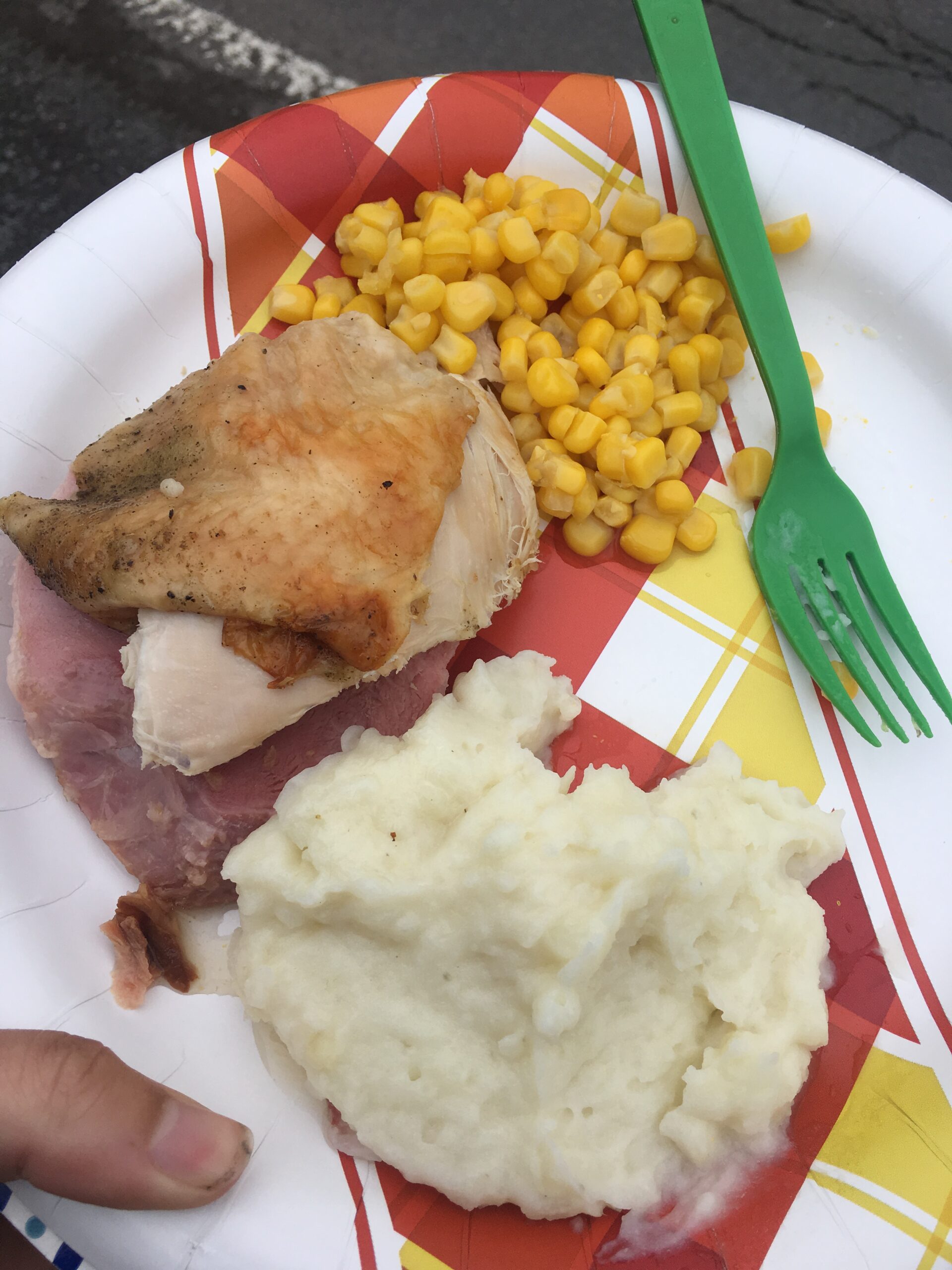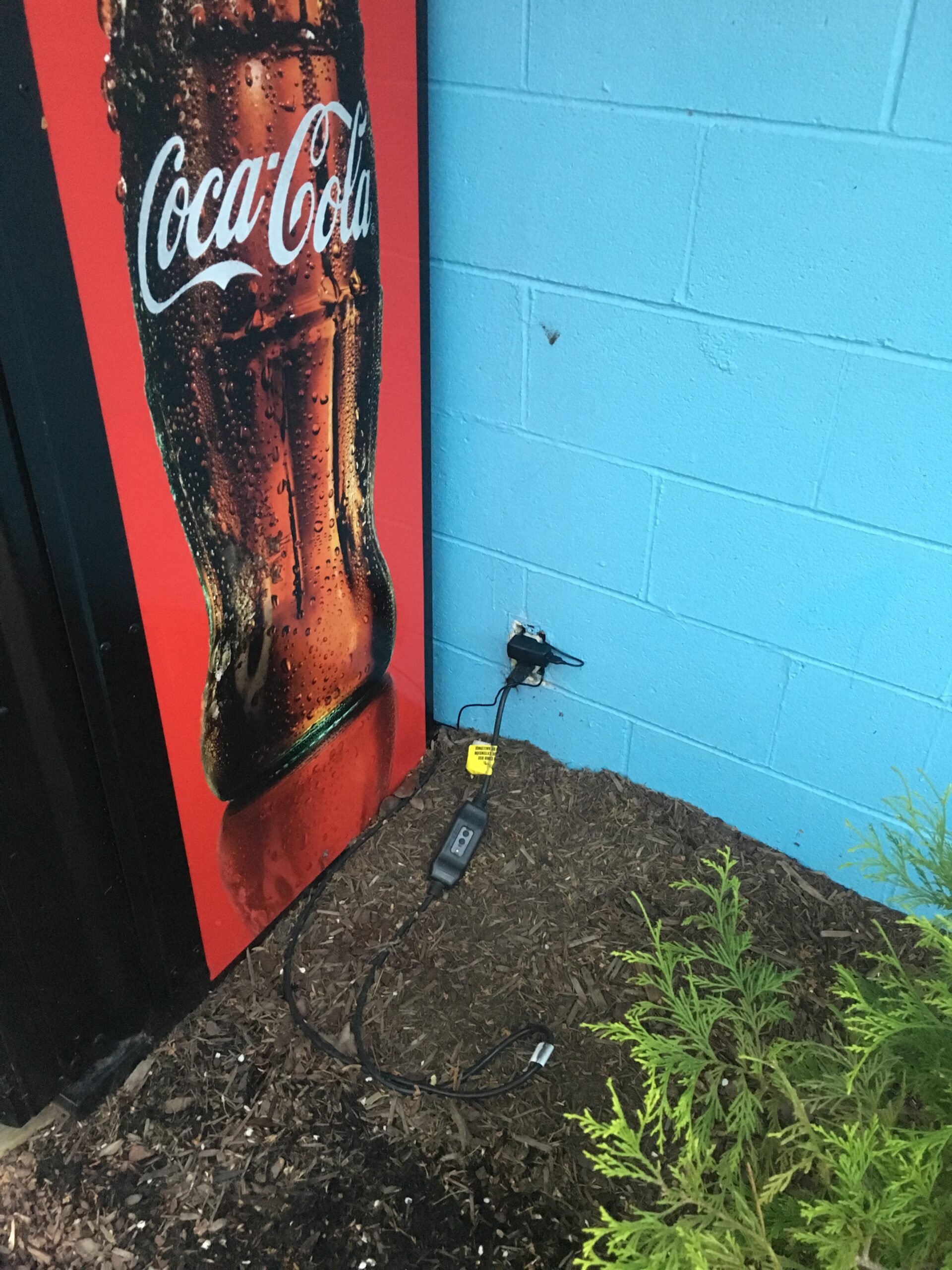 April 22nd
I feel lied to.
Well, maybe not lied to, more like misled by other cross-country walkers' recountings, spurred on by my own unrealistic expectations, of RT. 50.
I was picturing this dreamboat of a highway – flat, paved, with moderate traffic and a shoulder wide enough to fit a cow comfortably. Enough to make any pedestrian wet. But your fantasies are never as great as reality, are they?
RT. 50 from Grafton, WV, to Bridgeport, WV, is hell on Earth. Seconds after stepping onto its narrow shoulder, I see a hospital to my left-hand side and joke to my mom, "hey, if something happens to me at least I won't be far from help."
My mom is not amused by this.
But that was yesterday, in Grafton.
Today-well, it's just as bad. Sometimes worse. My hopes of a nice walking day are squashed to a pulp. Cars whiz by at incredible speeds, and blind curves have me crossing myself. I've never feared for my life as I have today. I jump on the first available backroad I can, even if it adds unnecessary mileage.
Better to walk longer than to be roadkill.
Disclaimer: this section of RT 50 is NOT part of the American Discovery Trail. I got off the ADT to save miles-I greatly discourage doing the same, in this way.
After Bridgeport, it's like I have to face the Final Boss of RT 50. The shoulder widens, slightly, but it's now a packed, four lane interstate-like highway, where I have to madly dart across busy intersections while feeling the heat of a thousand eyes zeroed in on me.
At least I think people are looking at me. I'm too sheepish to actually glance up at the drivers themselves.
Despite the chaos of RT 50, I manage to churn out 28 miles!
28.
I've never walked so far!
April 23rd
RT 50. cools down after Clarksburg and is, dare I say, agreeable all the way to the North Bend Rail Trail.

The North Bend Rail Trail is a 72-mile hiker, biker, and equestrian-friendly path that travels across 36 bridges, through 10 tunnels, and past over a dozen towns. It's like the C&O Canal. Just a little less cool, with limited camping facilities.
The old railway tunnels along the North Bend Rail Trail have dark alcoves stationed every few feet. Great emergency refuges for 19th-century pedestrians unlucky enough to be stuck in a tunnel when a trains passes by, but an eerie sight for a single 21st-century woman with an over-active imagination. I take to crisscrossing through each tunnel to put as much distance between me and the pitch-black alcoves.
Halfway down my second tunnel, I see two men in the distance, mingling outside of the tunnel. After a minute, they disappear off to the side. Out of sight.
Then they appear behind me. Having, apparently, climbed on top of the tunnel to loop around it. They walk leisurely, easily a good 150 yards back. I don't get the impression that they're following me, but it still puts me on edge. I keep an eye on them while warily shining my dim headlamp into each passing alcove. Until, suddenly, I see a man hiding in one! Nearly gives me a heart attack. He quickly reassures me that he's just out to scare his friends, and I hurry past.
Good thing too. If he had accidentally mistaken me for his friends and jumped out, he would have gotten a face full of pepper spray. 😛 My trigger finger was ready to GO.
—
18 miles down. I'm on a roll!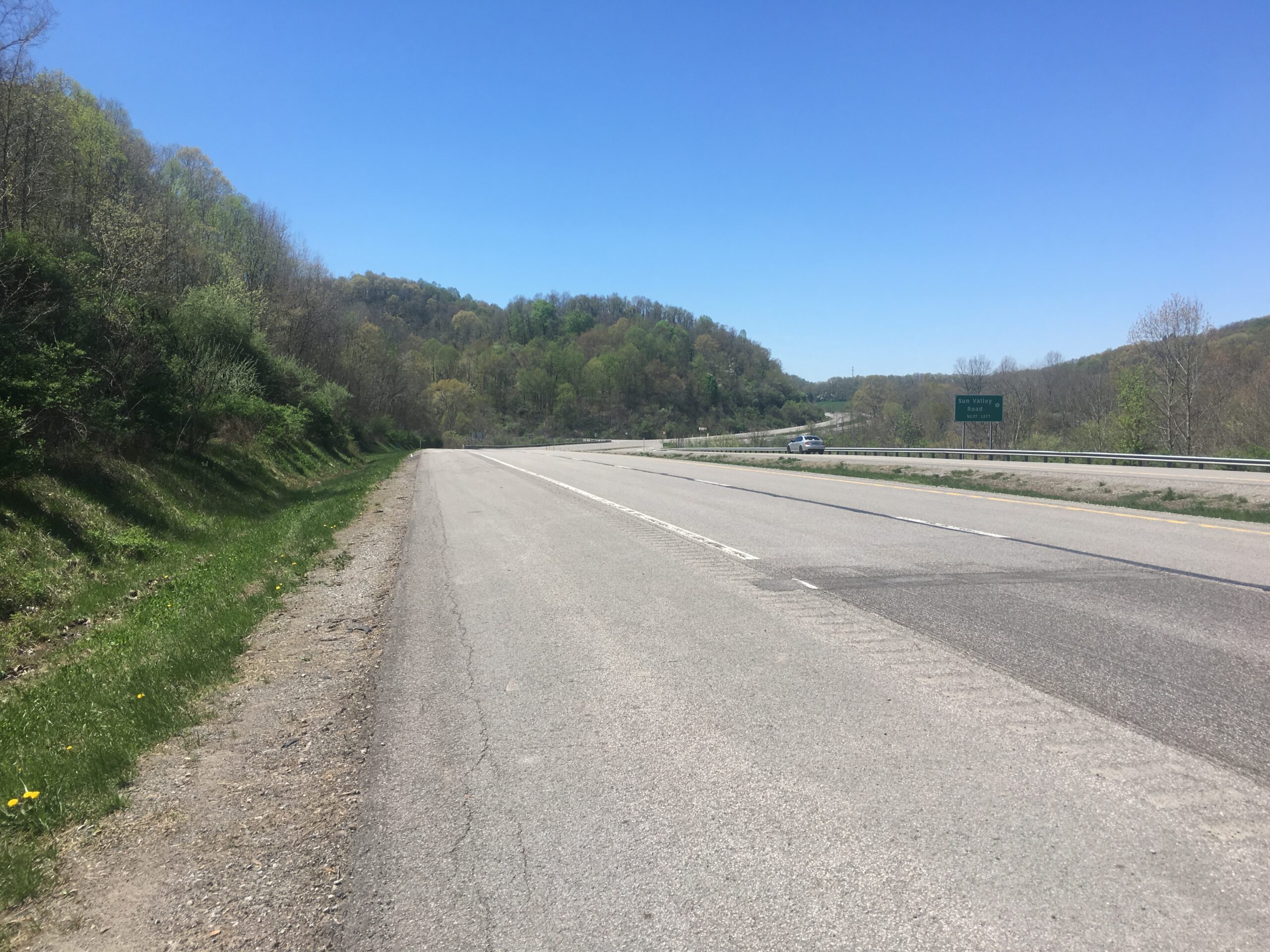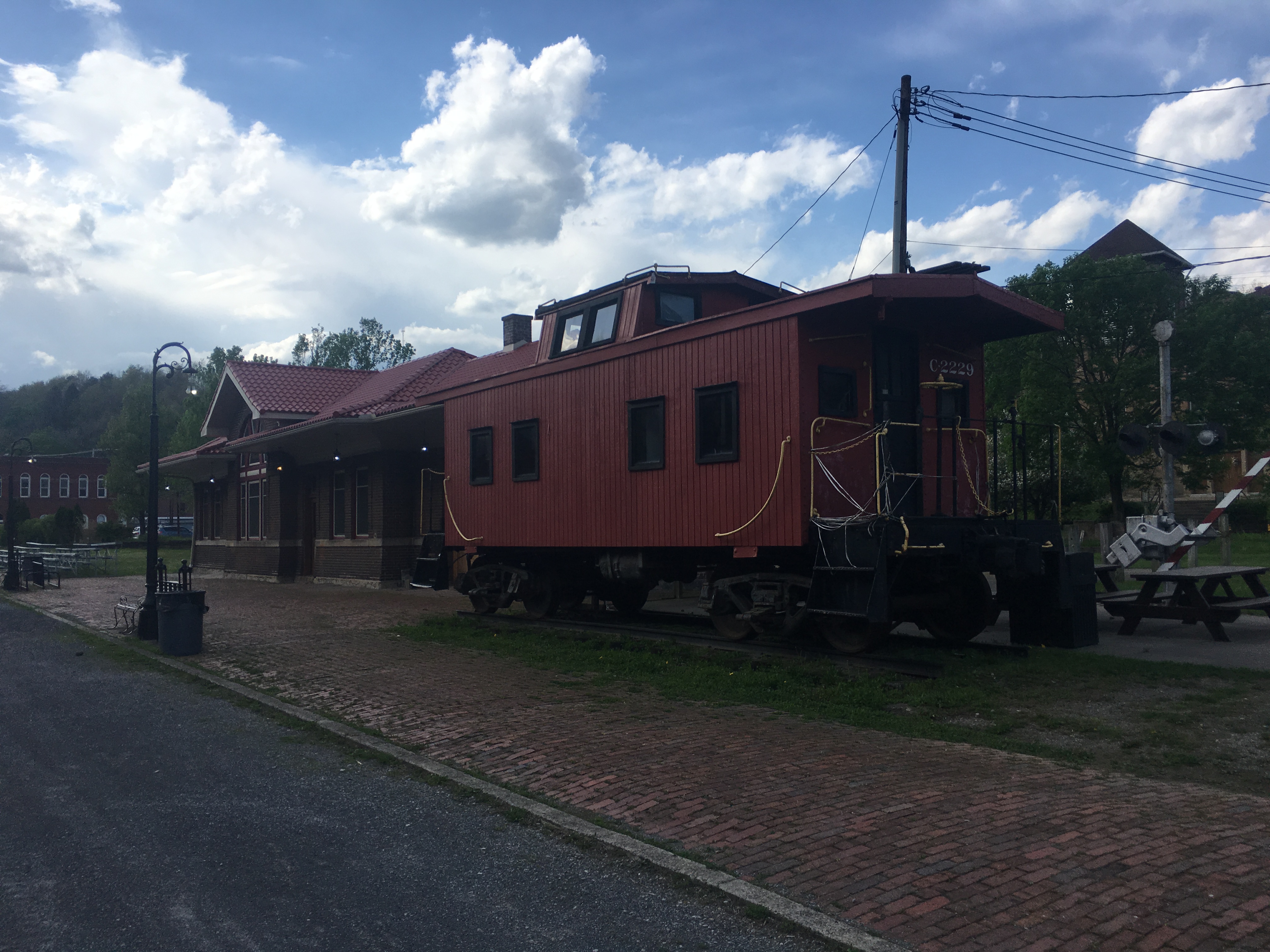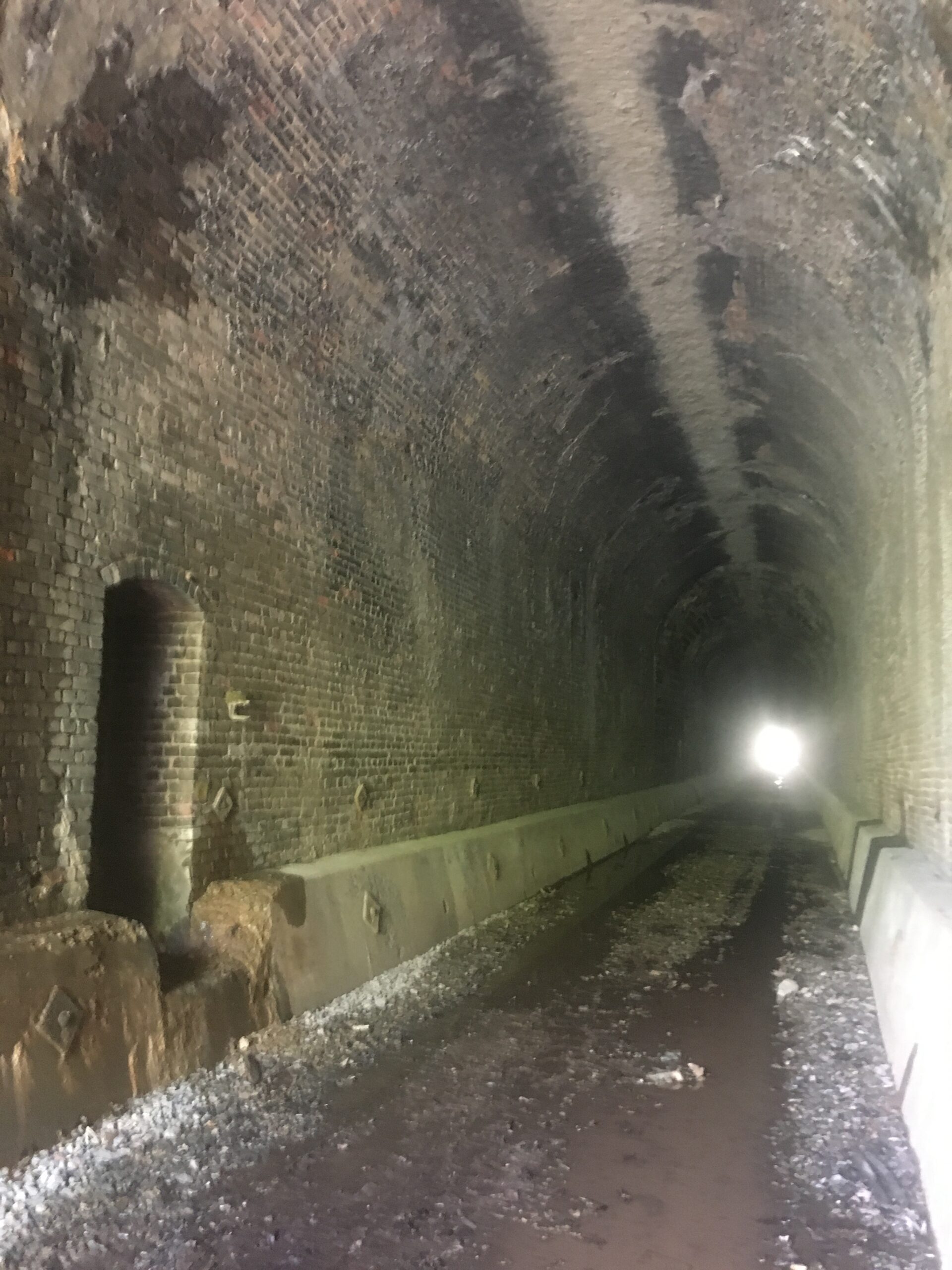 April 24th
I knock on the door of a mobile home to ask for water. When an old man in his mid-80's answers, I barely get out "Hi, I'm Gin and I'm-" before he slams the door in my face. Ruuuude.
Highlights of the day include:
• a literal log chair
• chipmunks
• morel mushrooms
• the largest natural gas processing plant (Oil production's been booming in West Virginia in recent years.) While the plant's a real eyesore, I heard they donated a LOT of money to station their operation here, so I'm thankful for the contribution to the trail those funds have made possible, at least.
• two oil workers looking amazed when I confirm to them that, yes, I'm really walking across America.
20 miles vanquished. The Ohio border beckons, and my mom's coming to visit in three days so that puts an extra pep in my step!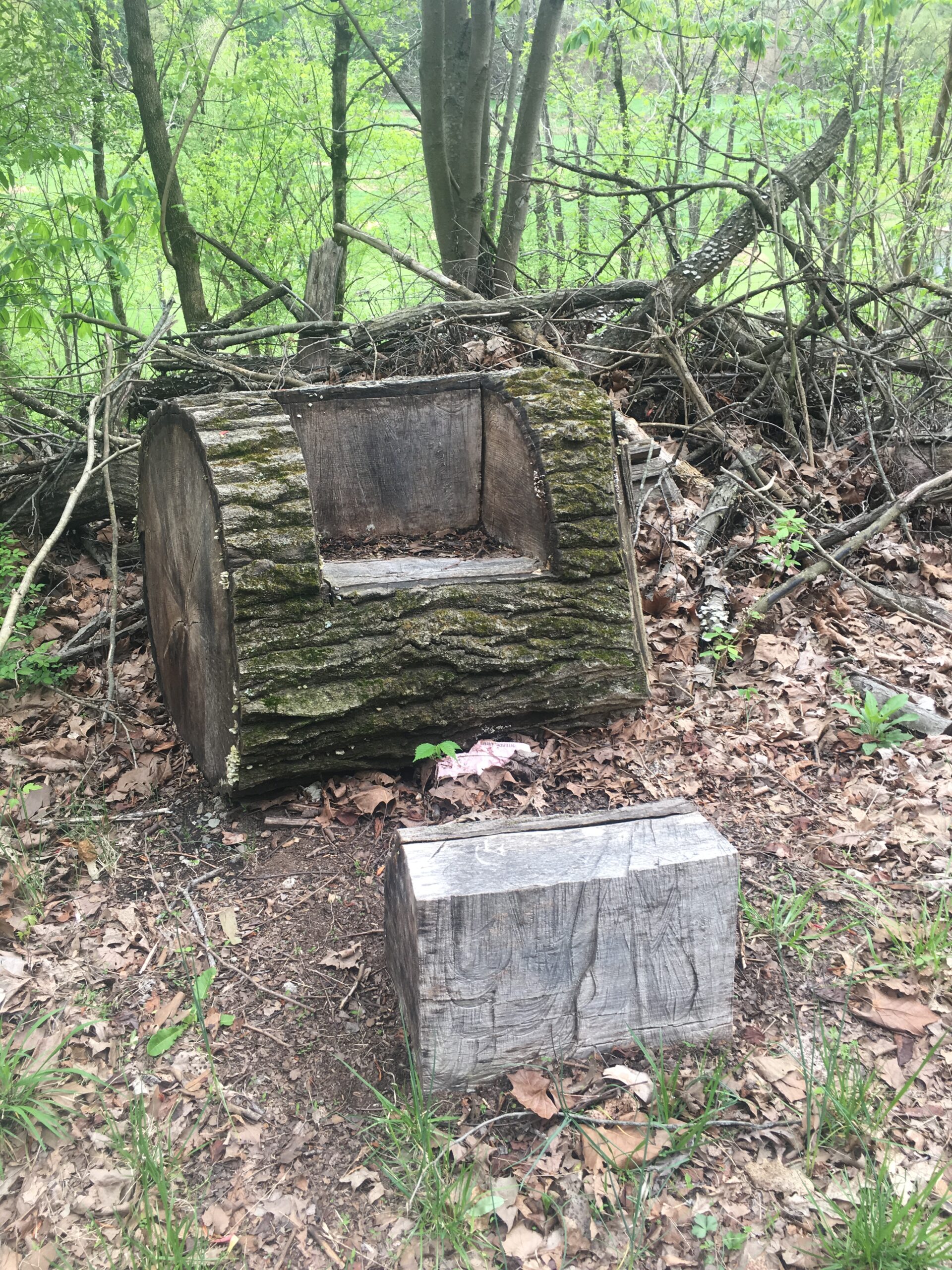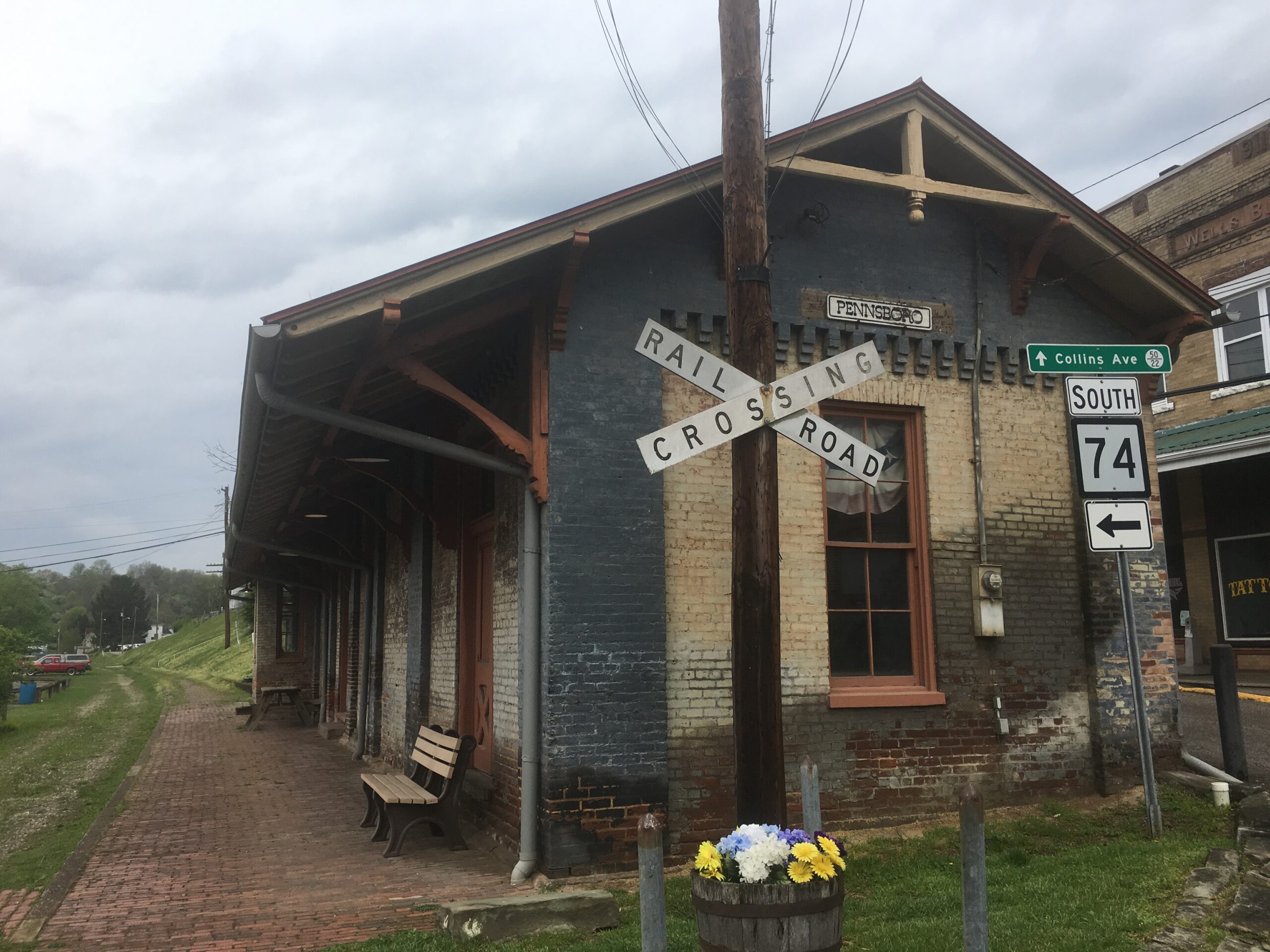 April 25th
A rainy day has me looking like Georgie from IT in my bright yellow Frogg Toggs. All I need is a toy boat to complete the image.
One upside to all the rain is that it has accumulated into huge puddles along the trail, full of tadpoles and salamanders! And one adorable orange newt with iridescent red spots that struggles in terror to escape my grasp as I ogle it.
Faith & I pass through my favorite tunnel around midday, one bored through solid rock rather than lined with brick like the others. And moments before sunset, we enter the worst tunnel yet. (Ironically, that night I find a footnote on my map listing it as haunted. I'm not one to believe in the paranormal, but it's amusing to see I'm not the only one who found its present eerie.)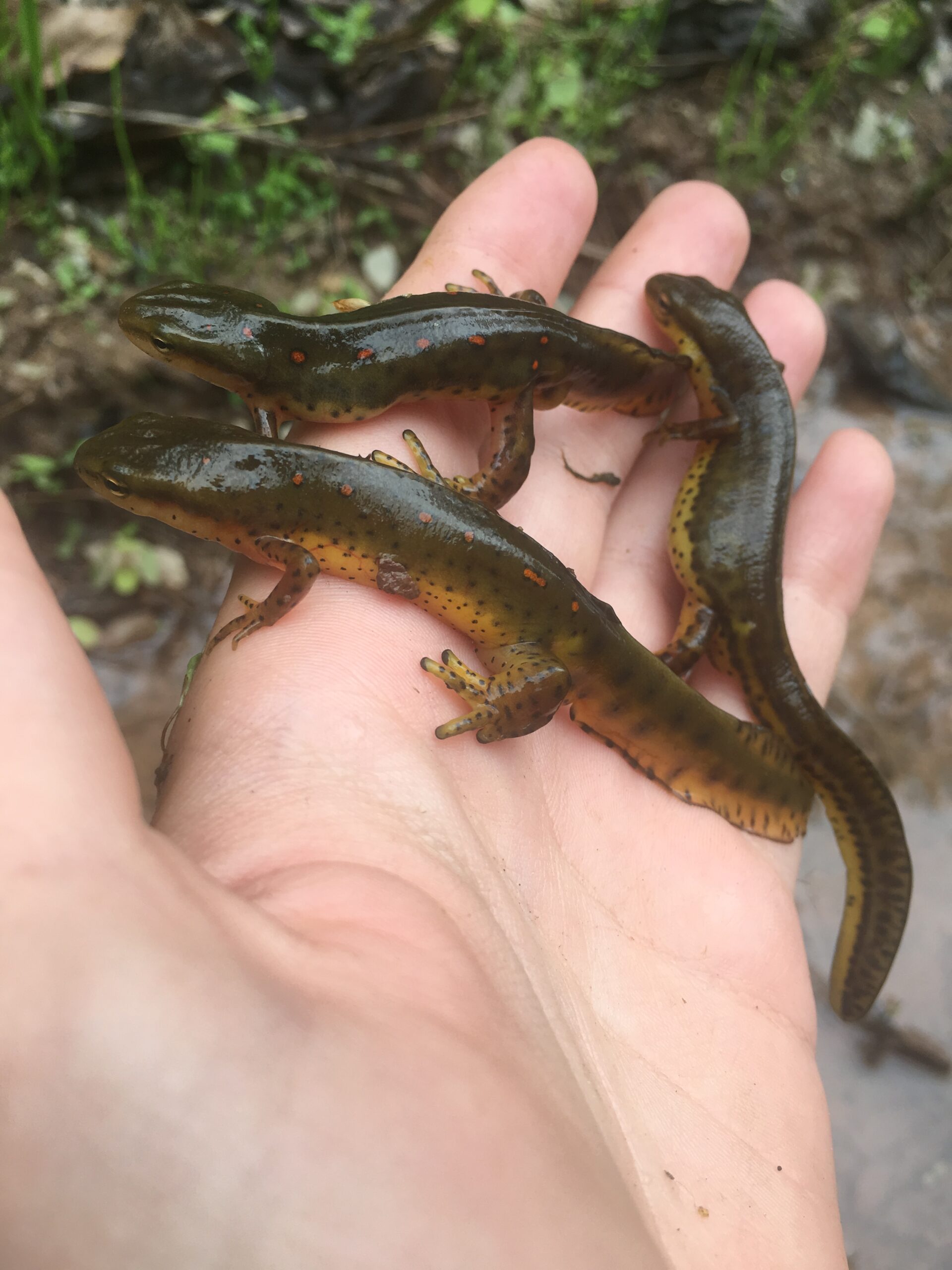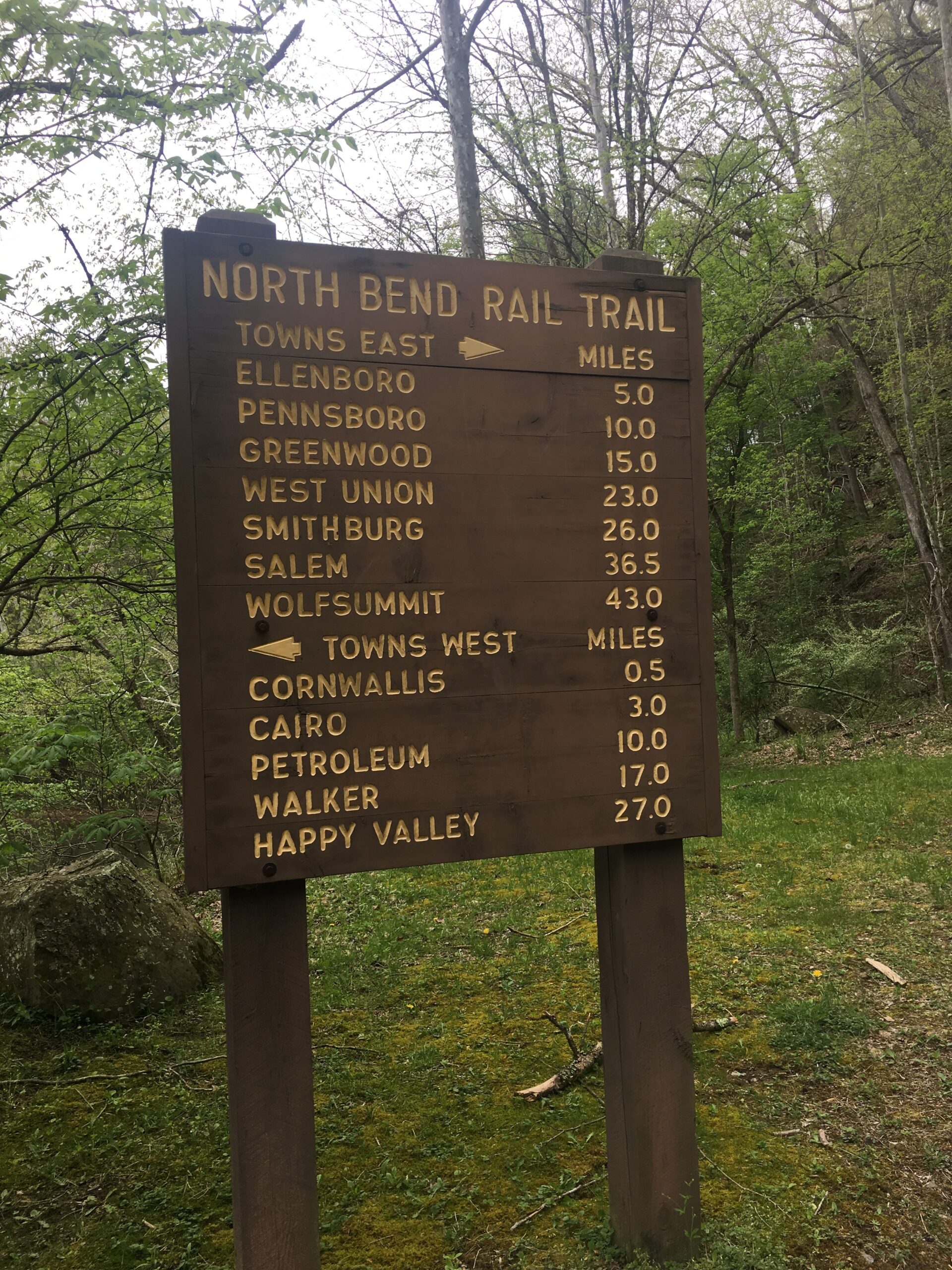 April 26th
Faith's tire gets a flat.
Fortunately, we're less than a mile from the small town of Petroleum when it happens. I ready to fix it myself at Petroleum's bike repair station, but find that I can't get the damned cap off her tire. (The woes of being a woman with arms like rubber chickens.)
I need a man. Or, like, a woman with 2% more muscle mass than me.
I knock on the closest door, and get more than I bargained for! An older gentleman who just happens to be an avid cyclist, and a former bike shop employee, answers, offering to fix Faith's flat tire entirely. Wooo!
As the trail nears Petersburg, WV, it borders people's backyards nearly 75% of the time. (I remember Sharon, the WV State Coordinator for the ADT, telling me how much of a fight it was to get private property owners to sell their land for the trails development.)
—
Sorry guys, but my incentive to continue this blog post is waning. I'm as exhausted by writing as my real-life counterpart is of walking. Bleh.
To wrap things up, I've covered more miles in the past 5 days than ever before. Today alone, I've walked 25! And while my energy's drained, I'm psyched to have reached the Ohio border! West Virginia was much different than I expected. The mountains were slight, service was ample throughout, and the generosity of locals has been so, so extraordinary.

(My final view along the North Bend Rail Trail, and my favorite.)
April 27th
My day off.

Progress ⭐
April 18th-April 27th, 10 days, roughly 157.35 miles, 15.7 mpd average