Gin, you're posting something unrelated to being a wandering hobo *cough* I mean intrepid adventurer?!?! 
Scandalous, I know! Tear your eyes away now if the very thought makes you shudder!
You should close this tab with equal haste if you, or your kids, are NOT preparing for the woes of college, because it's irrelevant to you! Be gone (I say nicely)!
Today's subject is . . .
✨ the College-Level Examination Program® (CLEP) ✨
I feel obliged to talk about CLEP tests because they're, frankly, incredible. They are the best kept secret about college, and it pisses me off how few people know about them. TikTok seems to be correcting this, but still. I wish someone had let me know about them when I was in high school. Maybe I wouldn't have gone down the path I did if I had known . . . *stares broodingly into the distance* Nah, I'm just kidding! 🤡
The unfortunate truth is that colleges don't want to tell you about CLEP because they profit from your ignorance.
When I enrolled at University of North Carolina, I asked my academic advisor about how my CLEP credits from community college would transfer, and she said "ugh, in 3 years I've never had anyone ask me about CLEP."
Fast Facts
CLEP exam are administered by the College Board. The same organization that runs the SAT and AP courses. Their website is your go-to resource for information on CLEP.
➡See if your intended university accepts CLEP ⬅
CLEP let you test out of prerequisite subjects-english, math, history, foreign languages, social sciences, business, etc.
In the United States, colleges force you to complete a FULL YEARS WORTH (30 credits) if not TWO YEARS WORTH (60 credits) of nonsense prerequisite courses before you're allowed to learn something legitimately useful and relevant to your intended career. An "associates degree" is what they call this white bread, two year time waster that diploma mills churn out like hot cakes.
CLEP allows you to breeze through this obligatory scam as quickly as possible to.
With CLEP you can . . .
spend a few days, or weeks, studying a subject
get 3-4 credits for the [equivalent] course from your university
do all this for FREE 👍
WITHOUT CLEP you can . . . 
spend an entire semester (4-5 months), studying a subject, completing an untold number of graded tests, quizzes, and late night work assignments in the process, while crying yourself to sleep thinking "why am I even having to learn advanced calculus when I'm majoring in psychology (or vice versa)??"
get 3-4 credits for the course from your university
do all this for $$$$ [insert a dollar amount in the hundreds or thousands] 👎
CLEP has the potential to save you an incredible amount of time and money.
At some universities, you can "CLEP" out of your entire freshman year of college, and complete your undergraduates in 3 years instead of 4!
Q: Okay, Gin, but why should I bother doing CLEP when I can just take AP classes [while I'm still in high school]? Aren't they the same thing?

A: The "Advanced Placement (AP)" program involve spending the same time completing a full fledged, rigorous semester long course that you would in college … just in high school.* This means taking on a greater time commitment than CLEP with the same lack of a guarantee that you will pass in the end. Its more difficult to get a fee voucher for AP exams; you generally need to meet certain income requirements and even then your costs may not be lowered to zero. AP exams are also (quietly) considered to be harder than CLEP exams … despite granting you the same credits.
However!! The AP program has its definite benefits. Completing a full length course for a subject prior to taking its corresponding test can help ensure you're more prepared to pass said test. Whereas CLEP tests requires you to learn independently, without a prescribed textbook or instructor, so being self-motivated is critical for success. Additionally, there are some courses you can ONLY gain credits for through AP, not CLEP. Examples include Physics and Statistics.
Despite my complaining, AP is a solid option for students, too … but very much not the same thing as CLEP! 

*Correction, you can take AP exams without being in high school!
There are 34 CLEP tests.
Scores range from 20 to 80 with a higher score being better 
A passing score is  50* , generally 
Almost all questions are multiple choice. 
Q: Ugh, College Board says each test costs 90 bucks, so why are you telling me its free?

A: Because with Modern States, it is. Their slogan is "Freshman Year for Free"

… is a nonprofit that will pay your CLEP test fees!
with a slight catch.

After you sign up for the site, you need to "enroll" in the Modern States "course" for the subject(s) you're interested in.
You're then required to participate in ALL of the instructional videos and quizzes for that "course," maintaining a passing average of 80%, before you qualify for a fee waiver. 
Q: But Gin, what if I don't want to put in that level of effort?
A: Don't. Skip to the end of each Modern State video without watching them, so the system registers that you have, in fact, watched them. Then Google the answers for the quiz questions. Most are readily posted on Quizlet.
Q: Gin, are you telling me to cheat?? The audacity! Mad woman!!

A: I believe in academic integrity in school.

Modern States is not school.

They are not an accredited university. Their "courses" are not substantiated by anything. They don't give you a degree or certification that says you have officially, and ethically, mastered a subject. They are a free study site. Nothing more.

The only reason they require you to complete their course(s) to receive a fee voucher is because they believe, unequivocal, that it will benefit you to do so.

And, with certain subjects, this is absolutely true. I highly recommend watching every video, and completing every quiz question, legitimately, for subjects like Psychology or Sociology.

However, I also know that the instructional videos for other subjects can be less than ideal. Some are a complete waste of your time. *cough* U.S. History lectures *cough*

Plus, it takes a few days for Modern States to issue you a fee voucher, so if you have already finished studying for a CLEP test with other resources, it may be beneficial to forgo watching the Modern State videos to fast track your way to a voucher.
While Modern States will cover the cost of your CLEP exam ($89), many testing locations charge an additional $10-30 proctors fee.
You must initially pay for this out of pocket.
Modern States will then reimburse this fee, too, if you send them your receipt.
You can expect this reimbursement in the form of a check issued through the mail within 8-12 weeks.
Video Breakdown:
Pass Rates
https://blog.collegevine.com/easiest-and-hardest-clep-exams/
Q: Why is the military pass rate so much lower than the civilian pass rate?

A: Servicemen are more likely to take CLEP tests cold turkey, with no prior studying. If you study, the civilian pass rate more accurately reflects your likelihood of passing a test.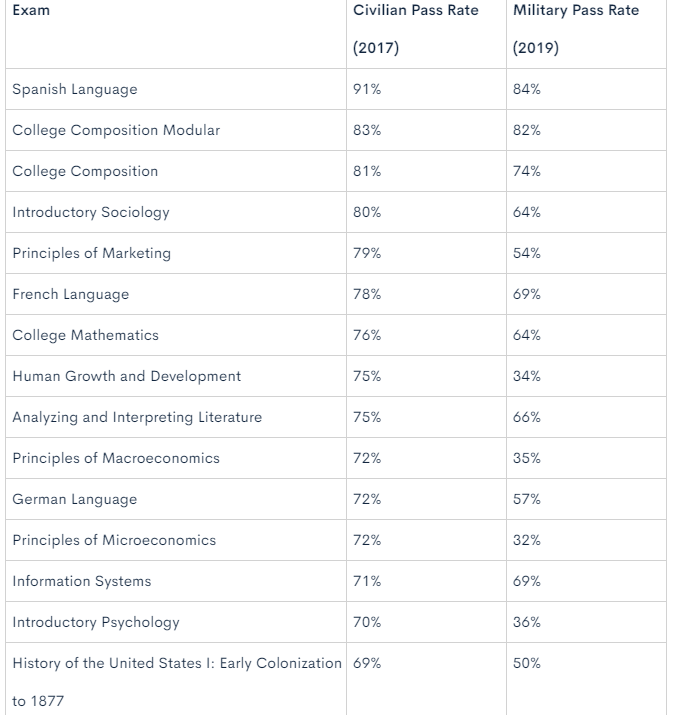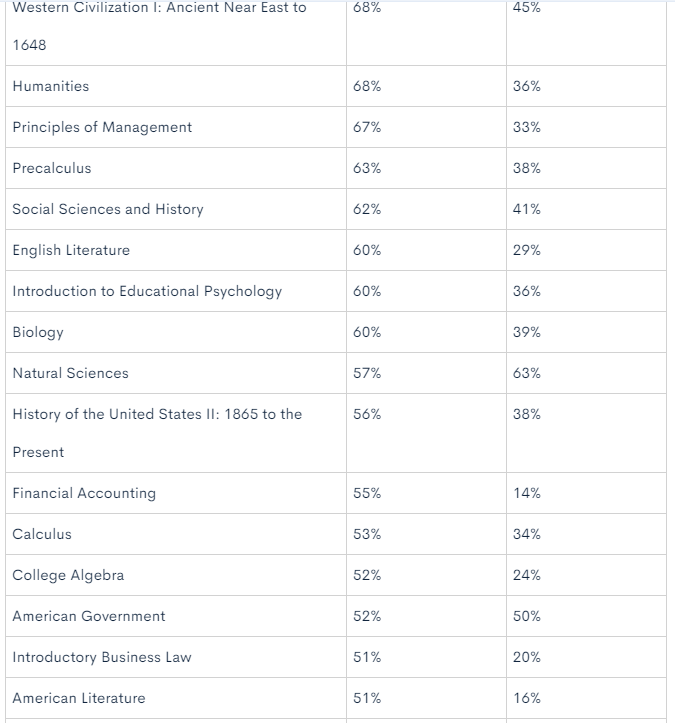 Study Resources
*fee-based services 
Pro Tips
🚨 Check with your local library to see if they have any of the REA, Peterson, or official College Board study guides/practice tests for FREE! If you are enrolled in a university, your school may have a database with these resources, too. 
🚨 Peterson practice tests were an INVALUABLE resource for me. You may be able to access them for free through a third party site called Gale. (When my school cancelled their subscription with gale, I may have found a random library in TN with an active subscription and signed up remotely for a library account there to continue using Gale's services. I valued Peterson practice tests THAT much . . .)
You can access one of three Peterson practice tests for each CLEP subject through the following link: Click Here.

🚨 When taking a CLEP test,
DO NOT DWELL ON ONE QUESTION. If you read a question and don't immediately know the answer, or can't figure it out within 20 seconds, skip it. Circle back to it later. In fact, check mark every question you're not 100% sure of. You don't have the time to stare blankly at your screen. You need ample time to review all of your answers.
On average, I would have a whopping half of my questions check marked initially. Don't get overwhelmed and go "oh god I thought I would be better prepared for this" if the same is true for you. Relax. You got this!
My Experience
Human Growth and Development
Pass rate:
75%
for civilians,
34%
for military 
My study regiment: Major overlap between this and Sociology. If you've previously taken the Sociology CLEP you should only need to brush up on the material. I watched the majority of the Modern State videos, and completed practice tests through Petersons and free-CLEP-prep. 
Time spent studying: 3-4 days
Humanities
Pass rate:
68%
for civilians,
36%
for military 
My study regiment: I just completed a ton of practice tests and memorized answers along the way. I used all three of the Peterson practice tests, free-CLEP-preps practice test (spot on to the real thing) and Modern States practice questions. The study guide posted on the CLEP FB group is also golden and I highly recommend reading it over multiple times. The Humanities CLEP is of medium difficulty since it covers such a wide array of subjects. Easy to get overwhelmed with this one.
3-4 days of studying
U.S. History
Pass rate: 56
%
for civilians,
38%
for military 
My study regiment: I watched APUSH Chapter 1-22 video crash course, then completed and reviewed all three Peterson practice tests and studied the Modern State practice questions. I HIGHLY recommend the APUSH videos. 
3-4 days of studying
Psychology
Pass rate:
70%
for civilians,
36%
for military 
My study regiment: I watched every related Modern State video and took notes. Then I completed and reviewed all three Peterson practice tests.
2-3 days of studying
Sociology
Pass rate:
80%
for civilians,
64%
for military 
My study regiment: I watched ~most~ related Modern State videos and took notes. Then I completed and reviewed all three Peterson practice tests. There is a LOT of overlap in information between this CLEP and the Psychology one. 
2-3 days of studying
Algebra
Pass rate:
52%
for civilians,
24%
for military 
My study regiment: Mainly watched Math Quantum's Official CLEP Study Guide videos and Euler's Academy videos. Then completed the Peterson practice tests.
Here's the MOST IMPORTANT thing to note about this test: you don't have to be a math wiz. Think smarter not harder with this one. For the majority of the questions, you can plug all your answer choices into the question itself to find the right choice. I did this for 75% of the test, easily. Though I only narrowly passed, it is THE reason I did.
5-6 days 
Chemisty
Pass rate: 39% for civilians, 23% for military 
My study regiment: forthcoming