---
""What you seek is seeking you." ― Rumi
Blink, and I'm in Michigan, nearing the end of the line. 48 hours away from finishing my cross-country cycling tour, and my tickets home still haven't been booked. I don't know what I'm waiting for. I thought I would be ready for this moment.
Instead, it feels like I'm cycling towards a cliff and even if I stop and stand still, the edge keeps advancing towards me.
I'm holed up outside the Otter Lake library, taking advantage of their free WiFi, and bidding my time before I have to make camp for the night. I alternate between watching the sky warily, its surface marred with rainclouds, and staring gravelly down at my phone. Face pallid. Every breath mirroring a sigh.
I'm on the cusp of something new, and it scares me. The truth is, I'm not one to swing open doors. Not really. I psyche myself out over taking small steps and big leaps. I dawdle. I hesitate.
I'm tired of hesitating.
For months, I've had the website of a long rider, Sea, bookmarked on my phone's home screen. I forgot it was there. I've barely given it a cursory glance over the passing weeks, and every time it has crossed my mind, I shrug it off. Think, "another day, another time." 
But today I decide to do what my past self couldn't, and it feels less like taking a step ahead and more like tripping forward.
I email Sea. I tell her the simple truth, that "I'm considering finding a ranch out west where I could work in exchange for room & board." That "besides my heart and my dog, life on the road is my greatest love, and I can't think of a better partner to live it with than a horse." Something I've known with striking clarity ever since I was walking in the deserts of Utah and Nevada, gripped by the sight of the night sky above me and aware of only one thing: this doesn't feel like the end of this story, after all.
A few days later, Sea responds, "you might also consider the idea of coming here."
So I do.
Two weeks before I'm set to go back to college, I fly to Lopez Island, WA, without telling my family why, to begin learning about horsemanship in preparation for my last crossing.
Where?
New Jersey to Oregon. 3,000 miles. Coast to coast. I may follow western skies to pacific shores, but, most of all, when I close my eyes I see the Wind River Range, and so my dreams will be met when I see it with my eyes open, too.
When?
2022. Next year. Beginning in winter's clutches. This allows for ample time to reach the west coast within one calendar year, before impassable snow falls in the Rockies and Cascades. EDIT: my start date has been pushed back to late spring!
How?
A dollop of luck, a heap of courage, and a fair share of work. I've been living on Lopez Island, WA, for the past four months with Sea, my long riding mentor, while I work odd jobs to save money-housekeeping, babysitting, dog walking. You can read about Sea's own 5,000 mile cross-country journey, from California to Maine, with her faithful horses, Jesse James and Saint Finehorn, on her blog, Free Range Rodeo.
Why?
Adventure is a wonderous thing, like a story that never ends, one that keeps racing on in your mind long after your feet stop moving. To be apart from it is to live with a divided heart, separated from the essence of myself. I miss it dearly. It's about time I share it with another. (Did ya think I'd be ready to kick off my boots and retire so soon after my cross-country walk?)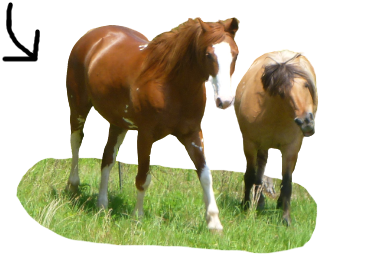 What . . . is so impossible?
❄️a brief note on winter conditions ❄️

An early start means a lack of suitable graze en route, but this can be overcome by supplementing my horse's diet with more grain and hay. "But what about the cold?" Horses are inherently well adapted to chilly weather; their thick winter coats have tremendous insulating power. They are most comfortable at temperatures between 18° and 59° F. And in February-March, the daily average in Pennsylvania is ~45-55°F, with a nightly average of ~25-35°F. Though winter can spell increased hardships regardless, especially when wind and rain are factored in, and, as a result, we will be taking things slow, trying never to ride in particularly inclement weather.  More info on how horses tolerate the cold can be found HERE.

EDIT: My start was delayed to spring. This decision was not made due to weather. February would have been the ideal month to depart. Rather, I decided to adopt a wild mustang for the journey and he needed time to come around.
While we will aim to cover 10-20 miles per day, my horse ultimately chooses our pace to ensure their mind is happy, their body robust, and their spirit fully nourished!

So begins the hunt for my road horse.
My partner.
I feel an equal mix of excitement and trepidation. There is a great deal of luck involved in this sort of search for a complimentary soul. Maybe we will find each other in this lifetime, maybe we won't. The uncertainty should worry me, and it does, but it also brings me a great sense of relief because, while it's wholly my responsibility to find the right horse, it feels like fate must permit it, too. I will jump into the rapids but I won't needlessly fight against the tide of time if it's not on my side. I aim to ride honorably, consciously putting my horse's welfare above my own, and a paramount part of that is making sure my partner is suited for this journey from the getgo, their heart as committed as mine, and that process will take as long as it ought to. And it will be a worthwhile endeavor!
"But who are you looking for, Gin?"
To get down to specifics: gelding or mare. At least 900 lbs. Above 14.2 hands. 5 to 15 years old.  Sound. Not prone to colic. Possessing a good conformation, and healthy hooves. An easy keeper, the sort to gain weight by looking at graze. Forward moving. With a good horse never being a bad color, or a bad breed for that matter.
Above all else, I am looking for a horse with the drive to go the distance, and the heart to enjoy the journey. One who is brave, even if the extent of their bravery isn't fully recognized yet.
One who can learn to love seeing what's over the next westerly horizon as much as I do.
More posts to come!
Dearest Update: I found him.


(This post is so unnecessarily dramatic LMFAO 🤡 )