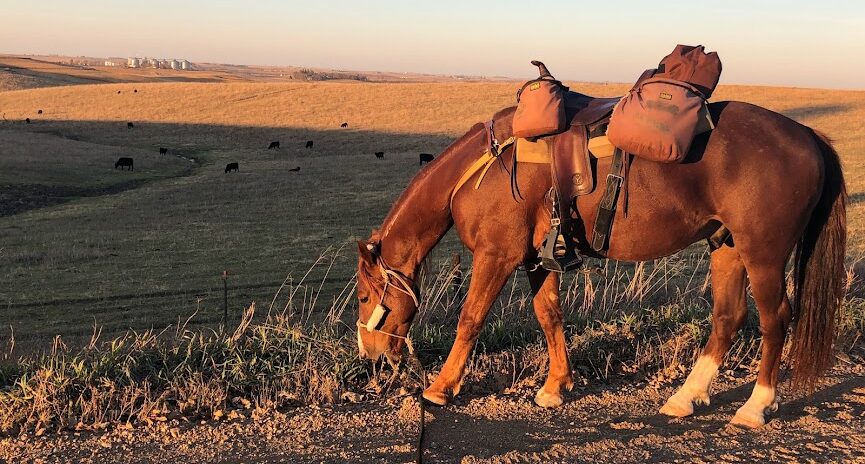 Here, I have compiled answers to commonly asked questions in one easy access place! 
⚡🐎
All my opinions are my own and are subject to change. I'll be quietly adding to and editing this post behind the scenes for some time.
Table of Contents
*Some questions contain a "Read More" button in their answer. Click on this for a more in-depth explanation!
What are you doing?
Where are you going?
Who is your horse? 
How did you prepare for the journey?
What gear do you use?
Where do you stay?
How do you contain Finley overnight? 
What does your horse eat?
How do you water your horse?
Do you use a support vehicle?
How long will it take?
Where did you winter?
How do you care for your horse (vet, farrier)?
What would you do if something happened to Finley?
How have you crossed major rivers?
Why haven't you posted much on social media?
What challenges have you faced so far?
Why make the trip?
Are you missing anything?
What part do you look forward to the most?
What happens when it's all said and done?
What are you doing?
I am riding across America on horseback!
Mission accomplished as of September 30th, 2023!
Where are you going? 
I am riding from New Jersey to Oregon. My route will be between 3,000 and 3,500 miles.
My trip ultimately clocked in at 3,600 – 3,700 miles!
I will pass through Pennsylvania, Ohio, Indiana, Illinois, Iowa, Nebraska, Wyoming, and Idaho.
You can view a detailed post on my route HERE. All the roads on my map are captioned and color coded by difficulty.
I chose this path across the country because, in a sense, it is the last remaining one for me to take to hit states I have never been to before!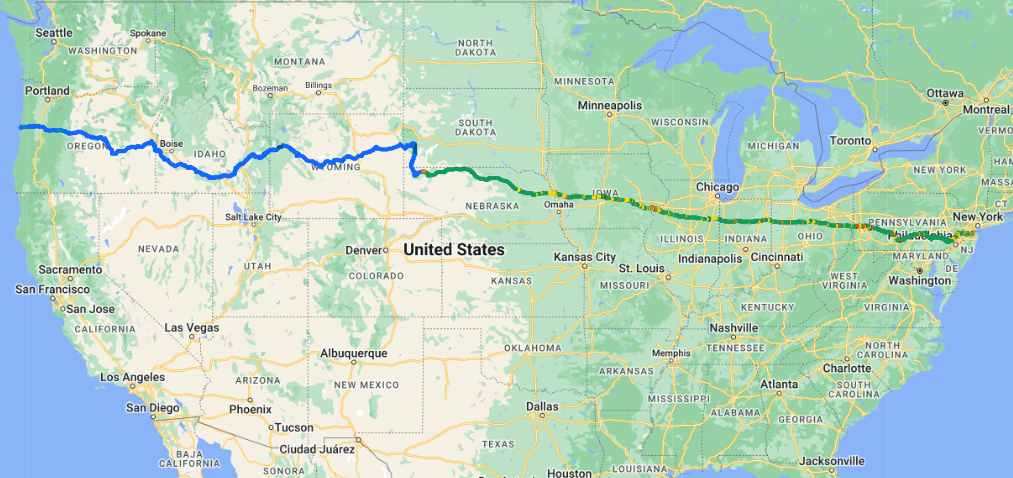 Who is your horse? 
Finley!
Finley is a 6 year old, 14'2" hand, 1020 lb, sorrel gelding. He is a mustang from a herd management area known as "Palomino Butte" just south of Burns, Oregon.
We left for this trip when Finley was 120 days out of holding.
At our start in New Jersey, Finley was still too scared to be touched by strangers, and he could not be safely ridden, so I opted to lead him across the entirety of the state. By central Pennsylvania, he became fully comfortable around people and I began riding him solely in his rope halter. The same has been true ever since.
Finley is the only horse for me. I will have no other. He is my mirror.
How did you prepare for the journey?
I spent four months living with my long riding mentor Sea in 2021, learning about horsemanship and working odd jobs-babysitting, housekeeping, etc.- to save money for the trip.
M O R E    C O M I N G    S O O N
In the meantime, check out my "Finding Finley" posts, but be warned! They are absurdly long: Part 1,   Part 2,  and Part 3.
What gear do you use?
See my gear list HERE for the most comprehensive answer to this question.
In short, I ride Finley solely in his rope halter with a Circle Y saddle born the same year as me and a peculiar looking foam pad.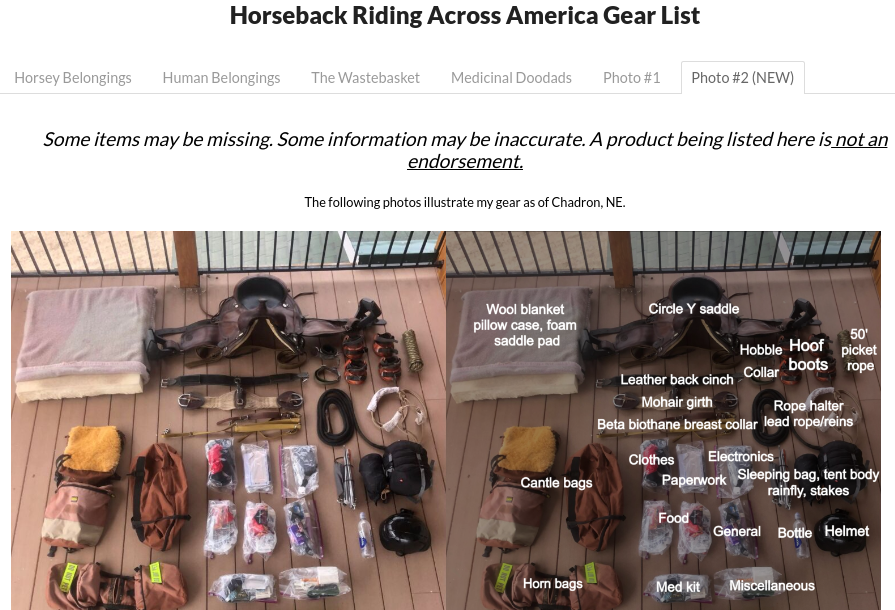 Where do you stay?
I have a blog post about this HERE. It details where we have stayed every night so far. Check it out!
The short answer is that we typically stay with hosts or on public lands.
In Iowa and Nebraska, I posted on Facebook groups for local trail riders to find accommodations. This social networking was wildly successful in securing hosts for those states. Provided you're comfortable and willing to establish a presence online, I would highly recommend this host finding method in the U.S.A.
Otherwise, for Finley and I it has been a matter of happening upon people. Knocking on strangers doors, even. "Something always works out." Over the course of our journey, I've never had a sleepless night. At least not entirely …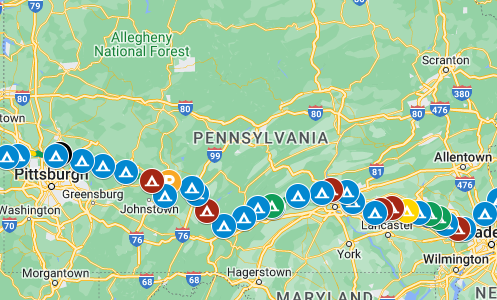 I often scope the area we're in on Google Maps, satellite mode. I always search for fairgrounds, rodeo grounds, stables, cowboy churches, and campgrounds. If I anticipate having trouble, I will look at rural cemeteries.
⭐ I highly recommend the On X Hunt app. It shows you accurate property borders on a virtual map. This feature is a game changer! Countless times it has pointed me in the direction of unmarked public lands that I otherwise would have been oblivious to! ⭐
It is harder to find places to stay on the east coast compared to the west. This has been my experience walking, cycling, and horseback riding cross country. There is more public land in the west, as well as right-of-ways in the countryside where locals won't mind you pitching camp so much.
Of course, having a horse adds an extra variable since, without hay, you need to be able to graze them overnight.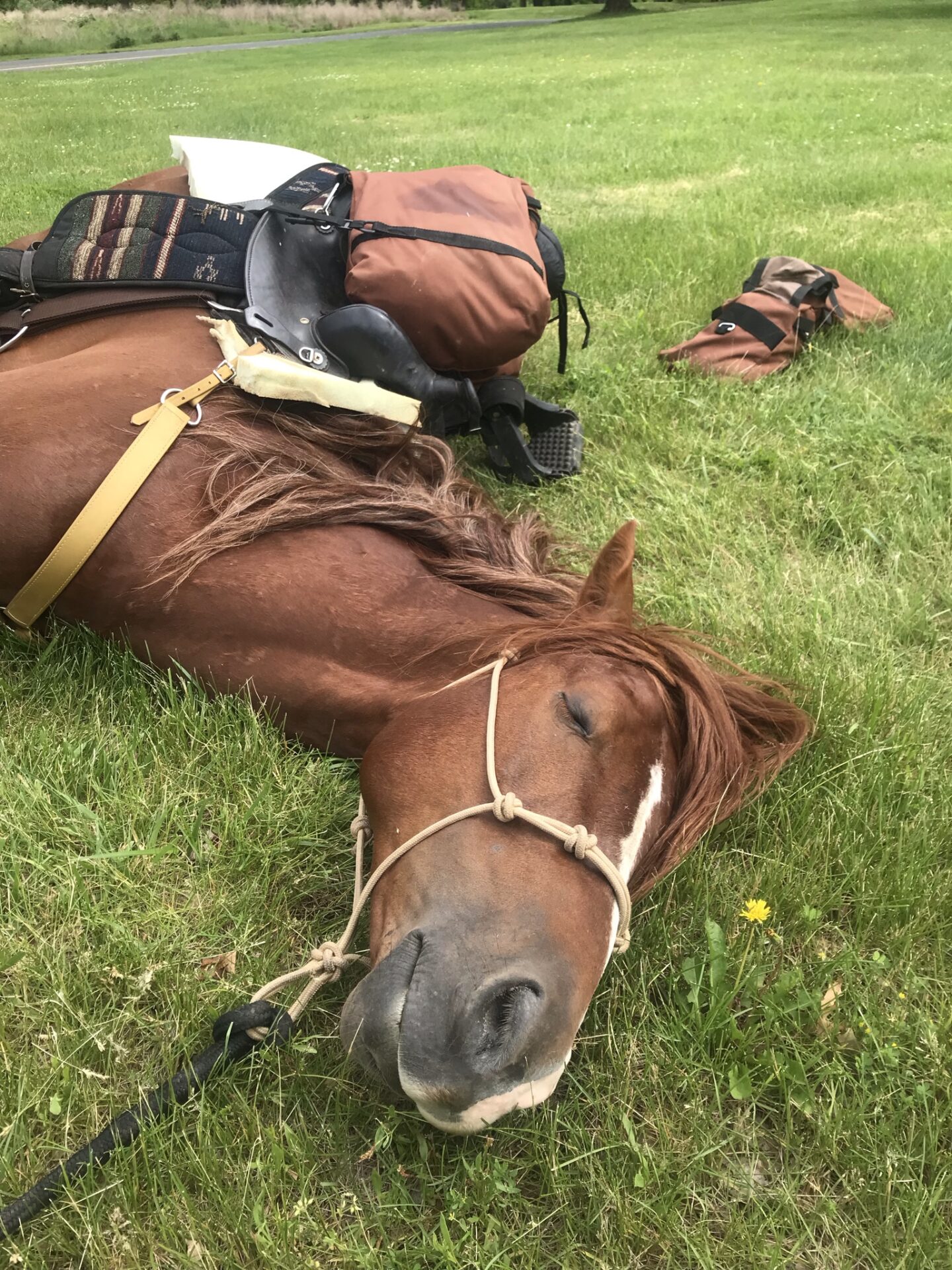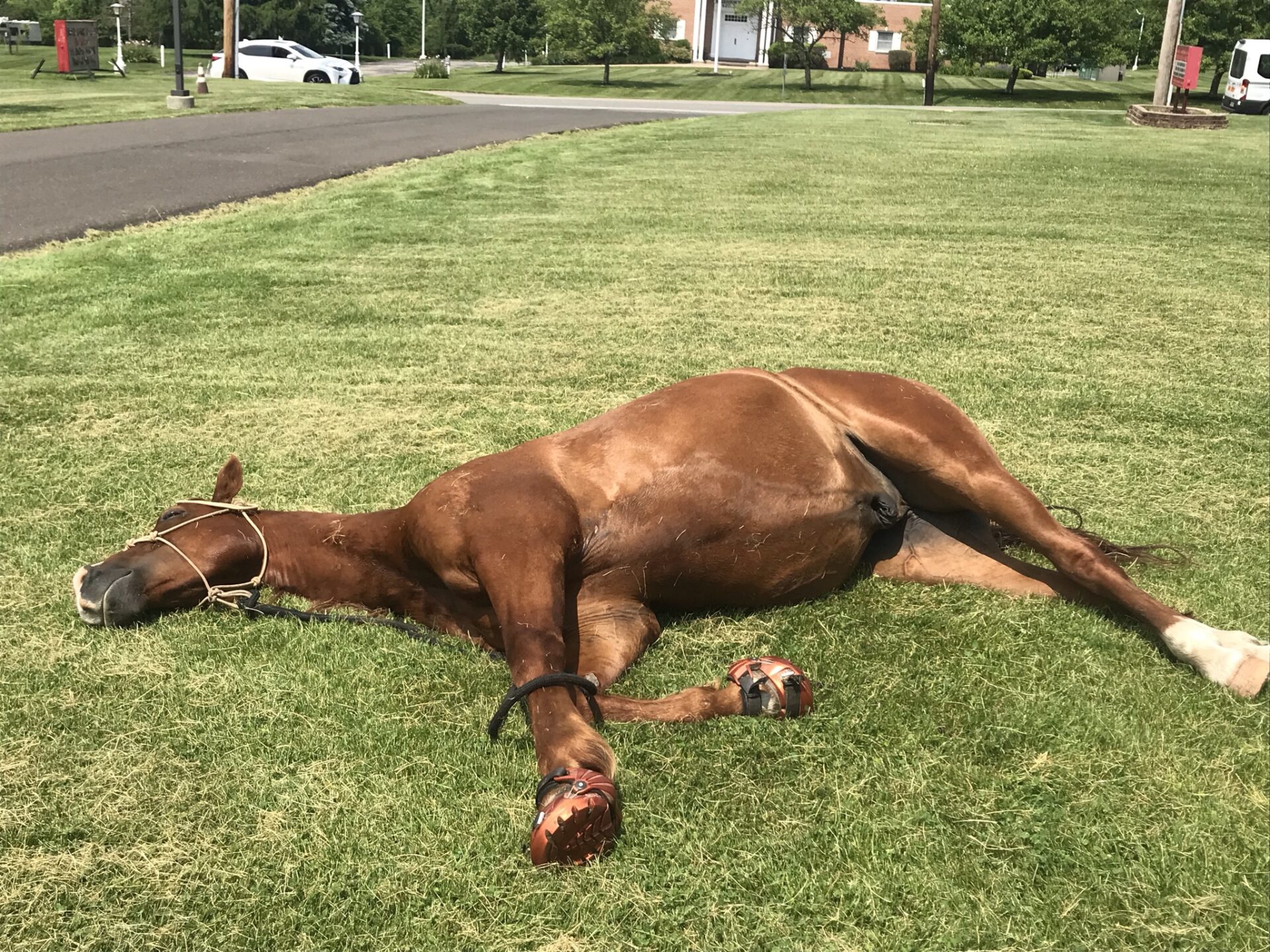 How do you contain Finley overnight?
If I don't have access to a fixed structure–like a fenced-in pasture, corral, or stall–then I will picket Finley.
Travelling self-contained, it is impossible for me to carry a portable electric fence. A high line, which is a rope strung between two fixed points, would be equally impractical, since it would not allow my horse to graze adequately. These two methods are popular with people who are going on weekend getaways with consistent access to a horse trailer and hay nets.
This leaves me with two options: picketing, otherwise known as tethering, and more traditional hobbling.
What does your horse eat?
This information is explained in depth HERE.
As a mustang, Finley is an easy keeper. He does well on graze (grass) alone, which we find in abundance on the side of the road. He is a living lawnmower. Rarely, I will carry grain in his horn bags if the opportunity arises. We often stay with other horsemen who supply us with hay, as well.
The principles we follow of taking 1-2 rest days a week and stopping periodically, up to 10 minutes for every hour of travelling, is largely to ensure Finley is well fed. I always like to ply Finley with as much food as possible before we begin a day, to the point of delaying our morning departure if need be. I'm also guilty of buying him treats anytime we visit a grocery store or gas station. He is particularly fond of Nature Valley: Oats and Honey granola bars.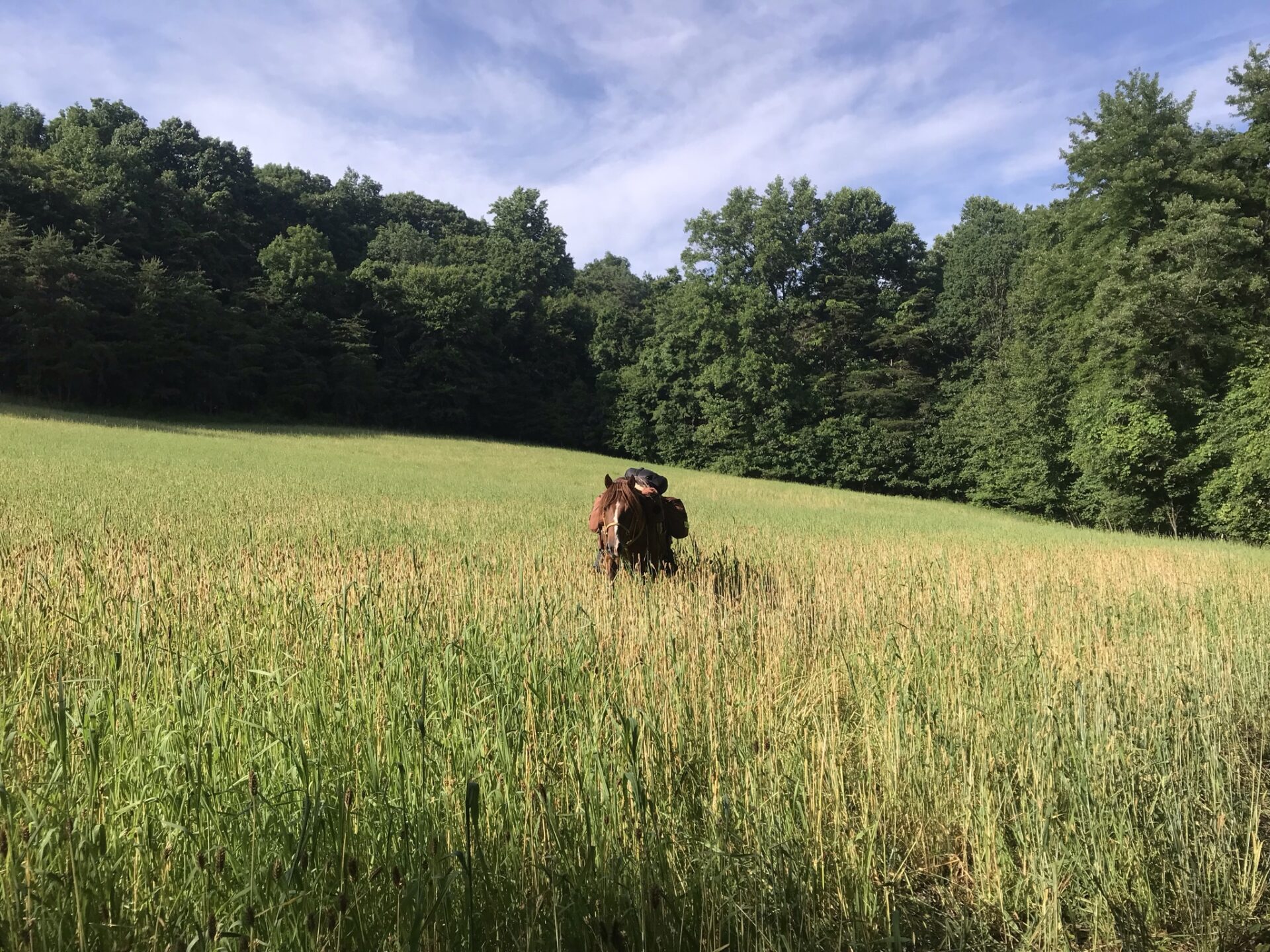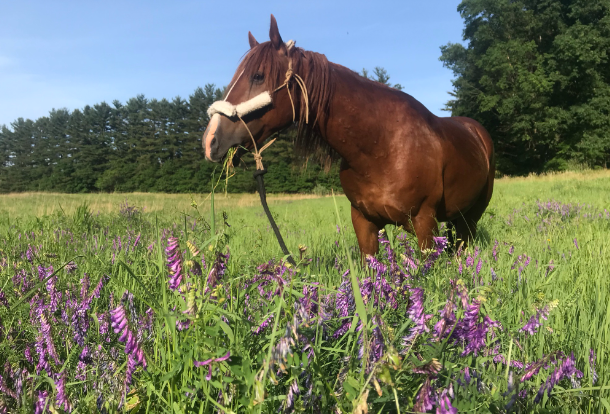 How do you water your horse? 
Horses require between 5 and 15 gallons of water a day. It is impossible to carry! Instead, I water Finley at creek or river crossings. Any natural sources we come across. In a pinch, I will buy gallons of water in a town or knock on a local's door to ask to use their spigot. Both rarities.
Sometimes, frustratingly, the banks of waterways are too steep for a horse to access. In these cases or, really, whenever we find a spigot, I will empty Finley's horn bags and fill them with water to transport to him. His horn bags cannot carry water over an extended period of time but are suitable for temporary containment.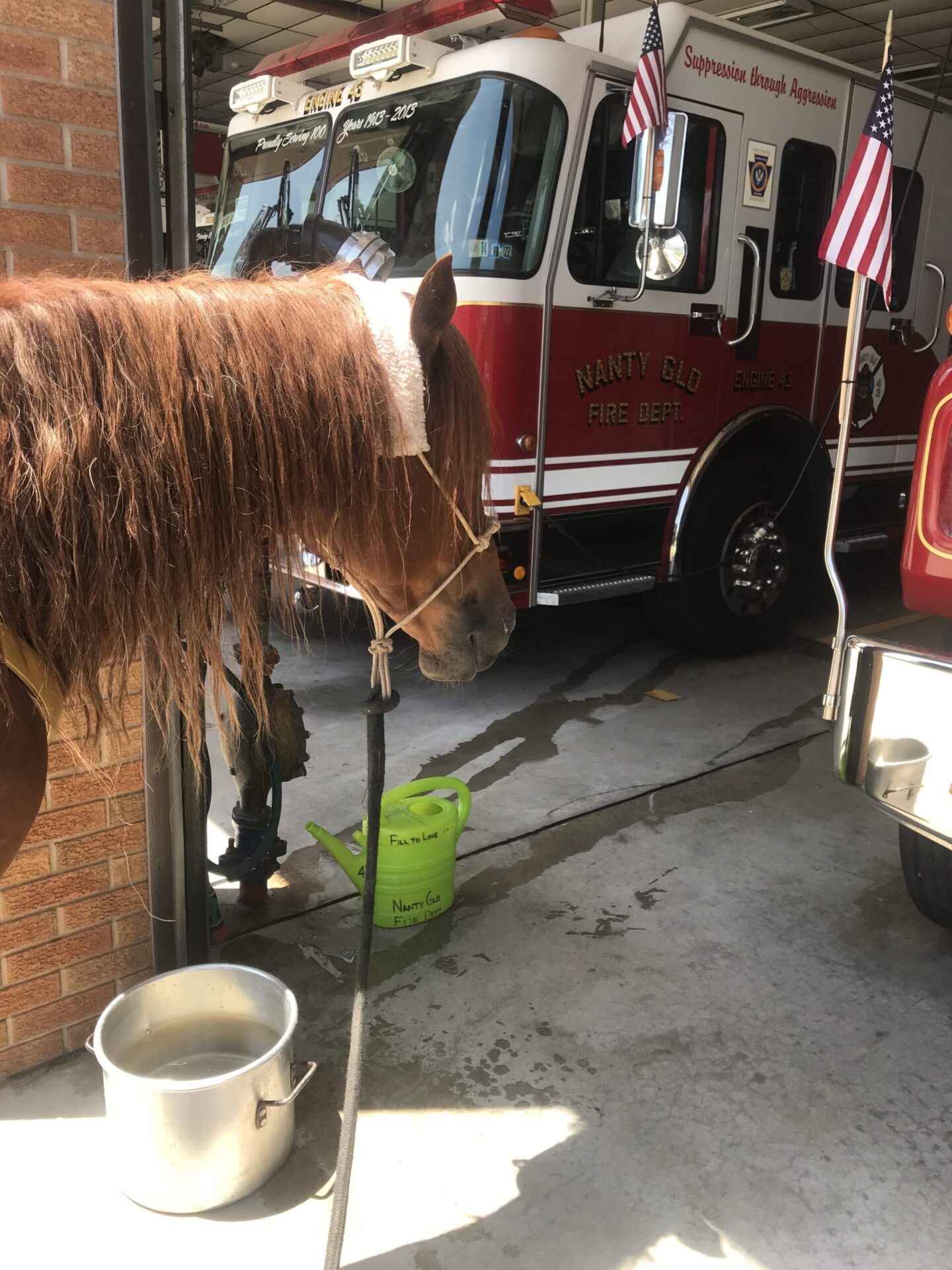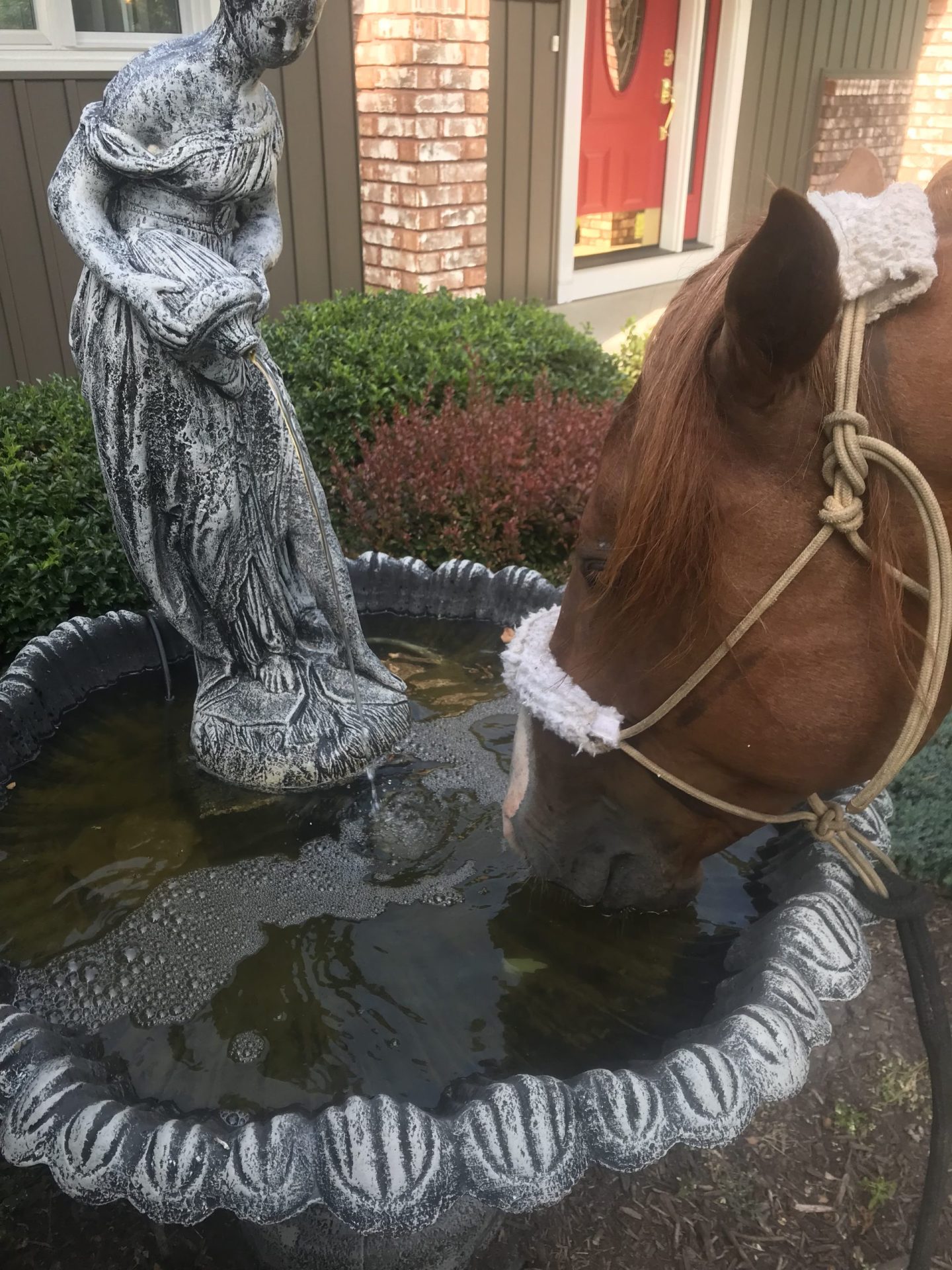 Do you use a support vehicle?
No.
Finley and I do not use a support vehicle. Additionally, we do not quietly skip miles*. Our intention is to truly go the whole way together, start to finish, step by step.
While we had to take a winter off, we bedded down in place and picked up in the spring right where we had left off, having never left the small town of Chadron, NE, during that time, like the pioneers of olden days would when they missed the cutoff to cross the Rockies before snowfall.
*I am not above trailering over a dangerous stretch while long riding, that would be my duty to Finley, but the need never arose over the course of our journey!  I can also say with the utmost confidence and pride now that we never did skip a mile, either. 🌞
How long will it take?  
Originally, my intention was to cross the country within one calendar year, beginning in May and finishing in November, for a 6-7 month trip. However, I am no early bird, and my ability to dawdle is unsurpassed. What's more, Finley and I faced some hiccups at the onset of our journey that delayed us further.
It quickly became clear that we would not cross the Rockies before snowfall, which can come as early as September. Therefore, we had to take winter break OFF from December 1st, 2022 to April 22nd, 2023.
I believe strongly in the LRG's principles: "We are about the deceleration of our souls, not the idle boasting of a lightning-flash crossing of a continent … we do not encourage anyone to brag about a needless quest for kilometers as a justification for their existence. Equestrian Travel is by definition a denunciation of haste. It cannot be rushed and still be done well."
I intend for us to reach the Oregon coast by the end of September, 2023, which will make the whole trip 12 months long, discounting our time off!
Finley and I officially ended our ride on September 30th, 2023!
Where did you winter? 
Finley and I wintered in Chadron, Nebraska.
I rented a one bedroom apartment off of King St. while Finley roamed a 100 acre pasture he shared with another sorrel gelding named Quinn four miles east of town!
During this time, I completed three college courses-Precalculus, Microbiology, and Chemistry–online while working part time at Ace Hardware to cover living expenses and save for our final leg!
Most of my schoolwork was completed at the library, just a block shy of my house, or McDonalds, with their free WiFi.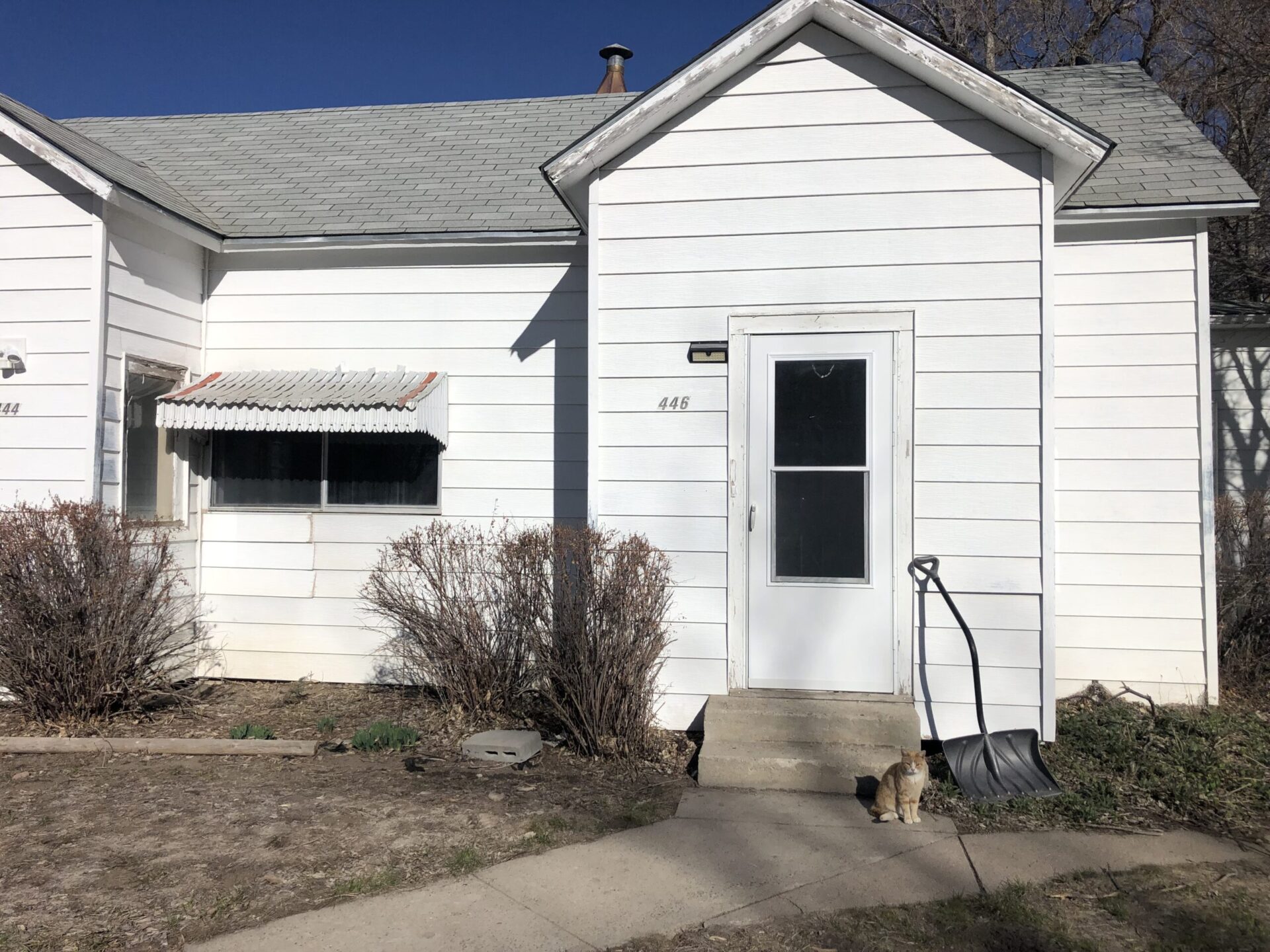 How do you care for your horse (vet, farrier)?
We take 1 to 2 rest days out of every given week.
We aim to take 10 minute breaks every hour of riding.
We have taken multiple extended periods off, from weeks to months.
I walk a portion of every day, from 1/2 to 1/4 of our daily mileage.
A horse can safely carry 20% of their body weight; we follow this general rule of thumb. I weigh 140-150 lbs. My saddle weighs 25 lbs. The rest of my tack and packs weigh another 20-25 lb. Ideally, my weight would be brought down to 125 lb so our total would top off at 175 lb. Presently, it fluctuates between 185-200 lbs which is within reasonable limits.
Update: As of Idaho Falls, I am down to 133 lbs!
How far we travel in a given period is entirely contingent on Finley's physical and mental condition. We always try to err on the side of caution.
I carry his coggins, vaccination record, proof of ownership, and health certificate(s) in our saddle bags at all times. Every morning, I double check to make sure his saddle bags seem even in weight, and will reassess them as needed throughout the day. I carry a portable scale for these purposes.
I wear a neon yellow safety vest at all times to ensure we're as visible as possible and I strap a Cygolite Hotshot 200 lumen tail light to my rear saddle bags when it feels necessary.
My medical kit for Finley varies. I always try to maintain bute, banamine, vet wrap, triple antibiotic, vetricyn, and liniment. SWAT fly cream in the summer. I added a fly mask to our arsenal in Idaho.
Finley has routine farrier and vet visits.
Read More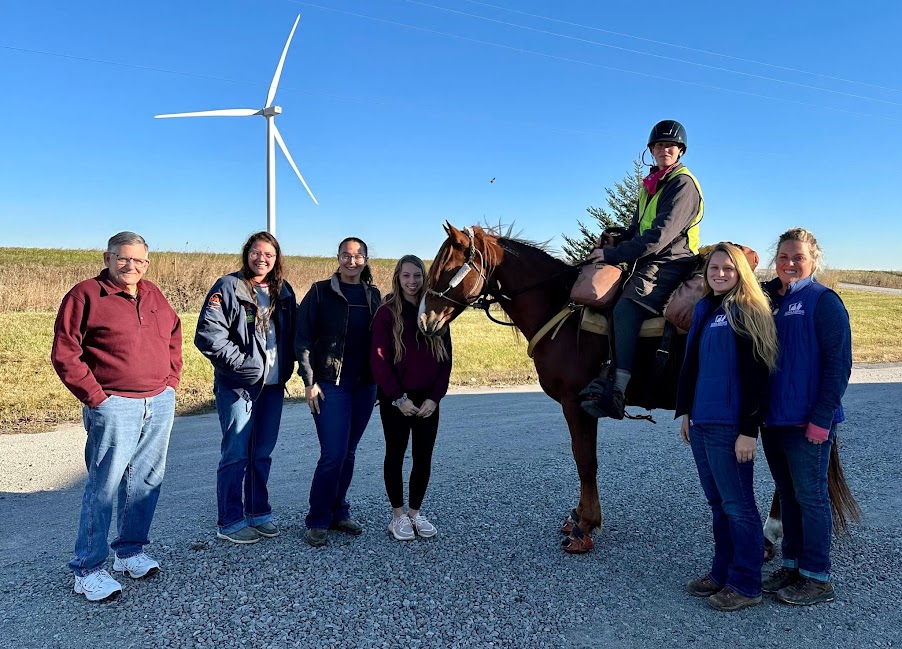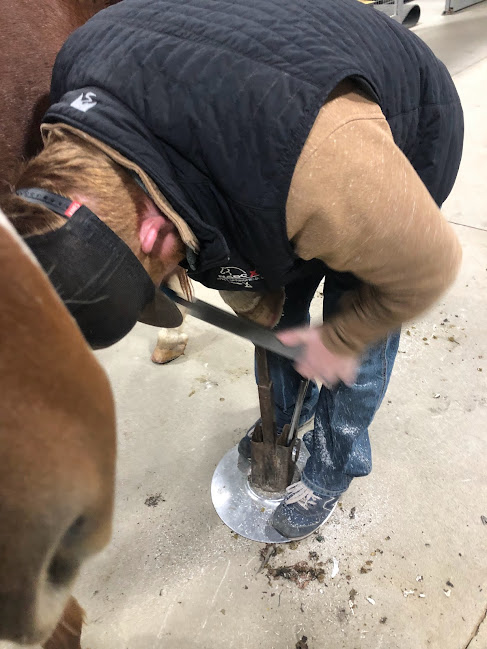 What would you do if something happened to Finley?
If Finley sustained an accidental injury that took him out of commission, I would have him trailered to our final destination for him to live out his days. I would not continue on with another horse. This journey is not about simply riding across the country, whatever means necessary. I am aware of others who will swap out their horses when one needs to recuperate in order to keep going, as they have multiple on stand by, and I can respect that, but it would feel ingenuine for me to do, since Finley is the only horse I love. If he is temporarily wounded and just needs time off, I will wait for him. If he's out, I'm out.
How have you crossed major rivers?
The three most challenging rivers we have had to cross were the Illinois River, the Mississippi River, and the Missouri River.
A kind local couple tailed us with their blinkers on as we crossed the Illinois River at Henry, IL. I led Finley, mostly at a jog.
Finley and I received a police escort from Rock Island City PD over the Mississippi River at Muscatine, IA.
I led Finley across this bridge as well to be absolutely safe. Largely, because when I Googled "how high is the Norbert F. Beckey bridge?", the answer I received was 60 feet. And when I Googled "can you survive a 60 foot fall into water?" the answer was, well, it's debatable.
Finley was impeccable, calm and composed!
Lastly, as fate would have it, a tractor needed to cross the Decatur, NE, bridge over the Missouri River the very moment we arrived, so Finley and I were able to join their ensemble. A pilot car blocked the opposing lane for us. Again, I led Finley. This bridge was the most narrow and grated.
Finley is not shy of bridges.
I happily rode him across the old railroad bridge outside Valentine, NE. It is one of my fondest moments!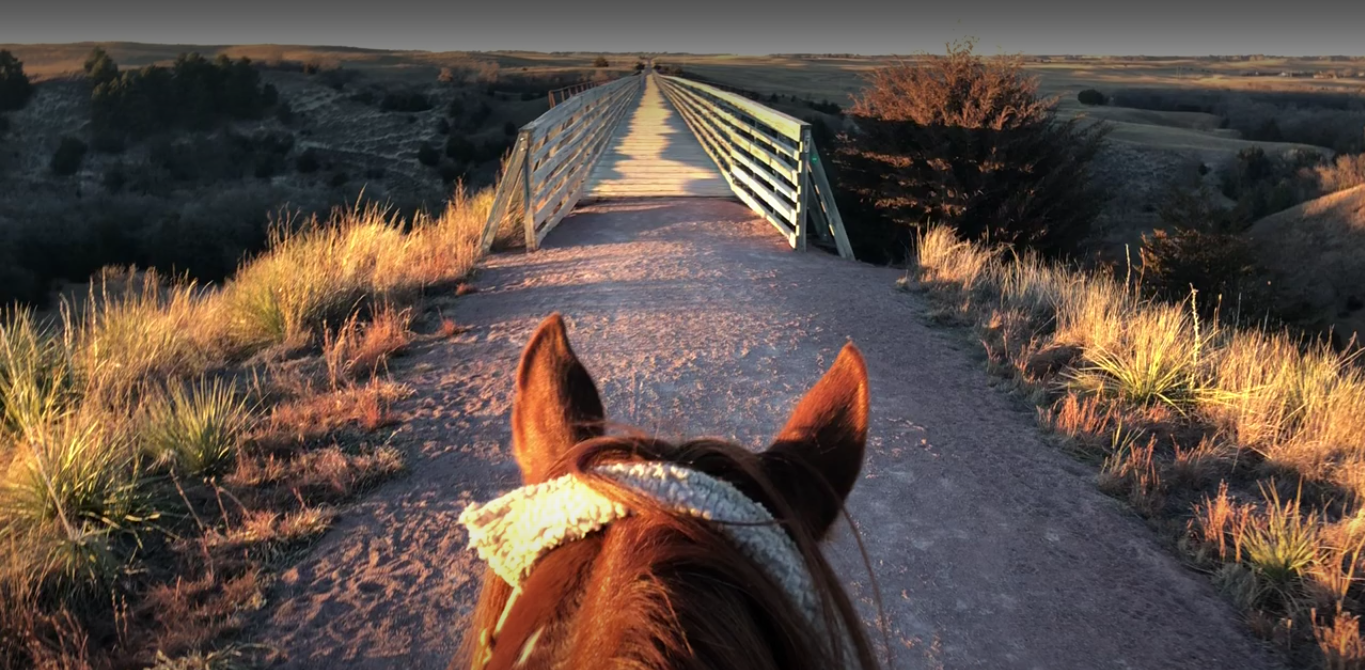 Why haven't you posted much on social media? 
This is the elephant in the room. 🐘
I'm really sorry to everyone who has met me and Finley on the road and been eager to follow our adventure only to find no trace of us online.
Until recently, there were no updates of our progress on my site.
I hope to have more blog posts out soon!
What challenges have you faced so far?
Rain rot has been our #1 nemesis!
Dealing with it has straight up sucked.
M O R E    C O M I N G    S O O N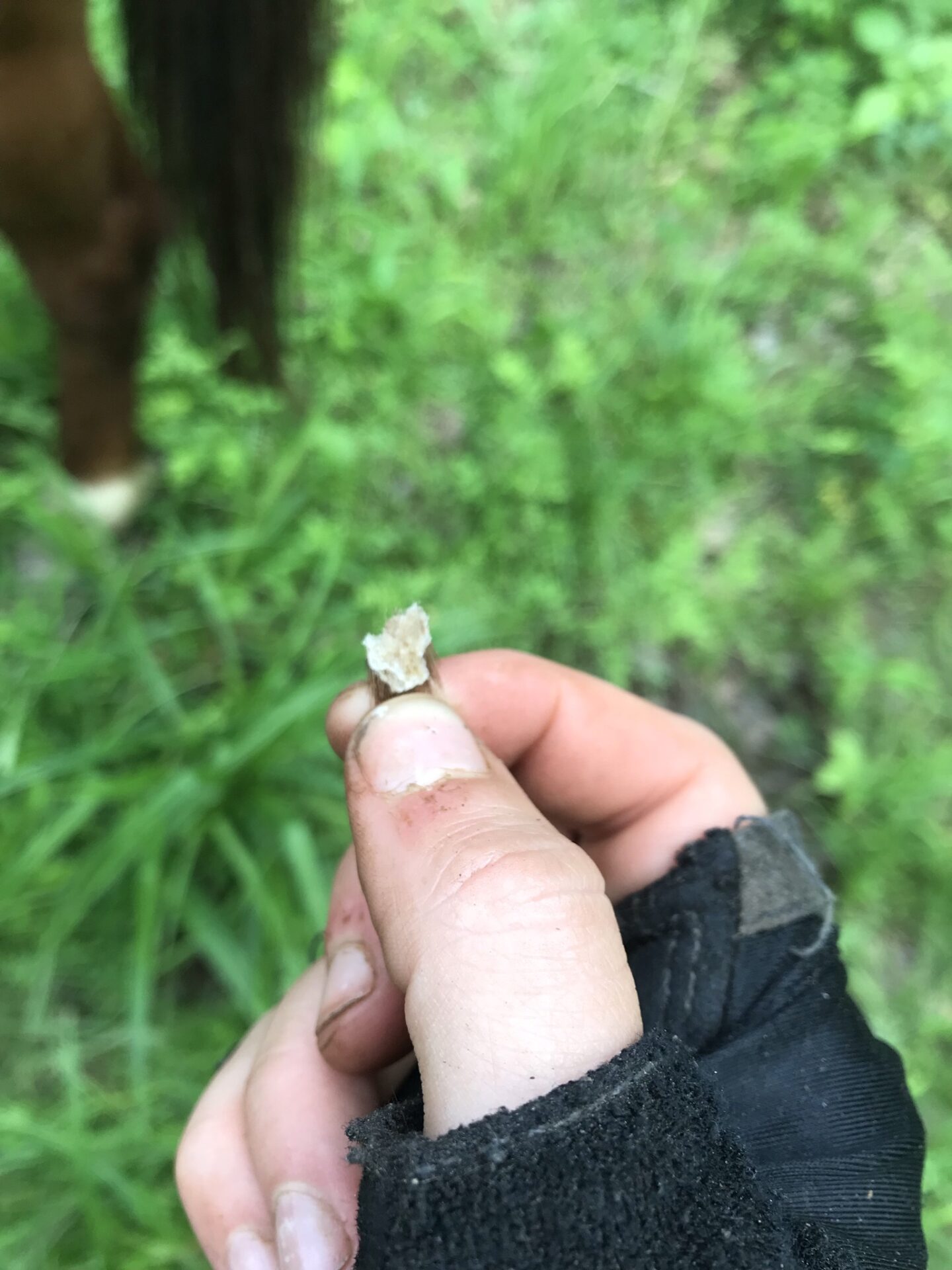 Why make the trip?
For the love of exploration! Before I plant roots that'll keep me grounded, and before my knees get too bad. 😋
M O R E    C O M I N G   S O O N
This answer will be lengthy but worthwhile … kind of like the trip, ha!
Are you missing anything?
A dog.
My sister has stolen the heart of my childhood dog, Rascal, while I have been away. It's devastating but, maybe, for the best. He is much happier now having someone else to love. However, this means I am without a dog to call my own, which is a sorry state for any one to be in.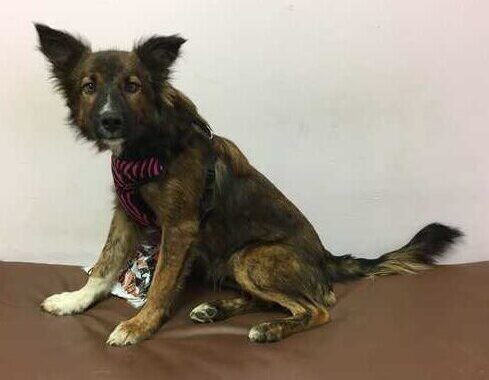 What part do you look forward to the most?
The West.
The Wind River Range, most of all.
Since Finley and I will reach the Rockies in late June, the higher elevation trails will still be snow-packed, inaccessible, but we should be able to see the beauty and grandeur of the mountains from below.
Wintering in Chadron, NE, felt like stopping at the gateway to the west. We're now just getting to the other side of it!
Finley doesn't know it yet, but we will be passing through his birthplace in Oregon. He is headed home in more than one sense.
April 2023 Update: the view from Fort Robinson, NE, our second day back on the road after winter break! Already, it feels like we've entered another world. 
July 2023 Update: we made it to the Wind River Range!
August 2023 Update: At last! Finley got to come back to Palomino Butte, Oregon, where he was born in the wild. He has spent more time in his life here than anywhere else, since he was rounded up at the age of 4 and it's been just 2 years since then. And with him spending six months in holding, we have only known each other for 1½ of those.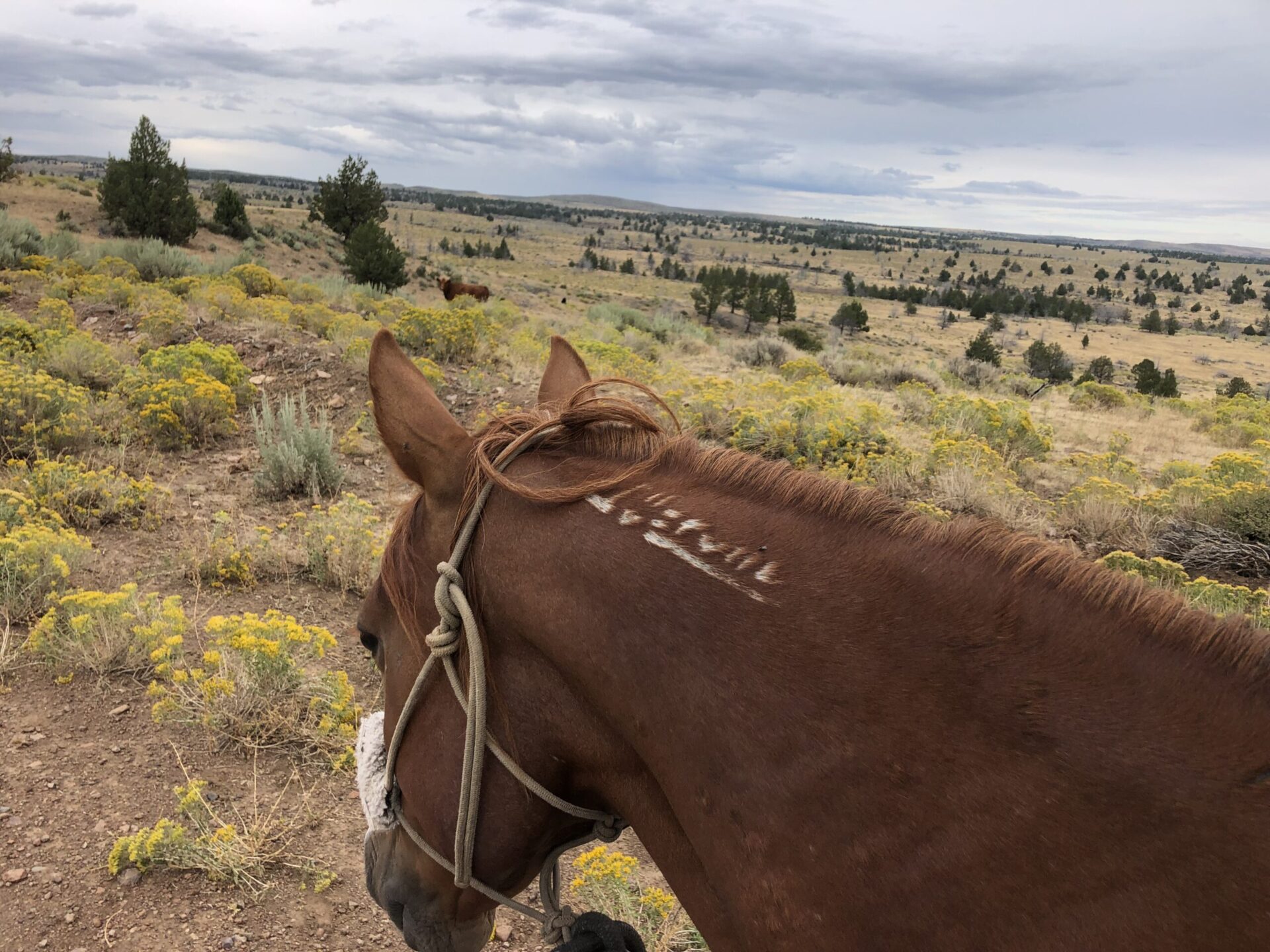 September 2023 update:  And finally, we have met our journey's end! 
What happens when it's all said and done?
Finley will be trailered to the San Juan Islands of Washington state where he will live with my long riding mentor, Sea, for the foreseeable future. She has a ten acre property there with other horses where he can free roam, occasionally joining her on rides into town or into the backcountry. He will never be for sale. After I get him situated there, I will fly to North Carolina to finish college. I have two years of my Bachelors left then four years of veterinary school if I can get accepted!
10/8/23 Update — Finley has settled in well on Lopez Island, and I have flown back east. We're on opposite sides of the country now, just as we were before we met. He's been visiting me in my dreams, though so often in them he's lost and I'm searching for him. And then I think: how often must he go and stand at the gate to his pasture, looking around for me, wondering? Less and less as each day goes by, I suppose. He's happy being a horse with his new herd. He's home. I have yet to find my place elsewhere, but I am optimistic because, heck, it's always easy to be cheery when you're starting fresh in life and the road ahead is still just the epic fantasy you make up in your head. 🌞

I'll see Finley again.